0203 816 0985
Let's talk. We're open Mon-Sun 9am - 6pm
We're open Mon-Sun 9am - 6pm
THIS MONTH WE'VE BEEN: SEPTEMBER 2018
A busy September was on the cards both in the office and for members of the Winged Boots team who travelled to various destinations around-the-world. Join our operations manager
Charlotte Ince
and our operations executive
Sophie Azeem
who both witnessed the wonders of
Dubai
before hearing about managing director
David Ox
who toasted to the bride and groom at not one, but two weddings in
Mallorca
and
Marbella
. If that wasn't enough, personal travel manager assistant Charley Curwood and business development manager
Colin Burr
attended Uncover Maldives, an educational event hosted at Tower Hotel in
London
, and travel content writer
Guy Humphrey
and social media and community executive for
Ocean Holidays
' Chloe Bullard enjoyed a tour of the Virgin Clubhouse Lounge too. We told you it was a busy month.
…EXPLORING DUBAI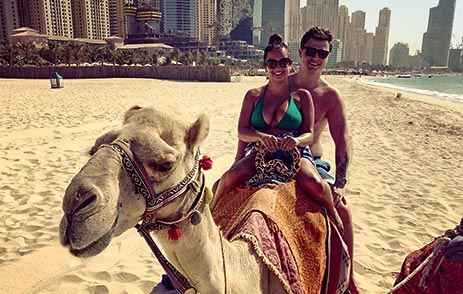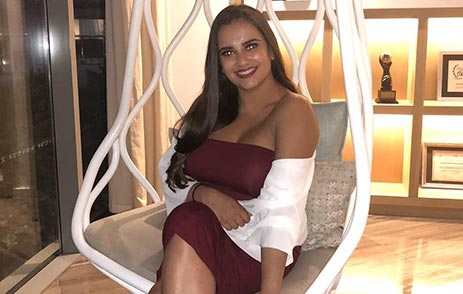 This month saw operations executive Sophie Azeem head to the glittering emirate of Dubai with her boyfriend. Setting up camp at
Le Royal Meridien Beach Resort & Spa
, it was a brilliant getaway for the couple as they saw all that this Middle Eastern gem has to offer. "We thoroughly enjoyed exploring Dubai. The hotel is fantastic if you're a fan of golden and it's opposite Emirates Golf Club so if you've come to Dubai for golf you'll be in your element here." Sophie said.
The days were spent sightseeing and chilling out. "It was a holiday of relaxation for us," Sophie said. "We went to
Atlantis, The Palm
as my boyfriend hadn't been there before. The Lost Chambers Aquarium was amazing as was Nobu. Dining there makes you understand exactly why the brand has such a great reputation."
Wild Wadi Waterpark was also another highlight for Sophie. "There's so much to do here from jetting down waterslides to doing a few laps in the swimming pool. Smaller rides are brilliant for kids, and there's also restaurants and cafés so you can really make a day of it," Sophie said.
It was also a chance to soak up some culture as well as the sun. "We went on a camel ride at Jumeirah Beach which was fantastic. I thought it would be scary but the animals were lovely, and I would definitely recommend doing it if you're ever in the area," Sophie said. "Overall, Dubai is a destination that has lots to see and do… a week wasn't enough! I'm going to rebook soon and when I do, I'm definitely going for at least 10-days."
Discover more about things to do in Dubai as well as hotels, itineraries and offers here.
…SHOWING FRIENDS THE SIGHTS OF DUBAI AND RAS AL KHAIMAH
It was a holiday of cocktails and paragliding as administration manager Charlotte Ince spent 10-days in Dubai and Ras Al Khaimah. Staying at
Rixos Bab Al Bahr
in Ras Al Khaimah, Charlotte took to the skies with paragliding which is an absolute must when in the emirate. "Paragliding was amazing and if it's on your bucket list, there's no better place to do it then in Ras Al Khaimah. The views were incredible and it's one of my top Middle East recommendations."
It was then to the famed City of Gold for Charlotte and her friends.
Jumeirah Al Naseem at Madinat Jumeirah
was where the group called home for the duration of their stay. With plenty of leisure facilities such as a swimming pool, complimentary access to Wild Wadi Waterpark and the fact that the hotel is also part of the exclusive Jumeirah half board dine around program that offers guests daily breakfast and dinner at more than 60 participating restaurants across Dubai, it's a great choice if you're a first timer in the emirate. "Quite a lot of the people I was with hadn't been to Dubai so we went to all the landmarks from The Dubai Fountain and The Dubai Mall to the Burj Khalifa," Charlotte said. "The Dubai Fountain is especially great at night with all the lights, and for top quality cocktails, the Burj Khalifa should be your go-to."
Need some holiday inspiration? Check out some of our top things to do in Dubai by clicking here
… TOASTING TO THE BRIDE AND GROOM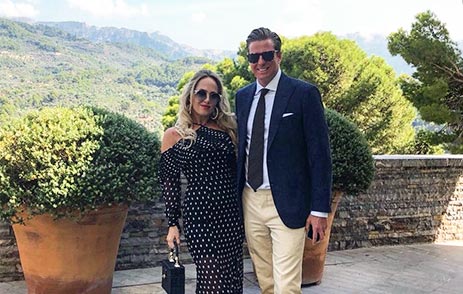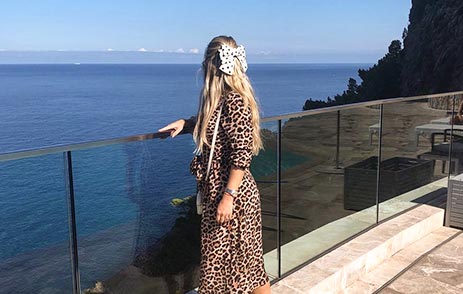 A crazy 12-days were on the cards for our managing director David Ox and his wife Lauren, as they headed to not one but two weddings this month, one of which David had the honour of best man. The first saw them drop off their suitcases in Marbella as they stayed at the beachside
Marbella Club Hotel
and David couldn't sing its praises any higher. "The restaurants were lovely and there's even one right on the beach. It has one of the best kids' clubs I've ever seen too, I was really impressed," David said. "We enjoyed our stay and the wedding guests that were there, including us, even got upgraded."
If you're a foodie then you're in luck here too. David swung by sister hotel, Hotel Puente Romano and was blown away by the on-site eateries. "It had some of the best restaurants that I've ever eaten in from Nobu to the authentic Italian flavours of Searafina," David said. "We ate at a restaurant called The Sea Grill which was phenomenal. It was right on the seafront and everything from the food down to the views were spectacular. All in all, I had a great experience."
Next on the agenda was the wedding of Ocean Holidays' managing director, Harry Hastings in Mallorca. David had nothing but brilliant things to say about both the wedding and the hotel they stayed at,
Jumeirah Port Soller
. "The service was impeccable, they couldn't do enough for us. We even got an upgrade to a Junior Suite which had incredible sea views. I will definitely be recommending room 502 to all of my clients."
While they were there, David and Lauren did manage to have a day to themselves in between the wedding celebrations. Hopping aboard a Sunseeker 82 Predator they spent a few hours swimming, eating delicious food and soaking up the sun.
The wedding itself took place in the small coastal village of Deià. "The location was one of the best I've seen for a wedding. Deià is one of the most stunning places in Mallorca," David said. "The wedding venue was in an old monastery called Son Marroig which was unbelievable. In all, it was two fantastic weddings, two late nights and too much drink."
Are you experiencing immense wanderlust? Enquire here to start booking your next holiday to write home about.
…TOURING THE VIRGIN CLUBHOUSE AT HEATHROW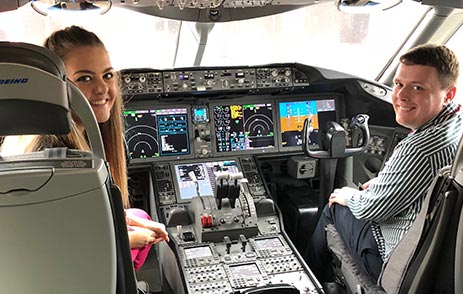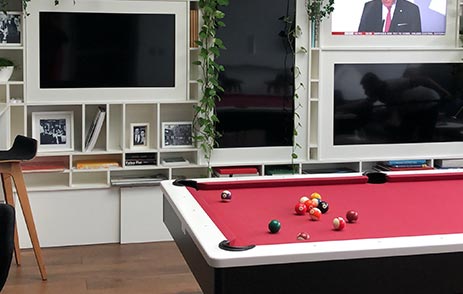 It was a day out of the office for travel content writer Guy Humphrey and Ocean Holidays' social media and community executive Chloe Bullard as they headed to London Heathrow Airport to get to know how Virgin Atlantic and joint venture partner, Delta Air Lines operate from the ground.
First on the agenda was the Drive Thru Check In experience that's available for all Upper Class and Delta One passengers. Aiming to take the headache out of the check-in process, cars simply arrive at the barrier where travellers are met by a Virgin representative before being privately checked-in and taken through to security.
They then boarded two aero planes, a Delta and Virgin one respectively. The Upper Class cabins were out-of-this-world and ensure that all holidaymakers will be flying in the lap of luxury. As well as flat-lie seats and plenty of leg room, passengers also receive a bag with high-end toiletries that are ideal help with the symptoms of jet lag.
The crescendo of the event was a tour of the Virgin Clubhouse. And boy, it's a place that can't be forgotten! From indulging in a spa treatment to devouring a deli lunch, boredom simply isn't an option. Guests can chill out with a game of pool, plane spot on the roof terrace, catch a blockbuster at the private cinema and so much more.
If you want to keep up-to-date on any other events that our marketing team get to go on, follow us on our Facebook, Twitter and Instagram.
…LAUGHING AND SINGING AT THE 02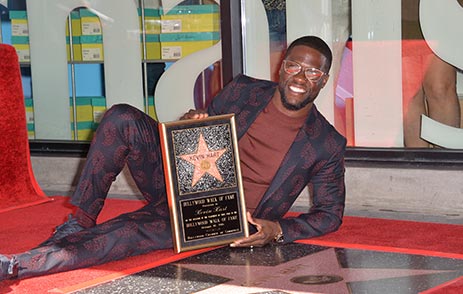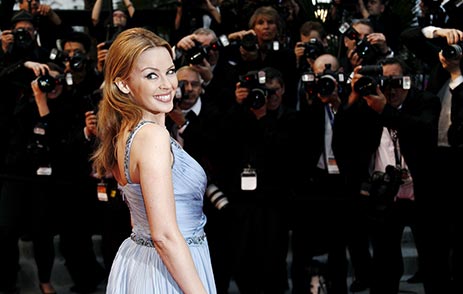 This month, we hosted two events for some of our loyal customers at The O2 Arena in London courtesy of our exclusive 20-seat box. Firstly, comedian Kevin Hart took centre stage as part of The Kevin Hart Irresponsible Tour, a worldwide show that proved so popular that 100 new international dates were added. Personal travel managers
Emma Littlebury
and
Ryan Collins
hosted the event which was a great success. "The customers, myself and Ryan absolutely loved it." Emma said. "The Kevin Hart show really kickstarted our events with a bang, and there's plenty more in the pipeline for everyone to enjoy."
We then couldn't get Friday 28th September out of our heads as Australian pop diva Kylie Minogue showcased new music from her hotly anticipated album 'Golden' as well as beloved classics such as 'The Loco-Motion' and 'Spinning Around.' The two hosts of this event were personal travel managers,
Claire Baker
and
Simon Eves
, who had a great night. "The clients loved it and Kylie was fantastic," Claire said. "It was a night of dancing as she sung both new songs and older ones that you knew all the words to, and it was great to meet customers that have been booking travel through Winged Boots for years." We will definitely be doing more events like this one in the future make sure to keep your eyes peeled for an invitation from us… it might be you!
…DISCOVERING THE MALDIVES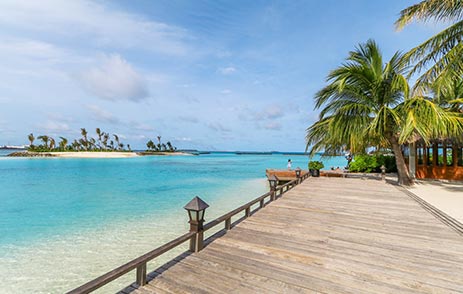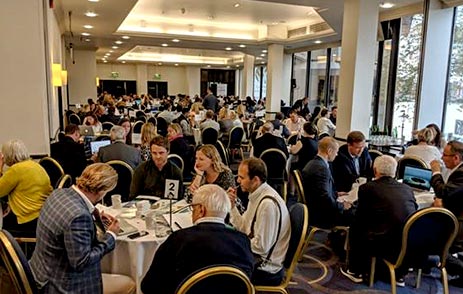 It was then an evening of Indian Ocean dreaming as business development manager Colin Burr and personal travel manager assistant Charley Curwood attended the Uncover Maldives event at The Tower Hotel in London. Hosted by Destination Management Company Hummingbird Travel, the aim of the occasion was to share knowledge and the latest news of the archipelago to members of the travel industry. "I learnt a lot." Charley said. "It worked in a similar way to speed dating as you got 10-minutes with one of the 43 hotels that were in attendance before moving on to the next."
Conrad Maldives Rangali Island was one of Charley's highlights as he got to experience the stunning, and hotly anticipated, new Underwater Suite via virtual reality. "It looked so real and it was a great way to experience such luxury from the comfort of the capital. I can't wait for the accommodation to open, and to start showcasing the amazing property to all my customers."
If that wasn't enough, prizes were won by both Colin and Charley. A Fortnum and Mason hamper went home with Colin, and Charley won a four-night stay at The Floating Resort By Scubaspa. Exquisite luxury and gorgeous scenes of the Maldives from the comfort of a yacht? What's not to love?
Discover everything you need to know about the Maldives from hotels and itineraries to things to do and offers here.
...ROAMING THE FAIRWAYS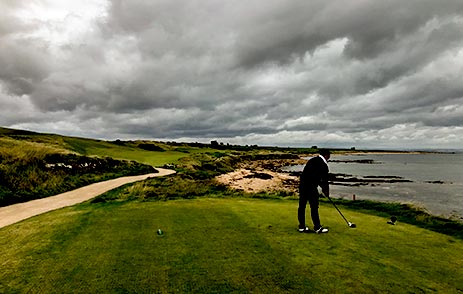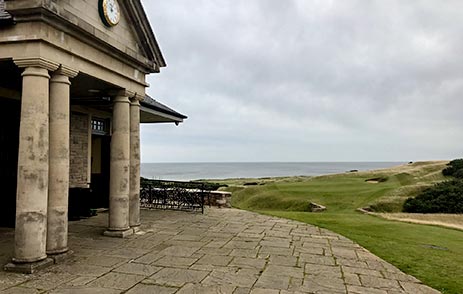 This month, head of business
James Kenyon
headed up north to Scotland for a two-day golf event at St. Andrews, just one-hour and 30-minutes by car from Edinburgh. The experience was organised by the trade union for English football managers, the League Managers Association, across two days and saw players from around the country attend.
The first day saw James take to the fairways of Kingsbarns. This exclusive 18-holes promised to be a challenging one thanks to the course being directly by the waves of the North Sea. "If you putted too far to the right, your ball would end up right in the sea," James said. "Luckily, this didn't happen to me… I went too far left instead."
The green of The Duke's was the location for the golf networking event the following day. This course was equally as hard as, even though it was inland whereas the others were links courses, the terrain was still wilder and more natural than your average set of fairways. "All-in-all it was a great day and I loved being a part of it," James said. "The event was a way to network with members and those who had a direct service or trade to the sporting industry, and it was marvelous to speak to like minded people and to discover potential business opportunities."
Did you know that we help to organise corporate travel? Click here to discover more about Winged Boots Business or alternatively call us on 0203 816 0985.
Share with someone you'd love to travel with

Guy Humphrey
Guy Humphrey is a Content Writer