0203 816 0985
Let's talk. We're open Mon-Fri 9am - 6pm
We're open Mon-Fri 9am - 6pm
Charlotte Ince
Administration Manager
I have worked for Winged Boots for eight years. No two days are the same and I really enjoy getting to know our clients and working closely with the personal travel agents. My favourite destination is
Dubai
. I've been seven times and my favourite hotel is
Madinat Jumeirah
.
The first song on my travel playlist is…
Holiday by Madonna
After dark, I like to…
make some shapes
My desert island item is…
a toothbrush
Number one on my bucket list is…
Bora Bora
My ideal travel companion would be…
Emma Littlebury
My next holiday is to…
Mexico
QUICK FIRE
Window seat or aisle seat? Window

Hold luggage or carry-on? Carry on

City break or beach retreat? Beach

Water sports or afternoon golf? Watersports

Fine dining or rooftop bar? Rooftop bar

Family fun or a few days with the girls? Girls

Night out or evening in? Evening in

Sun or snow? Sun

Detox or drinks? Drinks

Spa or bar? Bar
Plan your perfect holiday with
Charlotte Ince
Places Charlotte Ince has visited
Las Vegas
My visit to Sin City was simply amazing. Great food, great people and even better parties… it's non-stop fun from touch-down....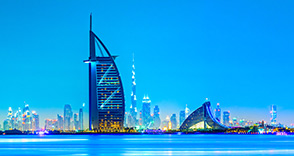 Dubai
Dubai isn't just my favourite city, it's my all-time favourite place in the world. Here I got to swim with sharks which is an experience I'll always remember....
Thailand
Thailand is such a beautiful place. My favourite part are the Phi Phi Island. Expect beautiful beach, top-dollar scuba diving experiences and a relaxed way of life. (Trust me, you won't see a car)...
Plan your perfect holiday with Charlotte Ince