0203 816 0985
Let's talk. We're open Mon-Sun 9am - 6pm
We're open Mon-Sun 9am - 6pm
This Month We've Been: October 2019
As always with Winged Boots, October was a very busy month. Helping customers with holiday planning and ensuring they have a great time is our top priority however we also managed to squeeze in our first annual shoot day sponsored by
One&Only
as well as amazing staff getaways. Join four of the Winged Boots team who went to Marbella for a weekend break before finding out what personal travel manager Dean Jeffries got up to in
Abu Dhabi
. Internal communications executive Colette Fox spent some family time in
Malta
, and personal travel manager
Louise Silverman
topped up her tan in
Santorini
. Not only that, but graphic designer Charlie Franklin took to the seas on a lavish cruise, and marketing manager
Lauren Godfrey
and travel content writer
Guy Humphrey
also attended the TTGLuxury Summit at The Langham. Add into the mix seeing Cher at the O2 and we wish we were turning back time to the start of the month where we could do it all over again.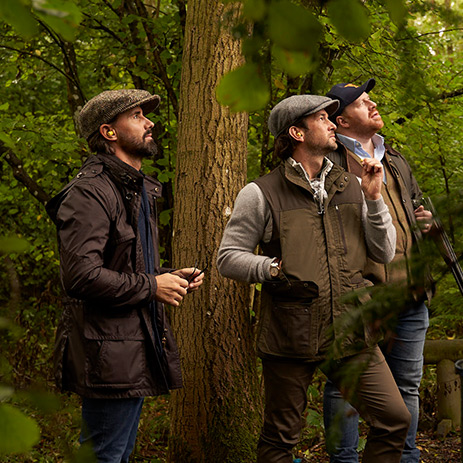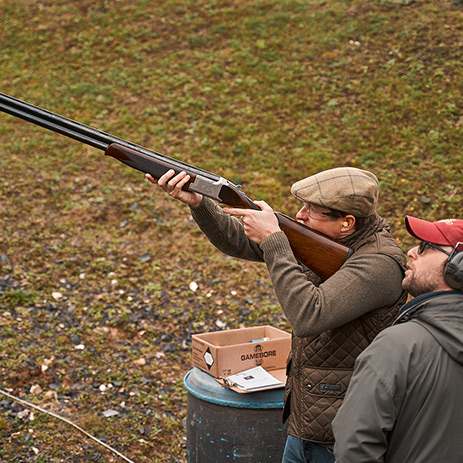 Our first annual clay pigeon shoot event went off with a bang at Royal Berkshire Shooting School. Sponsored by luxury hotel group
One&Only
, 50 Winged Boots customers alongside staff and hotel representatives all took their aim to compete for the top spot. Overall, we raised £5,335 for Haven House Children's Hospice, and lucky attendants even won complimentary nights at
One&Only Le Saint Geran
,
One&Only Reethi Rah
and
One&Only Royal Mirage
.
"It was a great day – even if it did rain – and I want to extend my sincere gratitude to everyone at Royal Berkshire Shooting School. Jono especially was a fantastic host, however everyone at the school contributed to what was an extremely successful event," said David Ox, Winged Boots' managing director. "Thank you again to One&Only for your sponsorship. We wouldn't have been able to raise nearly as much money for Haven House Children's Hospice without your support, and of course, thank you to all our guests for coming along, getting stuck into the day and getting behind such a worthy charity. The money we raised is going to really impact local people's lives and I am thrilled that collectively we can donate £5,335 to such an amazing cause."
To find out more about our shoot day and look through the gallery, click here.
SEEING CHER AT THE O2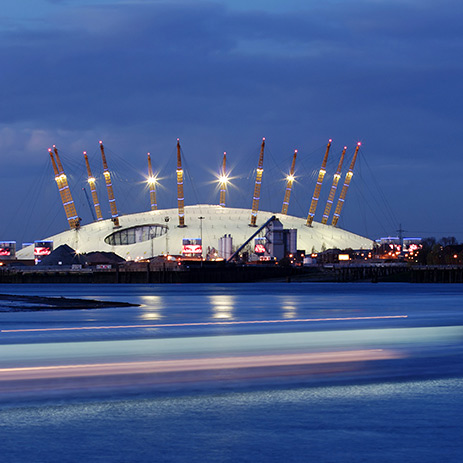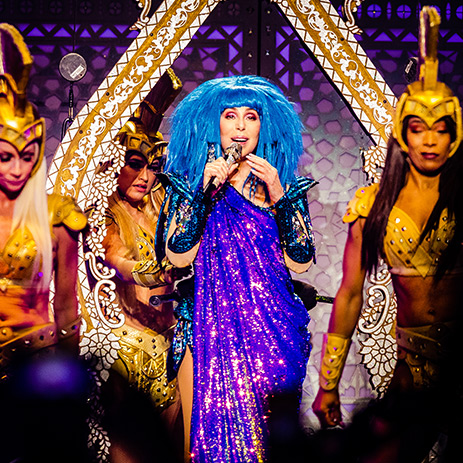 We then danced along to the likes of 'Believe' and 'If I Could Turn Back Time' when personal travel and business development manager Gemma Saunders, marketing manager
Lauren Godfrey
, head of business travel
James Kenyon
and business development manager
Colin Burr
went to the O2 to see the music legend Cher.
The UK leg of Cher's Here We Go Again Tour, customers came to enjoy the show in our box at the O2 as part of our The Extra Mile Event series which pledges to offer additional benefits to our customers such as exclusive event invitations. "It was a great event and Cher looked and sounded fantastic," Gemma said. "Customers had a great time and it's a brilliant way to meet them in person and showcase just how fantastic Winged Boots is."
Find out more about our events here.
DISCOVERING MORE ABOUT LUXURY TRAVEL AT THE LANGHAM HOTEL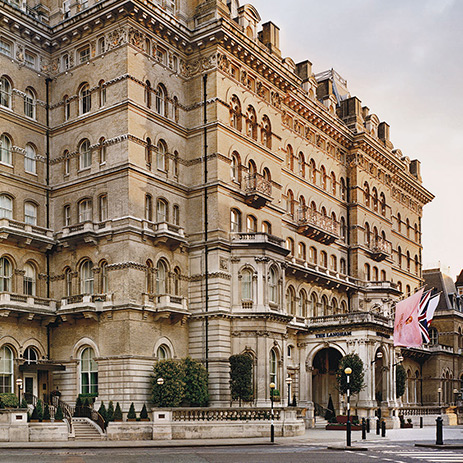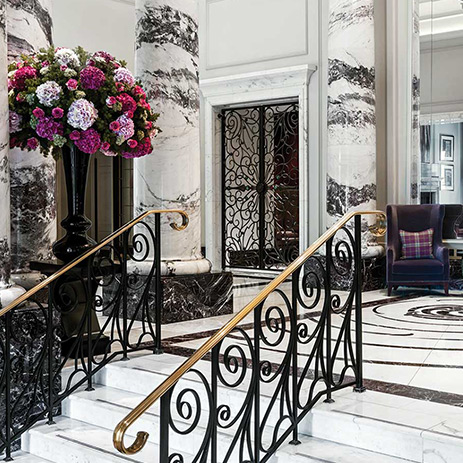 18th October saw marketing manager
Lauren Godfrey
and travel content writer
Guy Humphrey
swing by the TTG Luxury Summit at The Langham Hotel in London. The day was filled with insightful talks from Visit Finland tourism board, the senior vice-president of Accor Global Innovation Lab Frederic Fontaine and many more, as well as panels from industry experts.
"The day was a great success, and Lauren and myself took a lot away from the event," Guy said. "As we're currently writing the brochure, we are going to weave in elements of what we have learnt, and it's always great to discover more about the industry that you're in." You won't have to wait long for the brochure either as at the start of 2020, Winged Boots: The Lifestyle Brochure Volume 3 will be out.
GOING ON A GIRLS TRIP TO MARBELLA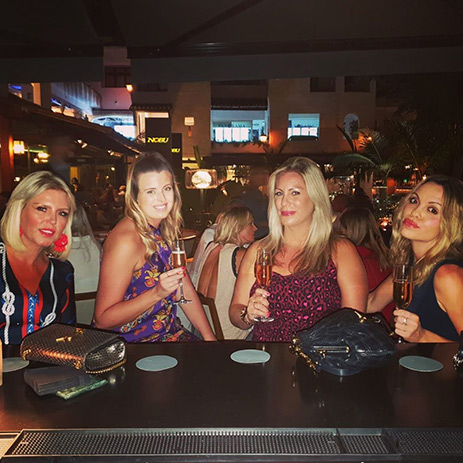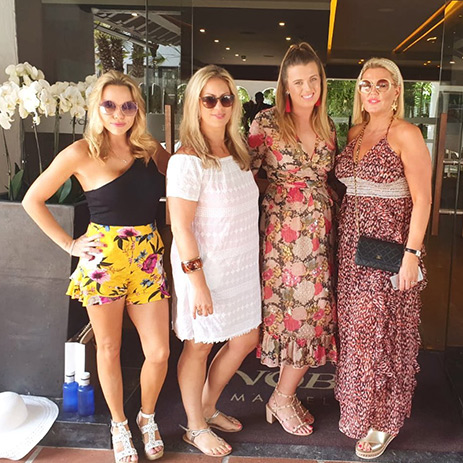 Who doesn't love a weekend away with friends? Marketing manager
Lauren Godfrey
, business development and personal travel manager Gemma Saunders and personal travel managers
Claire Baker
and
Louise Silverman
recently ventured to Marbella for a last-ditch attempt at grabbing some sun before temperatures drop in the UK. "We stayed at
Nobu Hotel Marbella
which was beautiful," Claire said. "While it looks modern from the outside, it's actually looks like an Andalusian village when you're inside, with the restaurant overlooking the square. The hotel also offers a complimentary Tesla car service to Marbella town which was fantastic and was well used as there are some amazing restaurants and shops. Oh, and while you're waiting for your transfer, they offer you champagne!"
The gang managed to visit The Beach House beach club as well as Le Milla Marbella restaurant. "Both of them had incredible ocean views, and the drinks were brilliant," Claire said. "You have to make reservations at Le Milla Marbella so make sure you book in advance! Here, the music was great, and everybody was just having a great time."
Find out more about Marbella here. To book your next girls' trip away enquire here or call us now on 0203 816 0985.
SPENDING SOME TIME IN ABU DHABI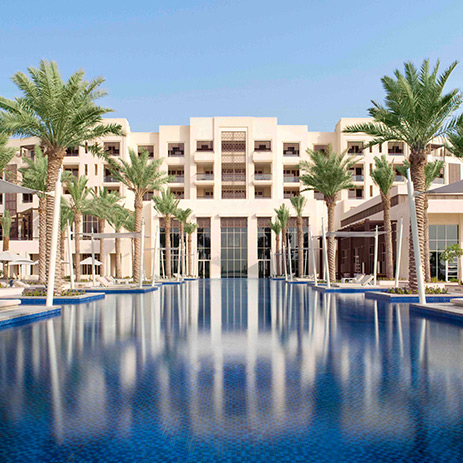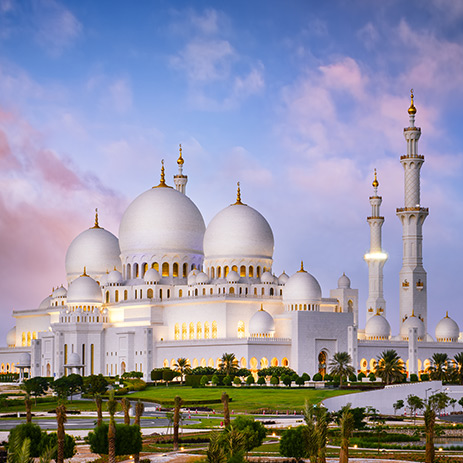 Abu Dhabi is an archipelago of stunning beaches, luxury hotels on the Corniche and culture with the museums and sights such as the Louvre. Personal travel manager Dean Jeffries recently visited the emirate for nine-nights and it's fair to say that he fully explored the hotel scene. Spending two-nights each at Yas Island Rotana,
The St. Regis Saadiyat Island Resort
and
The Abu Dhabi EDITION
as well as
Park Hyatt Abu Dhabi Hotel and Villas
, Dean is a now an expert on Abu Dhabi luxury hotels. "My favourite hotel was Park Hyatt Abu Dhabi Hotel and Villas as it's modern, classy and has an amazing pool with one of the best beaches I've ever seen," Dean said. "I also saw
Zaya Nurai Island
and when I was walking through the hotel, I felt like I was in the Maldives. It was amazing."
Apart from wandering through hotels, Dean also did some sightseeing. Venturing to Ferrari World, Warner Bros World, the Louvre and Sheikh Zayed Grand Mosque, it was the quintessential Abu Dhabi holiday. "Riding the fastest roller coaster in the world is an absolute must, and the Grand Mosque is something I wouldn't normally visit but it's a very impressive building and it's full of culture," Dean said. "One of my top recommendations is to swing by Ray's Grill which is on the 63rd floor of
Jumeirah at Etihad Towers
. Amazing views and delicious steak, enough said."
To start planning your getaway to Abu Dhabi, click here to be taken to our destination page.
CRUISING THROUGH EUROPE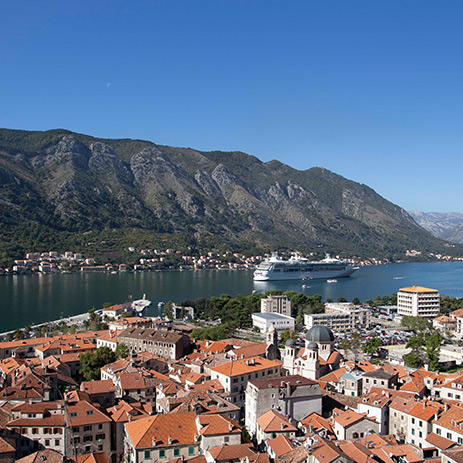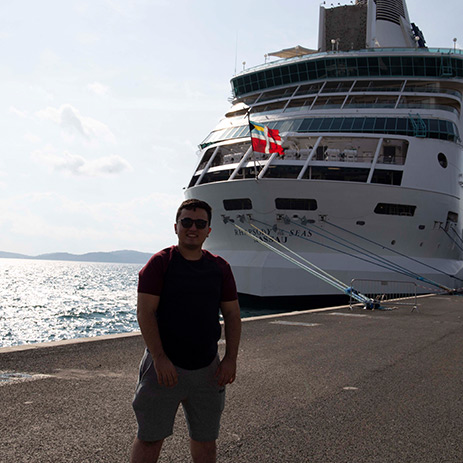 In 2017, a record 25.8 million passengers embarked on a cruise, and this trend shows no sign of slowing down. Junior graphic designer Charlie Franklin is a fan as he just got back from a seven-night cruise with Royal Caribbean. Taking to the waters of
Croatia
,
Italy
and
France
, it was a European trip to remember. "After a night in
Venice
, my family and I boarded the ship from the Port of Venice, which was amazing," Charlie said. "Our first stop was Zadar in Croatia which has a rather unique sea instrument. Due to the waves and various tubes underneath a set of marble steps, it literally sounds like church organs. It's quite relaxing with a few beers."
Kotor in
Montenegro
was the next beautiful stop off. "I sailed past the new One&Only Portonovi which is opening in Spring 2020," Charlie said. "While it wasn't fully built yet, the hotel looked pretty impressive." After a day at sea, the following three days saw Charlie explore the sights of Rome, Florence and Marseille before spending two nights in Sitges. "Sitges is a small Spanish town that's about 40-minutes by car from Barcelona," Charlie said. "It has brilliant beaches and we ate tapas in a small backstreet restaurant called El Cable. We had to wait half an hour for a table, but it was definitely worth it as the food was delicious."
Do you fancy going on a cruise yourself? To book, call one of our personal travel managers now on 0203 816 0985.
SOAKING UP THE SUN OF MALTA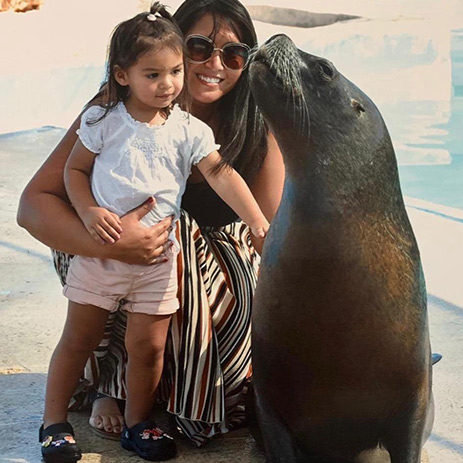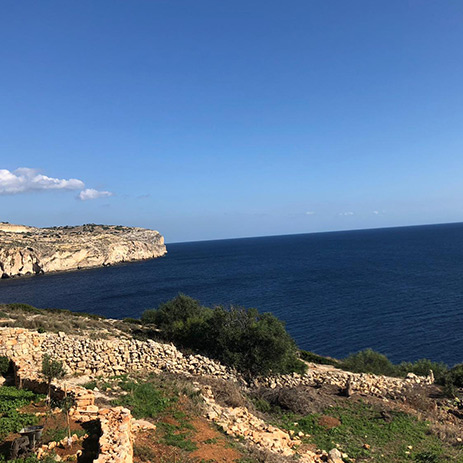 Taking some time out with family is exactly what internal communications executive Colette Fox did for seven-nights when she headed to Malta. Staying in her parent's timeshare in Qawra on the north of the archipelago, it was a time of rest and relaxation. "A great place to wander around is the Qawra seafront where you can breathe in the fresh air and watch the world go by. Another must-see attraction is the Mediterraneo Marine Park as there are animal presentations and you can swim with dolphins," Colette said. "We also went to Popeye Village. Here the whole family can be part of a unique filming experience with the animation crew, and it gives you the opportunity to see yourself on the big screen. In December, there's even a Santa's toy town where you can get a glimpse of Santa's elves preparing toys for the festive season."
Malta in general is fantastic for all ages, and Colette has plenty of recommendations. "Qawra is brilliant for older clientele as it has a more relaxed vibe and plenty of great beaches while St. Julian's is better for partying. InterContinental Malta in St. Julian's has a great beach club if that's what you're after too," Colette said. "October is a great time of the year to go as it's still hot, so we did a lot of swimming and sunbathing, but we also did a tour of southern Malta which was brilliant. Sicily isn't too far away either, just 90-minutes by ferry, so if you wanted to twin both Malta and Sicily, you can do so with ease."
Discover more about Malta here.
DINING ALL INCLUSIVE IN TENERIFE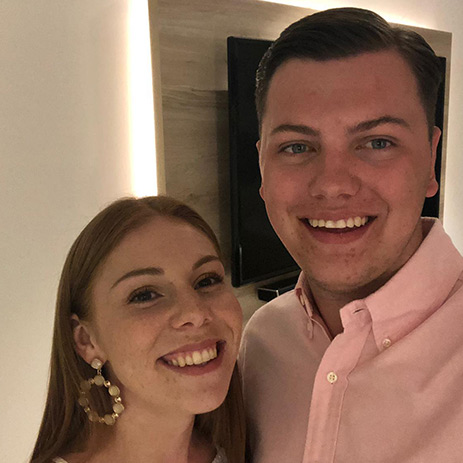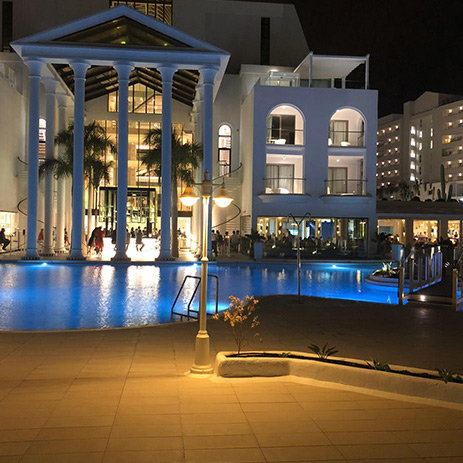 10-nights of all-inclusive guaranteed a great getaway for personal travel executive
Charley Curwood
who ventured to
Tenerife
. Staying at
Hard Rock Hotel Tenerife
and Guayarmina Princess, luxury knew no bounds here. "The all-inclusive option at Hard Rock Hotel Tenerife is fantastic and there's not one part that's subpar," Charley said. "The entertainment is brilliant as well. While my friends and I were there we went to the hotel's monthly 80s night which was a good laugh. In terms of Guayarmina Princess, I would recommend booking a Platinum room which gives you access to the club restaurant which is the best out of the hotel's eateries due to its wide selection and delicious dishes."
It wasn't all relaxing by the pool for Charley though as he also went to Siam Park waterpark for an adrenaline rush. "I'm not a huge fan of rides but my friends persuaded me to go and I'm glad they did as the waterpark was amazing," Charley said. "There were loads of rides and pools to play in, as well as restaurants when you get hungry. Definitely get the premium ticket as that also includes a complimentary lunch."
To book your next trip to Tenerife enquire here or call one of our personal travel managers on 0203 816 0985.
WATCHING THE SUNSET IN SANTORINI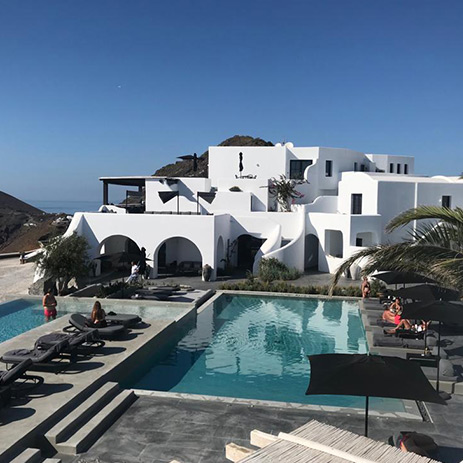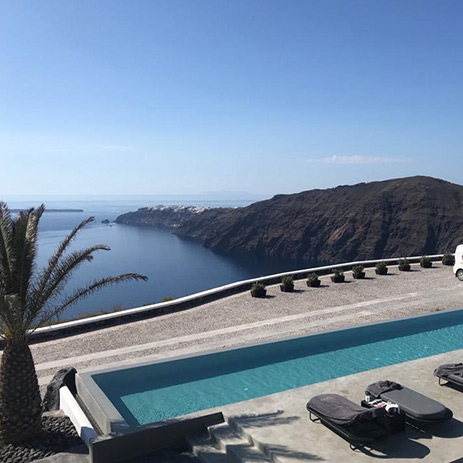 Santorini
is a bucket-list destination for many, and personal travel manager
Louise Silverman
was lucky enough to experience the Greek isle for three-nights. "We stayed at OMMA Santorini which is an incredible luxury boutique hotel that opened in the summer," Louise said. "It sits right on the coast, so you've got panoramic views of the sea. I stayed in a Cave Room which has a domed ceiling, and everything is black and white. In terms of design, no two rooms are the same and as mine was on the top floor, I also had a roof terrace and a plunge pool which was great."
Louise also managed to see the sunset of Oia during her time here. "I would recommend booking a restaurant if you want the best seat for views. Due to the cliffside location of Santorini, some eateries are up high, and you can enjoy the sunset without the crowds and with lots of good food," Louise said. Wine-tasting was also on the menu of this three-night getaway as Louise and the rest of her group went to Vassaltis Vineyards for a sample of some amazing vino paired perfectly with food. Louise finished off with a treatment and the hotel's spa which rounded off a fantastic break in Santorini.
If you fancy seeing the sights of Santorini for yourself, click here to enquire or call one of our personal travel managers on 0203 816 0985.
Share with someone you'd love to travel with

Guy Humphrey
Guy Humphrey is a Content Writer