0203 816 0985
Let's talk. We're open Mon-Sun 9am - 6pm
We're open Mon-Sun 9am - 6pm
Your Month-By-Month Honeymoon Calendar
Planning your wedding can sometimes feel like a never-ending checklist… and sometimes it doesn't always go to plan. From seasonal menus to seasonal flowers, picking the date and allowing everything else to fall into place can feel overwhelming and raise many questions like: 'why can't I have peonies in December at a cost that won't break the bank?' All this and more is before you even begin to start dreaming of your perfect honeymoon. Which is why we've compiled the ultimate honeymoon calendar; your month-by-month guide to planning a dreamy getaway that has equal amounts of romance and adventure alongside a blend of luxury experiences and authentic encounters. And of course, a packing cheat sheet to get you started on the right path.
Perito Moreno Glacier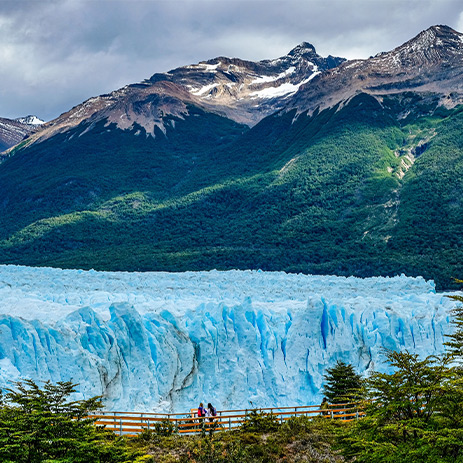 Month:
January


Destination:
Argentina
Average Temperature:
20°
What To Pack?
Camera, Boots, Sunglasses
Recommended Duration:
10 nights
A winter honeymoon usually means one thing; escape the wet and cold of ol' blighty and head somewhere that's fabulously warm. However, what if we said you could have the best of both – sun and possibly snow? Argentina delivers just that. Far flung for it to feel exotic. Warm enough in capital Buenos Aires for long beach days – expect highs of 38°C – and yet if you travel southwest, you can enjoy the chills of seeing the awe-inspiring
Perito Moreno Glacier
up close.
Authentic Gaucho Ranch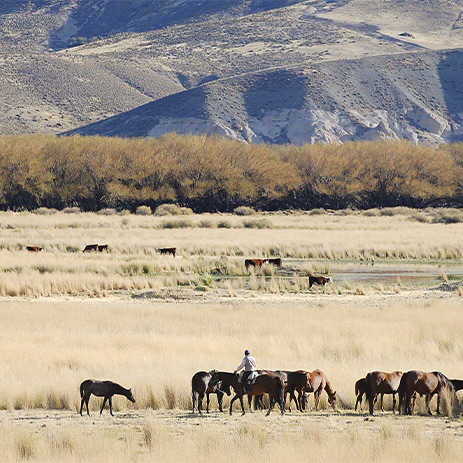 Located in Argentinian Patagonia, the breath-taking sheet of ice is certainly a sight to behold, but the best way to explore its beauty is via a hike. With multiple routes to take, there's an expedition for beginners as well as seasoned climbers. Another must-visit when in Argentina is Iguazu Falls. Located on the Argentinian border with Brazil, the waterfalls create a dramatic scene – one which you can only truly appreciate once witnessed in person.

When it comes to hotels and planning where to stay, Argentina has plenty of choice. However, to make your honeymoon one to remember, why not experience something unique to the region by staying on a ranch working as a ranch hand? Enjoy an authentic experience as you learn more about the traditional gaucho lifestyle by riding horses, herding cattle, playing polo and enjoying delicious barbeque. It'll certainly provide a story that you can share for years to come.

An Underwater Suite at Atlantis, The Palm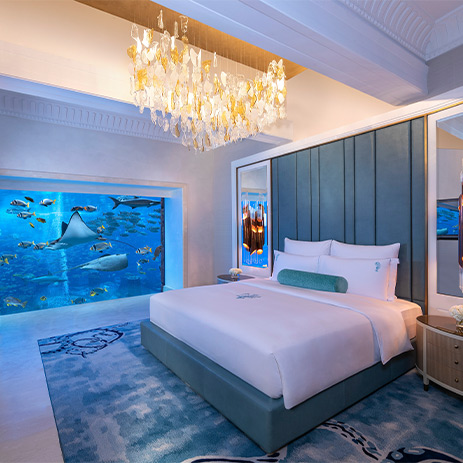 Month:
February
Destination:
Dubai, UAE
Average Temperature:
31°
What To Pack?
Sun hat, Swimwear, Heels
Recommended Duration:
7 nights
The city where too much is never enough,
Dubai
is unapologetically flashy and tops the scale for its glamour. It's a city of contradictions – where else can you have a ski lesson in the world's largest indoor ski slope and go dune bashing in the desert all within one afternoon? And we bet it'll steal your heart forever.
Al Maha, A Luxury Collection Desert Resort and Spa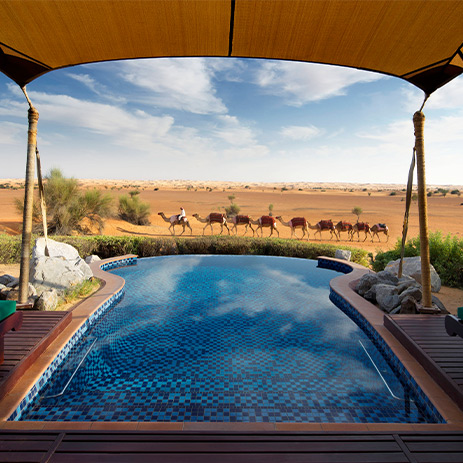 Its ever-changing skyline makes it a fantastic honeymoon destination: There's always something new to see. Whether you'd like to sleep in an underwater suite at
Atlantis, The Palm
or enjoy a delightful afternoon tea at
Armani Hotel Dubai
that's within the tallest building in the world, Burj Khalifa, the city is bursting with one-of-a-kind experiences and your honeymoon is the perfect excuse to try them all.
To make your stay extra special, we highly recommend a few nights away from the city and its beaches. Instead, head to the desert with a stay at
Al Maha, A Luxury Collection Desert Resort and Spa
. This private hideaway is nestled within the Dubai Desert Conservation Reserve and provides sweeping vistas of the Hajar Mountain massif and endless golden desert dunes. Get a taste for the Bedouin way of life by sleeping in a five-star tented accommodation complete with private pool, air conditioning and spacious bathrooms while you whittle away your days luxuriating in the spa, riding camels or horses, spotting rare wildlife and more.
To discover more on the hotel, click here.
The Muraka, Conrad Maldives Rangali Island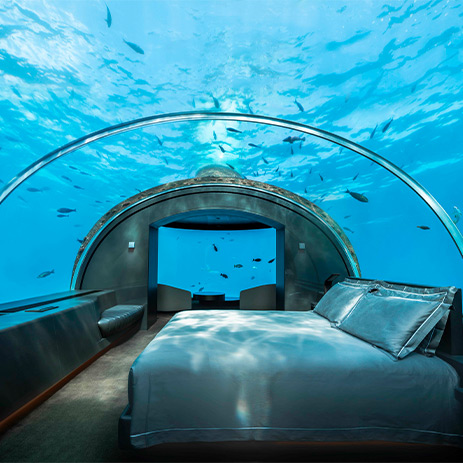 Month:
March
Destination:
Maldives
Average Temperature:
30°
What To Pack?
Sunglasses, Swimwear, Snorkel
Recommended Duration:
10 nights
The Maldives
tops the honeymoon wish list destination for most newlyweds… and it is easy to see why. A collection of private island escapes peppered across the Indian Ocean's most scenic atolls, here you can truly shut-off from the world and enjoy a blissful getaway as a couple. But did you know that Maldives is also fantastic for families with many boasting comprehensive children's programmes and dedicated kids' clubs? So, if you can't bear to be apart from your little ones, Maldives should be at the top of your family honeymoon list.
Beach Bubble at Finolhu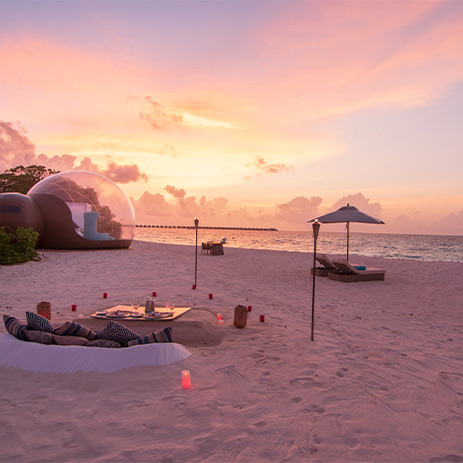 Whether travelling as newlyweds or with the family in tow, there's an island escape for all… and that includes those looking for something extra special. Fancy dinner in an underwater restaurant? There are six to choose from with each one located on a different resort from all-inclusive to all-out-luxury. Alternatively, at
Finolhu
you can spend a night in a beach bubble. After a barbeque dinner prepared by a private chef, you're all set for an evening of stargazing on your own private stretch of beach.
However, for the cream of the crop, book a stay at The Muraka. Part of
Conrad Maldives Rangali Island
, this is the world's first underwater suite. The split-level accommodation features a terrace that's surrounded by the azure Indian Ocean, complete with a private swimming pool; two bedrooms above sea level; an underwater master bedroom with 180-degree curved acrylic dome; underwater bathroom and walk-in closet; butler service and a private chef. There truly isn't anywhere that comes close to this level of ingenuity and luxury in the world.
Cherry Blossoms by Mount Fuji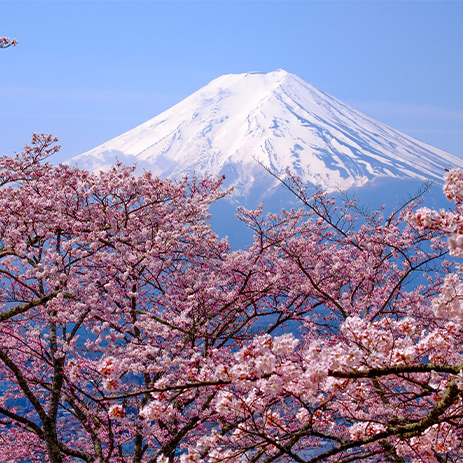 Month:
April
Destination:
A tour of Japan

Average Temperature:
18°

What To Pack?
Dress, Camera, Book
Recommended Duration:
21 nights
If you only visit
Japan
once in your lifetime, make sure you book your trip for spring. An April visit to this breath-taking country is when the
cherry blossoms
are in full bloom so you'll get to enjoy your trip through rose-tinted glasses and a petal-dappled lens.
Arashiyama Monkey Park Iwatayama,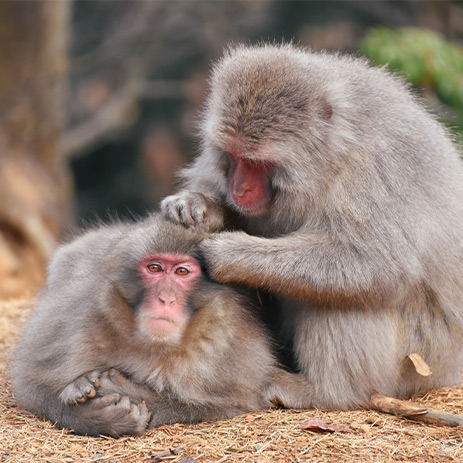 Start your holiday in its capital, Tokyo, where there are many parks that will be a gorgeous shade of blush. Do as the locals do and enjoy a picnic under a cherry blossom tree or hire a rowboat and glide past the petals with your camera, capturing the pretty scenery. In the hubbub of the city, you can try authentic sushi, visit tech-forward digital museums, shop at local flea markets and soak up the fascinating Japanese culture.

Next up, get familiar with the bullet train and visit Kyoto where you can fill your days visiting ancient temples, making friends with primates at Arashiyama Monkey Park Iwatayama, relaxing in hot springs atop Mt. Kurama and even participate in a traditional tea ceremony known as chado or sado. We then recommend you continue your tour of Japan including visits to Nara, Okayama, Hiroshima and Miyajima or take a seven-hour flight to Hawaii for a little sun, sea and surfing!

Capri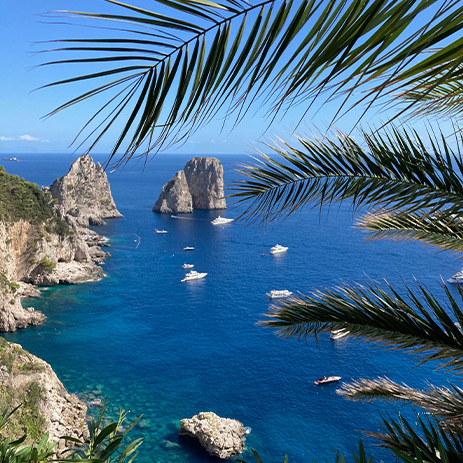 Month:
May
Destination: Amalfi Coast, Italy

Average Temperature:
22°
What To Pack?
Book, Floppy hat, Driving Licence
Recommended Duration:
10 nights
A one-hour drive from Naples International Airport, or a three-hour train route frmo the bustling capital of Rome, getting to the pasta-eating nation's famous coastline is relatively straightforward... any my goodness will you be tranfixed once you arrive. Italy's glorious
Amalfi Coast
is perfect for couples who enjoy al fresco dining, wine sipping and people watching.
The Blue Grotto, Capri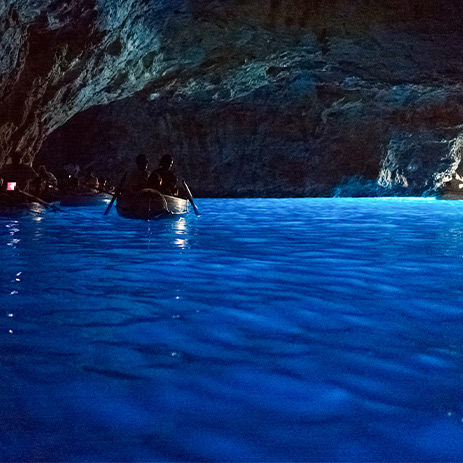 Whether you're sat on a boutique hotel's rooftop with an Aperol Spritz or in a quaint courtyard enjoying homemade pasta… Italy's laidback way of life is perfect for honeymooning newlyweds who want to put the breaks on after a few months of
wedmin
(that's wedding admin for any grooms reading this article – and something your soon-to-be-wife has probably been having sleepless nights over).
Flying into Naples, for the ultimate start to your trip we recommend hiring an open-top vintage car and driving to Portofino, the most glamorous town on the coast. After a few nights here, follow the coast to Amalfi and then on to the mountain-top town of Ravello. From here we recommend
chartering a yacht
for the day. Enjoy champagne, oysters, and swimming in the twinkling Tyrrhenian Sea before docking at
Capri
– this is by far the most stylish way to get to the island. After enjoying island life – and embarking on a few more boat trips including one to the Blue Grotto – it's back to the mainland for a few nights in Sorrento. Utter bliss!
Breakfast with giraffes at Giraffe Manor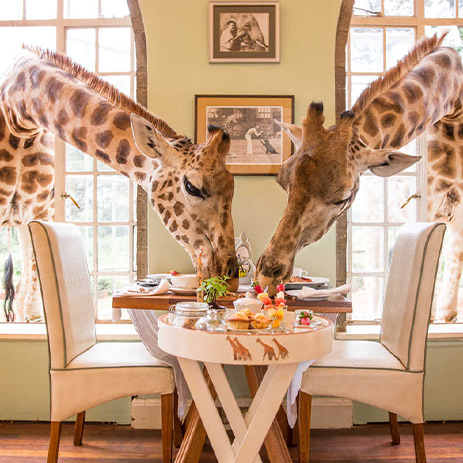 Month:
June
Destination:
A tour of Africa

Average Temperature:
22°

What To Pack?
Walking Boots, Camera, Binoculars

Recommended Duration:
14 night itinerary across multiple countries
Step foot inside the real Lion King with a two-week trip across Africa's best
safari
locations. With multiple itineraries and routes to take – and twin centres with beach breaks also common – no two safari honeymoons will ever be the same. For the ultimate once-in-a-lifetime experience in this corner of the globe, enjoy breakfast with the tallest mammals in the world at Giraffe Manor in Nairobi.
Boulder Beach, Cape Town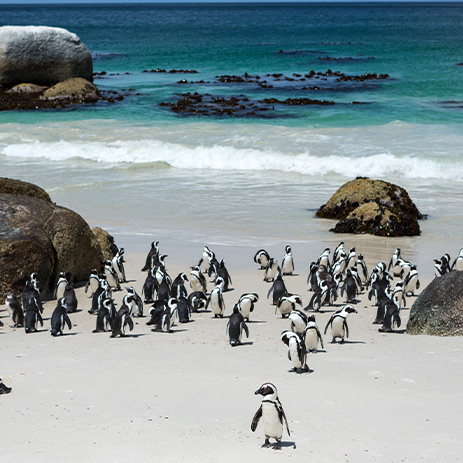 Set in 12 acres of private land within 140 acres of indigenous forest, Giraffe Manor is one of Nairobi's most iconic buildings. The manor house dates back to the 1930s and offers a stately stay… one in which you'll share with some larger-than-life residents. With just 12 rooms, enjoy an intimate encounter with the friendly
giraffes including breakfast
where they will poke their heads in to say hello – and await a treat. From here we recommend a visit to Kenya's Maasai Mara Nature Reserve at one of its many eco lodges. Oh, and if you're lucky you may spot the Big Migration which happens yearly during the dry season from June to October.
Another exception safari location is
South Africa
where you can team your break with a stay in Cape Town. Be sure to visit Boulder Beach to spend an afternoon with the resident penguins and then reminisce about your wonderful encounter over seasonal grapes with a few nights in the winelands. It's the perfect trip for a nature lover and wine connoisseur.
Post Ranch Inn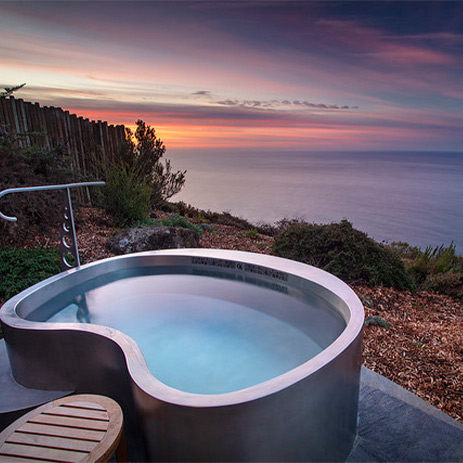 Month: July

Destination: USA West Coast Fly Drive

Average Temperature: 27°

What To Pack? Guide Book, Driving Licence, Sunglasses

Recommended Duration: 14 – 21 nights

Yes, we're recommending another jam-packed itinerary honeymoon but the best adventures are not had standing still! Renting a car and enjoying the open road on America's west coast is certainly a bucket list holiday for many, so why not splash out on a better vehicle and more luxurious hotels and enjoy this exciting trip for your honeymoon?
Post Ranch Inn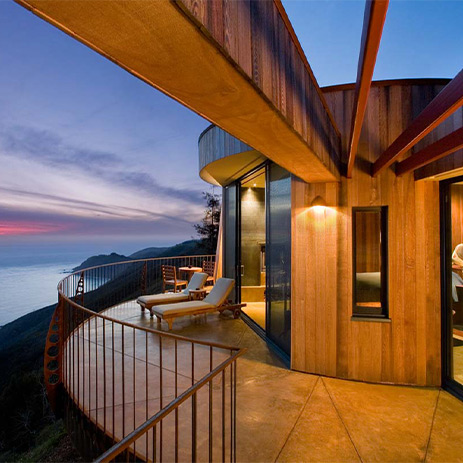 Starting in San Francisco, from here you can enjoy a day or two in Napa Valley before passing back through San Fran and onto Monterey Bay where you can enjoy an afternoon of whale spotting. For the golfers among you, try to squeeze in a round of 18 at
Pebble Beach
before heading on to Big Sur. For unbeatable views,
check-in to Post Ranch Inn
or for a more authentic experience why not sleep in a forest lodge or work on a ranch for a few days?
Continuing on the open road, next it's Santa Barbara – a great choice for surfing – and then Santa Monica with a few nights in celebrity hotspot LA. Stay in the
Beverly Wilshire – A Four Seasons Hotel
if you're a fan of Pretty Woman… or just want to be close to the fabulous Rodeo Drive. Then complete your getaway with a stint in San Diego or – for the high rollers – drive for a further five-hours where you'll reach the bright lights of Las Vegas.
Sandat Glamping Tents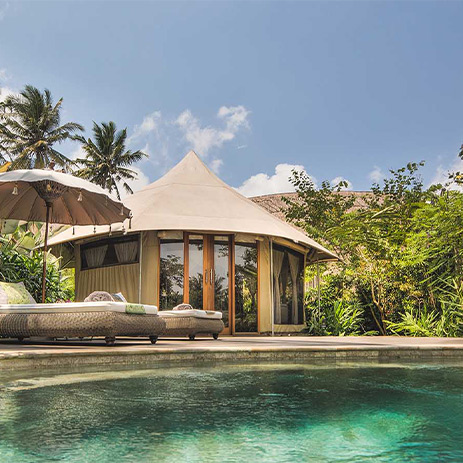 Month: August

Destination: Bali

Average Temperature: 27°

What To Pack? Flip Flops, Swimwear and Snorkel

Recommended Duration: 14 nights

The perfect blend of culture and fun, Bali has something for all. Whether you want to hide away in Ubud with never-ending views of the luscious rice fields or lounge on the beach in Seminyak with a fresh coconut in your hand, this corner of the world will certainly transport you to a place of zen.

Underwater sculpture off the shore of Gili Meno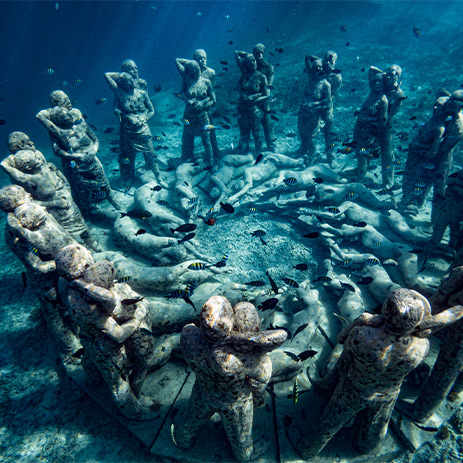 Sustainability is a growing trend, and this is reflected in the islands vast range of accommodation options. Enjoy the tent life at
Sandat Glamping Tents
– complete with private pools – or take to the trees with a treehouse that comes complete with an outdoor bathroom.
Destinations such as Indonesia always keep its best gems hidden. Whether that's under the ocean where divers will find a circle of 48 life-size figures off the coast of Gili Meno or on a secluded island called Nusa Penida. Here you'll have to work to get to the remote beaches, navigating steep steps down the side of cliffs - but it's all part of the experience. And the very best part? Many of the sandy stretches are totally empty so you can swim, sunbathe and even snorkel in utter privacy. Keep your eyes peeled for manta rays!
The Brando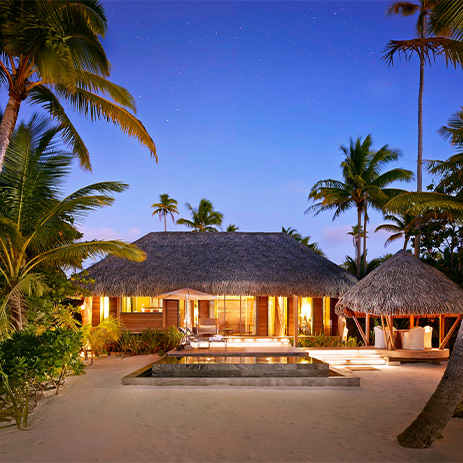 Month:
September
Destination:
Island hop around French Polynesia
Average Temperature:
26°
What To Pack?
Sunglasses, Snorkel, Camera
Recommended Duration:
2 weeks
More than 100 islands scattered across 5 archipelagos,
French Polynesia
provides a varied honeymoon destination. Expect landscapes decorated with dramatic waterfalls, teeny isles surrounded by endless azure ocean, and volcanic isles which we're pretty sure paradise was modelled on.
​​​​​​This corner of the world is luxury, through and through, so if you do decide to visit, we recommend you squeeze as much as you can into one trip – which means island hopping! All international visitors will land in Tahiti where you can explore its many mountains and waterfall valleys on foot or by 4 x 4 vehicles. After a few days here, we then recommend you visit Mo'orea.
Tahiti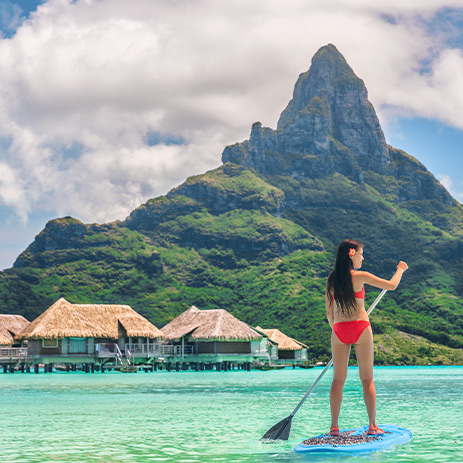 Getting to Mo'orea is easy – just a short flight or ferry ride. Here you'll discover traditional French Polynesia scenes. Think white sand beaches, intense blue lagoons, luscious green trees and tropical flora. It's a great spot for snorkelling with reef sharks and sting rays or, for a little culture, why not visit one of the Polynesian temples?
A 50-minute flight takes you from Mo'orea to Bora Bora, possibly the most famous island in French Polynesia. Surrounded by islets that house luxury five-star resorts, this is where you'll discover overwater bungalows, reefs teeming with tropical fish and sandy beaches that are as soft as clouds.
Wherever you choose to stay, it'll be extraordinary – the views alone are all you need for an incredible honeymoon. However, for a trip to remember be sure to stay at
The Brando
, a luxury island resort and the brainchild of the late American actor Marlon Brando. You can arrive via a 20-minute 6-person plane transfer from Tahiti which marks just the beginning of your once-in-a lifetime experience.
To discover more, click here
.
The Spa at Alila Jabal Akhdar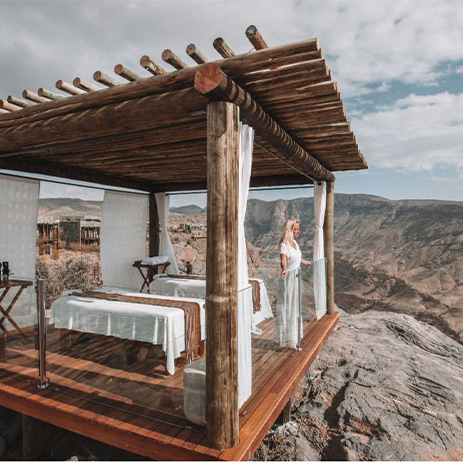 Month:
October
Destination:
Oman
Average Temperature:
35°
What To Pack?
Book, Long dress, Walking boots
Recommended Duration:
7 nights
Offering an authentic taste of the Middle East and a window into the region's ancient traditions and fascinating culture,
Oman
is growing in popularity as a holiday destination.
Alila Jabal Akhdar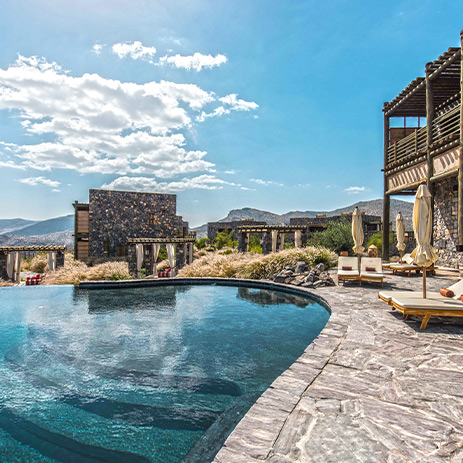 Boasting year-round great weather, stunning beaches, five-star hotels and exceptional food it's easy to understand why Oman is favoured by holidaymakers; while its exceptional customer service makes it perfect for honeymooners who want that extra layer of TLC.
What sets this destination apart is its out-of-this-world mountain resorts. Above the clouds, you can easily feel a world away at
Alila Jabal Akhdar
. The all-suite accommodation offers endless mountain views and all the modern comforts you could possibly desire including private terraces with pools, butler service and even a steam room in the largest villa option. The dining is inspired by the golden age of Arabic cuisine and the spa also provides an authentic experience with ancient rituals and natural products used to aid rejuvenation… although the view from the spa alone will probably make all your worries melt away. Discover more on this hotel by
clicking here
.
Keemala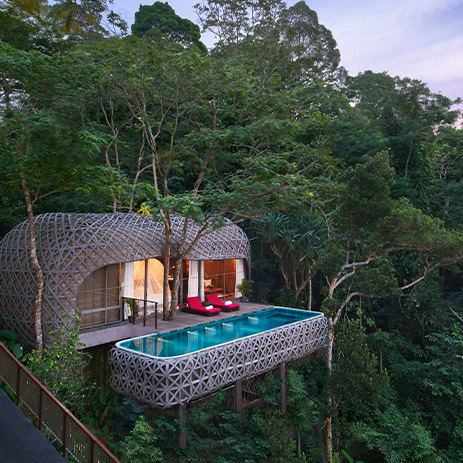 Month: November

Destination: A Tour of Thailand

Average Temperature: 32°

What To Pack? Snorkel, Flip Flops, Shirt

Recommended Duration: 14 nights

A popular south-east Asia destination, Thailand is a superb long-haul option for honeymooners. Away from the backpackers' hostels and street food – although for an authentic taste of Thailand we do recommend you sample the local delights – there's a world of luxury resorts and experiences just waiting for newlyweds to enjoy.
Elephant Hills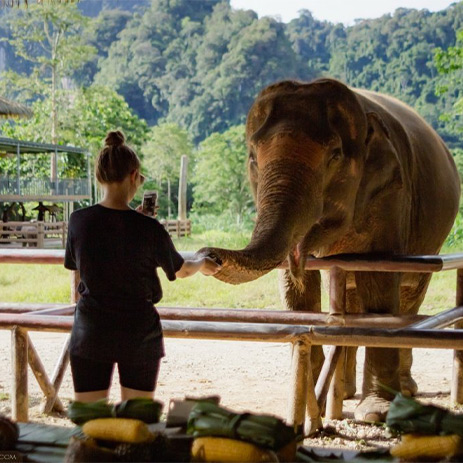 Phuket is bursting with deluxe stays but for something a little different visit
Keemala
and enjoy waking up in a treehouse complete with private pool.
A little further north is the stunning Khao Sok National Park where you can canoe or kayak down the still river and enjoy bird watching… and if you're lucky you may even catch a glimpse of tigers. This is where you can also enjoy a once-in-a-lifetime experience: staying in a luxury tent surrounded by the world's largest mammals at
Elephant Hills
a private elephant nature reserve.
Accommodation aside, if you're a bit of a foodie be sure to visit Vertigo and Moon Bar while in Bangkok. Located on the rooftop of the
Banyan Tree Hotel,
here you'll enjoy sweeping views of the city below while savouring the best in international cuisine. Be sure to bring your camera!
Lapland Ice Driving
Month:
December
Destination:
Finland
Average Temperature:
-9°
What To Pack?
Warm coat, Camera, Gloves
Recommended Duration:
5 nights
Swap your swimsuit for thermals as December is a great time to visit the Arctic Circle. Finland is a fantastic base and offers a diverse range of activities to keep you entertained. From husky sledding to snowmobile safaris, don't be fooled into thinking this honeymoon will be short and sweet… instead a trip to
Finland
is jam packed with fun from touch down to departure.
Igloo Village at Kakslauttanen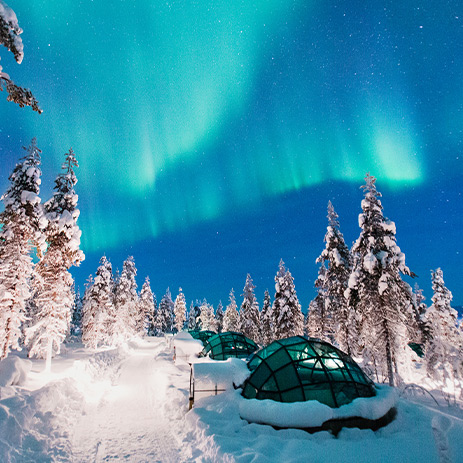 Speed demons, listen up! In Finnish Lapland you can race supercars around replica Formula 1 tracks all made out of ice. Drift around corners and reach speeds of 125mph on full-size replica tracks where the edges are built from soft powdered snow. It's truly incredible.
For a little more culture why not set out on a Northern Light's tour? Ruefully unpredictable, sightings are rare, however there are multiple hotels and resorts that offer viewing opportunities right from your bed… some even have Aurelia Borealis alarm bells to wake you when it's a clear sky and the lights make a dramatic appearance. One of our favourites is the glass-topped igloos of
Kakslauttanen
. Cosy and magical, this one's off the romance Richter scale!
To discover more honeymoon suggestions, contact our friendly team of personal travel managers today on 0203 816 0985. Delve into their wealth of worldwide knowledge, share your likes and dislikes and let the experts do the rest. You can also submit an online enquiry and we'll contact you at a time that suits to discuss your ideal travel itinerary.
Share with someone you'd love to travel with

Lauren Godfrey
Lauren Godfrey is a Marketing Manager