0203 816 0985
Let's talk. We're open Mon-Fri 9am - 6pm
We're open Mon-Fri 9am - 6pm

This Month We've Been: October and November 2018
October and November have been busy months for us here at Winged Boots. Not only have we finished the brochure which will be dropping in January, but we've also sent hundreds of our wonderful customers on a range of magical getaways. We also welcomed three new members to the team - personal travel manager Louise Silverman personal travel manager Nelash Patel and administration coordinator Grace Flower – and we're pleased to announce they've taken to Winged Boots like a duck to water. Throughout this busy time, we have managed to get away ourselves too. Six members of staff went to
Abu Dhabi
and
Ras Al Khaimah
for some sun, sand and plenty of five-star luxury, while our personal travel executive Charley Curwood also headed to Cannes this month. Our new recruit Louise spent some time in
St. Lucia
, and all five of our directors also went to
Dubai
for their quarterly board meeting. Add a
USA
road trip and a romantic weekend to Vienna, and you have an action-packed couple of months.
EXPLORING ABU DHABI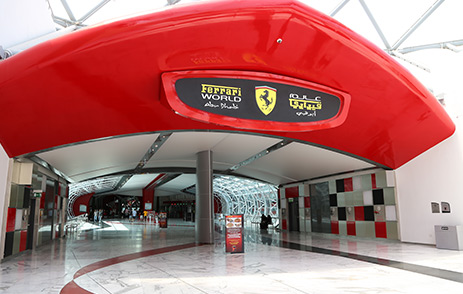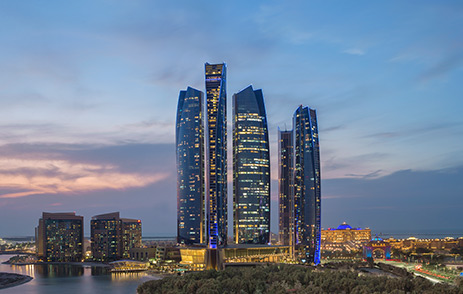 Earlier this month, we sent five members of the sales team and one member of the marketing team to Abu Dhabi and Ras Al Khaimah on a familiarisation trip. It was a brilliant four days as the group managed to squeeze in 14 hotel tours, excursions to
Ferrari World
and Warner Bros World, a speed boat tour and three amazing dinners out. Staying at the Saadiyat Rotana for two nights and Waldorf Astoria Ras Al Khaimah for one, a luxury time was guaranteed. Everyone enjoyed topping up their knowledge on the two emirates and the five-star hotels within, and we can't wait to share our expertise with you.
From the gold leaf interiors of
Emirates Palace
and the stunning lobby of
Jumeirah at Etihad Towers
to the champagne sabering session at
The St. Regis Abu Dhabi
and the amazing Lebanese food at
The Ritz-Carlton Abu Dhabi, Grand Canal
for one, it truly was a phenomenal four days. Speaking about the trip, personal travel manager
Claire Baker
; "it was great seeing all the different hotels and I will definitely be recommending some to my customers. I loved getting up early and walking along the beach, the sunrise each morning was incredible."
To find out more about Abu Dhabi, click here.
WANDERING THROUGH CANNES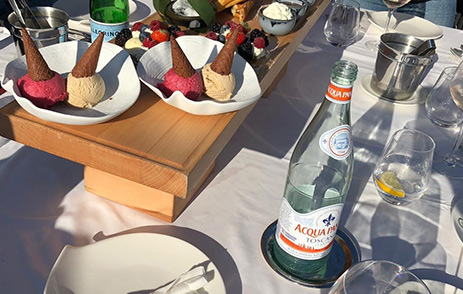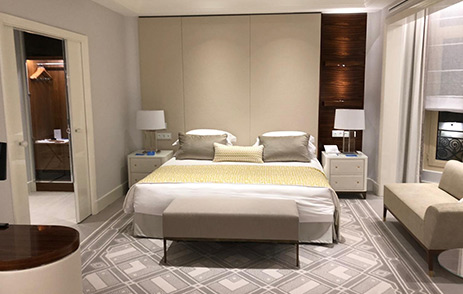 It was then three days of high-flying luxury as personal travel executive Charley Curwood headed to
Nice
and
Cannes
business-class along with five other external travel agents on a familiarisation trip that was hosted by Hyatt. "After landing we headed to Hyatt Regency Nice which is a great option for corporate travellers as it's right in the heart of the city. It's also just 10-minutes from Nice Côte d'Asur International Airport, too," Charley said.
The base for the group was
Grand Hyatt Cannes Hôtel Martinez
. "The hotel was brilliant. It's just been renovated so it feels brand new. The rooms were lovely and white with marble accents, and I can't wait for the Penthouse Suites to be renovated next year," Charley remarked. "We had tapas at the bar which included these amazing lamb hotdogs, before heading to Chrystie's Bar which is pretty spectacular. It's very upmarket and perfect for a luxury evening away in Cannes."
A day of culture then ensued as the group headed to various museums such as Mougins Museum of Classical Art, Fragonard Museum of Perfume and a glass-blowing factory. Hosted by Andy Swann from DMC Andy Swann Voyage, the group learnt how perfume was made, from conception through to the bottling process, before having a go at blowing their own glass creations. Dinner was then served at Mediterranean eatery Version Originale, before listening to the dulcet tones of a live singer at La Chunga restaurant and bar which was conveniently located just across the road.
Sightseeing was top of the agenda of the final day. From the steps of the Palais des Festival et des Congres to embarking on a speedboat to St. Honorat Island for some wine that was made by monks, it was truly unforgettable. "Cannes is brilliant, and I think couples and night-owls will be in their element here. My top recommendation would be La Môme restaurant which is right on the beach and serves amazing seafood. We went for lunch, but I would imagine its beautiful when the sun sets," Charley explained.
LOUNGING IN ST. LUCIA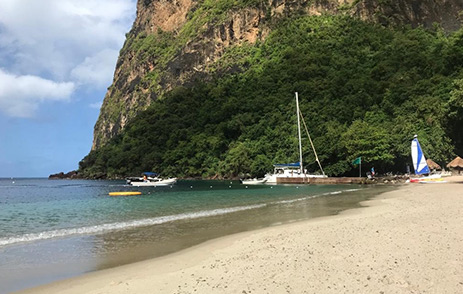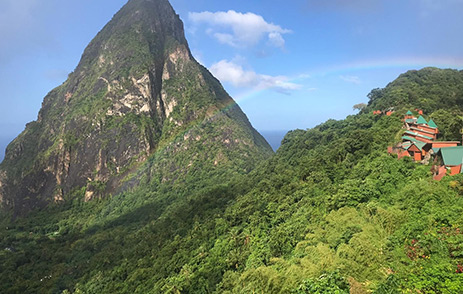 Right before starting at Winged Boots, one of our new personal travel managers Louise Silverman headed to St. Lucia with her sister. It was a week of relaxation, as Louise stayed in three of the best hotels in this Caribbean jewel. "I stayed at
Cap Maison
for two nights,
Marigot Bay Resort & Marina
for three and then Ladera Resort for two nights," Louise said. "Cap Maison was very boutique in style, and it's great for people that don't want to be seen as it's quite secluded. A lot of the rooms have their own private rooftop pools and families that want to get away from it all are also catered for as there are an array of two-bedroom villas."
Marigot Bay Resort & Marina was the next port of call which is a brilliant choice if you want to be close to all the action of St. Lucia. "The main bar is a swim-up bar which is where you'll find most of the hotel, and what's good about Marigot Bay Resort & Marina is there's a harbour attached to the hotel, so you can relax and watch the boats and yachts go past. It feels very much like a resort but you're in a luxury hotel… it was amazing," Louise said.
However, it was Ladera Resort that captured Louise's heart as it overlooked the Pitons. "When you walk in, everything is rustic in design and the Duplex Rooms' had a swimming pool that actually came inside. They were open-front rooms too, so the views were spectacular," Louise remarked. If that wasn't enough, the hotel's restaurant is equally as amazing. "It's all open at the front so you can sit and stare at the sunset or the sunrise in the morning. It was quite special," Louise finished.
DOING BUSINESS IN DUBAI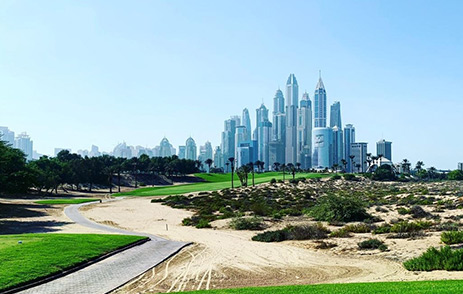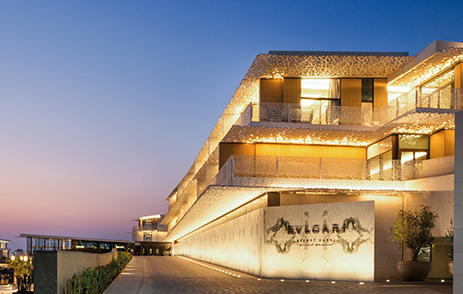 November saw all five of the directors,
David Ox
, Daniel Ox, Chris Ford, Harry Hastings and George Hastings, head to Dubai for the Q3 board meeting. "This year, we spent the first two nights at the
Waldorf Astoria Dubai Palm Jumeirah
which is a great hotel. The meeting facilities are fantastic, and the hotel really look after you," David said. "For dinner, we tucked into the tasting menu at the Italian restaurant Heinz Beck, which was absolutely off the scale. It was very good, and I would definitely recommend," David finished.
For the remaining two nights, the directors called
Bvlgari Resort Dubai
home. Speaking about the ultra-luxury property, David said that it was amazing. "It's very much aimed at the elite market. They've had some serious celebrities stay there already as well as royalty and heads of state," David remarked. But the USP? The private villas of course! "A lot of the other hotels have one or two villas on the property, whereas Bvlgari Resort Dubai has lots of them and they're all in a private peninsula on the beach. They are going to be very much sought after at the top end of the market," David predicted.
It wasn't just business and boardrooms though, as a game of golf on The Majils Course at Emirates Golf Club was also played, which David thought was claimed to be one of his many highlights. "The Majils Course was the original five-star course where they used to host all the big tournaments. It's quite surreal as you're in the middle of the city, teeing off on the fairways that are surrounded by these huge skyscrapers," David said. "Overall, Dubai's a fantastic place for MICE travel. If you've got any incentive groups or meetings planned, all of the hotels are well equipped with great meeting space and facilities."
Discover more about Winged Boots business and our amazing corporate packages right here. We can help with everything from a simple set of flights to a complex group booking. To enquire, simply click here or call one of our personal travel managers on 0203 816 0985.
EMBARKING ON A US ROADTRIP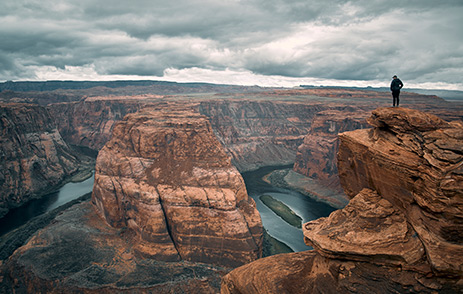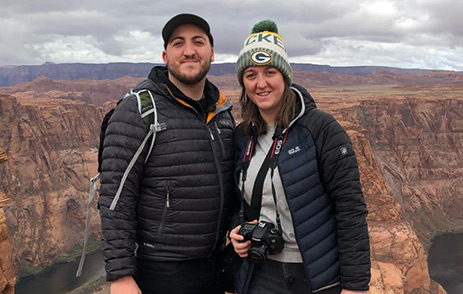 It was 16-days of adventure as graphic designer
Tim Martin-Harvey
went on a road trip in the United States of America. Starting off in Denver, Tim went through New Mexico,
Arizona
and Utah before going full circle and heading back to Colorado. Many national parks were visited along the way including Monument Valley Navajo Tribal Park and the Grand Canyon National Park. Needless to say, this trip was magical. "It was an unforgettable trip and some of the views were out-of-this-world," Tim said. "If you're a fan of hiking and adventuring, you're going to love it, however first-timers will also enjoy it as there's such a wide range of things to do in the national parks," Tim finished.
When asked about what his highlights were, Tim found it hard to choose. "One of my top highlights was Horseshoe Bend in Arizona. We drove there when we were on our way to Page and we could have stayed there looking at the scenery for hours," Tim remarked. "I also embarked on one of the most dangerous hikes in the world. Angels Landing in Zion National Park in Utah, was breath-taking. Everything about it was exciting from the views and the scenery to the actual trail itself. It's one of my top recommendations."
Hit the pedal to the metal with an American road trip for yourself by enquiring here or calling one of our personal travel managers on 0203 816 0985.
SEEING THE BEAUTY OF VIENNA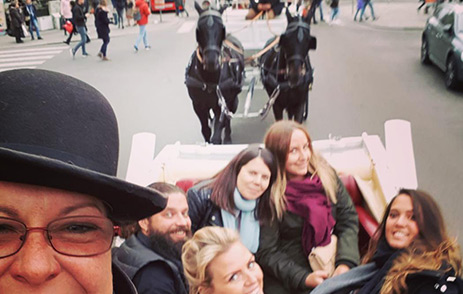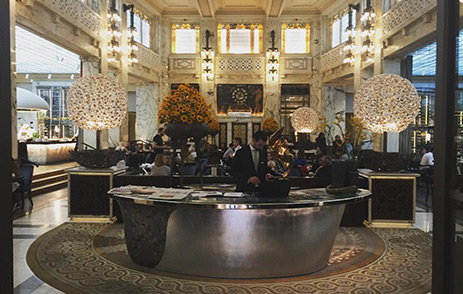 A weekend away was on the cards for personal travel manager Claire Baker, and boy was it a great one! "Staying at the Park Hyatt Vienna was amazing. I would say it's one of the best hotels in the city, and it's great for all travellers no matter what age." Claire said. "It was once an old bank but it's now been modernised yet it still retains some traditional features… it really is beautiful." Claire gushed.

During their two-day getaway, Claire and her husband managed to fit in plenty! From dining at The Bank Brasserie & Bar which, as Claire described, "was an absolutely wonderful restaurant and incredibly popular with both guests and the general public," to heading backstage at an opera show and seeing Lipizzan horses at the famed Spanish Riding School, it was a marvellous experience that will never be forgotten.

Claire's top recommendation would be to go during December. "That's when the city have all of the Christmas markets on," Claire said. "While I was there in November they were just setting up, however if you're taking an extended break or you're there during the festive season, you should definitely go."

Fancy booking a trip to Vienna? Call one of our personal travel managers on 0203 816 0985 now.
COMPLETING VOLUME TWO OF WINGED BOOTS: THE LIFESTYLE BROCHURE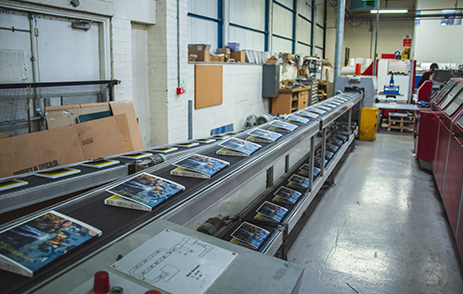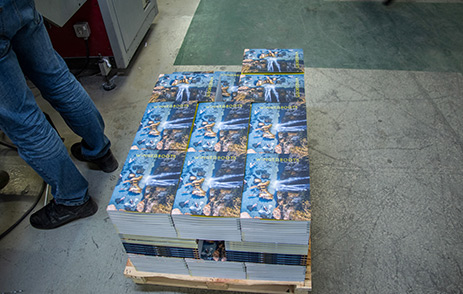 November saw the marketing team wrap up Volume Two of the lifestyle brochure. Packed with interviews, articles and hotel listings, the brochure is set to hit your door in January 2019 so make sure to keep a lookout on our
social media channels
or in your post. From interviews with Mark Noble and Alan Brazil to finding out which Thai island is right for you, there really is something to suit all readers. "The brochure has taken the best part of 10-weeks to write, design and edit, and I thoroughly enjoyed the process from start to finish," marketing manager
Lauren Godfrey
said. "I hope it will help our customers, both existing and potential new ones, when it comes to booking their next holiday with us. If you're still not on our mailing list, make sure to email
marketing@wingedboots.co.uk
to request your copy."
Share with someone you'd love to travel with

Guy Humphrey
Guy Humphrey is a Content Writer