0203 816 0985
Let's talk. We're open Mon-Sun 9am - 6pm
We're open Mon-Sun 9am - 6pm
This Month We've Been: July 2018
July has been a hectic one for us at WB HQ. Not only did we have an amazing World Cup offer that saw many of our clients jet off to Russia for the semi-finals but this month we also hosted our very own golf day at Foxhills Club & Resort in Surrey in collaboration with IFX Payments. Meanwhile, James Kenyon (head of business) spent some time in France, Italy, Switzerland and Germany on an epic supercar rally and David Ox (director of Winged Boots) hopped aboard a yacht in Mallorca. Needless to say it's been an exciting month.
Recommended

Properties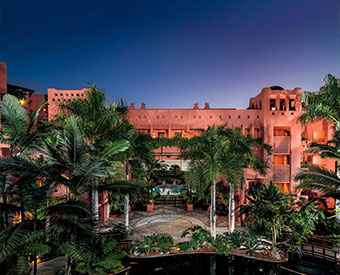 Hotel
3 nights from £465 pp inc flights
Best for:Beach, Business, Christmas
Beachfront location offering tranquillity and stunning ocean vistas  
Modern, chic rooms, suites and villas offering beautiful terraces and five-star amenities  
Boasting 10 on-site restaurants, seven swimming pools, a kids' club and blissful spa
Best for: Beach, Business, Christmas
Style: System.Collections.Generic.List`1[System.String]
3 nights from £465 pp inc flights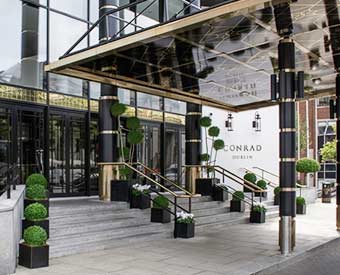 Hotel
3 nights from £590 pp inc flights
Best for:Business, City, Couples
Prime city location, in walking distance from shopping, bars and Dublin's attractions 
Luxurious comfortable rooms and suites boasting modern amenities and chic décor  
Enjoy fine dining, a relaxed brasserie, a fantastic bar menu and afternoon tea
Best for: Business, City, Couples
Style: System.Collections.Generic.List`1[System.String]
3 nights from £590 pp inc flights
DRIVING IN THE FAST LANE WITH A SUPERCAR RALLY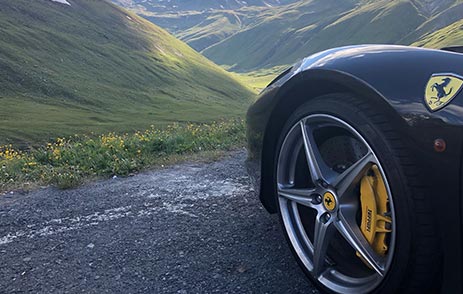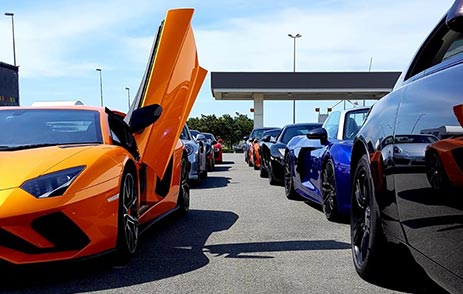 As a lover of fast motors, our head of business,
James Kenyon
, was in his element during his annual supercar rally this month. Speeding off through not one but four of Europe's hottest destinations –
France
,
Italy,
Switzerland
and
Germany
– it was seven days of tight corners, jawdropping views, world-class hotels and Michelin-starred restaurants. All of this was finished off with a finale party at the super-exclusive Baoli Beach Club in Cannes.
Speaking about what makes supercar rallies so special, James said that it's a combination of things ranging from meeting great people to driving a fantastic car; "If you're a true petrolhead like me, you get to understand why you really bought that car and truly appreciate driving it. You also get to explore parts of Europe which you would never otherwise see if you didn't embark on a supercar rally. The excitement of waking up in a new destination every day with fresh experiences on the cards made it a very unique trip."
To discover more about James' supercar rally experience, click here.
FALLING IN THE SEA OF THE MALDIVES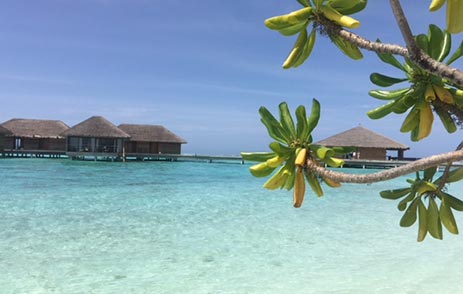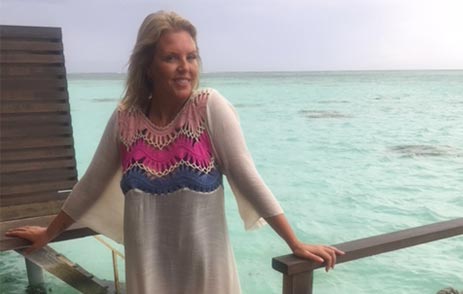 The Maldives
is a place of real beauty with its idyllic white sand, glorious Atolls and utter remoteness. Our personal travel manager,
Claire Baker
, has relished such scenes five times now on her personal leisure holiday with her most recent being nothing short of perfection.
But why did Claire choose to visit the Maldives? "We wanted a relaxing holiday as all our recent trips have been quite active. Whenever I want a beach holiday where I can just unwind I'll always choose the Maldives over anywhere else."
An overwater villa complete with three lionfish swimming underneath at the recently opened Cocoon Maldives was where Claire stayed for the duration of her 10-night getaway. While the holiday was a laidback one, it was certainly unforgettable. "My husband was snorkelling, and I thought it would make a good picture. I stood at the top of the villa however I lost my footing and slipped into the ocean. Because my husband's head was under the water he couldn't hear me however he heard a massive bang and then all he could see was me, with my phone in my hand and bubbles coming out of my mouth. He jokes now that a killer whale was coming to get him."
Summing up her trip, Claire said, "there isn't anywhere like the Maldives. Arriving by seaplane you're guaranteed glorious vistas thanks to the aerial views. It's simply breathtaking and I can't wait to go back."
Start planning your ultimate Indian Ocean getaway by clicking here or calling one of our personal travel managers on 0203 816 0985.
RELISHING THE BEAUTY OF DUBLIN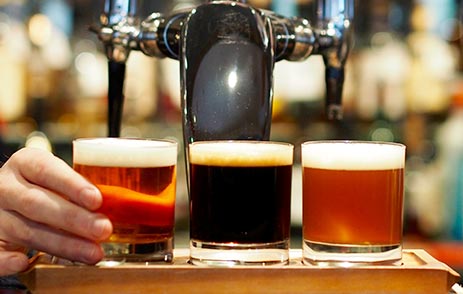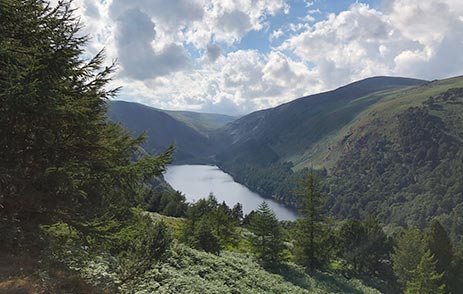 Home to the
Guinness Storehouse
, historic buildings and of course U2,
Dublin
is a top destination that is perfect for a quick getaway. This is exactly what our product manager,
Anna-Maria Janssen
, did as she jetted off to this Irish beauty for a few days this month.
During her time there Anna met with
Conrad Dublin
which in her view is an amazing hotel. "It has the biggest Presidential Suite in the city centre that can also be rented for private events. What's more, is has an excellent on-site pub where you can whet your whistle with traditional Irish beer tasting."
That wasn't all though as Anna also spent some time exploring the newly developed Docklands area. Here is where you'll find the financial district of the city as well as plenty of eateries and cafés to tuck into including the eco-friendly herbstreet restaurant, one of Anna's top recommendations when in Dublin.
While Dublin has an urban side, there's also plenty of greenery to explore with one of these being Glendalough National Park. This was a top choice from our product manager as it's, "only a 45-minute drive from Dublin and offers the most stunning views of the Irish countryside you could ever wish for."
Discover more about Dublin here.
BOBBING ON THE WATERS OF MALLORCA ON A SUNSEEKER 86 YACHT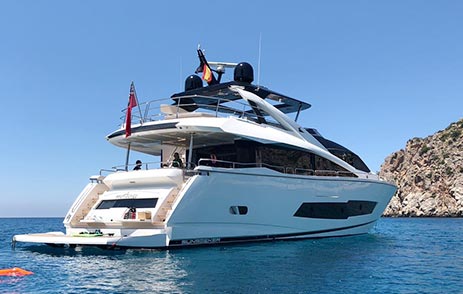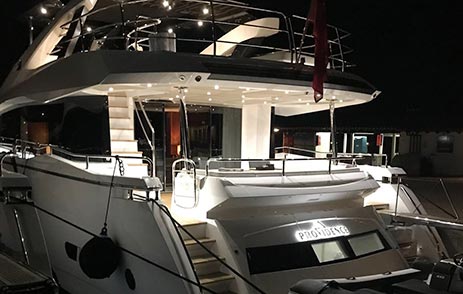 It was four days of birthday celebrations, beach clubs and brilliant sunshine when director
David Ox
took his wife Lauren to
Mallorca
for her 30th birthday. Staying on a luxury
Sunseeker
86 yacht the vessel was docked at Puerto Portals, one of the best ports in Europe, and was close to a wealth of restaurants and shops that made it the ideal holiday hub to kick back and relax.
"On the first day we went to Beach Club Gran Folies. After waterskiing, swimming and snorkelling we enjoyed a two-hour lunch before chilling out on the sunbeds for the ultimate unwind." David explained. "The following day was my wife's birthday so we headed down to Nikki Beach. Here we did even more watersports including riding the ringo. The captain who was driving the tender boat was trying to whip us off… which he was actually very successful at. Afterwards we had some beds reserved at Nikki Beach and we had a nice long lunch before cruising back in the evening to Puerto Portals."
The yacht itself is an beauty. "It's one of the best holiday experiences I've ever had… I'll never forget it that's for sure." David recalled. "The cabins are huge and you think you're in a hotel room. With there being four bedrooms it's ideal for families or a large group of friends with there being enough space for everyone. You don't feel claustrophobic and you get to see various places in the best way possible… on water."
Trade land for the ocean and start booking your yacht getaway now by calling one of our personal travel managers on 0203 816 0985 or enquiring here.
PRACTISING OUR PUTT AT THE IFX X WINGED BOOTS CHAMPIONSHIP AT FOXHILLS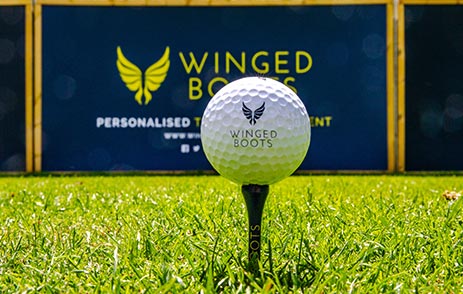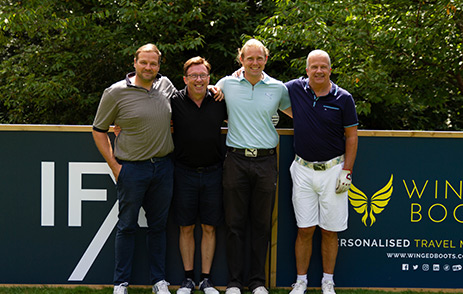 July marked the first annual Winged Boots golf day which was a roaring success. The IFX x Winged Boots Championship, as part of the HotelPlanner.com PGA EuroPro Tour, was hosted by Foxhills Club and Resort in Surrey and we couldn't have asked for a better location. In total, 29 teams of four – three amateurs accompanied by a pro – completed the Bernard Hunt course. Winged Boots invited 25 of its' top golfing customers as well as five members of the sales and management team. The day provided ample opportunity for all to mingle with the professional golfers, representatives from PGA and Matchroom as well as International Foreign Exchange's (IFX) top customers.
Our marketing manager,
Lauren Godfrey
, attended the day and said: "You would never have guessed this was Winged Boots' first golf day. The day went without a hitch and it is all thanks to the amazing team at IFX and EuroPro Tour who were a dream to work with throughout the lead up to the event and, of course, on the day itself. I hope all of our guests had a great time, I certainly did. Thankfully the weather was as beautiful as ever and we had great hospitality from Foxhills. I can't wait to start organising next years' event."
To discover more on our calendar of events, click here.
EXPERIENCING FOOTBALL FEVER IN RUSSIA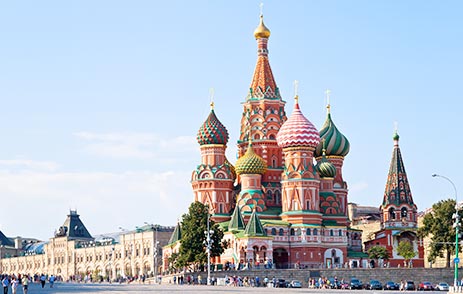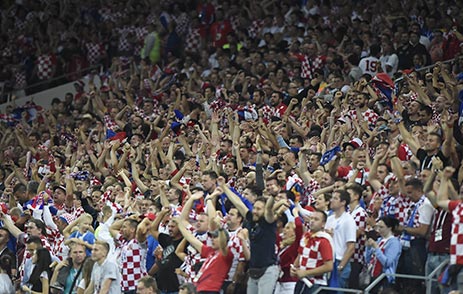 Earlier in July, World Cup Fever was in full swing as England had gotten through to the semi-finals of the most prestigious football tournament in the world. Many of our customers decided to book a quick trip to Russia to witness history in the making, with our managing director of Winged Boots' sister companies Ocean Florida and Ocean California George Hastings, at the front of the queue.
"The game was being played on Wednesday and two days before, I decided to book my ticket. It was a last-minute decision however we managed to get direct flights with British Airways. A lot of other fans were travelling via Frankfurt, Munich, Istanbul, Warsaw and Copenhagen so I was very lucky," George explained.
After collecting his Fan ID and match tickets, George headed to a hotel in Red Square for a few pre-match drinks. Then it was time to visit the stadium for England's first World Cup Semi-Final match in 28-years. "The seats were cracking," George said. "We had a great view of the game and England's first goal. After the early lead, we were convinced we were going to be in the final. But after 120-minutes we were down and out. It was quite exhausting - the emotional atmosphere really does take it out of you."
Once the game had finished George headed to Moscow Marriott Grand Hotel for some drinks and a bite to eat where the ITV World Cup coverage team were also partying. "After the game had finished the atmosphere was quite euphoric. In my opinion, it was more about being there and experiencing a potential once-in-a-lifetime opportunity. The Croatian fans were partying all the way however they were friendly and weren't rubbing it in our faces. I would do the trip again without a shadow of a doubt."
Winged Boots are happy to help with arrangements for all sporting events. Enquire here or call one of our personal travel managers today on 0203 816 0985 for more information.
CELEBRATING A STAG NIGHT IN BEIRUT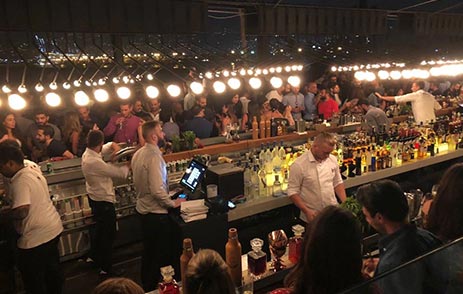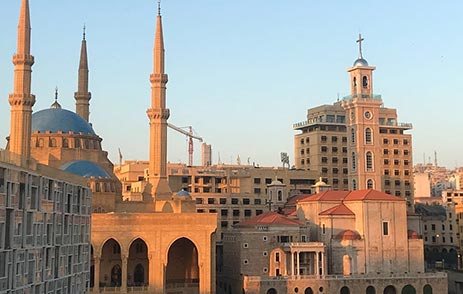 If you're on the hunt for a fantastic stag night location, Beirut might just be the answer. Harry Hastings, Co-CEO of Ocean Holidays, recently spent four days there to celebrate his, and it was an experience he won't be forgetting in a while.

Long gone are the days of destruction thanks to the end of the civil war 27 years ago. Now, Beirut is a magical and glamorous haven that is fast becoming a party capital of the world. An extended weekend is certain to be action-packed with Harry dining and partying at various restaurants and clubs that have made the capital of Lebanon what it is today.

Just one of these was the acclaimed SKYBAR located on the roof of the Beirut International Exhibition and Leisure Centre (BIEL). Top-class acts including acrobats, fire breathers and fantastic firework shows have brought in luxury travellers from around the globe with Harry being one of them. "It had some incredible views of the city and it was definitely the biggest party in town." Harry remarked.

The days were spent relaxing at two beach clubs, Irish Beach Club and Riviera Beach Club. "Think cabanas, DJs, sunshine and great food. Both were fantastic for the ultimate chill out with Irish Beach Club definitely worth the drive."

Saturday night saw the party head to Garten. "One of the newer clubs in town, it was open air with an amazing light show and it attracts some brilliant global DJs." Harry said. "We got the best table in the house which was right next to the DJ. For seven of us it was £1,200. It's bigger and better than Vegas as well as easier on the pocket."

Overall Beirut is a truly magical destination and if it wasn't on your radar then it definitely should be. Harry said, "you really do have the best of all worlds. It's cultural, edgy and a fantastic party destination. The Lebanese are some of the friendliest people I've ever come across. The fears of the Western world disappear in its Mediterranean feel and we always felt safe."
Share with someone you'd love to travel with

Guy Humphrey
Guy Humphrey is a Content Writer
Recommended Properties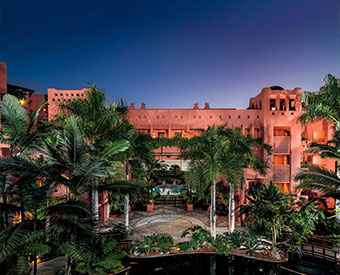 Hotel
3 nights from £465 pp inc flights
Best for:Beach, Business, Christmas
Beachfront location offering tranquillity and stunning ocean vistas  
Modern, chic rooms, suites and villas offering beautiful terraces and five-star amenities  
Boasting 10 on-site restaurants, seven swimming pools, a kids' club and blissful spa
Best for: Beach, Business, Christmas
Style: System.Collections.Generic.List`1[System.String]
3 nights from £465 pp inc flights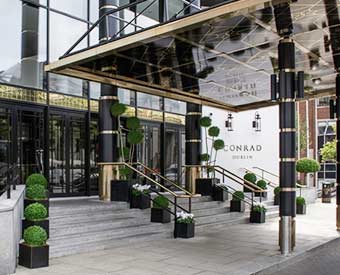 Hotel
3 nights from £590 pp inc flights
Best for:Business, City, Couples
Prime city location, in walking distance from shopping, bars and Dublin's attractions 
Luxurious comfortable rooms and suites boasting modern amenities and chic décor  
Enjoy fine dining, a relaxed brasserie, a fantastic bar menu and afternoon tea
Best for: Business, City, Couples
Style: System.Collections.Generic.List`1[System.String]
3 nights from £590 pp inc flights