0203 816 0985
Let's talk. We're open Mon-Sun 9am - 6pm
We're open Mon-Sun 9am - 6pm
The Best Places From Around The World To Spend Valentine's Day That We Bet You Hadn't Thought Of
While
Paris
,
Venice
and
Rome
are all typical destinations to spend Valentine's Day there are plenty of overlooked gems to dazzle and impress you. Whether you fancy roaming through the temples of
Cambodia
or attending the fireworks in
Ras al Khaimah
, romance is a guarantee. We go through some of our top picks for a luxury holiday that we bet will leave you starry-eyed.
Croatia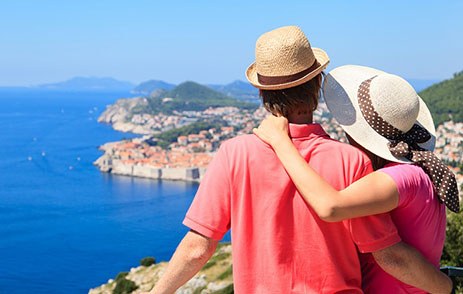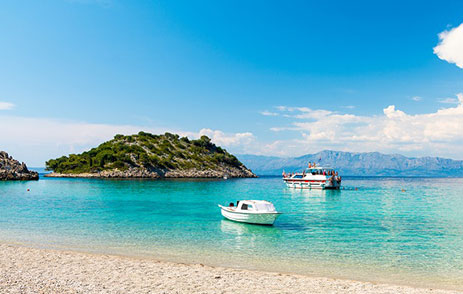 The azure blue waves of the Adriatic Ocean and the ancient towns and cities of Dubrovnik, Split and Hvar make
Croatia
the perfect destination for a romantic getaway. The country itself is diverse with no two days being the same. You can spend hours lying on a quiet beach near Nugal or Makrska, hiking up the Biokovo mountain range or wandering through the archeological sites in Zagreb.
Oh, and the fact that
Games of Thrones
was filmed here may be another reason! The fictional city of King's Landing gets brought to life with Dubrovnik being one of the main backdrops of the cult classic. Locations such as St. Dominic Street where the on-screen markets take place, as well the exterior of the Ethnographic Museum Rupe which doubles as the brothel of Petyr Baelish (Littlefinger) are all yours to soak up. Rector's Palace in Qarth is also a must with it's ancient architecture that was the home of the Spice King in the American drama series.
For the ultimate loved-up experience we recommend heading to the
Pelješac Peninsula
, located an hour from Dubrovnik by car. Give your taste buds a love affair of their own and tuck into freshly caught oysters and mussels before heading to one of the many wineries found here. Romance will well and truly be in the air as you fall in love with Croatia time and time again.
If you want to be fully immersed in everything Game of Thrones, enquire here or call one of our personal travel managers on 0203 816 0985
Cambodia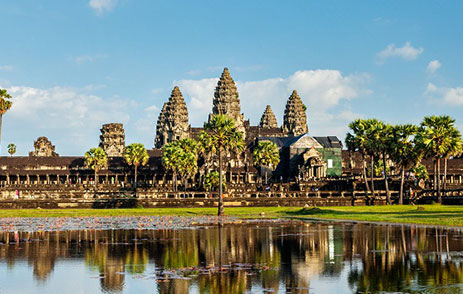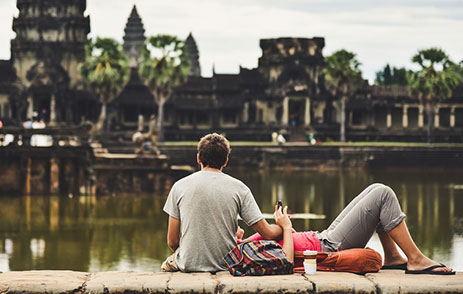 Cambodia: a far eastern beauty that has stolen the hearts of many in recent years. What with Angkor Wat Archeological Park full of temples and ruins and the stunning cities that are bursting with a range of cuisine, you'll feel like an intrepid explorer with your partner in crime.
If you're looking for the perfect Instagram pic then Kulen Waterfall should be your top spot. The two-hour drive from Siem Reap will be worth it as you trek through the mountains and greenery of Phnom Kulen National Park. The beauty is very much a sight for sore eyes, and it makes for a good marriage proposal location too!
Alternatively, why not up the luxury a few levels with a helicopter tour of
Angkor Wat Temple
? Prepare yourself for the best views in the house as you're taken from Siem Reap to the beautiful UNESCO World Heritage site. After a private tour it's time to take to the skies again as you're taken back to the city centre.
Siem Reap is also home to plenty of Angkor Night Market that will see you wandering through the food and trinket stalls. Pick up last-minute souvenirs and sample traditional cuisine before watching the sun set on another evening in paradise.
If you've come to Cambodia for the food, then
Phnom Penh
is the place for you. Plenty of award-winning restaurants can be found in the city with many having date night written all over them. Khema Pasteur is marvellous due to its range of French dishes on offer as well as wine and cheese nights that happen multiple times a week. Malis Cambodian Restaurant can be found just a short walk from there too and gives diners a real insight into the delicacies of the area. Whichever you go for you're guaranteed a memorable time.
Fallen in love with Cambodia? Enquire here or call one of our personal travel managers on 0203 816 0985
Ras al Khaimah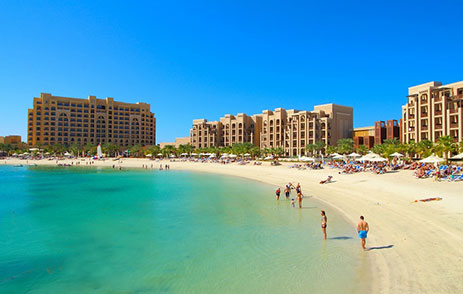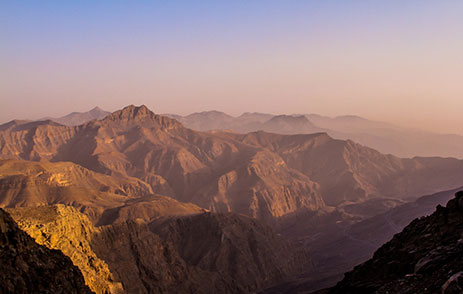 Boasting 40 miles of coastline and plenty of powder-white sands, if you're after a luxury
beach
holiday with your other half look no further than Ras Al Khaimah. One of the seven emirates that make up the United Arab Emirates, you won't be running out of things to do here.
The Ras Al Khaimah Pearl Museum is a fantastic place to go if you're a lover of the finer things in life. Pearl diving is one of the major industries in the emirate and the museum showcases this with various exhibitions. Once you've finished here, Dhayah Fort should be next on your agenda. This ancient historic site boasts gorgeous vistas of the mountains and sea and definitely will add an element of romance to your holiday.
Come the weekend of Valentine's there's only one place to be and that's on Al Marjan Island. The fireworks display on the 14th, 15th and 16th of February is guaranteed to be electrifying, and a sheer spectacle of visual brilliance. The event happened previously at New Year's and with it proving to be so popular, it's no wonder that it's been scheduled again.
For even more luxury, how about a
private champagne picnic on top of Jebel Jais Mountain
? Beginning with a hike up the mountainside accompanied by your very own guide, you'll reach the summit complete with seating, cushions and a rug. A bottle of Moët will then be uncorked, with non-alcoholic options also available.
To see the glitz and glam of Ras al Khaimah for yourself click here to enquire or call one of our personal travel managers on 0203 816 0985
Cuba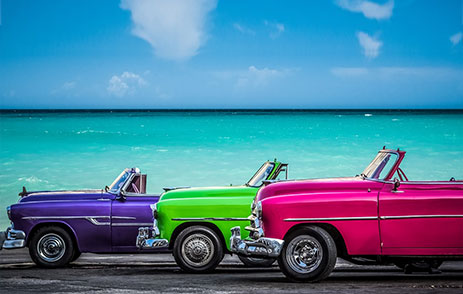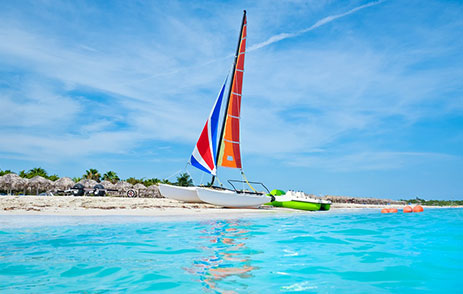 With horseback riding in the
Vinales Valley
and plenty of watersports available at Cayo las Brujas beach, Cuba is a destination that caters to couples wanting plenty of adrenaline this Valentine's Day.
A
classic car tour in Havana
is something that simply has to be done. Choose from either a Chevrolet, Buick, Ponriac or a good ol' fashioned Cadillac and cruise the streets of the city in style. During your ride you'll be able to relish the views of Morro-Cabana Fortress, the Bacunayagua Bridge and Viñales town, just to name a few.
Do you want to really accelerate the luxury? We recommend booking the red 1946 Ford Super de Luxe which was the same type of car that was used in the Back to the Future films. Once you've finished, Avenida de Maceo is the esplanade which has plenty of restaurants, bars and sea views to contend with, making for the picture-perfect evening.
If you're a pair of waterbabies you might like the sound of this next idea. A
catamaran day trip
complete with dolphin-watching showcases the Caribbean beauty of Cuba. Some private excursions give you the chance to swim with these majestic creatures, so that's one thing crossed off your bucket list.
For a Cuban fantasy of your own click here to enquire or call one of our personal travel managers now on 0203 816 0985
Lisbon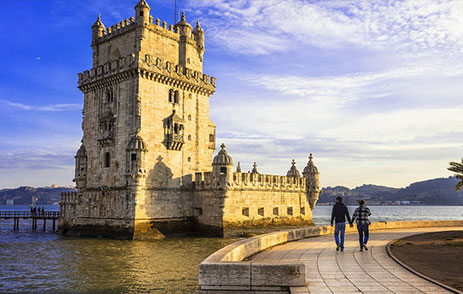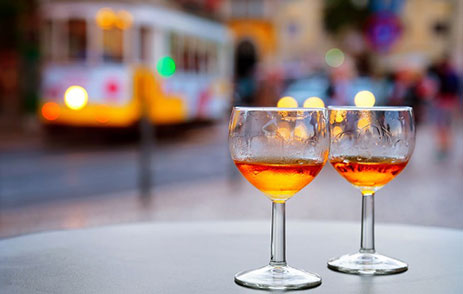 The palaces and monuments make for a royally romantic holiday when in
Lisbon
. Bringing art and culture together, the Portuguese capital has it all. Whether it be the bars and clubs found in the Bairro Alto neighbourhood or a picturesque stroll through the gardens of the Palace of the Marqueses or the Tagus River, you'll not be wanting to be anywhere else with your partner.
If you've come to the city for
food
you won't be disappointed. Gelato and ice cream is one of the best in the world here, and the restaurant of Amorino serves it wonderfully. Alternatively, the
Time Out Food Market
is brilliant thanks to its sheer selection of cuisine. Everything from sushi and traditional dishes to Italian and Vietnamese are available to sample, with each restaurant selected by the experts behind Time Out. For something a little more elegant, wine is a big deal too. By The Wine is a luxury wine cellar with hundreds of bottles to choose from. A choice of oysters, clams, ham and cheese will accompany every glass, so if you're on the lookout for a romantic date night, you can call off the search.
If you can't decide on a hotel in Lisbon we have you covered. Call us now on 0203 816 0985 or enquire here
Hawaii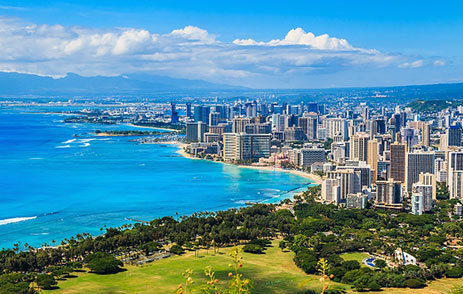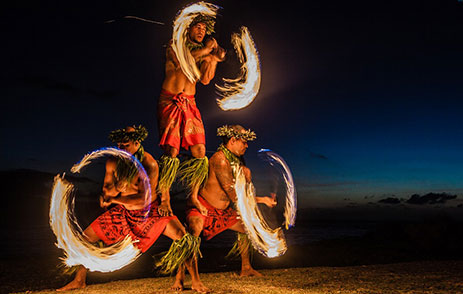 Hawaii
is a destination of sandy shores, vibrant plant life and plenty of opportunities for loved-up
couples
to have an unforgettable holiday. To really see the sights we recommend taking a private
helicopter tour
of the islands, or alternatively opt for a boat if you fancy getting a little more up close and personal with this beach beauty.
Maui is one of the main islands which offers plenty of things to do. From embarking on a road trip in Hana to a horseback ride, you'll be able to explore Hawaii with your other half… and what can be better than that?
If you fancy immersing yourself in some authenticity, traditional luaus are popular. With plenty of hula skirts, mouth-watering cuisine and friendly locals, no doubt you'll be going to more than one during your stay.
Winged Boots can make all your Hawaiian dreams a reality. Enquire here or call one of our personal travel managers on 0203 816 0985
Share with someone you'd love to travel with

Guy Humphrey
Guy Humphrey is a Content Writer