0203 816 0985
Let's talk. We're open Mon-Fri 9am - 6pm
We're open Mon-Fri 9am - 6pm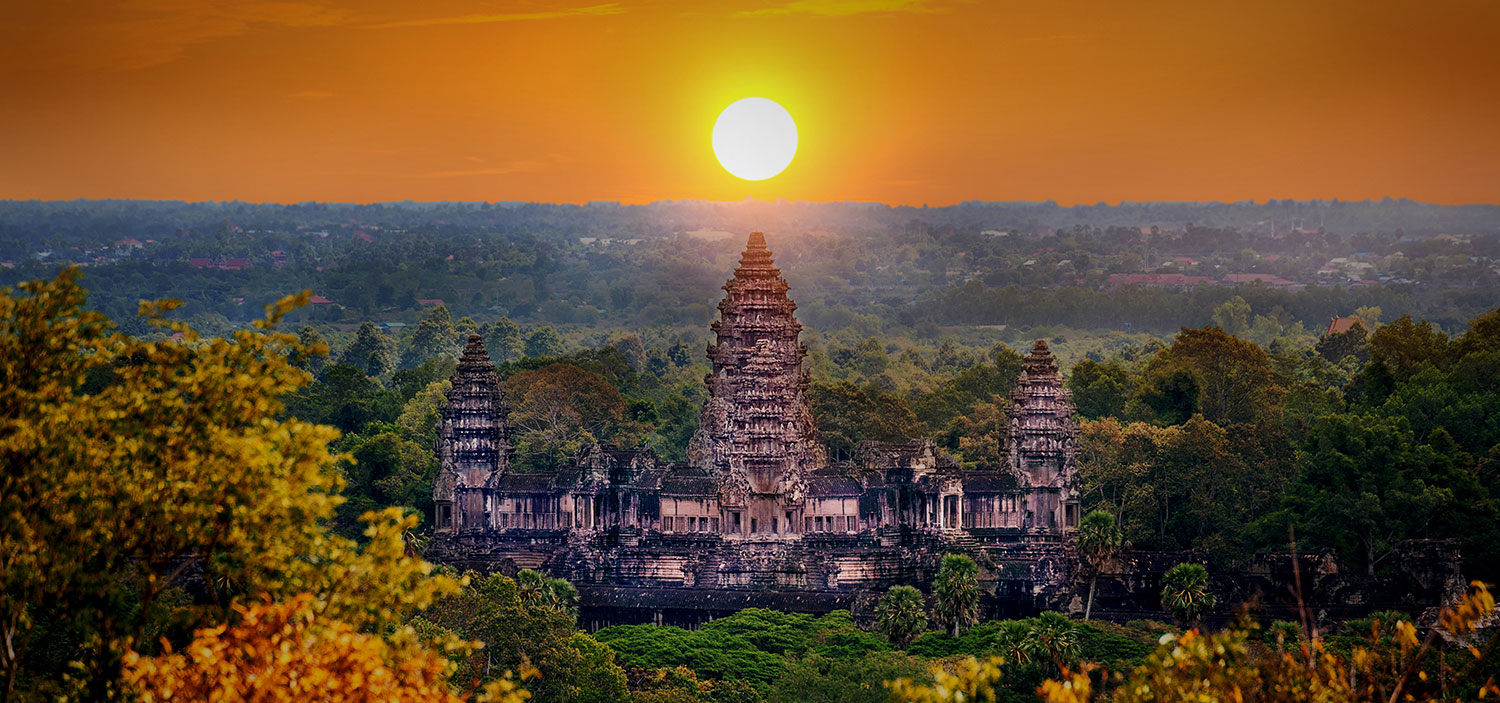 See the Angkor Wat Temple from up above and down below
Destination: Cambodia
Fly high above beautiful Cambodia with a luxurious helicopter flight that is truly out of this world. Take to the skies and view the glorious Angkor Wat before landing and embarking on a spectacular private tour of the temples that boasts a culture fix like no other.

The thrilling helicopter ride gives you an exclusive bird's eye view of the iconic UNESCO World Heritage site, hovering for 20-minutes while your captain provides you with an informed history and an abundance of interesting facts. This is certainly an experience that will have your camera glued to your hand.

This extraordinary excursion doesn't stop there. Once your feet are firmly back on the ground, you'll be given a private tour of the most spectacular buildings in the entire of Cambodia. Beginning with a trip to Bayon in Angkor Thom, you'll then get up close and personal with the stunning architecture at Angkor Wat before admiring the majestic jungle that surrounds the remains of Ta Prohm Temple.

Your incredible Cambodian adventure concludes with nothing less than enjoyment, laughter and a plethora of unforgettable memories. Guests will be treated to a traditional dance performance while they savour an authentic Cambodian meal that promises a flavour explosion that's out of this world.

WINGED BOOTS WISDOM

Don't forget to pack your walking boots! Although you can take the weight off during the helicopter ride, the majority of the day is spent roaming around the ancient temples which requires a sturdy pair of shoes instead of your usual holiday flip flops.
Venue Details
In/Out: Outdoors

Duration: 11 hours

Traveller Type: Adults, Couples, Families

Best for: Sightseeing, Adventure

Address: Angkor Wat, Krong Siem Reap, Cambodia

Opening Times:
8:30am departure time
Map & Address
Guests can benefit from the convenience of being picked up from their hotel in Siem Reap prior to the 8:30am departure time. Guests will be returned back to their residence once the excursion concludes.

Guests can benefit from the convenience of being picked up from their hotel in Siem Reap prior to the 8:30am departure time. Guests will be returned back to their residence once the excursion concludes.

Address: Angkor Wat, Krong Siem Reap, Cambodia
Opening Times:
8:30am departure time