0203 816 0985
Let's talk. We're open Mon-Sun 9am - 6pm
We're open Mon-Sun 9am - 6pm
How to beat the January Blues
With 2019 in full swing, what better way to bring in the New Year than with an unforgettable holiday? To us, the January blues are cerulean waters, soft sands and hotels located right on the beachfront. Find out our favourites as we let the ocean waves do the talking. Care to join?
Best for: short haul holidays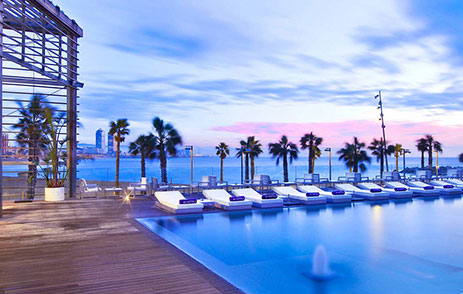 W Barcelona
A quick
beach
getaway can be done with ease, especially with places such as
Spain
right on your doorstep. Being the only hotel in
Barcelona
to offer direct beach access, W Barcelona is a cut above the rest when it comes to sun bathing in style. With the building shaped like a sail, you can expect luxury and glamour to drop anchor here. Modern décor adds a contemporary edge to proceedings, along with a range of five-star amenities such as a spa, rooftop swimming pool and a range of boutiques to play with post-treatment. Spanish and Mediterranean cuisine is available at the two on-site restaurants ensuring a feast every evening. With the nearest metro station to the city centre being just a 15-minute walk away, Barcelona is truly yours to explore. Find out our favourites as we let the ocean waves do the talking. Care to join?
Find out more about W Barcelona by clicking here
Best for: diving
qualia Great Barrier Reef, Australia
You'll be diving in to all the action with this choice as qualia Great Barrier Reef is what holiday dreams are made of. Coming complete with private villas lining the shore and views of the Whitsunday Islands, this
Australian
beauty boasts glamorous interiors in every nook and cranny. This extravagance extends to both of the on-site restaurants that can be found here. With menus boasting Australian and local delicacies such as squid ink pasta filled with scallop and prawn mousse, your palate is guaranteed just as good a time as you. With a spa and access to the only championship island
golf
course in the whole of Australia, every member of the party is sure to be satisfied. Oh, and if you fancy exploring the ocean, what better way to do so than with an island-hopping excursion that will have you marvel upon the Great Barrier Reef amongst other beauties?
Find out more about qualia Great Barrier Reef by clicking here
Best for: unmatched Caribbean luxury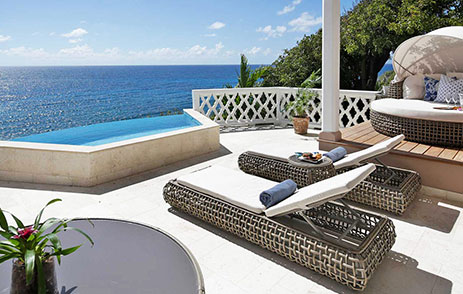 Curtain Bluff, Antigua
If you're after a glamorous
Caribbean
escape, Curtain Bluff in
Antigua
is sure to tick all the boxes. Panoramic ocean vistas will greet you, assisted by two award-winning restaurants and a wine cellar to make your evenings complete. Boasting a range of barbecue buffet delights and Caribbean cuisine that promises a flavour explosion that's out of this world, tuck into dishes such as beetroot gnocchi, veal ossobuco and slow roasted suckling pig. Once you've had your fill, head to the blissful rooms and suites on offer, each coming with floor-to-ceiling windows overlooking the crystal-clear waters. If you want to get in on the action of the views, Surf Beach is on hand where you can sunbathe, partake in various watersports and leave your worries on the other side of the departures lounge. We told you it was something special.
Find out more about Curtain Bluff by clicking here
Best for: idyllic views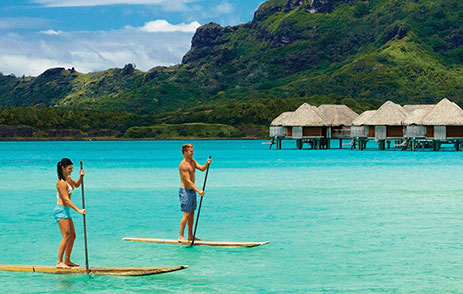 Four Seasons Resort Bora Bora
Prepare to be whisked away to paradise with a stay at Four Seasons Resort Bora Bora. Made up of overwater villas and swaying palm trees, a picture-perfect stay is most certainly guaranteed. The accommodation on offer is varied, including stilted rooms that provide a wonderful romantic retreat for
couples
and
honeymooners
. Each of the stilted options come complete with a king-size bed and deluxe bathroom overlooking the water, providing incredible tropical views from check-in to check-out. Add into the mix a range of watersports which will see you diving and snorkelling to your heart's content, with sting rays and black-tip reef sharks calling this place home too.
Find out more about Four Seasons Resort Bora Bora by clicking here
Best for: relaxation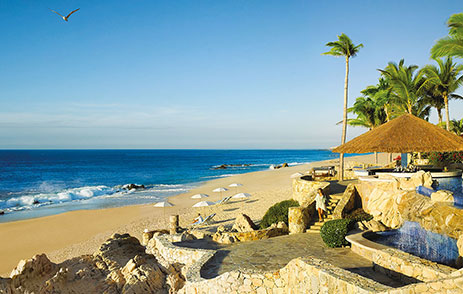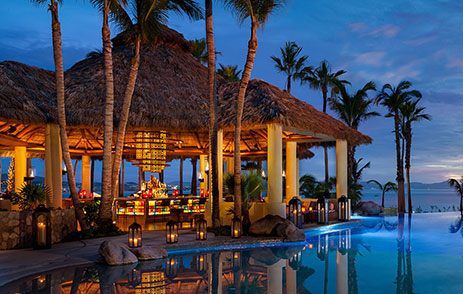 One&Only Palmilla, Los Cabos, Mexico
Soft sands, cerulean waters and daily yoga are all on offer at One&Only Palmilla in
Los Cabos
,
Mexico
. This
wellness
retreat gives guests access to a throng of watersports on the two beaches along with a wealth of activities that are certain to be enjoyed even by the youngest member of the group.
Sports
enthusiasts are guaranteed a hole-in-one thanks to the on-site 27-hole
golf course
where they can practise their swing, or alternatively take advantage of the regulation-size basketball court where you can slam dunk to success.
Tennis
and paddle-boarding are further options, too. Once you've finished make sure to hit the spa for at least one or two treatments. Complete with a yoga garden and treatment cabanas that overlook the ocean, you'll be getting lost in the wonderland of Mexico. If you have room for anything else, the open-air terrace 'Breeze' is definitely worth a reservation, with organic local ingredients used in every dish for a true taste of Mexico, and don't pass up Seared if you're celebrating something special. Run by Michelin-starred chef Jean-Georges Vongerichten - you can expect delicious mouthfuls with every serving.
Find out more about One&Only Palmilla, Los Cabos by clicking here
Best for: families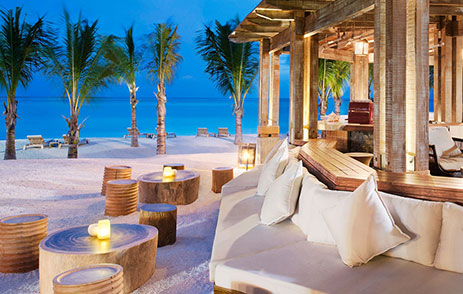 The St. Regis Mauritius Resort
If complimentary watersports and ocean views as far as the eye can see sounds perfect, you'll adore St. Regis Mauritius. Catering for families in particular, you can be lounging by the pool while the little ones enjoy themselves at the
kids' club
, or devouring a wealth of international cuisine and seafood at the five restaurants and bars found here. Drawing inspirations on the colonial era and the booming sugar industry at the time, décor throughout is a merge of traditional furnishings and modern touches to guarantee a magical stay. Classic 24-hour butler service is on hand so you can truly relax, and don't even get us started on the amazing cinema on offer…
Find out more about The St. Regis Mauritius Resort by clicking here
Best for: beach adventures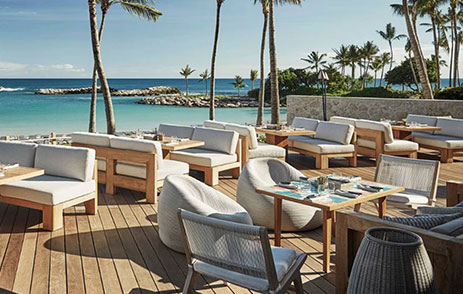 Four Seasons Resort Oahu At Ko Olina, Hawaii
Are you after a
beach
hotel but still want to be close to the action? The Four Seasons Resort Oahu At Ko Olina in
Hawaii
is only a short stroll from Ko Olina
Golf
Club or just a five-minute drive from the Lanikuhonua preserve, brilliant for nature lovers and explorers alike. The Pearl Harbour site is reachable in 25-minutes by car if you fancy some history, and once you're wiped out from soaking up the culture, you can lap up some sun at the nearby
beach
. You can even learn how to
surf
if you want to pick up a new skill. Alternatively, if
shopping
is an
adventure
to you, you'll love the boutique found here, full of designer dresses and couture finds just waiting to be tried on. Cabanas are available to rent too, and with Beats headphones, big screen televisions and an array of sun care products included, the evening memories may as well make themselves.
Find out more about Four Seasons Resort Oahu At Ko Olina, Hawaii by clicking here
Best for: seclusion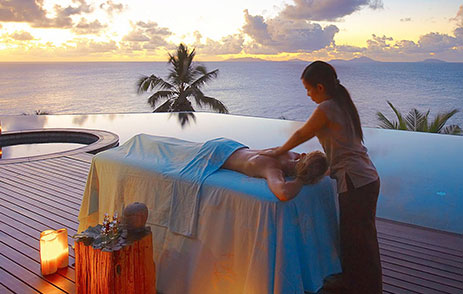 Frégate Private Island, Seychelles
Surrender your senses and relax thanks to the infinity pool and outdoor
spa treatments
available at Frégate Private Island in the Seychelles. The spa boasts a gym and yoga space so you can extend the perfect pamper post-treatment, and with many products featuring island-grown and harvested ingredients, you will feel at one with nature here. If you're after a secluded stay with an extra shot of extravagance, this hotel is marvellous. With only 16 villas and a private butler service available, you can expect to be in the lap of luxury too, with nothing but natural beauty to spoil your eyeline. Animal lovers will be in their element thanks to more than 2,000 Aldabra giant tortoises residing on the island, and with bats and other wildlife coming out to play at night, you can channel your inner David Attenborough and admire the tropical beauty.
Find out more about Frégate Private Island Seychelles by clicking here
Best for: adrenaline junkies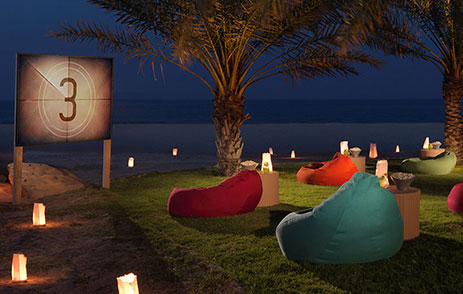 Sir Bani Yas Island Al Yamm, Dubai
Nature lovers rejoice, as Sir Bani Yas Island Al Yamm is part of the Arabian Wildlife Park.
Adventurers
will be in their element thanks to the nature walks, mountain biking and land sailing available, with shipwrecks just waiting to be explored if you fancy trading in your hiking boots for flippers. Want to take a break from the beach? The swimming pool found here overlooks the sands and the sea too, so you can take a dip surrounded by paradise. Made up of three resorts, expectations will be exceeded as you luxuriate in your spacious accommodation complete with five-star amenities such as flat-screen televisions and lavish bath tubs. There's no shortage of excursions either and if you've always wanted to get up close and personal with wildlife, now's your chance thanks to the safari experiences on offer. Meet gazelles, cheetahs, giraffes and ostriches with the assistance of your expert guides before heading back to your hotel for a much-needed rest… spa treatment anyone?
Find out more about Sir Bani Yas Island by clicking here
To start booking the picture-perfect holiday, call one of our personal travel managers now on 0203 8160 968 or alternatively enquire here
Share with someone you'd love to travel with

Guy Humphrey
Guy Humphrey is a Content Writer