0203 816 0985
Let's talk. We're open Mon-Sun 9am - 6pm
We're open Mon-Sun 9am - 6pm
On Location: Fashion Shoot Hotspots From Around The World
One picture can speak a thousand words, so it's imperative to choose a great backdrop to highlight a new collection of fashion threads. Whether you're on the hunt for a poolside location for a summer swimwear campaign or a deserted desert landscape for an edgy editorial feature, there is a fabulous corner of the globe just waiting for the camera to flash. Are you stuck for ideas for your next fashion shoot? Check out our roundup of tried and tested locations around the world. Yes, that's right. These spectacles have already featured in both high street and global designer fashion brands' look books. Oh, and if you have another location in mind that isn't on the list simply call one of our personal travel managers today and let our expert team assist in all of your fashion plans.
Fuerteventura
Photo courtesy of: Mango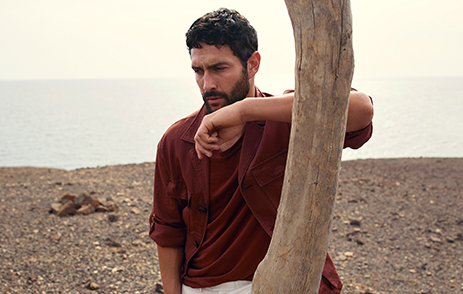 Photo courtesy of: Mango
Best for: Beach Scenes
As featured in: Mango SS18

Known as the windy island and the second largest isle in Spain's Canary Islands,
Fuerteventura
will blow you away with its gorgeous beach backdrops and sweeping mountainous landscapes. Here you can frame your shots with striking volcanoes and sandy hills or shoot picturesque villages such as El Cotillo, Lajares and Pájara alongside friendly locals. This isle's landscape is diverse and what's more, it's only a four-hour plane journey from London.
Recently featured in the
Mango Spring Summer 2018
campaign, Fuerteventura's beach scenes and stunning architecture take centre stage in the collection which showcases how both new technology and the environment have affected fashion. The woman's collection features delicate and lightweight garments with a neutral colour palate and pleated prints. Similar looseness and unstructured tailoring can be found in the men's collection, with natural fabrics such as cotton and linen used throughout. The overall vibe is a relaxed and casual one which is complemented by the brilliant location of Fuerteventura.
On this side there are more than 150-kilometres of beach to choose between which makes it quite a task when deciding where to set up your tripod. Corralego Beach stretches for six miles and offers unlimited spots for a new season campaign. Bordering a national park, the views are spectacular, vastly untouched and make for a great blank canvas to work with when preparing for your shoot. Alternatively, Ajuy Beach is a fantastic option if you're on the hunt for a quirkier stretch of coastline. Black sands strikingly contrast against the cerulean waters of the Atlantic and are sure to create a memorable background for any fashion expedition.
Italy
Photo courtesy of: Dolce & Gabbana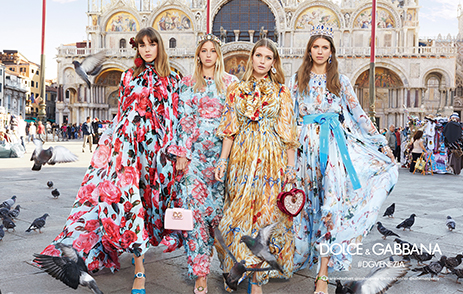 Photo courtesy of: Stella McCartney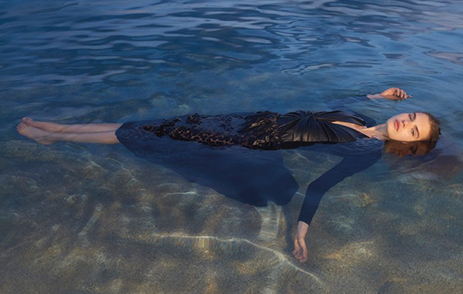 Best for: Ancient Architecture
As featured in: Dolce & Gabbana SS 2018, Stella McCartney SS 2018
To put it simply,
Italy
is a strong contender for the coveted title of fashion capital of the world. The breeding ground for fashion superpowers such as Versace, Fendi, Prada and Dolce & Gabbana and the stage for Milan Fashion Week, in Italy fashion isn't a lifestyle a cultural heritage. From the streets of Milan that are teeming with designer boutiques and couture houses to the beautiful cities of
Rome
and
Venice
, the opportunities for great shots are somewhat endless. Alternatively, if you'd rather a more scenic backdrop, how about the stunning lakes of
Como
and
Garda
or the mountainous scenes of the Alps?
A city of romance, prominent architecture and iconic canals, Venice invites fashionistas to ride its gondolas… and capture every moment on film. Winding canals, ornate palazzos, quaint coffee shops and commanding churches – you're simply spoilt for choice in the city of love.
Dolce & Gabbana
's Spring 2018 campaign saw Venice's beauty shine. The collection took centre stage in front of the city's famed canals as well some of Venice's public landmarks such as Saint Mark's Basilica and featured models Bea Fresson, Isabel Getty and Hero Fiennes Tiffin, and a range of friendly locals and tourists going about their day in the background. The shoot is fun, it's modern and it's Italian! From the prints to the scenery and the en vogue styling, this is D&G at its best and we think the Venetian setting plays a big part in the collection's success.
Coastal living then comes to fruition in
Sardinia
. Bringing the best of both worlds, you can take a fantastic action shot through the flora and lush greenery or flirt with the flash on one of the many beaches of this Italian beauty. It's the latter that British fashion house
Stella McCartney
chose to go with for its 2018 summer campaign. Nature and environmental issues are at the core of this vegetarian brand with 53 percent of the womenswear collection created from sustainable materials including cashmere, organic cotton and recycled nylon. The shoot reflects this mantra by using the environment to its advantage as it explores the relationship between humans and water. Photos depict female models submerged in the Mediterranean Sea, and one rather humorous shot of a lady buried neck-high in sand, wearing the latest Stella accessories, of course.
Mexico City
Photo courtesy of: Net-a-Porter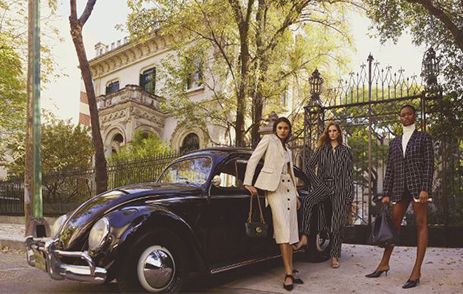 Photo courtesy of: Net-a-Porter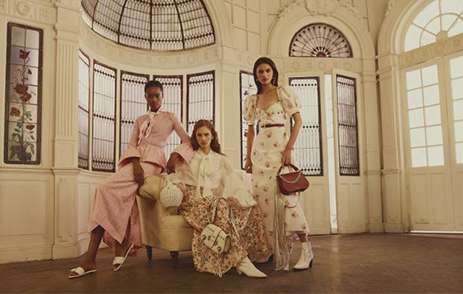 Best for: Vibrant Buildings and Lush Greenery
As featured in: Net-a-Porter SS 2018
As environments go
Mexico
has one of the most diverse and includes rainforest, beaches, deserts, mountains and volcanoes. From the gorgeous sands of
Riviera Maya
to the quaint fishing villages that neighbour lively
Cancun
and the phenomenal architecture of Mexico City, the hardest part will be deciding where to shoot first.
Net-a-Porter
gave us some serious wanderlust when its 2018 Spring Summer campaign was released. Highlighting some of the biggest trends from naturals to the 1980s, the brand chose Mexico City for its backdrops. Designers such as Givenchy, Simon Miller and Haider Ackermann were featured and the final collection of images included some of our favourite fashion stills of the year. The styling beautifully complemented the backdrops as the traditional silhouettes and prints of the clothes highlighted the commanding archaic building.
Mexico City is also known for its connections to the arts, and plays host to more than its fair share of museums. From the cobalt blue historic compound of the Frida Kahlo Museum to the modern Casa Luis Barragan UNESCO World Heritage Site, the architecture speaks for itself and could very well be what your next fashion campaign is missing. Alternatively, cultural landmarks such as the park Castillo de Chapultepee and the ancient church of Catedral Metropolitana lend themselves brilliantly for outdoors shots in need of some lush landscaped greenery.
California
Photo courtesy of: Tom Ford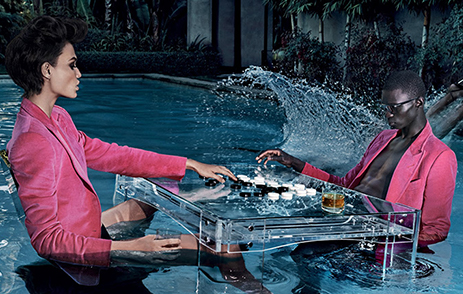 Photo courtesy of: Tom Ford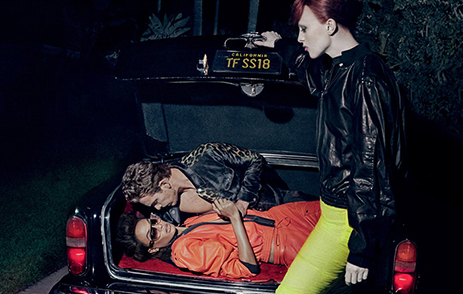 Best for: Luxury Shoots
As featured in: Tom Ford SS 2018, Tommy Hilfiger SS 2018 and Sam Edelman SS 2018
Strikingly diverse,
California
is a US state that delivers when it comes to photo shoot locations. Along with multiple studios available for hire there are also 59 national parks and more than 250 historic sites meaning that almost any style of shoot is possible in The Golden State. Comprising 482 cities and towns, if you're on the hunt for an urban backdrop complete with artistic graffiti and interesting streets, you're in luck here.
Los Angeles
is easily one of the most popular cities when it comes to fashion shoots. The home of Hollywood, Tom Ford, Tommy Hilfiger, Sam Edelman and every label in between have set up their tripod here. From the licence plate on the car used in Tom Ford's SS 2018 campaign to the California Republic flag in the background of the
Tommy Hilfiger
SS 2018 campaign, subtle touches help to create a relevant narrative to the shoot and the clothing collection that takes centre stage.
LA International Airport is also one of the busiest in the world and travelling here is a piece of cake. We mean, practicality may not be your number one reason behind choosing a location, but it does make the logistics of shooting a lot easier. But where should you go once you touch down with all your kit in tow? The fashion district has plenty of street art giving you a vibrant background to liven up any collection. On the other hand, the Bronson Caves in Griffith Park, as featured in Star Trek, Wonder Woman and American drama series Twin Peaks provide a good backdrop for an adventurous theme.
Ibiza
Photo courtesy of: Orlebar Brown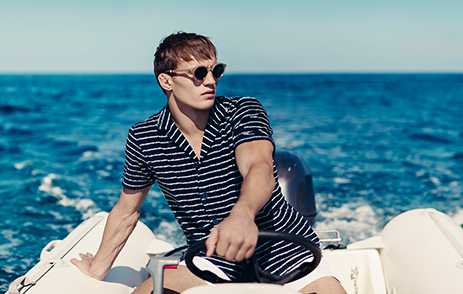 Photo courtesy of: Orlebar Brown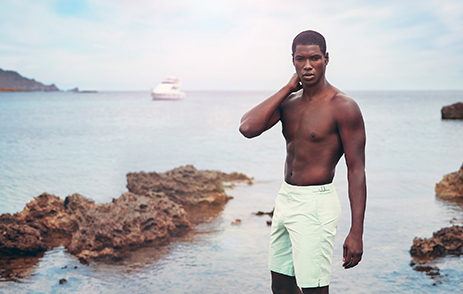 Best For: Cerulean Waters
As featured in: Orlebar Brown

Known for its nightclubs and gorgeous beaches,
Ibiza
has a varied landscape that makes it ideal for a trend-led campaign. However, there's more to this Balearic beauty then meets the eye. The whole of Ibiza is a UNESCO World Heritage Site so there are countless hidden gems that act as the perfect setting from the pine-clad hills to the secret coves and bays.
One of
Orlebar Brown
's most recent fashion shoots saw various male models hit the shores of this Balearic isle. Against backdrops of dramatic rocks, crashing waves and golden sands the designer swimwear brand's clothing takes centre stage and highlights how versatile the brand's signature swim shorts truly are.
But do you want to hear the best part? Ibiza is only a two-and-a-half-hour flight from London and is serviced by all major airlines. With easy transport and a whole host of hotels, resorts and picturesque backdrop options, this destination is a great option for a summer campaign.
New York City
Photo courtesy of: DKNY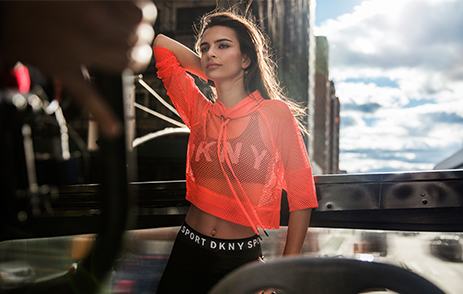 Photo courtesy of: DKNY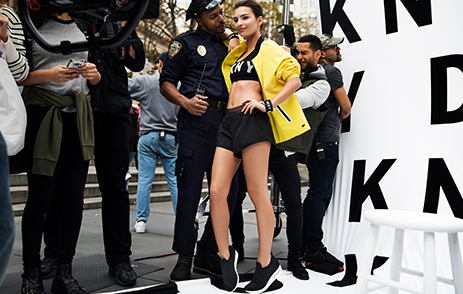 Best For: Urban Looks
As featured in: DKNY, Coach, Marc Jacobs, Next

It's an obvious one but
New York City
is marvellous for a fashion shoot or two. The list of brands who have already included The Big Apple in their campaigns is simply endless. Most recently DKNY, Coach, Marc Jacobs and Next have all released campaign images which feature some of NYC's most famous landmarks.
DKNY
has used model Emily Ratajkowski and the backdrops of the city for multiple campaigns now. Each shoot is light-hearted and showcase New York life with apartment-living, yellow taxis and towering skyscrapers. The most recent Spring 2018 Intimates campaign shares snippets of Ratajkowski's life from eating pizza to taking selfies.
From Central Park and Lower Manhattan to China Town and SoHo, NYC is diverse and full of character and vibrancy no matter what style of shoot you're after. For a little nature make sure to head to Brooklyn Botanic Gardens. 52-acres of lush greenery and international inspirations are just waiting to be discovered. New York City has long been influencing international fashion trends and being the centre of all the industry action, the streets do both the walking and the talking… so get your models to strut their stuff down Fifth Avenue, snap every stride and your new collection will simply sell itself.
UK
Photo courtesy of: Dune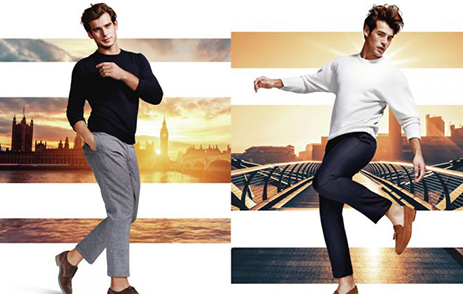 Photo courtesy of: Mulberry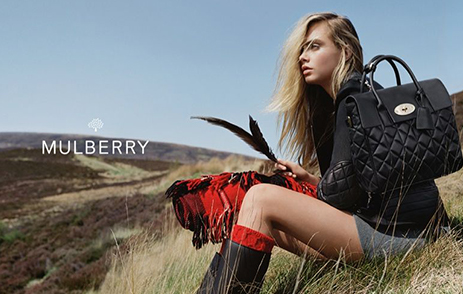 Best For: Showcasing British Roots
As featured in: Dune SS 2018, Seasalt, Mulberry
The
UK
has some of the best scenery in the world, with beaches, cities, mountains and forests all able to take advantage of. From the castle-topped crags of
Scotland
and sands of
Cornwall
to the skyscraper-laden streets of its major cities such as
London
and Manchester, the perfect place for your photo shoot could be right on your doorstep.
London is one of the most prevalent city with its iconic landmarks, large parks and the combination of historic architecture and modern buildings side by side.
Dune
's Spring Summer 2018 Advertising Campaign features Big Ben amongst an array of other notable sights and skyline favourites, referencing the rich heritage of the brand. Bringing to light the strong links that Dune has to the capital, the big smoke could be a winning choice if you share similar roots.
Seasalt
is another fashion brand that showcases its heritage with gorgeous fashion shoots and social media posts in and around Cornwall. Just one look at its
Instagram
will have you not only fall in love with their clothing but also the likes of Newquay, Penzance and St. Ives which feature regularly. There are miles of golden sands, wild flowers and dramatic seascapes that make for a beautiful backdrop.
Of course, the UK has a multitude of other hidden gems and it makes sense to be used as a heritage location for proud to be British fashion houses. Take
Mulberry
for example. A proud brand that originates in the UK teamed Britain's favourite fashionista of the moment, Cara Delevingne with backdrops of the Scottish Highlands for a campaign shoot that conquered all. So if you want to truly highlight your brand's core values, your next shoot destination may be closer than you think.
If you're looking for travel advice for your next campaign shoot enquire here or call us on 0203 816 0985. We're well versed in oversea productions and our team of expert travel managers will offer free advice and a competitive quote within 24-hours.
Share with someone you'd love to travel with

Guy Humphrey
Guy Humphrey is a Content Writer