0203 816 0985
Let's talk. We're open Mon-Sun 9am - 6pm
We're open Mon-Sun 9am - 6pm
Holiday Showdown: Seychelles Versus Mauritius
The Indian Ocean is for all travellers that wants to experience utter paradise. If you're stuck on where to go, we've made it nice and simple…
With sun, sea and splendour found in both the
Seychelles
and
Mauritius
, choosing between the two is tough. Picturesque beaches, cerulean waters and plenty of five-star resorts ensure that both should be firmly on your travel bucket list. To decide where to head to first, we've made it a little easier. From the glorious beaches of Mauritius to the rugged coastline of the Seychelles' mainland, we've explored all options to bring you an extensive guide. If the urge to travel gets too much, we're on standby to assist in booking your next getaway to either, or both, of these absolute beauties.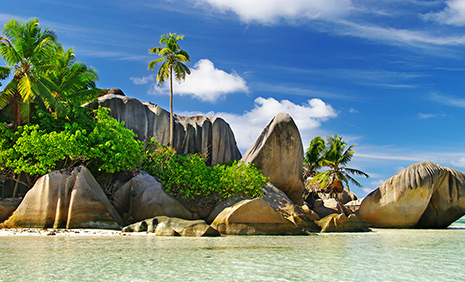 FEEL THE SAND BETWEEN YOUR TOES
Anse Source d'Argent in the Seychelles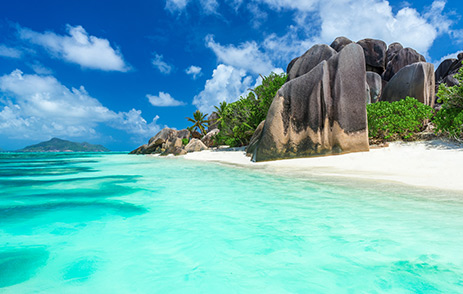 Seven Coloured Earth Dunes in Mauritius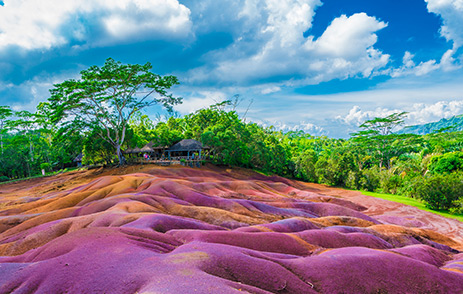 You can't go to the Indian Ocean and not fall in love with the beaches, and the Seychelles and Mauritius are no different. The Seychelles is home to plenty of sandy stretches that offer the perfect place to top up your tan with Anse Source d'Argent just one of these. Located on La Digue island, the reefs, granite boulders, towering palm trees and golden grains have earnt the beach the reputation of being one of the most photographed in the world. It also served as a shooting spot for the Tom Hanks film 'Cast Away.' The waters are brilliant for little swimmers too thanks to the knee-high depths, while animal enthusiasts are sure to spot the many fish and marine life that call this place home. If you're staying in Mahè, Beau Ballon is one of the most visited as there are a wealth of restaurants and watersports on offer, or alternatively you can swing by North Island for an element of romance with your other half at Honeymoon Beach. A dash of royalty has been added to proceedings, as the Duke and Duchess of Cambridge have spent some time here.

There are more than 160-kilometres of beach in Mauritius so you're bound to find the perfect one for you. Families are sure to love Trou aux Biches, Île aux Cerfs and Flic en Flac with the lively atmosphere, variation of watersports on offer and shallow seas; while couples will adore the jaw dropping sands of Belle Mare Plage. Make it a day to remember by going to one of the nearby restaurants for lunch or dinner, with tantalising cocktails served at all of the bars, too. This option is also brilliant for those that love to sail and windsurf thanks to the breezy east-Mauritius location.

Alternatively, travellers that want privacy should make La Cambuse Beach their home. Close to the village of Mon Desert, the talcum-powder sands are secluded and remain almost untouched which in turn guarantees some peace and quiet in paradise. Last but not least, the famed Seven Coloured Earth Dunes at Chamarel is perhaps one of the most unusual yet beautiful beaches in the world. Formed from the decomposition of volcanic rock, expect hues of red, blues and purples to accompany the ultimate unwind.
MAKE YOUR HOTEL A HOME
Six Senses Zil Pasyon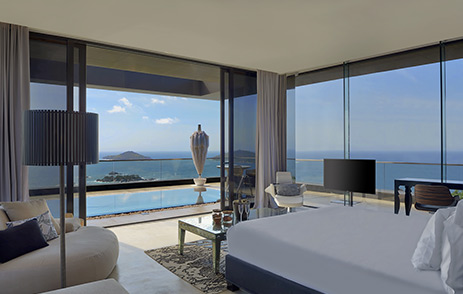 One&Only Le Saint Geran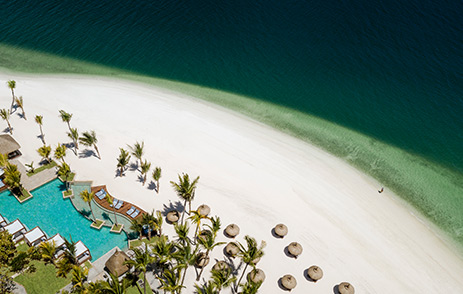 The Seychelles offers holidaymakers a fantastic choice of hotels, many of which boast five-star customer service from the get-go. Mahè is perhaps the most popular spot for luxurious hotels and includes resorts from worldwide chains including
Four Seasons
and
Six Senses
.
Four Seasons Resort Seychelles
is k
nown as one of the most luxurious hotels in the world. Here you can expect a separate children's swimming pool complete with mini sun-loungers, a daily kids' club, kids' menus in all restaurants and a host of activities on offer including guided snorkelling and kayaking. Oh, and if you're looking to wake up to magical Indian Ocean vistas, you can't go wrong with a stay on the private island nirvana of
Six Senses Zil Pasyon
, a beautifully stylish boutique resort that has a deep focus on wellness. Or, how about
Frégate Island
, situated on a secluded private island. This eco-friendly haven boasts traditional-style villas with thatched roofs that are all close to powder-soft sands, while its aesthetic is rustic it has extensive luxurious facilities. Not only that, but all ingredients used in the restaurant and spa have been homegrown on-site.
Similar luxury can be found in Mauritius. Attracting hotel brands such as
St. Regis
,
Shangri-La
and
One&Only
, a world-class getaway is on the cards everytime. Voted 'Best Hotel in Africa and the Indian Ocean' for three years running in The Telegraph's Ultratravel Awards,
Shangri-La's Le Touessrok Resort & Spa
can be found on the east coast. Past the palm-fringed walkways there are stunning villas to get acquainted with as well as some phenomenal activities available to all guests including golf, watersports and a beach club.
One&Only Le Saint Geran
is on its own private peninsula, nestled within 60-acres of gardens and more than a mile of beach. Built in 1975, the hotel was the first luxury hotel built on the island and has stood the test of time having recently been refurbished with up-to-date accommodation and brand-new restaurants. Speaking of food, those with a healthy appetite are sure to love
Constance Prince Maurice
. With a five-deck floating restaurant that serves fresh seafood and a fine-dining Mauritian eatery, your taste buds are sure to be tantalised. Alternatively, arrive in style courtesy of the helipad at
Royal Palm Beachcomber Luxury
. With a spa, private dining experiences, yacht excursions and a helpful concierge service, you won't be forgetting your stay in a hurry.
DAYTRIPS TO REMEMBER
Baie Ternay Marine National Park in the Seychelles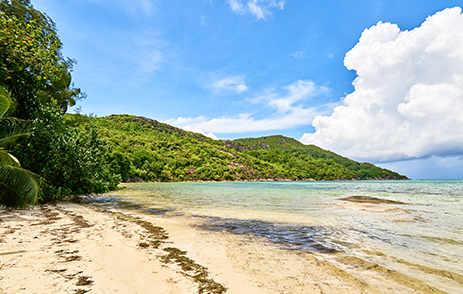 Port Louis in Mauritius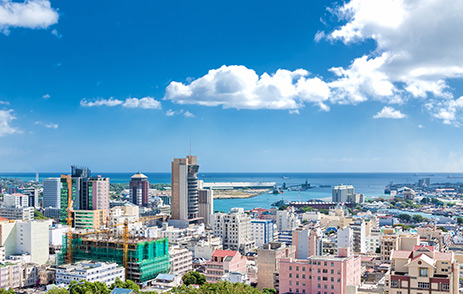 With the Seychelles being an archipelago of 115 islands, you can bet there's a whole wealth of things to do here. From sunbathing on the beaches to exploring the coral reefs via snorkel or scuba tank you simply can't go wrong. The Seychelles is also home to various national parks such as Saint Anne Marine National Park, Baie Ternay Marine National Park and Morne Seychelles National Park which all make for a great day out. Each is home to exotic wildlife, some of which are indigenous to the destination. Just one of these is the Aldabra Tortoise which can be found in the Aldabra Atoll which has been a UNESCO World Heritage Site since 1982. The rare tortoises have also started popping up in locations such as North Island, Cousin Island and Curieuse Island and the enclosure of Union Estate on La Digue.

There are also many national parks in Mauritius. Black River Gorges National Park and La Vanille Nature Park are brilliant options for families thanks to the fossil museums and restaurants catering to tourists. For a healthy soak up of culture as well as the sun, head to Port Louis. Here, there are museums that focus on the colonial history of the destination, along with various churches, mosques and temples. However, if you consider yourself a shopaholic, you'll love the fact that Mauritius boasts duty-free shopping 365 days of the year since 2010. Not only that, but pretty much every five-star hotel on the island has a wealth of watersports on offer from jet-skiing before breakfast to night-diving after dinner.
FEAST FOR THE TASTEBUDS
Octopus Curry in the Seychelles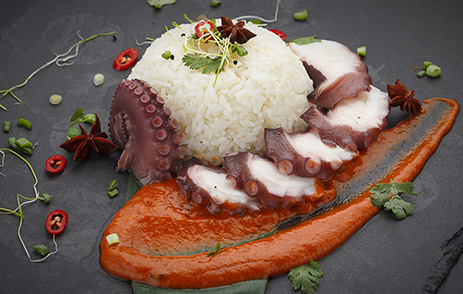 Breakfast in Mauriitus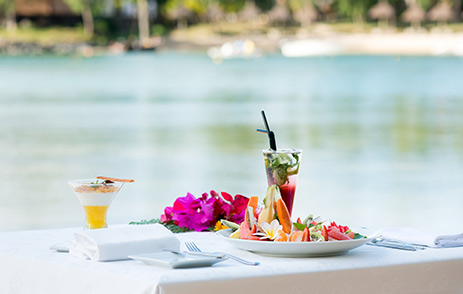 Calling all lovers of Creole-inspired cuisine! The Seychelles is going to be your new favourite place. Freshly caught fish, spicy curries and sweet fried bananas come as standard here, with many independent restaurants and cafés making up the dining options. If you're wandering the market in Victoria you can expect local fisherman aplenty with an array of colourful marine life to purchase. Alternatively, curries are a dish that many Seychellois consider themselves experts in, especially octopus curry which can also be found in abundance throughout the area. All of the five-star hotels boast a multitude of eateries, many of which use local ingredients, and have either traditional and international influences mixed in depending on where you go. For quick-bites and snacks, you can't go wrong with banana chips and deep-fried bread dough otherwise known an 'molouk'.

On the other hand, Mauritius is a hub of international flavours. Whether you have a hankering for Chinese, Japanese or seafood, you're guaranteed to not be far from a restaurant that offers just that. Thanks to a strong Indian influence you can expect curries to be a top menu choice with coconut used in many dishes for an island twist. For dessert make sure to opt for an Alouda. A variant of an Indian faloodas, this pink or green dish is a sugary sweet milkshake with basil leaves and agar-agar added. If you're a fan of tea, Bois Cheri Tea Factory - near Black River Gorges National Park - is a must. As well as having a tour of the tea plantation, you can also pitstop at the restaurant and tuck into a fresh cuppa. Bliss!
STILL CAN'T DECIDE? WE'VE ANSWERED YOUR MOST BURNING QUESTIONS WHEN IT COMES TO THE SEYCHELLES VERSUS MAURITIUS:

You can't go to the Indian Ocean and not fall in love with the beaches, and the Seychelles and Mauritius are no different.
I'm holidaying with my family and thinking of going to the Seychelles. Which island do you recommend?
It really depends on what you're looking to do. Many activities such as diving, hiking and cycling can be done of the mainland of Mahè while Praslin is quieter and more secluded with beautiful beaches.
How long are the flights to the Seychelles and Mauritius?
A direct flight from London to Seychelles takes 10-hours while Mauritius takes just under 12-hours direct.
I'm thinking of going to Mauritius for my honeymoon, do you have any suggestions?
The hotels on Mauritius are ideal for couples especially honeymooners. The spa at
One&Only Le Saint Geran
is fantastic, and the cabanas by the pool have to be seen to be believed. Another option is
Constance Prince Maurice
as it offers a wonderful sanctuary for the duration of your stay thanks to the overwater villas and there's also three fine-dining restaurants that ensure a magical date night.
When is the best time to visit the Seychelles and Mauritius?
For blue skies, October to November and March to May are the best times of the year to visit the Seychelles. Alternatively, if you're travelling to Mauritius, September through to November will see plenty of hours to top up your tan.
AND THE WINNER IS…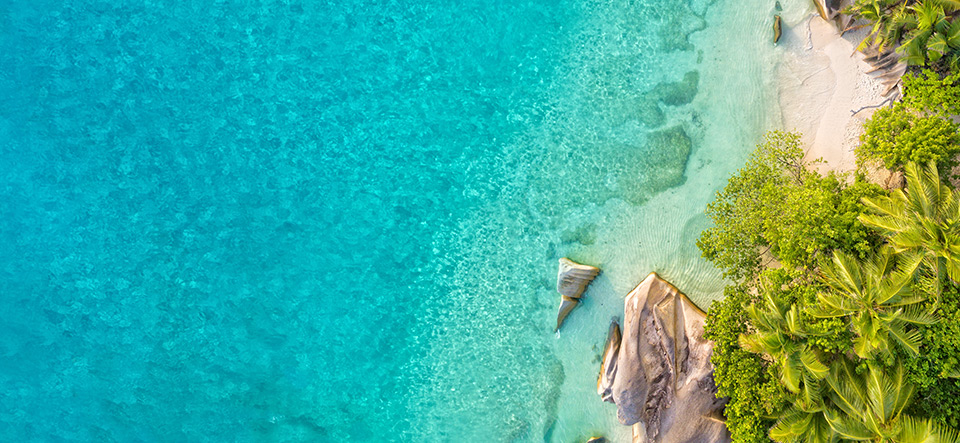 Both the Seychelles and Mauritius offer picture-perfect beaches, five-star hotels and a whole host of things to do. Catering to both families and couples with ease, these two Indian Ocean destinations truly are wonderful. The Seychelles is marvellous for all travellers that want a healthy dose of Vitamin Sea. With 115 islands, no two stays will ever be the same. Many of the beaches have been voted as the best in the world, and the natural scenery is breath-taking.
On the other hand, Mauritius is also ideal with the hotels nothing short of spectacular. Restaurants are Michelin-standard, and the duty-free shopping ensures you'll be able to pick up a few souvenirs on your travels, too. Alternatively, head to one of the many beaches to get away from it all… you deserve it. If you're still having trouble choosing between the two, how about a bespoke itinerary to both? Simply click
here
to enquire or call us on 0203 816 0985 now.
Share with someone you'd love to travel with

Guy Humphrey
Guy Humphrey is a Content Writer