0203 816 0985
Let's talk. We're open Mon-Fri 9am - 6pm
We're open Mon-Fri 9am - 6pm
6 REASONS TO VISIT MIAMI INSPIRED BY 'BAD BOYS FOR LIFE'
Aside from the car chases, the action and the fantastic friendship between Bad Boys' stars Mike Lowry (Will Smith) and Marcus Burnett (Martin Lawrence), the blockbuster trilogy also highlights why Miami is such a fantastic travel destination. Once you see past the crazy storyline of a Mexican witch sending her son to kill most of the Miami justice system,
Bad Boys For Life
is brimming with reasons to visit Florida's coastal city. Backstreet bars, endless sandy beaches, a sunny climate and the chance to catch Will Smith walking along Ocean Drive… what's not to love? We've rounded up our top six reasons to
visit Miami
inspired by the Bad Boys franchise, including insider knowledge from our expert personal travel managers. With Winged Boots on your side, you don't need a fictional cop badge to understand Miami's streets!
1. The Beaches
Faena Hotel beach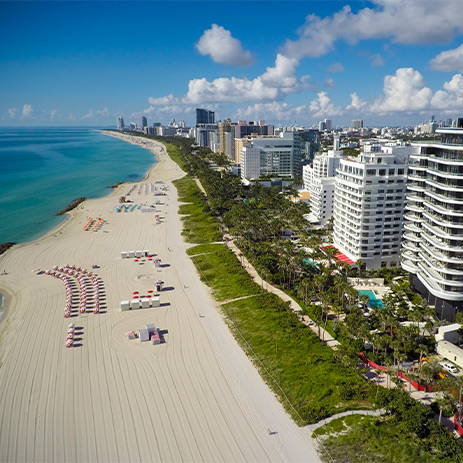 It goes without saying that the infinite sandy coastline is one of Miami's best draws. Team this with its year-round great weather – it's called the Sunshine State for a reason – and you have an excuse to don your swimwear and recline on the powder-soft sand from sunrise to sunset. South Beach, of course, is the most popular. Carefully positioned opposite Ocean Drive and its abundance of happy hours, bottomless brunches and cosmopolitan hotels, here you can continue the fun with a splash in the inviting ocean amongst other free spirits. Common with the 'Spring Breakers' this part of coastline is where you can expect the lively lot to bathe, where you're guaranteed to make a new friend and take a few snaps for the 'gram.
Further north along the coast of South Beach is 21st – 45th Street Beach. One for the locals, it also overlaps some of the city's best hotels including
Miami Beach EDITION
and
Faena Hotel
.
Lifeguard Tower on Miami Beach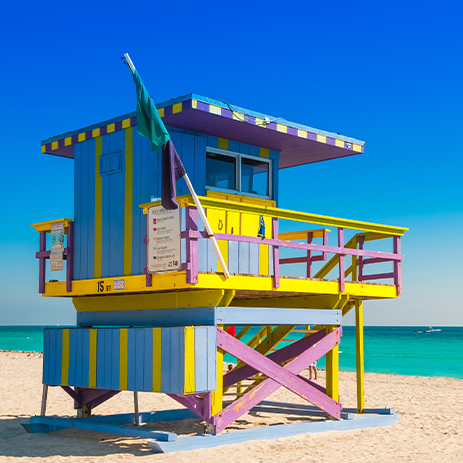 The boardwalk which lines the beach is ideal for early-morning jogs and lazy afternoon bike rides – or rollerblading for the more adventurous – and offers optimal people-watching opportunities.

WINGED BOOTS WISDOM:
You can't visit Miami's South Beach without exploring its colourful Lifeguard towers, but do you know why each hut is unique in colour and design? After Hurricane Andrew in the early 1990s, the first towers were designed and donated by architect William Lane and quickly became a characteristic of the city. More were created, some as a result of design competitions and others commissioned by local entrepreneurs and now there are 36 vibrant huts from South Pointe Park up to 87th Street.
2. The Nightclubs
The Clevelander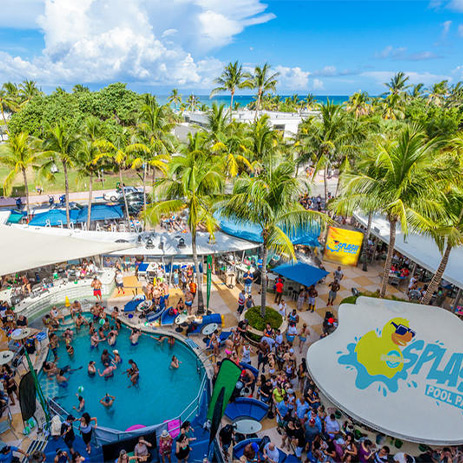 Back to the latest blockbuster,
Bad Boys For Life
features a scene in Miami nightclub Zillion, where a simple 'snatch and grab' in true Bad Boys style is anything but and instead leads to a car and motorbike chase which, in our opinion, was probably one of the highlights of the film. However, the nightclub in question isn't actually in Miami – instead, the Zillion scenes were set in Atlanta, as was the majority of the film. But the true essence of Miami is there – whether that's at the hand of the director is beside the point. The pumping music; the choreographed routine that features a conga of friendly hostesses carrying champagne magnums attached to sparklers that'll singe your eyebrows; the flashing lights; the overcrowded dance floor and the infectious energy of everyone under the same roof… this is Miami's famed nightlife encapsulated in one scene. Sound like your cup of tea(quila)? Then be sure to head to STORY nightclub on Collins Avenue at South Pointe or LIV inside the popular
Fontainbleau Miami Beach hotel.
Big nightclub and queue lines aside, for a similar vibe with less fuss, make your way through the bars on Ocean Drive. Lit up with more neon signs than Las Vegas (almost), this is where Mike and Marcus decide to race at the beginning of the third film (one of the few scenes that are authentic Miami).
Ocean Drive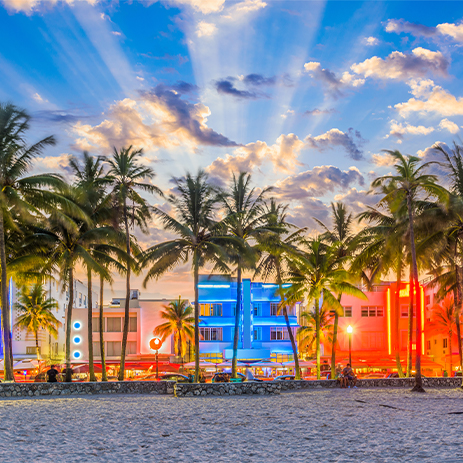 When it comes to Ocean Drive night spots, our favourite is the Clevelander hotel that has a section for everyone. Enjoy a cocktail and watch the world pass by at the bar, move inside to watch live sport or venture deeper into the open-air club and mimic the dancers on the stage.

WINGED BOOTS WISDOM:
Release your inner senorita at Mango's Tropical Café South Beach where live dance acts turn up the heat and the base beats have a certain Spanish influence. Try to nab a spot on the ground floor in the middle for the best views – we suggest ordering dinner for these prime seats – or move upstairs to the mezzanine. But don't be fooled. This club isn't all feathers and flamenco. On the first floor, there's a side room that plays the hottest hip hop tracks while at the back of the ground floor there's a disco area that spins the latest chart classics.
3. The Weather
Ocean Drive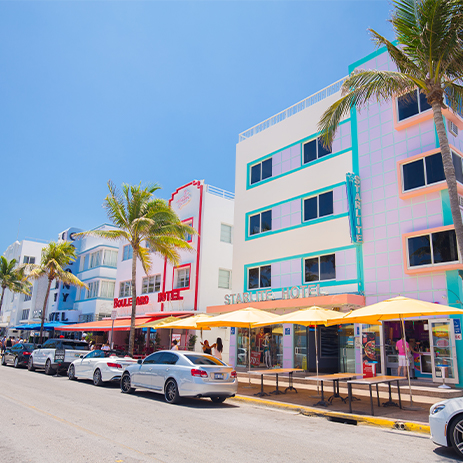 Have you ever seen a Bad Boys scene where the setting was grey and a little drizzly? Of course not, because Miami is one of the brightest cities in the USA… and it's hot! The southernmost part of Florida, the city shares a similar climate to the Caribbean islands, so expect scorching days with cooler evenings - warm winters and humid summers.

Deemed as hurricane season, August and September is when to expect rain and Florida's famous storms however this isn't reason to avoid the city. The weather is risky, we won't lie, (perhaps the better word to describe it is temperamental), but showers can sometimes last as little as 15-minutes and soon after the sun is sure to shine so bright that you forget the weather was torrential a few hours before. But for optimal sunshine and the lowest risk of rainfall, visit between January and May.

WINGED BOOTS WISDOM:
There's a reason Mike Lowry always rides in his Porsche with shades on… other than looking the Miami part it's because in this corner of America the sun is strong. Misleadingly so at times. Even when there's a breeze, be sure to protect your skin with a high SPF to avoid burns and being a sore shade of lobster. Trust us, we learnt this the hard way.
4. The Spas
Tierra Santa Healing House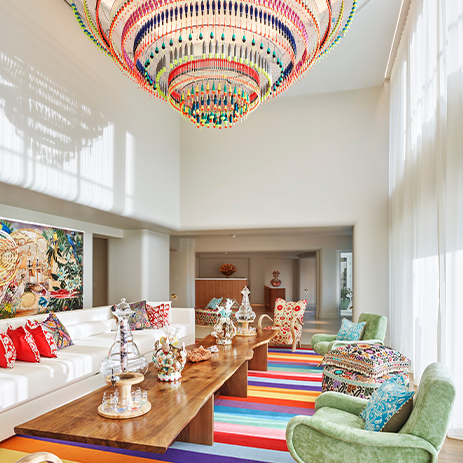 It's not usually our top reason to visit a charming American city, however sticking with the Bad oys For Life theme, Mike and Marcus in true style ruin a spa day for Marcus' wife and daughter, which got us thinking… Miami actually has a lot of wellness options. Going hand in hand with its luxury hotel scene, the city has multiple options to relax, recharge and soak up your daily dose of zen.
If you're looking for a high-end holistic approach to wellness, try Tierra Santa Healing House in
Faena Hotel Miami Beach
. From the lockers in the changing rooms through to the East Coast's largest hammams, every aspect of this spa is deluxe – even the infused water tastes like it's been dipped in gold. Much like the hotel's forward-thinking, artistic ethos, the spa's treatments are innovative and only use the very best skincare products. You'll leave feeling like a new you.
Tierra Santa Healing House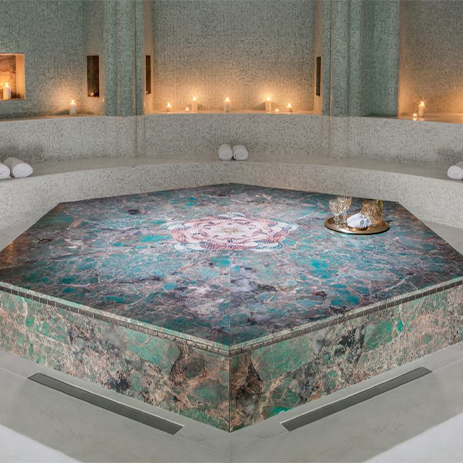 Other great spa options include the Spa at Mandarin Oriental,
Lapis Spa at Fontainebleau
and Downtown's Exhale Miami.


WINGED BOOTS WISDOM:
If you're keen to adopt the healthy Miami lifestyle the Aqualina Spa by ESPA is the closest you'll find to a wellness retreat in the city. Day spa packages are available but where this resort really shines is through its curated programmes that include Ayurvedic-infused holistic therapies, yoga, Pilates, the latest revolutionary treatments, healthy nutrition and luxurious accommodation right on the oceanfront.
5. The Supercars
Supercars in Miami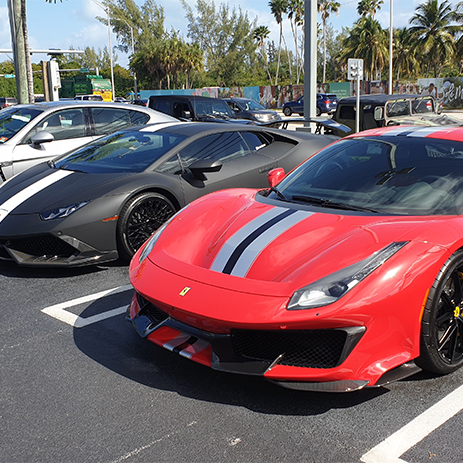 It's not just fictional Mike Lowrey who drives a Porsche in Miami. The supercars that slowly pass Ocean Drive will make you wonder if you'd stepped on set of Fast and Furious. Lamborghinis, Ferraris, neon-coloured G Wagons… the roads are brimming with eye-catching wheels. A meal on Ocean Drive comes complete with a show of Miami's driver elite, where they purposely drive a little slower showing off their bodywork similar to how a bodybuilder carefully flexes their muscles.
But it's one thing watching these beauties cruise the highways, and another getting behind the wheel of one. If you're a car buff, a visit to
Miami Exotic Auto Racing
should be top of your holiday hit list. The dream of racing an ultra-exclusive car is possible for all here, and for the less confident, there are multiple ride along experiences so you can live out your Marcus dreams… just be sure not to bash the car door when you get out.
WINGED BOOTS WISDOM:
Live like a local with a little help from Winged Boots. Instead of a typical saloon-style rented car, we can organise an exotic car hire for the duration of your stay… and even just for a few hours. Simply call our team of personal travel managers and they'll put the wheels in motion.
6. It's A Beautiful Setting For A Wedding
W South Beach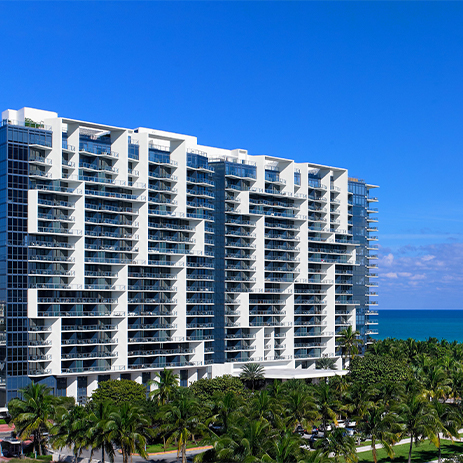 Step aside Mexico, there's a new destination wedding hotspot in town. Yes, it's a bit of a curve ball but seeing Marcus' daughter wed Reggie (do you remember him from
Bad Boys II
?) made us realise just how beautiful the Florida coast really is. Thanks to its year-round sunshine, ocean views and abundance of luxury hotels and private homes available to hire, the opportunities to say 'I Do' are almost limitless.
From intimate ceremonies through to over-the-top receptions, Miami has a venue to make every bride swoon. For a traditional beach experience where the ocean's waves provide a complimentary wedding march, look at
W South Beach
. Much like the hotel groups quirky characteristic, luxury has no limits here, so if you can dream it, the skilled wedding planners will find a way to make it happen.
W South Beach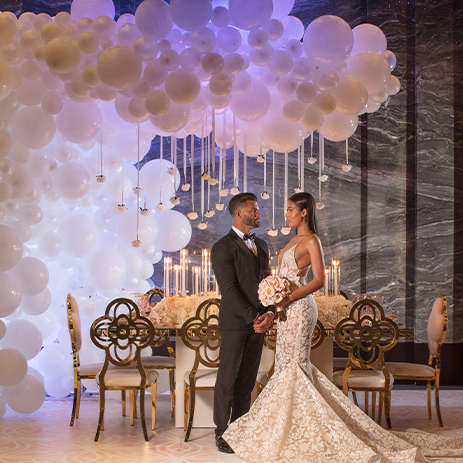 WINGED BOOTS WISDOM:
Florida Statutes governs marriages within the state and those who are aged 18 or older can apply for a marriage licence. Non-US Citizens can obtain a marriage licence for $93.50. For more information on how to obtain a licence and the legalities around marrying in Florida,
click here
.
To check-out more reasons to visit Miami and discover our range of hotels,
click here
. Alternatively, to discuss your Miami holiday requirements, call one of our expert personal travel managers on 0203 816 0985 or
submit an enquiry her
e
.
Share with someone you'd love to travel with

Lauren Godfrey
Lauren Godfrey is a Marketing Manager
Recommended Things To Do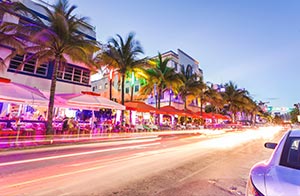 Adventure
If you're on the hunt for an adrenaline rush that's out of this world, look no further than the Miami Exotic Auto Racing Experience. A perfect gift to surprise the motor-head in your life or simply if you want to try something new, this is an excursion that puts you in the front seat for the ultimate adventure of a lifetime. Firs...