0203 816 0985
Let's talk. We're open Mon-Sun 9am - 6pm
We're open Mon-Sun 9am - 6pm
5 Travel Destinations Inspired by Netflix's The Queens Gambit
We don't know about you, but when we heard Netflix had released a series about an orphan girl playing chess in 1950s America, our itch for a new TV series was not satisfied… heck, it barely scratched the surface. However, after just the first few minutes of The Queen's Gambit, we were hooked.

During the 10-part series, we watched in awe of prodigy Beth Harman (played by Anya Taylor-Joy) and her complicated chess moves. We drooled over her fashion and vowed to be as stylish as her. And then, we daydreamed of travelling to the locations of her chess tournaments. While we cannot travel back in time to '50s and '60s, we can however visit the destinations as well as the real-life filming locations… you'll probably be surprised at how quick the flight time is to Netflix's version of Lexington, Kentucky!

Las Vegas, NV, USA
Outside The Flamingo, Las Vegas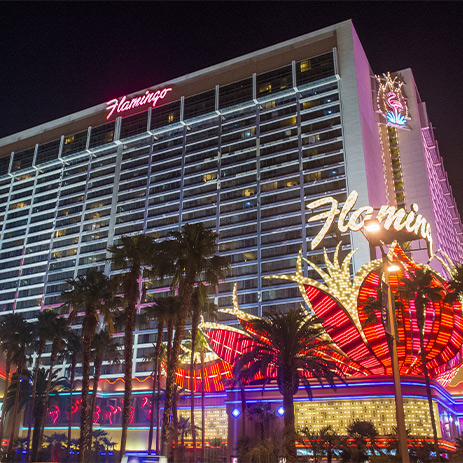 In the mini-series, Netflix shows Beth first face Benny Watts in the US Open hosted in the fictional Hotel Mariposa in Las Vegas. Oozing nostalgia from Sin City's heyday, the hotel features large dice in the lobby and a retro aesthetic of bold geometric patterns and a pastel colour palette.
If you're yearning for some Sin City history during your next trip, we recommend staying at The Flamingo Las Vegas, the oldest hotel on the strip. Located opposite Caesars Palace on Las Vegas Boulevard, this resort first opened in December 1946 and still holds some of its original charm… Donny and Marie Osmond were part of the furniture until 2019!
Alternatively, for some authentic Vegas magic, head to Freemont Street in downtown. The original townsite of the city, founded in 1905, here you'll find the iconic Golden Nugget Hotel & Casino as well as the famous Four Queens Resort. Lit up like a Christmas tree – you can even see Las Vegas from the International Space Station – downtown is adorned in neon lights and even offers a nightly laser show named the Viva Vision Light Show that always brings in a crowd.
To discover more on Las Vegas hotels and holidays, click here.
Paris, France
The Penthouse Terrace at Four Seasons Hotel George V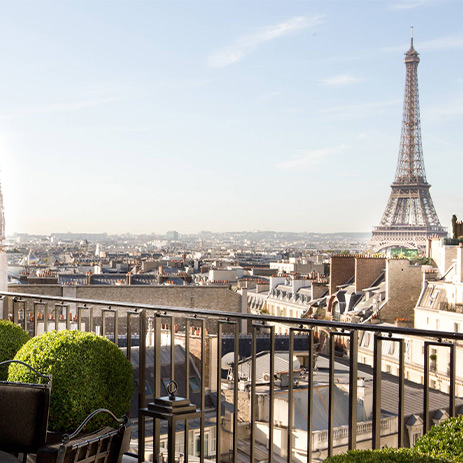 The Queen's Gambit begins with a hungover Beth running from her Parisian hotel room to face a male opponent. It then flashes to Beth's childhood before coming full circle to the opening moments in episode six where we discover she is in fact on her way to the final game of the Paris Invitational against Russian Grandmaster and current World Champion Vasily Borgov.
Although the hotel Beth stays in is fictional (and not in France at all - but more on that below), there are plenty of historical five-star stays to choose from in the 'City of Love'.
Four Seasons Hotel George V
is an art-deco landmark situated in the famed Golden Triangle of Paris. Found just off Champs-Elysees here you can expect Eiffel Tower views, Michelin-star dining and a decadent spa. For the ultimate experience book The Penthouse, where your morning will begin with breakfast on the terrace overlooking the city's iconic skyline, and your evening will end with a good night's sleep in the comfortable four-poster bed.
Another French fancy is
Mandarin Oriental, Paris
. Offering a more contemporary stay, the décor merges the Paris of yesterday with design of the future complemented by all the luxury comforts you could ever need. Located minutes from the Louvre and Opera Garnier, Mandarin Oriental is in the heart of the city's haute couture neighbourhood making it ideal for a fashionista.
To discover more on Paris hotels and holidays, click here.
Moscow Russia
The colourful St. Basil's Cathedral, Moscow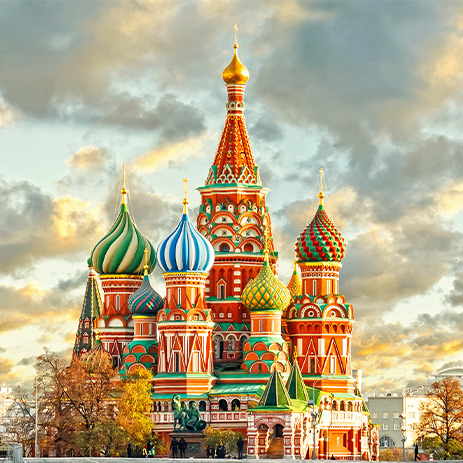 The final episode is the moment we have all been waiting for. Beth faces the Russian Grandmaster in Moscow. And boy is it a tense match!

While in Russia, Beth explores the local area offering a glimpse into the USSR life… although she isn't in Russia at all. In fact, all of the Russian scenes were filmed in Berlin, Germany. But, the portrayal is extremely realistic and left us curious – maybe a short trip to Moscow is on the cards next year?

If, like us, you've thought about wandering through the public parks and watcingh the locals play friendly games of chess, then you'll want to visit Sokolniki Park. Alongside its chess tables, this park also has an aging funfair, amusements for children, food stalls, colourful flower beds and plenty of benches for a picnic.

Other must visits while in Moscow include the Kremlin and Red Square, the beating heart of the city. Here you'll be able to marvel at the colourful St. Basil's Cathedral which is now a museum where you can discover more about the country's interesting history. Our top tip for any visit to Russia is remember to look up! You'll spot gold domes peering between rooftops and ornate building exteriors at every turn, all complemented by the distant ring of church bells down hidden alleys.

Mexico City, Mexico
Palacio De Bellas Artes Mexico City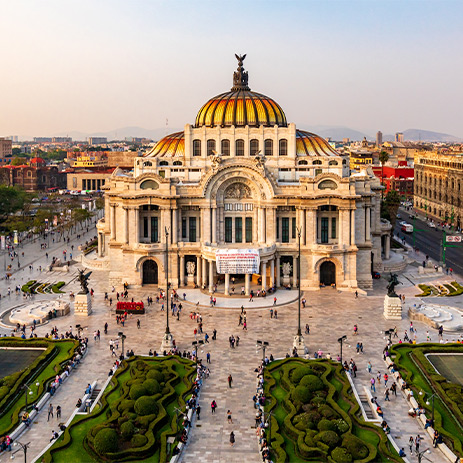 Alas, a common theme throughout this travel guide, but the Aztec Palace hotel is another piece of fiction from The Queen's Gambit. And again, the location was in Berlin, only a few thousand miles from Mexico City – 6,040 to be exact.
However, there are plenty of luxury hotels to choose from in the city which do exist. Our top three include
St. Regis Mexico City,
Four Seasons Hotel Mexico City
and
Las Alcobas, A Luxury Collection Hotel Mexico City.
Mexico City is certainly an underrated travel destination. Far from its popular beach resorts where the all-inclusive hotels welcome hundreds of thousands of Brits annually, and its rustic towns such as Tulum where backpackers and sustainable travellers flock. However, Mexico City shouldn't be overlooked as a holiday destination. It has culture by the bucketload, and plenty of things to see and do to complete your stay.
Its most famous export, Frida Kahlo, has a lasting impression on the city and you can even visit her home Casa Azul. You can't miss the vibrant blue exterior and art enthusiasts are sure to be enthralled by the museum inside – she designed the entire house herself in typical Kahlo style.
You also cannot visit Mexico City without sampling its second most popular agave drink, Pulque. The texture has been described as gloopy while the taste has been likened to a cocktail of Calpol and Greek yoghurt. Yes, we know we're not necessarily selling it to you, but it's so difficult to get hold of outside of the city, this pre-tequila tipple deserves sampling. Even if only the once.
To discover more on our Mexico hotels, click here
.
Havana, Cuba
Classic Car in Havana Old Town, Cuba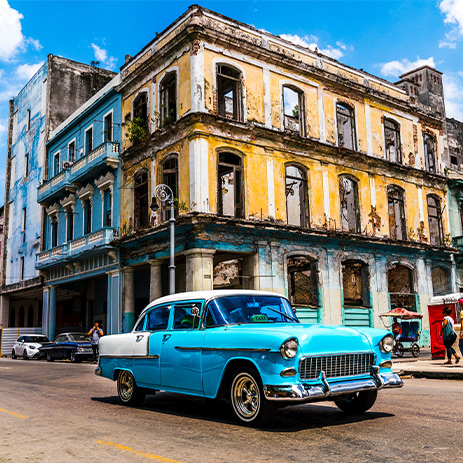 Ok, you caught us! Beth never travels to Cuba to win yet another Chess tournament, however if you are yearning for the nostalgia of the 60s then the island's capital should be on your travel wishlist.
Offering a true glimpse into time-capsuled life, Havana has proved popular with visitors looking to reminiscence about the 'good ol' days'. This frozen in time world offers culture by the bucketload... but don't be shocked if you see teens holding iPhones. The city has been modernised since 2008, but you can still enjoy a tour in a classic car and see Al-Capone era vehicles lining the alleys.
What's more, Havana is in a good location for a multi-centre holiday. Team the city with the island's gorgeous beaches, or perhaps with another destination such as
Miami
or
Mexico
.
Our hotel of choice is
Gran Hotel Manzana Kempinski La Habana
. Perfectly situated in the heart of Old Havana, this hotel boasts 194 luxurious guest rooms and 50 deluxe-appointed suites. It also offers a range of gastronomy from Caribbean seafood through to light bites. However, its crème de la crème is easily the rooftop pool. It's the ideal spot to soak up the sun and endless vistas over the city.
To discover more on Havana, click here.
The Queen's Gambit's Real Life Filming Locations You Can Visit Today
Image Credit: Netflix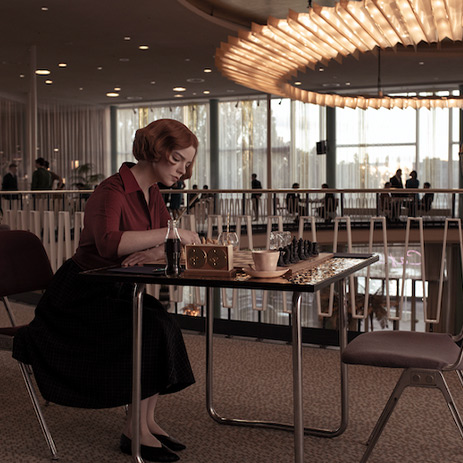 As we mentioned above, you'll probably be surprised to hear that The Queen's Gambit was not actually filmed in the locations it portrays. In fact, the majority of filming happened in Berlin, Germany and Ontario, Canada!

In the opening scene we see Beth running late to compete at the Paris Invitational. Netflix has you believe that it is taking place inside a luxurious hotel in the French capital, but in actual fact the secens were shot in Haus Cumberland a Grade II listed building on Kurfürstendamm Avenue in Berlin-Wilmersdorf.

The Methuen Home Orphanage where Beth first discovers her love for chess is also in Germany. The manor is located on the outskirts of Berlin and is called Schloss Schulzendorf, although Netflix did add their own spin on the medieval building with some clever CGI in post-production.

The US Open held in the fictional Hotel Mariposa in Las Vegas is actually Palais am Funkturm building of Messe Berlin. The entrance was filmed from the interior Summer Garden side and modified using digital effects to include palm trees and a neighbouring building to emulate Sin City's strip.

The Moscow tournament in the final episode is not in Russia at all. Yes, you guessed it, we're still in Berlin in Bear Hall in the city's old Town Hall. No longer used for government, it is now an events space that hosts weddings, birthdays and more.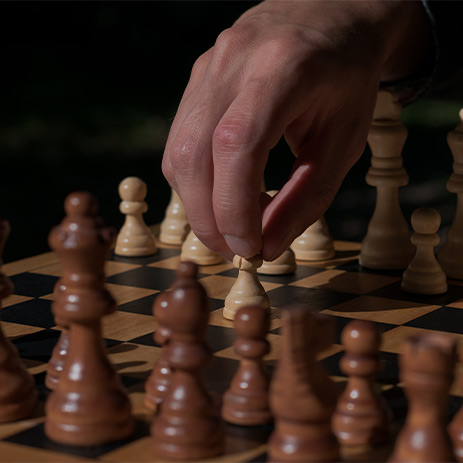 Once Beth gets adopted and moves to Kentucky, producers realised that portraying mid-western America was going to be pretty difficult in Germany. So, the team flew to Canada where Cambridge, Ontario became the set for Beth's new home.
Other scenes set in Canada include Benny's New York Apartment exterior, the house where Beth enjoys a girly evening and Bradley's Pharmacy where Beth steals a copy of Chess magazine. The 'pharmacy' is in fact Bohemian Palace Café in Hamilton, Ontario.
However, our favourite movie location fact is that of Ben Snyder's clothing store where Beth purchases a dress, the 'cool' shoes and her first chess set with her winnings from taking the crown in her first tournament. Ben Snyder was in fact a shop in the 1940s Lexington, and yet the exterior of the building in the miniseries is actually Winners Department Store in Toronto. But, the interior shots were actually filmed in Germany's Humana second-hand and vintage shop! How's that for some filming trivia?
Has The Queen's Gambit left you yearning to learn how to play chess at professional level? Or perhaps, the slightly more achievable option, left you dreaming of travelling to one of the cities featured in the hit Netflix miniseries? Winged Boots can help make this a reality. Simply call one of our personal travel managers today on 0203 816 0985 or click here to submit an online enquiry.
Share with someone you'd love to travel with

Lauren Godfrey
Lauren Godfrey is a Marketing Manager