0203 816 0985
Let's talk. We're open Mon-Sun 9am - 6pm
We're open Mon-Sun 9am - 6pm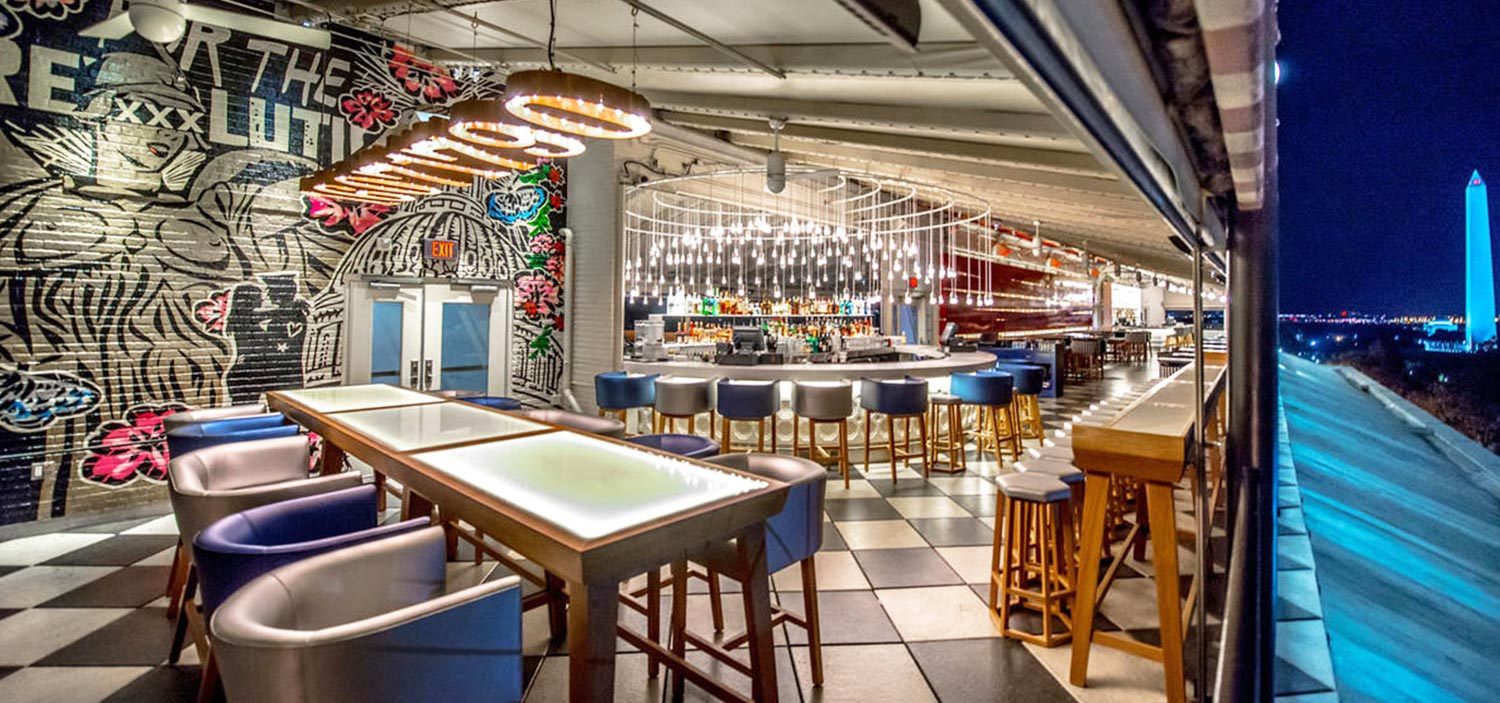 Take a sip in W Hotel's Rooftop Bar and Lounge
Destination: Washington
Pop the cork and get the champagne flowing in style at POV in the W Hotel, Washington's premier rooftop bar and lounge. The number one spot to soak up unparalleled vistas of DC's most famed sights, cocktail in hand, as well as acting as an ideal location for business meets, this bar is a number one must-visit during your American trip.

Implementing a strict fashion code, make sure you dress to impress – you want to get maximum likes on your Instagram snap, right?

Fancy a bite to eat too? Bask in views of the White House that you simply won't see anywhere else as you dine on salads, sandwiches, pizzas and American classics before indulging your sweet tooth with desert. Wash it all down with a glass of something sparkling, a seasonal cocktail, spirit and mixer or a bottle of beer… the endless drinks list is sure to not only meet, but exceed, every guest's expectations.

Celebrating a special occasion? POV will certainly meet your needs thanks to its semi-private space that hosts anywhere from 15 people to 50. Dancing to the beats dropped by the resident DJs on your birthday in one of the most amazing cities in America sounds pretty much like perfection to us.

WINGED BOOTS WISDOM

For those arriving before 9pm, you must enter through the 15th and F street entrance. However, if you're arriving after 9pm, the Pennsylvania Avenue entrance is preferred so you won't disturb guests. The dress code is casual sophistication with no baseball caps, flip flops, tank tops or tattered clothing. Collared shirts are preferred.
Venue Details
In/Out: Indoors

Duration: 2 hours

Traveller Type: Adults, Couples

Best for: Food & Wine, Sightseeing, Unwind

Address: 515 15th St NW, Washington, D.C. 20004

Opening Times:
11am – 12am (Sun – Wed), 11am – 1am (Thurs), 11am – 2am (Fri – Sat)
Map & Address
Just a six-minute walk from the White House on 15th Street and near to Madame Tussauds and the International Spy Museum, the W Hotel in Washington is central to many landmarks and holiday destinations. Just 20-minutes from Dulles Washington International Airport, the hotel is easily reachable via public transport thanks to it being close to Metro Center DC Metro Station.

Just a six-minute walk from the White House on 15th Street and near to Madame Tussauds and the International Spy Museum, the W Hotel in Washington is central to many landmarks and holiday destinations. Just 20-minutes from Dulles Washington International Airport, the hotel is easily reachable via public transport thanks to it being close to Metro Center DC Metro Station.

Address: 515 15th St NW, Washington, D.C. 20004
Opening Times:
11am – 12am (Sun – Wed), 11am – 1am (Thurs), 11am – 2am (Fri – Sat)