0203 816 0985
Let's talk. We're open Mon-Sun 9am - 6pm
We're open Mon-Sun 9am - 6pm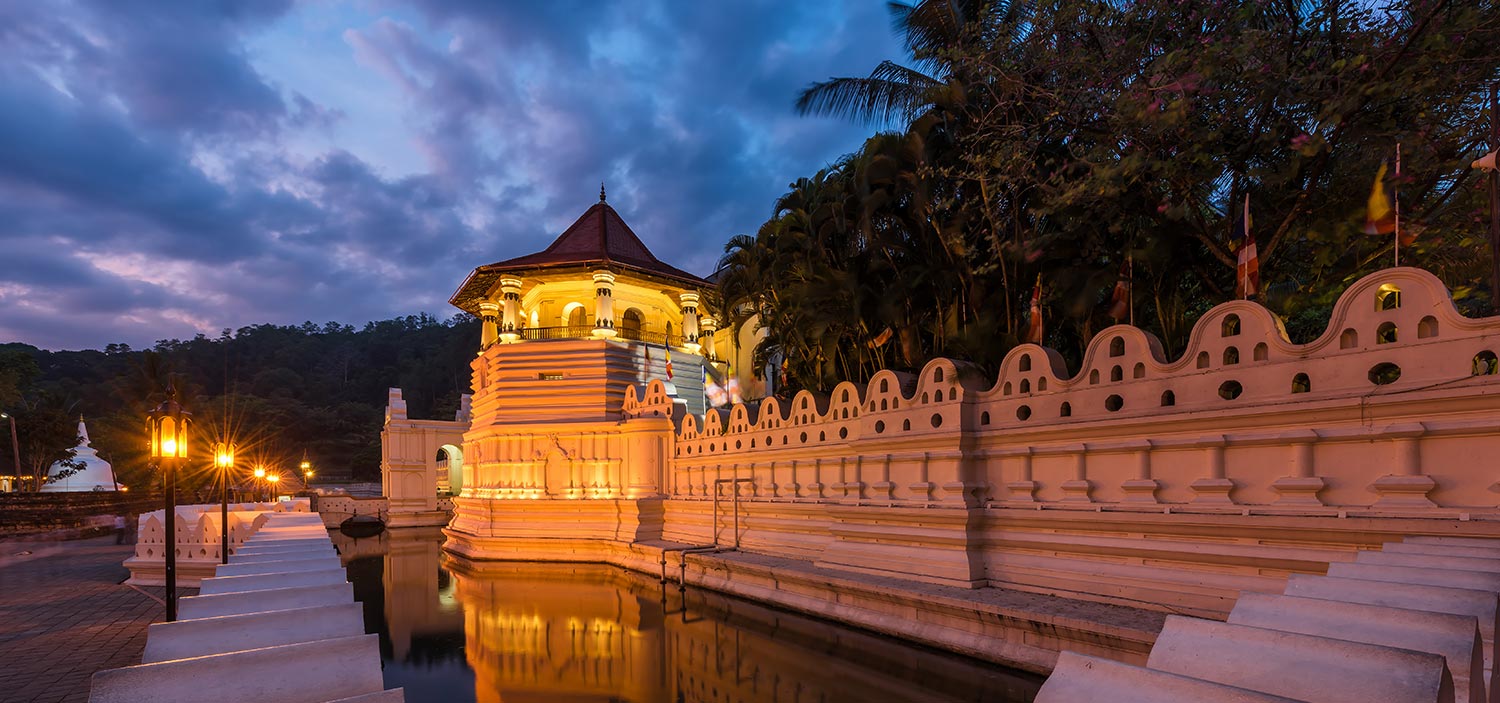 Sink your teeth into some culture at Temple of the Tooth
Destination: Kandy
Feel welcomed to the most humbling cultural experience available to all holiday goers in Sri Lanka, the Temple of the Sacred Tooth Relic. This place is an archaic religious structure in the Sri Lankan city of Kandy that holds the famed tooth of the Buddha, so you'll have an enthralling time checking out the building and its significance to the local people. Granted with a UNESCO World Heritage Site status, it's without doubt that the scenes and rituals characteristic of this temple are certainly a sight to see.

The relic has had an ancient history of importance, as it's believed that those in possession of the tooth rule the nation. Asian legend claims that the tooth has undergone a lot of to and throw between India and Sri Lanka over the years through the stealing of Buddha's funeral keep-sakes and multiple acquisitions by warring factions, before a Sri Lankan king returned it to Kandy. The rich history of this artefact is abundant, which makes it an excellent holiday venture for those with a cultural thirst.

Inside, you'll be overwhelmed by the 16th century architecture, the old-school Asian décor and gold monuments commemorating Buddhist figures and ideals, as enticing artefacts inhabit almost every corner you look. It's unlike anything you'd have ever seen, since the incredible settings and passion of the temple's worshipers create a unique and enlightening experience that'd be criminal to miss during your Sri Lankan holiday.

WINGED BOOTS WISDOM

Being a religious establishment, the Temple of the Tooth requires all guests to cover their knees and shoulders, and walk the inner chambers barefoot or in socks. Wearing white is a great mark of respect though not mandatory, and most tour operators have sarongs at the ready in their vehicles just in case you're having second thoughts on your attire.
Venue Details
In/Out: Indoors

Duration: Varies depending on tour operator

Traveller Type: Adults, Couples, Families

Best for: Cultural, Adventure, Cultural, Sightseeing, Unwind

Address: Kandy, Sri Lanka

Opening Times:
Varies depending on tour operator
Map & Address
Various pick-up points throughout Sri Lanka.

Various pick-up points throughout Sri Lanka.

Address: Kandy, Sri Lanka
Opening Times:
Varies depending on tour operator