0203 816 0985
Let's talk. We're open Mon-Fri 9am - 6pm
We're open Mon-Fri 9am - 6pm
Your Covid-19 Travel Questions, Answered
We've answered some of our customers' most frequently asked questions regarding hotel opening for international travel, new airport and airline policies plus the latest on the UK quarantine. This blog post was
last updated on 23

rd

November.
and will be regularly updated once more information is announced. If you have a travel question which is not listed, please email us on marketing@wingedboots.co.uk or call your personal travel manager.
If you have a travel question which is not listed, please email us on marketing@wingedboots.co.uk or call your personal travel manager.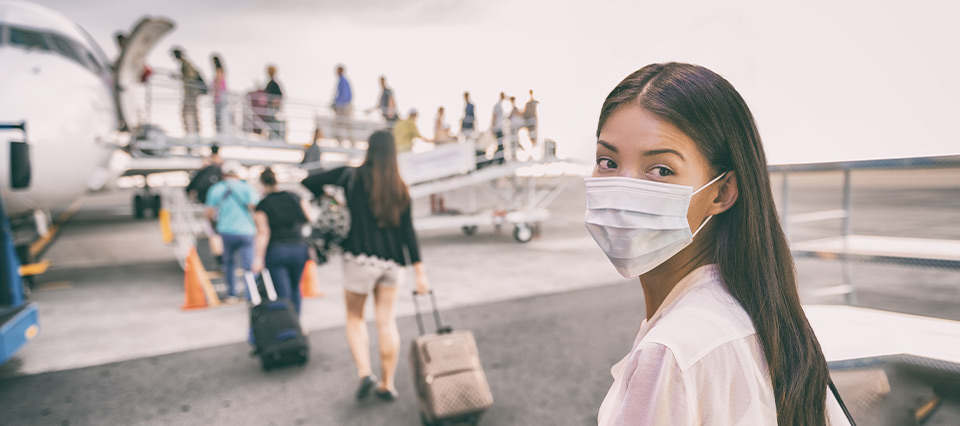 Can I travel internationally, or will I be subject to a two-week quarantine upon arrival?
This depends on the country you are visiting. The FCDO Travel Corridor list is changing often, so it is important you do your research before travel.
For the most up to date information, we recommend checking the FCDO advice by
clicking here.
How will the UK's 14-day travel quarantine be implemented?
Upon arrival to the UK, you will be asked to complete a form stating your contact information and address where you will be self-isolating for 14-days.
If you do not have somewhere to stay, accommodation will be arranged by the Government.
Health officials will perform spot checks to ensure compliance, and if you do not comply with these measures, fines of up to £1,000 and/or the threat of prosecution will be issued.

What does the UK's 14-day travel quarantine mean, and how does it affect my international holiday?
From Monday 8th June those returning from an international journey will be required to 'self-isolate' for 14-days under new rules to stop the spread of COVID-19.
The only reasons you will be allowed to leave quarantine is for:
urgent medical attention,
support from social services,
food and medicine if they cannot be delivered,
a funeral of a close relative
or an emergency.
Visitors - including close friends and family - are not allowed during this period.
On Friday 3rd July, the Department for Transport announced a list of Travel Corridors. If you are returning from one of these countries, you are not required to self-isolate. To view the travel corridor list,
click here
.

UPDATE
From Wednesday 15th December, those returning to England from a country that is not on the FCDO Travel Corridor list will not have to self-isolate for 14-days. Taking a privately funded COVID-19 PCR test on day five of quarantie and receiving a negative result will end isolation,
What countries are part of the Coronavirus: travel corridor and what does this mean for me?
The Government has released a list of countries that are exempt from the 14-day self-isolation upon return to the UK.
These countries are: Anguilla; Antigua and Barbuda; Australia; The Azores; Bahrain; Barbados; Bermuda; Bonaire/St Eustatius/Saba, British Antarctic Territory; British Indian Ocean Territory; British Virgin Islands; Brunei; Cambodia; The Canary Islands; Cayman Islands; The Channel Islands; Chile; Cuba; Dominica; Estonia; Falkland Islands; Faroe Islands; Fiji; Finland; Gibraltar; Greek Islands of Corfu, Crete, Kos, Rhodes and Zakynthos; Greenland; Grenada; Hong Kong; Iceland; Ireland; The Isle of Man; Japan; Jerusalem, Laos; Latvia; Macau; Madeira; Malaysia; Maldives; Mauritius; Montserrat; Namibia; New Caledonia; New Zealand; Northern Mariana Islands; Norway; Pitcairn, Henderson, Ducie and Oeno Islands; Qatar; Rwanda; Seychelles; Singapore; South Korea; South Georgia and the South Sandwich Islands; Sri Lanka; St. Barthélemy; St. Helena, Ascension and Tristan da Cunha; St. Kitts and Nevis; St. Lucia; St. Pierre and Miquelon; St. Vincent and the Grenadines; Taiwan; Thailand; Turks and Caicos Islands; United Arab Emirates; Uruguay; Vietnam.
To discover more on the travel corridors,
click here
to visit the www.gov.uk website.
When are European hotels opening for international guests?
The majority of European hotels are open with increased cleanliness policies and social distancing procedures. All hotels that are planning on reopening soon have undergone thorough deep cleans in preparation for guests.

Upon entry into most European countries you must complete a health declaration form. These forms vary for destination so please check with the country you are travelling to's official website and your personal travel manager to ensure you have the correct form completed prior to travel.

Confirming entry requirements for a specific destination is the customers' responsibility and Winged Boots will not be held responsible for any denied entries due to forms not being completed.
Do I need a PCR test to visit Spain?
From 23
rd
November, all passengers (including children) travelling to Spanish airports and ports from
'risk' countries
(as determined by the European Centre for Disease Prevention & Control) will be required to present a negative PCR (swab) test taken within no more than 72-hours prior to arrival, in order to enter the country. The UK is currently on the 'risk' countries list and passengers arriving from the UK are therefore subject to this requirement. This requirement applies to all passengers arriving in Spain by air or sea, regardless of your residency status in Spain and the length of time you intend on staying. Property owners in Spain are subject to this requirement.
If you are travelling by air or sea to Spain, you must declare on the mandatory
'Health Control Form'
, that you have undertaken a PCR (swab) test within 72 hours of arrival, have tested negative for COVID-19, and can show on request evidence certifying your results. The document you provide must be the original, be written in Spanish or English, may be submitted in paper or electronic format and must contain the following information:
• name of passenger
• passport number or ID card number (the number provided must match the one provided on the Health Control Form)
• test date
• name and contact details of the testing centre
• testing method applied (i.e. PCR)
• test results
You will also be subject to the following additional requirements at the point of entry:
• it is mandatory for all passengers travelling to Spain to fill out and sign a
Health Control Form
48-hours prior to travel, providing the Spanish Ministry of Health with:
• contact information;
• details of any known history of exposure to COVID-19; and
• confirmation that you are able to provide evidence, certifying that you have undertaken a PCR (swab) test within 72-hours of arrival and have tested negative for COVID-19.
You can do this on the
Spain Travel Health website or downloadable app
. On completion, you will be issued a personal and non-transferable QR code which you must show (electronically or hardcopy) at airport health controls on arrival. Anyone who has not completed this form electronically via the Spain Travel Health website or app, may submit it in paper format prior to boarding.
• temperature check
• undergo a visual health assessment
Anyone who presents symptoms or fails to meet one of the above requirements will be required to undergo a test on arrival and will be obliged to observe the COVID-19 protocols in place as determined by the local authorities of your destination in Spain.
Fines may be issued to anyone who arrives in Spanish airports and ports from 'risk' countries without adequate evidence of a negative PCR (swab) test.
Passengers may also be contacted and required to undertake a PCR (swab) test at any point up to 48 hours after their arrival in Spain.
You should not use the NHS testing service to get a test in order to facilitate your travel to another country. You should arrange to take a private test.
Overland travellers to Spain and those transiting are exempt from the above-mentioned entry requirements, and are therefore not currently required to present a PCR test or Health Control Form on entry by road or rail.
When are Middle Eastern hotels opening for international guests?
The majority of Dubai and Ras Al Khaimah hotels are already open for guests, however some facilities such as spas, nightclubs and certain restaurants remain closed. For more information on a particular hotel or resort's opening plans, please contact your personal travel manager at time of enquiry/booking. Updates are being announced almost daily and our expert team are up to date with all the information you will need.
To be allowed entry into Dubai you must:
take a PCR test up to 72-hours before travel and provide certification of this (NHS tests are not valid);
have valid travel medical insurance;
and download the COVID-19 DXB app.
To discover more on the entry requirements for Dubai,
click here.
Abu Dhabi International Airport is currently closed. For holidays to Abu Dhabi you must fly into Dubai airport and drive or book transfers to your Abu Dhabi hotel. Our personal travel managers can help with organising this for you, however upon arrival you are currently required to quarantine for two-weeks.
When are Maldives hotels opening for international guests?
The Maldives is open for international tourism and is also on the FCDO Travel Corridor list which means you do not have to self-isolate upon return to the UK.
UPDATE
Maldives has introduced a new policy that means that all visitors must present a negative COVID-19 test certificate when entering the country. The test must be taken a maximum of 72-hours prior to arrival. Plus, you must complete the electronic health declaration form before travel.
Click here to be redirected to the online form
.
This new policy is effective from 10
th
September and joins Dubai, Barbados and other destinations who have similar policies already in place for international travellers.
When are Mauritius hotels opening for international guests?
Mauritius is open for international tourism however from 1st October you must quarantine for two-weeks in your hotel upon arrival.
When are Caribbean hotels opening for international guests?
Many Caribbean islands are already open for tourism however only a select few are on the FCDO's travel corridor list.
UPDATE
Barbados is open for tourism and all visitors must provide evidence of a negative COVID test that has been taken within 96-hours prior to arrival to be able to enter the island. The UK is considered a 'high risk' country to Barbados, therefore the authorities will monitor any UK visitors, and you will be required to take a second test while on the island. You can also only stay at a pre-approved hotel and must use a pre-approved transport provider to take you to/from the airport to your accommodation.
You must also complete the following ED Travel form prior to arrival.
Click here to be redicrected to the ED Travel form.
To stay up to date with the lates Barbados entry requirements, please
click here
.
Are all the facilities open at hotels such as kids' clubs, babysitting facilities, restaurants, pools and spas?
This is dependent on the hotel you are staying in. For the most up to date information for any particular hotel or resort, please ask your personal travel manager at time of enquiry/booking.
Do I have to wear PPE at the airport?
Yes, all guests and staff at airports are expected to wear appropriate face coverings. This includes children aged six years and up.

How long do I have to get to the airport prior to my departure flight?
Passengers are being asked to stick to the normal guidelines and turning up at airports two-hours before European flights, and three-hours for long haul flights.
Are airport lounges open?
This is dependent of the airport. London Gatwick and London Heathrow have temporarily closed all lounges.
How are airlines ensuring planes are safe for travel?
Airlines have multiple measures in place to ensure the safety of passengers and crew on board aircrafts including:

Disinfecting all hard surfaces within the cabin, as well as toilets and aircraft seats and carpets between flights;

Regularly cleaning high-efficiency particular air (HEPA) filters as well as circulating air in the cabin so it is completely replaced every three to five minutes;

Airlines have begun providing masks, gloves and liquid hand sanitizer to be used by the flight crew onboard. For additional passenger comfort, many airlines are encouraging passengers to bring their own cleaning products, such as disinfecting wipes, to be used at their seats to help passengers feel more at ease;

Food services for short-haul flights has been suspended on many airlines and on some aircrafts, only canned or bottled beverages are being served;

Food services on long-haul flights have been reduced and meals are pre-packaged. Passengers are also being encouraged to provide their own snacks on flights as long as they adhere to airport guidelines.

Are there new guidelines surrounding health and safety measures at the airport?
Airports around the world have been affected by COVID-19 and have implemented new policies and procedures to help protect travellers and employees. Many airports continue to add notices to their websites outlining how they're handling the ever-evolving situation. Methods include: increased cleaning of seating, handrails, restrooms, people movers and elevators during the day; nightly deep cleaning of entire terminals; guidelines to encourage safety and social distancing and installation of hand sanitizing stations.
To find out more about particular London airport's and FAQs surrounding coronavirus policies, click below.
London Gatwick
London Heathrow
London Luton
London Stansted
Do airlines have specific policies in regard to social distancing, health and safety?
We are sharing airline policies directly with passengers alongside their tickets, once we receive the official documents from the airline. For more information on what specific airlines are doing to ensure passenger and crew safety, click the links below:
Emirates
Etihad
Virgin Atlantic
EasyJet
Some airlines also have baggage restrictions. Emirates, for example has issued this statement:
Similarly, to reduce risk of spreading the virus by touch, magazines and other print reading material are temporarily unavailable. Cabin baggage are currently not accepted on flights. Carry-on items allowed in the cabin are limited to laptop, handbag, briefcase or baby items. All other items have to be checked in, and Emirates will add the cabin baggage allowance to customers' check-in baggage allowance. Customers have to wear their masks and gloves throughout their journey from check-in until they disembark.
To read more,
click here.
Please check with your personal travel manager regarding any restrictions on baggage and other airline policies prior to travel.
Are the theme parks in Orlando, Florida open and what are the social distancing measures?
From 5th June 2020, Universal Orlando Resort opened all three of its theme parks - Universal Studios Florida, Universal's Islands of Adventure, and Universal's Volcano Bay - with additional safety measures in place.
To discover more on these measures,
click here
to view a short video.
SeaWorld, Aquatica, and Discovery Cove Parks as well as Busch Gardens and Adventure Island in Tampa reopen on 11th June 2020. To gain entry, you must book your ticket online in advance. You can no longer purchase tickets at the gate. Overall, all attractions will be fully open however some parades and meet & greets will be cancelled. Everyone over two-years must wear a face mask in order to gain entry and there will be temperature screenings on all gates. Physical distancing must be respected, and you can only use contactless payments while inside the parks.
For more information on safety measures at the individual parks, click below:
SeaWorld
Aquatica
Discovery Cove
Busch Gardens
Adventure Islands
Walt Disney World Resort's Orlando theme parks will begin a phased reopening from 11th July however you cannot purchase tickets for 2020. Only those with pre-booked tickets will be able to enjoy the park this year. Some attractions will remain closed.
To discover more,
click here
.
Are Dubai's waterparks open?
Aquaventure Waterpark, inside Atlantis The Palm, is now open. To stay informed on Atlantis, The Palm's latest news and facilities,
click here
.
Wild Wadi Waterpark is also now open. To stay up to date on its latest news and guidelines for visitors,
click here
.
Are Dubai's brunches open?
Yes, the majority of Dubai's brunches will be open and operating as normal once the hotels are fully functional however social distancing measures will be enforced. All buffet brunches have been changes to á la carte options. For a list of these measures, please visit the hotel or restaurant's website before arrival.
Do we have to wear a mask when eating in a restaurant?
This is dependent on the restaurant and country you are visiting. All restaurants will have spaced tables at least 2m apart and you are not expected to wear a mask while eating. To understand the complete social distancing rule per restaurant, we recommend calling ahead when making your reservation.
Are hotel buffets closed?
All hotel buffets have been changed to á la carte restaurants to adhere to social distancing rules.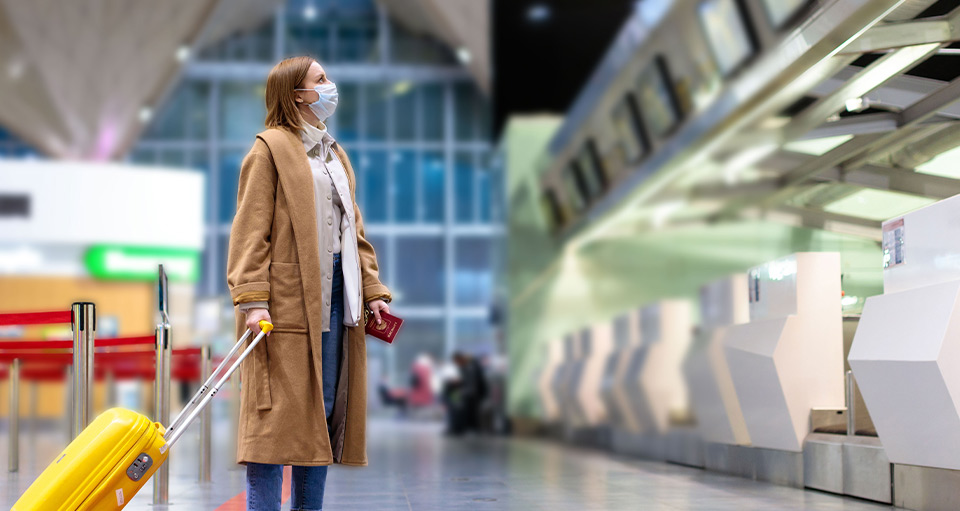 If you have a coronavirus travel related question or update that has not been featured, please email marketing@wingedboots.co.uk.
For any further information on booking holidays, please feel free to call our personal travel managers on 0203 816 0985.
Share with someone you'd love to travel with

Lauren Godfrey
Lauren Godfrey is a Marketing Manager