0203 816 0985
Let's talk. We're open Mon-Fri 9am - 6pm
We're open Mon-Fri 9am - 6pm
Winged Boots' Guide For The Adventurous Traveller
Who said that holidays were all about lazing on powder white sands and soaking up the sun's rays? Certainly not us. At Winged Boots we understand that there are multiple sides to travel, and of course to our loyal travellers. From foodies to wellness warriors, families to hen and stag parties, we cater to all. And this month we're shining the spotlight on the adventurous amongst you. Those who venture around the world in search of a thrilling experience to provide plenty of dinner party stories, Instagram snaps and adrenaline rushes. Yes, we're talking to you. Call off the hunt for your next getaway as we've compiled seven experiences from around the world that you're sure to love.
Recommended

itineraries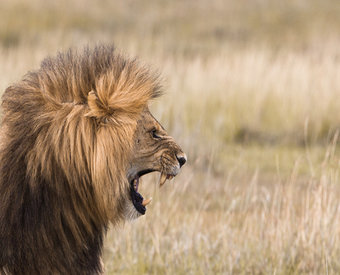 Itinerary
Johannesburg+Kruger National Park+Mauritius
13 nights from £4,599 pp inc flights
13 nights
from £4,599 pp inc flights
International Flights
13 Nights accommodation
3 x Breakfast
3 x Full Board
7 x Half Board
3 x daily Game Drives at Sabi Sands...
Best for: Business, City, Couples
13 nights
from £4,599 pp inc flights
To book or customise this itinerary call us on
Dive with sharks in Cape Town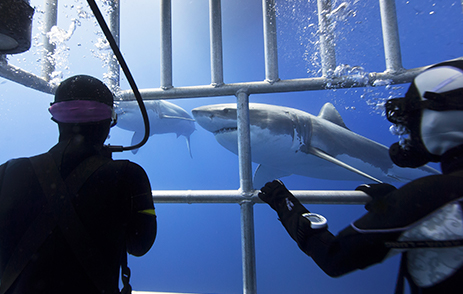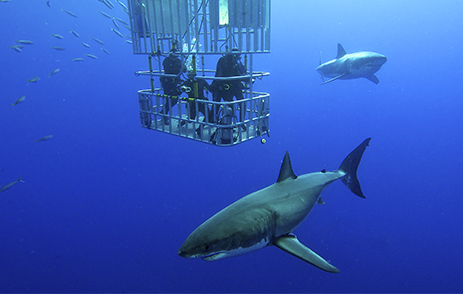 Come tooth to tooth with one of the world's most feared predators off South Africa's southwest coast. After an exhilarating boat ride to Dyer Island, don your wetsuit and prepare for your heart to leap out of your chest as you dive into the water to observe sharks in their natural habitat. After your guide 'chums' the area by dropping a combination of mixed tuna and sardines with fish oil into the water, the sharks enter scavenging mode which is when your cage will drop below the water's surface ready for your exciting encounter. Tours vary but on average you'll spend between 30 and 45 minutes under the water's surface observing Great Whites. What's more, you can view these hunters from the boat's viewing platform. Other marine life you're likely to spot include seals, dolphins, penguins and whales as well as a host of rare pelagic bird species above the waves. Taking anywhere from four to six hours, this is one day trip you'll remember for years to come. Suitable for children older the age of eight, why not make this a family outing that they'll never forget?
Where to stay:
Interested in cage diving with the sharks? Then let One&Only Cape Town be your host during your South African adventure. Offering panoramic vistas of Table Mountain and located in the heart of the Victoria & Alfred waterfront, this commanding hotel is nothing short of spectacular.
To find out more, click here.
Fly above the trees in Ras Al Khaimah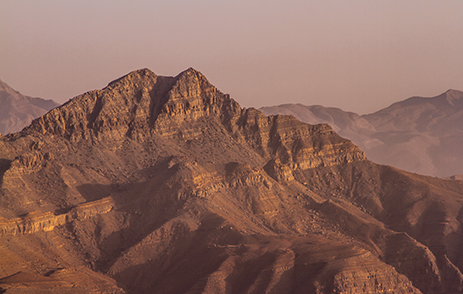 Image courtesy of Ras Al Khaimah Tourism Development Authority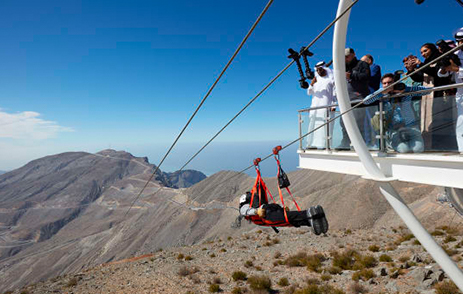 Fly through the air at a speed that's close to 100 miles per hour down the UAE's highest mountain, Jebel Jais. Cementing RAK's claim as the adventure capital of the United Arab Emirates, the new zipline is the longest in the world, and measures an incredible 2.83 kilometres in length. Suspended 1,680 metres above sea level and connected via two mountains, this thrill ride certainly isn't for the faint hearted… although it is for the entire family. Riders must weigh between 45 and 150 kilograms and be a minimum of 120 centimetres in height to enjoy RAK's latest daring attraction. What's more, the experience features two ziplines so you can soar to new heights with a loved one beside you. And to top it all off, you fly face down in a superhero position making it one of the closest ways to experience flying. How's that for some adventure?
Where to stay:
To continue the adventure theme of your Middle Eastern trip, why not pitch up at The Ritz-Carlton Ras Al Khaimah, Al Wadi Desert. Located in a nature reserve surrounded by mesmerising desert dunes, this resort offers an oasis of luxury. You'll stay in Bedouin-inspired deluxe villas and have the opportunity to ride horses, enjoy bird watching walks, learn a new skill with archery sessions, ride bikes and then recoup at the sumptuous spa.
To find out more, click here.
Walk with the lions in Mauritius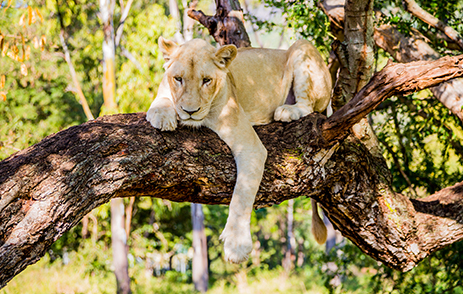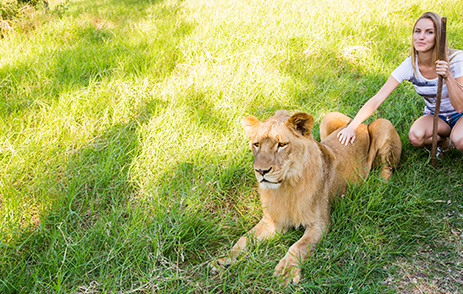 A once-in-a-lifetime experience is on the cards at
Casela World of Adventures in Mauritius
. One of the most visited attractions in the Indian Ocean, Casela offers a variety of activities which are bound to thrill all from safari activities to mountain adventures, however the most daring by far is its Lion Walk. Located in a separate area of the park, here you can observe lions, cheetahs and tigers before you test your nerve by going on a one-hour walk amongst the kings of the jungle. Under the coolness of the trees you can watch the lions up close, hopping across the rocks that line the riverbank and playing with one another. Here you'll learn more about these majestic cats, see how they interact, climb trees and even feed. The lions roam freely offering a unique opportunity of being in extremely close contact with them… and under the supervision of your lion handler you'll even get to pet them. Of course, your experience is filmed and photographs are taken on route so you can treasure the memories long after the big cats bid you farewell.
Where to stay:
Located around an hours' drive from Casela World of Adventures is Constance Le Prince Maurice, a sanctuary of rest and relaxation and the perfect resort to rest your head after such a heart-pumping adventure. Here the sands are powder soft and the waters are topaz blue offering the picture-perfect setting for your Mauritius holiday. And if all that wasn't enough, the hotel also boasts access to two 18-hole championship golf courses.
To find out more, click here.
Hike Mount Fuji in Japan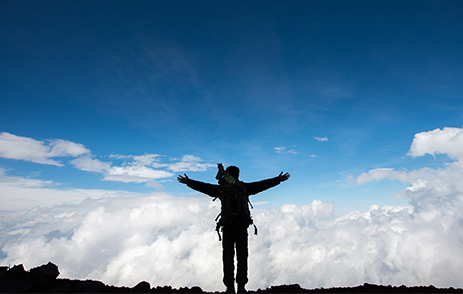 If you're thinking of tackling a hike, Japan's highest and most famed mountain should be top of your list. Despite Mount Fuji's steep slopes, it can be climbed quite easily, even by beginners. Official climbing season is from 1st July until early September and during this period the trails and its facilities are open ot the public. During this period, the air is clearer, snow is generally out of sight however temperatures at the summit can still drop far below zero. It is recommended that you set out on your climb early morning and make use of the mountain's facilities to rest before reaching the summit at sunrise. Although it is possible to climb Mount Fuji in a day, the visibility during daylight hours isn't at its greatest as the mountain is usually surrounded by clouds. Therefore, to get the most out of your experience and to lower your risk of altitude sickness, it is recommended to spread the ascent and descent over a two-day period. With a choice of four routes to climb, the trek to the top takes an average of six hours. But trust us, the views from the summit are more than worth it.
Where to stay:
For a central location, we recommend staying in Tokyo where you can take a bullet train and public transport to reach the base of Mount Fuji. The Mandarin Oriental, Tokyo offers a great location in a world of its own above the city, here all discerning travellers will enjoy the luxury they deserve – the ideal way to prep for a great two-day hike.
To find out more, click here.
Take a leap of faith in Dubai
Image courtesy of Dubai Tourism Board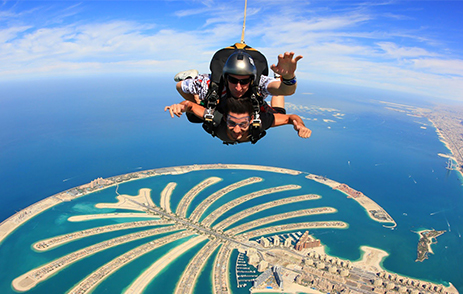 Image courtesy of Dubai Tourism Board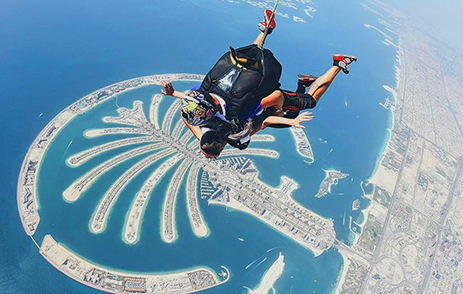 Dubai is a city of twists and turns where luxury is found around every corner. So what better way to take it all in than from 13,000 feet above the air on a tandem skydive? Fuelled by adrenaline you'll freefall at 120 miles per hour before the parachute opens and the beauty of the city unfolds. Forget climbing the Burj Khalifa, for the best views of Palm Jumeirah you simply have to take to the skies. And for an even more scenic experience, we highly recommend you book the sunset jump. Alternatively, Skydive Dubai also offers a desert experience for true adrenaline junkies. Fancy yourself as a skydiving pro? At the desert campus those who wish to progress beyond an A license can also learn how to skydive solo. For an even more scenic experience, why not book the sunset jump?
Where to stay:
For more adventure, stay at the legendary Atlantis, The Palm and make full use of its wealth of activities. Enjoy a dolphin encounter at Dolphin Bay, fly across the resort on a zipline or whizz down vertical waterslide Poseidon's Revenge at Aquaventure. Phew, after all that exhileration you'll need a good meal and thankfully Atlantis, The Palm offers 23 restaurants which are all prepped to reenergise you ready for another day of Dubai fun.
To find out more, click here.
To discover more Dubai adventures click here
Drive like a pro in Lapland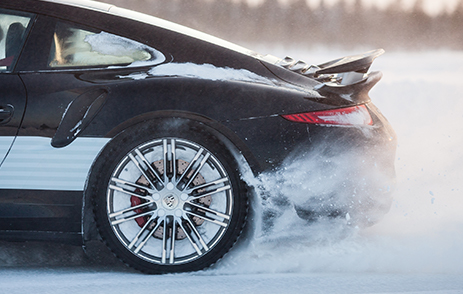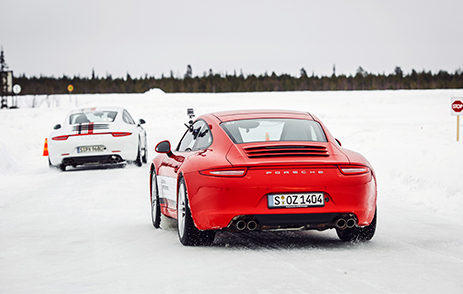 Yes, you read that correctly. Hire a supercar and whizz around a range of specially crafted race tracks in the heart of Lapland. Imagine lakes as far as the eye can see, snow-capped pine forests at every turn and a night sky that dances with the green and purple lights of Aurora Borealis. As if this scene wasn't enough, you can experience it all behind the windscreen of a Ferrari. Comprising four full-scale Formula One circuits, two technical circuits and one practice circuit, for just 14 weeks each year you can act out your inner James Bond on the surface of the frozen Lake Udjaur. The enormous drifting area encompasses 1,250 acres and features 13 different circuits in total, perfect for all abilities. Reach speeds of up to 125mph with no barriers, no walls and nothing in your way except miles and miles of fresh white powder. This is limitless extreme driving, a bucket list experience for sure.

To discover more, call one of our personal travel managers for a bespoke quote on 0203 816 0985. Ideal for incentive travel, stag parties as well as adventurous groups of couples, this unique driving opportunity has to be experienced to be believed.
Discover one of the seven wonders of the natural world in Australia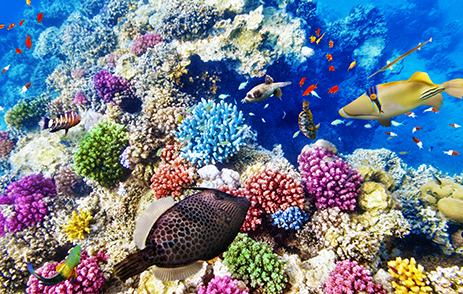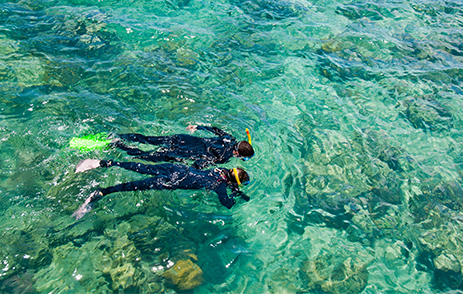 Don your snorkel and flippers and delve beneath the surface off Queensland's coast. Comprising more than 2,900 individual reefs and 900 picturesque islands, the
Great Barrier Reef
is one of Australia's most striking natural gifts. Larger than the Great Wall of China and the only living thing on Earth visible from space, this aquatic beauty is home to more than 1,500 species of fish. To experience the waters for yourself, there are multiple snorkel and scuba diving opportunities that are suitable for all ages and abilities. Plus, for the less confident swimmers, you can also take in the site from the skies on a helicopter tour.
Where to stay:
In the heart of Queensland, Lizard Island, Great Barrier Reef is waiting with open arms to embrace weary swimmers from excursions in the Coral Sea. Boasting its own wealth of watersports, there's never a dull moment here. From paddle boarding to glass bottom sea kayaking, we hope you bring your A Game as the activities here deserve your full attention.
To find out more, click here.
Have we sparked your inner adventurer? For more information, call our team of personal travel managers on 0203 816 0985 or submit an email enquiry here.
Share with someone you'd love to travel with

Lauren Godfrey
Lauren Godfrey is a Marketing Manager
Recommended Itineraries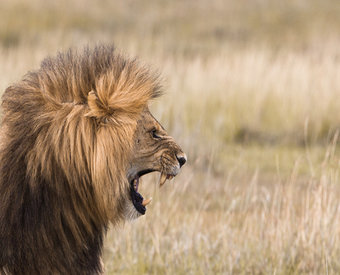 Itinerary
Johannesburg+Kruger National Park+Mauritius
13 nights from £4,599 pp inc flights
13 nights
from £4,599 pp inc flights
International Flights
13 Nights accommodation
3 x Breakfast
3 x Full Board
7 x Half Board
3 x daily Game Drives at Sabi Sands...
Best for: Business, City, Couples
13 nights
from £4,599 pp inc flights
To book or customise this itinerary call us on
Recommended Things To Do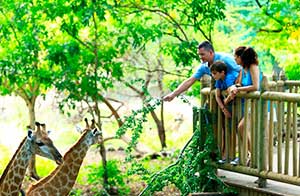 Adventure
Get ready for a day of pure thrills, spills and exhilaration at Casela World of Adventures in Mauritius. Zip lining, quad biking and adventure trails are all at your beck and call, promising an unforgettable holiday experience for everyone in your party. Brilliant for the adrenaline junkies or those who simply want to try something new, Case...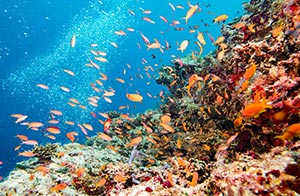 Adventure
Do you want to get out in those balmy blue Australian waters and explore the natural wonder known as the Great Barrier Reef? Then this is the activity for you! Open to those aged 18 and above, a combo tour involving a yacht cruise and snorkelling session is the perfect way to discover the marine paradise of Australia. Most tours from Queensl...