0203 816 0985
Let's talk. We're open Mon-Fri 9am - 6pm
We're open Mon-Fri 9am - 6pm

Why Should Dubai Be Your Next Family Holiday Destination?
Kids of all ages will most certainly never utter the words "I'm bored"
Sporting a reputation as an adult's playground, a city that's all about the superlative and pure luxury from start to finish,
Dubai
over the years has turned this misconception on its head and become keen to capture the family market. The perfect destination to revel in all-year-round sunshine, jetting off to the UAE is ideal whether it be over Christmas, Easter or the six-week break. Is a stay at the fun-filled Atlantis, The Palm on the cards? Or are you in the family spirit for some adrenaline and laughter at Legoland Dubai? First-time visitors or seasoned natives to the glorious emirate will both agree that the city is ever-evolving meaning that there's never a shortage of things to do no matter what your holiday mojo. Kids of all ages will most certainly never utter the words "I'm bored" as soon as you step onto the tarmac – don't believe us? Keep reading and you'll discover exactly why Dubai should be your next family holiday destination…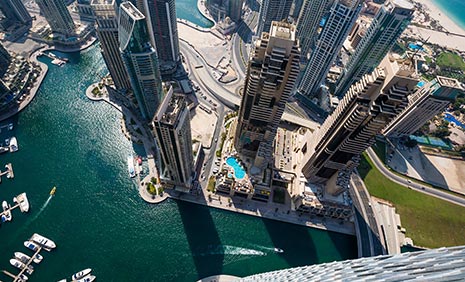 Family Fun at Atlantis, The Palm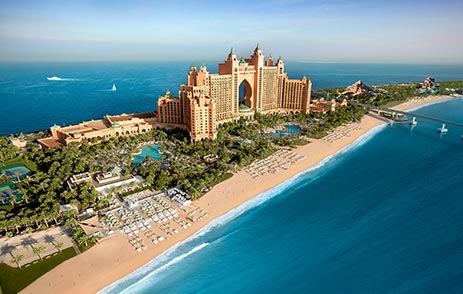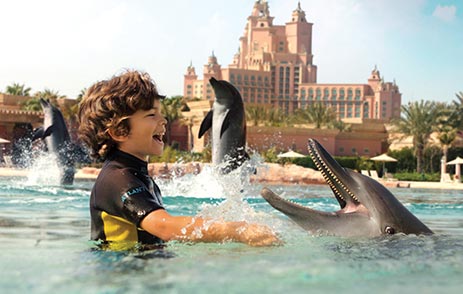 64 times the size of Wembley Stadium,
Atlantis, The Palm
is Dubai's answer to family hotel royalty. The marine-themed Atlantis brings luxury to life with the likes of 23 on-site restaurants, an aquarium and a waterpark – yes, really! The attention to detail at this glorious resort is what draws visitors from more than 227 different countries each year including plenty of families who are promised life-long memories here. Guests can take advantage of unlimited complimentary access to Aquaventure Waterpark, awarded the number one waterpark in the Middle East. Whether you're sporting little ones who want to take it easy on the 1.7-kilometre-long Lazy River or teenagers who fancy a pump of adrenaline on the Aquaconda, the world's largest waterslide, everyone is guaranteed to have a whale of a time. Oh, and there are plenty of open and closed waterslides that are big enough for parents to ride with small children on their laps too, so no-one misses out on the fun! Want to sneak off to the spa? Cart off your bundles of joy to the Atlantis Kids Club, a facility that aims to inspire and stimulate the imaginations of those aged between three and 12 years old. They'll have a brilliant time partaking in the likes of arts and crafts, origami and cookie decorating not to mention themed nights such as Willy Wonka Wednesday and movie nights at the Underwater Theatre while you enjoy a full-body massage, guilt-free. Although there are plenty of opportunities for fantastic family quality time at Atlantis, The Palm, adults and children can both have fun separately and still have an incredible holiday.
Click
here
to discover why Atlantis, The Palm is a world away from the everyday...
Endless Laughter at Hotel Kids' Clubs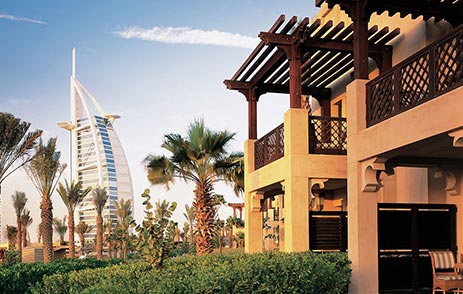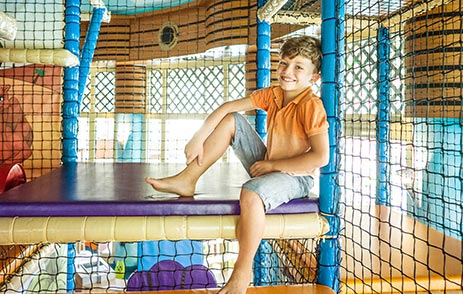 It certainly doesn't begin and end with Atlantis, The Palm when it comes to unbelievable kids' clubs in Dubai's army of luxurious hotels. With most offering child-care facilities, babysitting services and activity clubs, the entire family can experience the best of both worlds in the most fantastic way possible. While the kids are off having the time of their lives making new friends from different corners of the globe, gaining an education and partaking in games and arts and crafts, the parents have the entirety of Dubai at their fingertips… brunch anyone? Four Seasons is renowned for its complimentary childcare programme and
Four Seasons Resort Dubai at Jumeirah Beach
is certainly no exception. Ideal for little ones aged between four and 12, this safe and secure environment is designed to educate and entertain – what's more, on Thursdays and Fridays, the facility is open until 11pm, making it the perfect opportunity for a date night at one of the 10 distinctive dining venues on-site.
Jumeirah Beach Hotel
is also a contender for brilliant on-site kids' clubs in Dubai. Located on Jumeirah Beach as the name suggests, this family-friendly property has children at its heart with exceptional facilities that reflect this mantra. In its grounds you'll find Wild Wadi Waterpark, six swimming pools, 21 cafés, restaurants and bars and not to mention the incomparable underwater-inspired Sinbad Kids' Club. Here, playtime is all the time as children aged from two to 10-years-old are supervised by the fully-trained team of staff while enjoying the likes of face painting, crafts, aquatic fun and sports. Oh, and we can't forget about the top-notch restaurant programme! Dine Around Dubai is available to those residing at a Jumeirah resort (
Burj Al Arab, Jumeirah Zabeel Saray, Jumeirah Beach Hotel
and all
Madinat Jumeirah
resorts) whereby guests can benefit from complimentary lunch or dinner in up to 50 restaurants, bars and lounges throughout the city. Whatever your taste – whether it be Pan-Asian delights, the finest seafood dishes or traditional Mediterranean – most venues sport an extensive children's menu that excellently caters for the fussy eater in the family.
Explore Wonders at The Dubai Mall
The Dubai Mall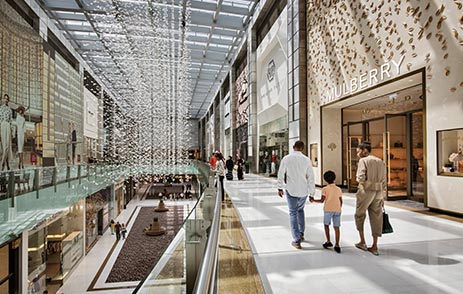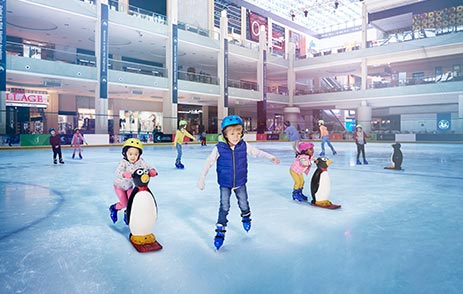 We know what you're thinking – I can't take my kids shopping, they'll be bored senseless! This is something that most certainly doesn't apply to
The Dubai Mall
, the second largest mall in the world by total area and roughly about the size of 50 football pitches. This glorious retail pilgrimage is home to 1,200 stores from high-street favourites to designer classics as well as a plethora of restaurants and cafés but it's the entertainment at this huge mall that truly shines. Not your average Westfield, The Dubai Mall offers utterly out-of-the-ordinary experiences that are suitable for the entire family to explore. Let's kick off with the VR Park, a fully immersive virtual experience that spans horror, adventure and sport themes with individual and multi-player options available. If you fancy something a little more active, cool off from the beaming sunshine with a glide across the Dubai Ice Rink, an Olympic-sized venue that offers a beginner's class, a refresher course and an evening disco session that allows you to freestyle with family and friends. In the centre of The Dubai Mall, you'll also find the Dubai Aquarium and Underwater Zoo which provides the entire family with a fascination of the wonders of nature while gaining an insight to the world's most mysterious marine life.
Experience Thrills at the Theme Parks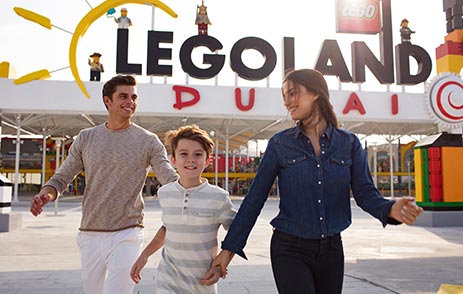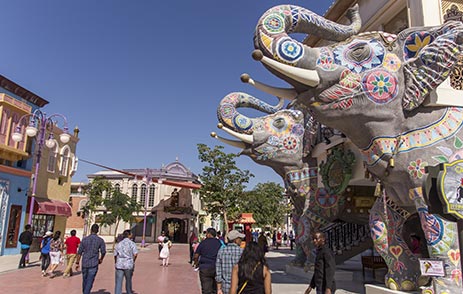 Dubai doesn't have a shortage of family-friendly attractions that are perfect for both the very young to the young at heart. Minimal queues only mean one thing: even more time for family adventures!
IMG Worlds of Adventure
is the world's largest indoor theme park and is Dubai's latest record breaker. The size of 28 football fields and featuring four zones – including one dedicated entirely to dinosaurs – this nail-biting attraction offers more than 20 thrilling rides that are themed around Marvel comics and Cartoon Network characters, making it brilliantly popular amongst teenagers who, let's face it, are extremely hard to impress. They'll be begging you to return as soon as you leave!
If you're travelling with younger ones, then you can't go wrong with
Legoland Dubai
. One of the four parks that make up
Dubai Parks and Resorts
(also comprising Motiongate Dubai, Bollywood Parks Dubai and Legoland Waterpark), Legoland Dubai caters for families with children aged from two to 12. The legendary park is made up of 60 million Lego bricks and showcases six lands – both indoor and outdoor – that will have your kids laughing in sheer delight from start to finish. Don't forget to cheer them on while they're getting their Legoland Driving School Licence, stare in awe at the Lego-sized Burj Khalifa and scream along with the whole family on the Dragon rollercoaster…
Make a Splash at the Water Parks
Wild Wadi Water Park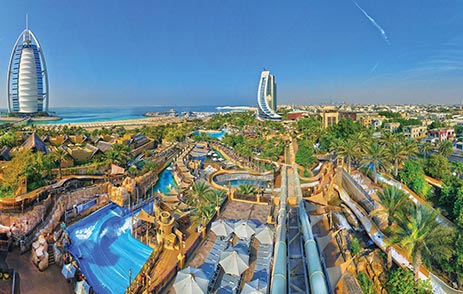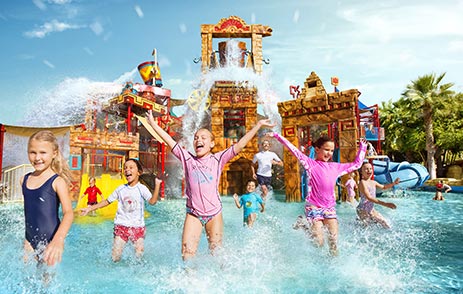 Alongside the exceedingly popular Aquaventure Waterpark at Atlantis, The Palm, there's no such thing as a visit to Dubai without a trip to the teenager-friendly
Wild Wadi Waterpark
. Located directly in front of the iconic Burj Al Arab, there's truly no better way to cool off from the summer sun while simultaneously creating holiday memories that will last a lifetime. Adults can take it easy with a relaxing, laidback cruise down Juha Journey's Lazy River, taking in the beautiful cascading waterfalls and revelling in the serene lagoons. The likes of Jumeirah Sceirah certainly puts the "wild" in Wild Wadi, perfect for the older kids who want a little bit of adrenaline to tell their friends about when they return home. As the tallest and fastest-speed slide outside of North America, this will most certainly be the ride of your life and combined with other attractions such as Burj and Surj, Tantrum Alley and Master Blasters, we guarantee this will be a family day out you surely won't forget. The younger ones won't feel left out either with Breaker's Bay, the largest wave pool in the Middle East, and Juha's Dhow and Lagoon, a family interactive play structure with more than 100 water activities including slides and water guns. Oh, and did we mention that guests staying at the Jumeirah resorts can benefit from complimentary admission to Wild Wadi Water Park?
For something slightly tamer for those aged two to twelve,
Legoland Water Park
is just the ticket. Excellent for large families, most of the rides and slides at this fun-filled venue allow for older kids to race each other for holiday victory while the Duplo Splash Safari is ideal for toddlers and parents who want to capture their kids' first water adventures. Or how about partaking in a little bit of family carpentry? Adults and children alike can test their constructing skills with Legoland's Build-A-Boat, an activity that does exactly what it says on the tin. Test your boat creation against the current, customise your raft with polystyrene Lego bricks and watch it sail down the Lazy River. Family bonding at its finest!

Recommended

itineraries
Itinerary
Abu Dhabi+Dubai+Ras Al Khaimah Desert
14 nights from £2599 pp inc flights
14 nights
from £2599 pp inc flights
International flights
14 Nights accommodation
14 x Breakfast
4 x Excursions
Private transfers throughout
Best for: Beach, Business, City
14 nights
from £2599 pp inc flights
To book or customise this itinerary call us on
Need Some More Convincing? We've Got You Covered With a Few More Family Friendly Gems…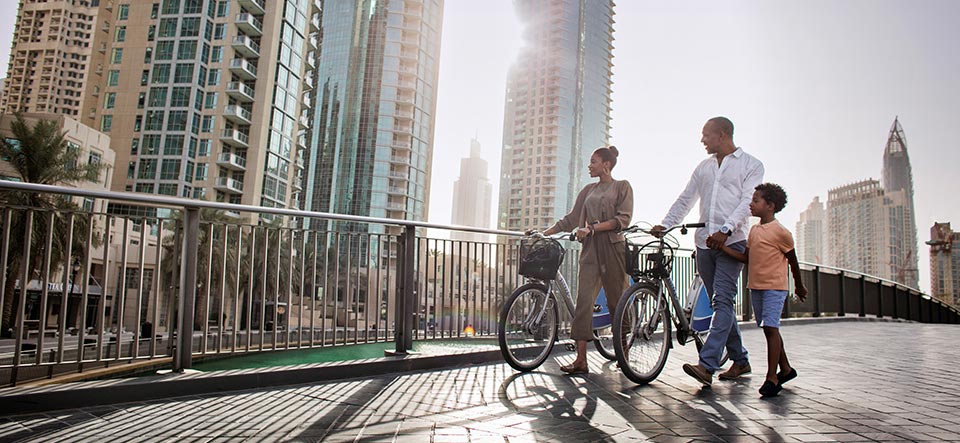 Dubai is one of the safest cities in the United Arab Emirates where crime and public disturbances are extremely low.
Many hotels offer a free upgrade to half-board at various stages throughout the year meaning Dubai is affordable and eliminates the usual holiday stress. Spacious and interconnecting accommodation options are also in abundance.
As well as plenty of kids' clubs scattered throughout the hotels, most of the hotel pools are temperature controlled so you don't have to worry if your kids are too hot or too cold while splashing about.
From May to September, the majority of Dubai hotels offer kids to stay and eat for free which makes booking your summer holiday an absolute breeze.
At just a seven-hour flight from the UK, you'll be landing at Dubai International Airport in no time! Compared to longer haul flights to other family friendly destinations in America or the Caribbean taking roughly nine hours, Dubai is a breeze – why not take a night flight so the whole family is refreshed and raring to start your UAE adventures the next morning?
Our personal travel managers take care of absolutely everything! Organising your family getaway to Dubai couldn't be easier, all you have to do is call 0203 816 0985 or click here to submit an enquiry.
Share with someone you'd love to travel with

Ashleigh Simmons
Ashleigh Simmons is a Content Writer
Recommended Itineraries
Itinerary
Abu Dhabi+Dubai+Ras Al Khaimah Desert
14 nights from £2599 pp inc flights
14 nights
from £2599 pp inc flights
International flights
14 Nights accommodation
14 x Breakfast
4 x Excursions
Private transfers throughout
Best for: Beach, Business, City
14 nights
from £2599 pp inc flights
To book or customise this itinerary call us on
Recommended Things To Do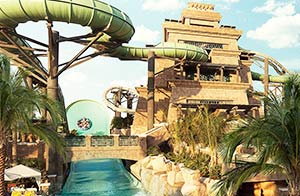 Adventure
Make a splash at Aquaventure Waterpark located in Atlantis The Palm. Endless family fun awaits you as you slip and slide on some of the world's best aqua attractions that provide an adrenaline rush that is utterly unforgettable. This is certainly a waterpark you'll have to see to believe. Zip lines, lagoons and sky-high slides aw...
Adventure
Dive into Dubai at the exciting Wild Wadi Waterpark, located directly in front of the breathtaking Burj Al Arab. This is the perfect way to get your feet wet in this stunning city and cool off from the summer sun while creating holiday memories that will last a lifetime. Guests step right into a fairy tale at the gates of Wild Wadi Waterpark...