0203 816 0985
Let's talk. We're open Mon-Fri 9am - 6pm
We're open Mon-Fri 9am - 6pm
The Ultimate Bucketlist For The Luxury Traveller
White sandy beaches, sun-drenched private islands, historic monuments... every one has a travel bucket list, just some are bigger than others. With Instagram shedding light on some of the world's best hotels, amazing experiences and enriching destinations, we've definitely found our travel bucket list to grow in recent years. However, crossing off some of those big ticket items is a little trickier than seeing The Vatican's Sistine Chapel. And discovering those out-of-this-world experiences and how to get there often needs the assistance of a trusted luxury travel agency. So, we put two and two together and have compiled our ultimate travel bucket list for the luxury traveller, and have only included hotels, activities and experiences that we have personally booked before to ensure that your next dream trip is first-class. We have a team of educated staff ready to help you tick that next big thing off your list, so get inspired and get in touch with us today.
FLOAT ABOVE THE CLOUDS IN CAPPADOCIA, TURKEY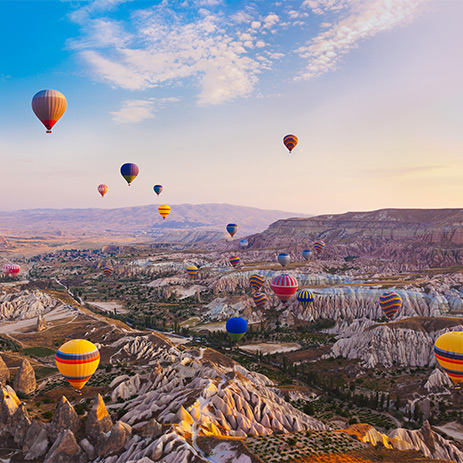 Turkey is quickly climbing the ranks of popular European holiday spots but forget the culture of Istanbul and the beaches in Bodrum. Instead, take your experience to new heights with a hot air balloon ride over Cappadocia. Highly regarded as one of the best ballooning destinations in the world, witness the rocky landscape of natural wonders from 8,000ft in the air. Fly at sunrise or sunset, in the warm Turkish summer and even in its chilly winter where the breath-taking scenery is wrapped in a blanket of snow.
To discover a selection of our favourite Turkey hotels and itineraries, click here.
EXPERIENCE THE GOLDEN AGE OF TRAVEL THE VENICE-SIMPLON-ORIENT-EXPRESS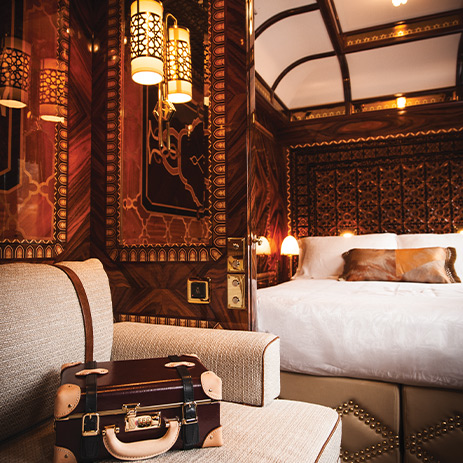 Immortalised by Agatha Christie and serviced by luxury travel supplier Belmond, the Venice-Simplon-Orient-Express certainly needs no introduction. Hop aboard and be transported back in time to the Art Deco era of the roaring twenties. Expect deluxe cabins, sumptuous fine-dining, and an unparalleled service from the friendly staff. With routes between some of Europe's most captivating cities including Venice, Paris, Verona and London, the views are always magnificent. Do you still need convincing? Train travel is the most ecological mode of transport and emits an average of 50 percent less CO₂ emissions per passenger than flying.
To discover more on Belmond, click here.
STAY UNDERWATER IN THE MALDIVES AT THE MURAKA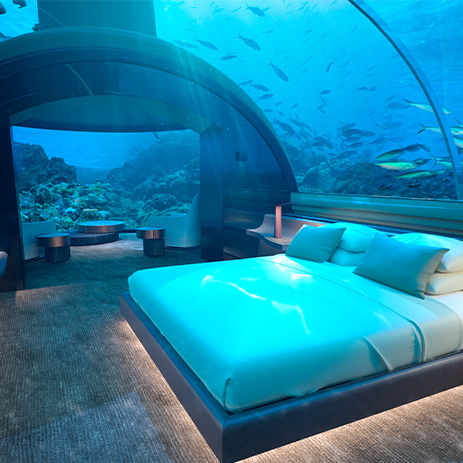 Introducing The Muraka, a partially underwater residence in The Maldives and the very first of its kind. Part of Conrad Maldives Rangali Island, this two-level suite includes a master bedroom that's 16 metres below sea level. Featuring an impressive 180-degree curved acrylic dome ceiling; a stay here will see the Indian Ocean become your personal aquarium. The world-first also comprises an underwater bathroom, viewing tunnel, a further two bedrooms above sea level, an outdoor deck with infinity pool, butler service and a private chef.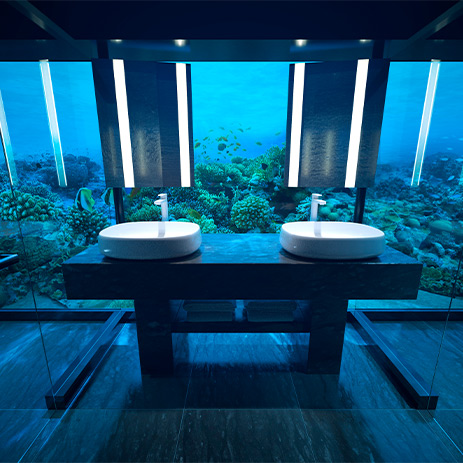 Discover more on this fantastic accommodation choice and the wonderful hotel it is part of by clicking here.
SLEEP UNDER THE FINNISH STARS AND HUNT FOR THE NORTHERN LIGHTS
Not many hotels boast glass igloos as their top accommodation choice, but Kakslauttanen Arctic Resort in Finland isn't like many hotels. This once-in-a-lifetime hotel stands out amongst its Arctic counterparts (which is no mean feat when up against some of the world's most desirable design-hotels, eco-lodges and unique structures within world wonders), and its main draw is its collection of kelo-glass igloos. A cosy lodge-feel complete with sauna wrapped with a striking view of the sky, this is not ordinary arctic experience… and you can further enhance your stay with a wealth of activities such as husky sledding, ice fishing and snow mobile safaris.
Find out more on this fantastic hotel here, or click here to view our other Finnish hotel options.
REACH NEW HEIGHTS BY CLIMBING MACHU PICCHU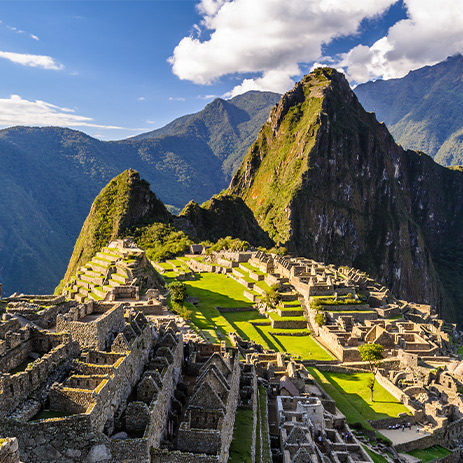 An iconic and unforgettable experience, a trek to the historic citadel of Machu Picchu is a must on any winning bucket-list. With views for days as well as astounding archaeological structures and intriguing cultural experiences, this is a one-stop-shop for outdoor enthusiasts. The famous Inca Trail is by far the most scenic way to reach the site, particularly around April and May when the weather is stunning and the tourists few. Here, you can follow in the footsteps of the Incas from the Sacred Valley and learn about their history from charismatic guides. Remember to book early though as this eco-enthusiastic destination only allows 200 travellers a day.
SWIM WITH PIGS IN THE BAHAMAS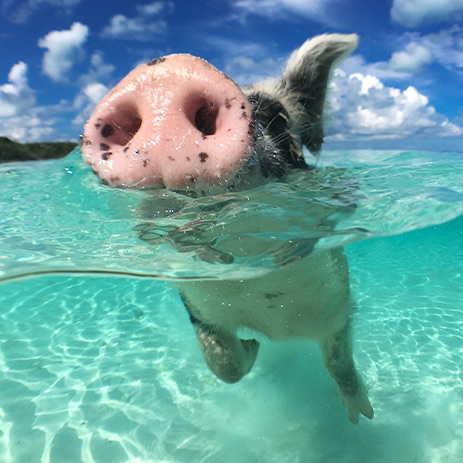 Feel like an old-world voyager as you step onto the white sands of the Exumas islands where you'll instantly be struck by the feeling that you're the first to discover these shores… apart from the loud, oinking inhabitants which come out of nowhere to greet you like adorable water-borne pups. Residing on the uninhabited Big Major Cay island (more commonly referred to as Pig Beach) these snout-nosed cuties make the perfect swimming companions and selfie buddies for your Instagram feed – could you ask for more? The best time to visit these water babies is in the morning from around 9am, when they're full of life and will do anything for a tasty snack!

HEAR THE LIONS ROAR IN THE SERENGETI, TANZANIA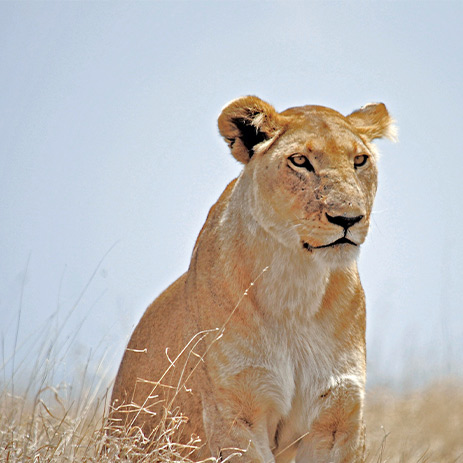 The African savannah is renowned for its wildlife and is one of the best places in the world to spot the Big Five - elephants, buffalo, rhinos, leopards and lions. Visit between July and September and you'll have the best seat to watch 'The Greatest Show on Earth', the Great Migration where an estimated two-million animals follow the rain across the Serengeti into Kenya's Masai Mara region. Oh, and if you're a fan of big cats, you'll be pleased to hear that there are an estimated 3,000 lions in Serengeti, that's double the amount residing in Kruger National Park.
To explore our safari collection, click here.
SAIL THE SEVEN SEAS ON A YACHT HOLIDAY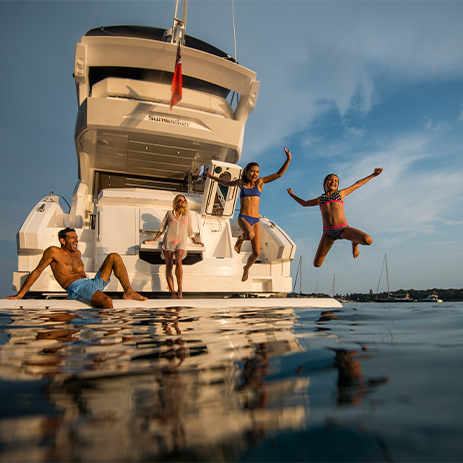 Boat trips have come a long way from the 70s glass bottomed boat dolphin tours around the canaries in Spain. Now, yacht charters and deluxe cruise lines dominate luxury travel, but what if we told you your 'yacht day' could extend to a week? With plenty of room for all the family or groups of couples, stunning views, and a limitless itinerary, we predict yacht trips will be on the rise for 2021. Spend your days hopping around The Mediterranean's best beach clubs, or discover the hidden gems of the Dalmatian coast… whatever your vice, a private yacht holiday with full crew is all you need to make it happen.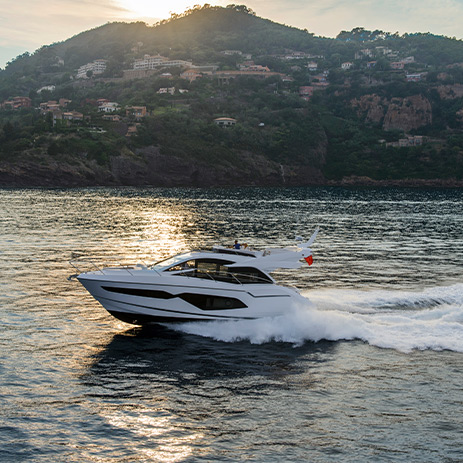 We're proud partners of Sunseeker, so for your yacht holiday enquiry, call our personal travel managers on 0203 816 0985 or click here to submit an online enquiry.
ENJOY AN ICECITING TIME RACING SUPERCARS IN LAPLAND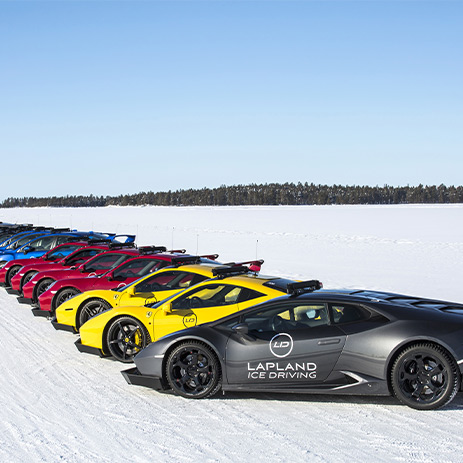 If you like a few thrills, ice driving in Lapland is the experience for you. With a professional driver in the passenger seat, take to the wheel of either a Ferrari, Porsche, Maserati or Lamborghini as you reach incredible speeds of 125 miles per hour on the frozen waters of Lake Udjaur in Arjeplog. All petrolheads are sure to be in their element. There are 13 tracks to choose from totalling 30-miles in length, with four full-scale reproductions of F1 circuits including the Paul Ricard to accelerate through. As well as this, there are three clubhouses and various meeting facilities, so if you're after an incentive trip, this choice is brilliant. Worried about your carbon footprint? Don't panic, as Lapland Ice Driving plants 1,000 trees annually in association with non-profit organisation Planete Urgence.
Discover more on this fantastic experience with our exclusive interview with Eric Gallardo, founder of Lapland Ice Driving. Click here to read.
UNCOVER UTAH'S BEST KEPT SECRET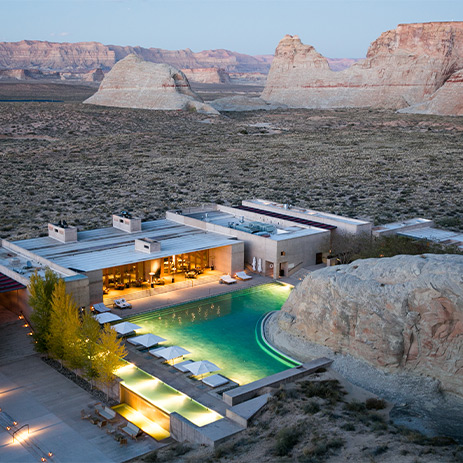 Nestled within a 600-acre sanctuary of wilderness and isolation in Southern Utah's Canyon Point, lies Amangiri hotel. This luxury abode boasts privileged access to National Parks and Lake Powell, a 25,000-square-feet spa and a small selection of gorgeous suites. Featuring clean lines, modern ar-chitecture shines here where outdoor/indoor living merges to create a new way of being… at one with nature in the middle of the Utah desert. For an even more rustic, yet still deluxe, stay we rec-ommend sampling the new Camp Sarika. Offering 10 tented pavilions which offer a range of one or two bedrooms, these out-of-this-world accommodation options boast private pools, every ameni-ty you can think of and out-of-this-world views.
To discover more in this fascinating hotel, click here.
EXPLORE THE GALAPAGOS ISLANDS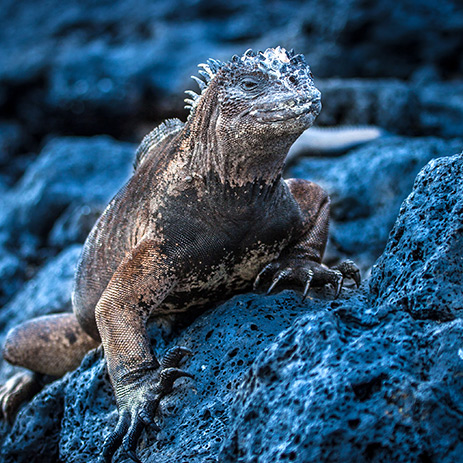 Calling all wildlife and diving enthusiasts, the UNESCO World Heritage Site of the Galapagos Islands guarantee endless unforgettable experiences in Ecuador. The archipelago is made up of 20 islands, each with a variation of wildlife including marine iguanas, waved albatross, and Galapagos penguins. Giant tortoises can be relished at Santa Cruz Island's Charles Darwin Research Station, with December the prime time to go as this month kicks off hatching season. For some top-notch diving, make sure to book a trip to Darwin Island. One for more advanced divers, the waters can be choppy and rough, but the abundance of barracudas, spotted eagle rays and even hammerhead sharks are definitely worth the challenge.

HEAD TO JAPAN FOR CHERRY BLOSSOM SEASON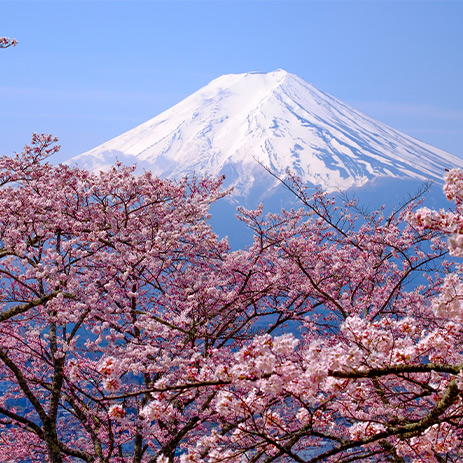 Cherry blossoms have been associated with Japan from as early as the eighth century and the world-famous 'Cherry Blossom Season' sweeps the nation from the end of March in Tokyo right through to May in Hokkaido. However, the city of Kyoto is considered the best if you want to relish the beauty of the blossom. With a wide array of parks and tree-lined canals, it's a sight for sore eyes. The capital of Tokyo is another spectacular location as there are brilliant open spaces such as Ueno Park, which houses more than 1,000 blooming trees. For the ultimate getaway, we certainly recommend a multi-centre holiday. Why not spend a minimum of three-nights in Tokyo followed by at least two-nights in Kyoto? Just two-and-a-half hours apart by train, it's the perfect way to see more of Japan in one trip.

Of course, our travel managers are well-versed in planning bespoke itineraries so give the friendly team a call today to receive your personalised trip on 0203 816 0985.
DIVE INTO THE BLUE WITH SHARKS OFF THE SHORES OF CAPE TOWN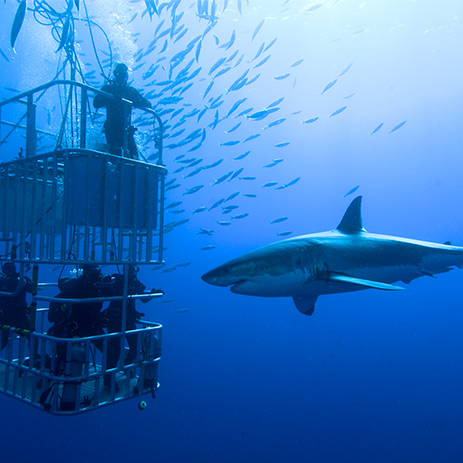 Think you've got the guts to come tooth to tooth with the ocean's fiercest predator? Then a cage-diving encounter with one of South Africa's Great White Sharks should be on the top of your to-do list. An exhilarating experience like no other, your day will involve you not only enjoying a fast-paced boat ride, listening to informational talks by marine biologists and having multiple photo opportunities but donning your scuba suit to go beneath the water yourself to give your heart a thrill. Better yet, you're also in with a chance of spotting the country's other ocean dwellers, with dolphins, whales, seals and penguins all making regular appearances.
Take a look at our hand-picked selection of South Africa hotels, things to do and itineraries here.
Share with someone you'd love to travel with

Lauren Godfrey
Lauren Godfrey is a Marketing Manager