0203 816 0985
Let's talk. We're open Mon-Fri 9am - 6pm
We're open Mon-Fri 9am - 6pm
Got The T-Shirt: Five-nights at Faena Hotel, Miami Beach
Where the trendsetters flock, the artistic muse and the fashionable descend, Miami is one of America's most cosmopolitan cities. With influences from its Caribbean neighbours such as Haiti and Trinidad alongside its strong Cuban community and Argentinian influences, the city is a melting pot of culture, fashion and flamboyance.
Lauren Godfrey, Winged Boots' marketing manager flew to 'The Magic City' for five-nights and stayed at the world-class
Faena Hotel, Miami Beach
. Check out her reflections on the independent hotel from its location to its culinary offerings.
First Impressions
Faena's Lobby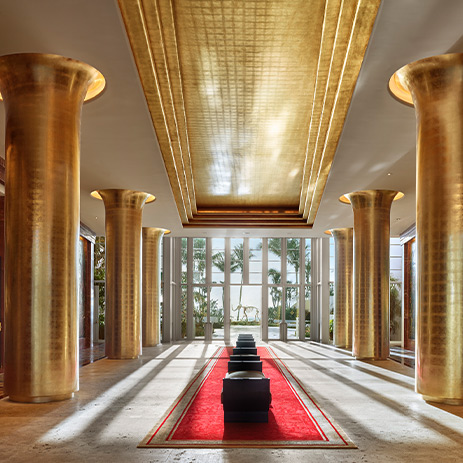 My taxi pulled up outside Faena's impressive entrance and I was seamlessly passed from bell hop to doorman, onto the concierge who offered a brief tour before I was finally presented to the front desk – it was a conveyor belt of excellent customer service from the moment the car door was opened.

One step inside Faena and a blast of refreshing air conditioning cooled me from Miami's dry May heat; the hotel's fresh aroma filled my lungs and the bright colours from the hand-painted murals by Spanish artist Juan Gatti excited my retinas.

Through the cathedral-style lobby's double doors, I could see the
'Gone but not Forgotten' - Damien Hirst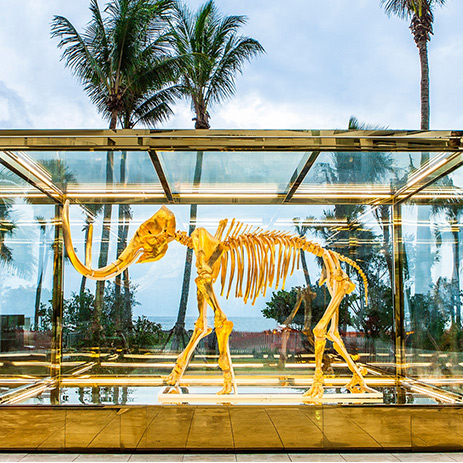 famous Damien Hirst centrepiece; a woolly mammoth skeleton dipped in 24-carat gold titled 'Gone but not Forgotten'.
Art has a clear influence throughout this hotel. From the seashell adorned columns at The Tree Of Life bar to the second Damien Hirst sculpture – a unicorn with an anatomical cross-section – in modern Asian restaurant, Pao by Paul Qui.

Mythical creatures and influences from the ocean are also an apparent here, with shells and mermaid-esque décor at almost every turn. Where else would you find a shell phone in The Library? Faena truly is one-of-a-kind.

Settling In
Bay View Room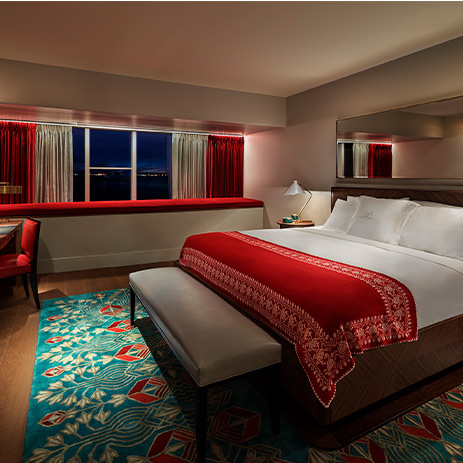 I checked-in to my Bay View Room, Faena's entry level room type – however nothing about this accommodation was basic. A king-size bed took centre stage while the bathroom's dressing room-style, exposed bulb mirror made me feel like Hollywood royalty. Two oversized wardrobes where censored spotlights made my clothes sparkle every time I opened the door and a smart toilet with a button for almost every function completed my luxurious abode. Oh, and let's not forget the shower that was large enough for a family of four.

On the vanity the hotel had kindly gifted me a personalised birthday cake (exactly what the doctor ordered after a nine-hour flight) and the
Bathroom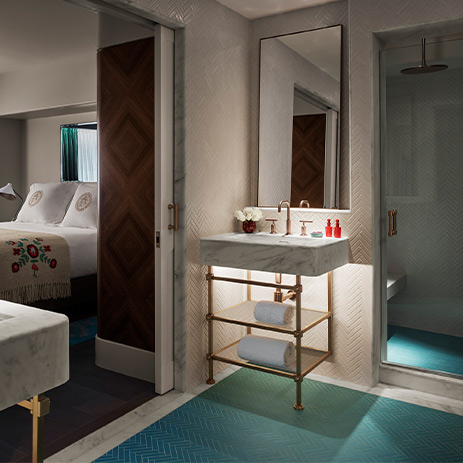 fully-stocked mini-bar served as the perfect accompaniment… if you haven't tried a slice of chocolate-orange cake with a side order of ice-cold gin you truly haven't lived.

A flat-screen television that had more channels than I'd ever find the time to watch (including HBO for the somewhat-disappointing Game of Thrones finale) and complimentary Wi-Fi kept my millennial mind at ease. However, with the hotel's abundance of facilities and the exciting city of Miami to explore, I'm pleased to say I didn't make too much use of these luxuries.

Dining Out
Los Fuegos by Francis Mallmann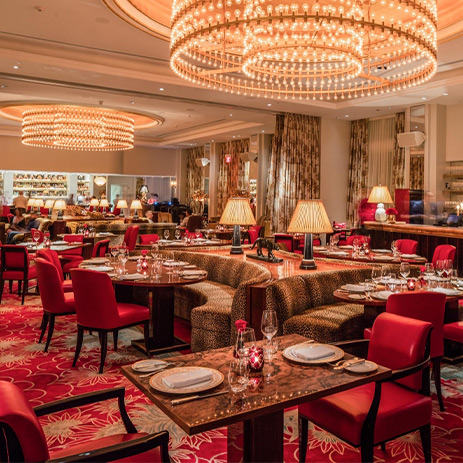 You don't have to at Faena. With three restaurants, three bars and a theatre, you never need to leave… honestly! For a menu of
award-winning Argentinian food, be sure to dine at Los Fuegos by Francis Mallmann. The open-fire kitchen brings a host of flavours to every dish, and the red and leopard print booth-style seating alongside the quirky light fittings beautifully complements the fare to create a dining experience that you'll never want to end… I'm speaking from experience.

I didn't get around to making a reservation at Pao by Paul Qui but the
Faena Theatre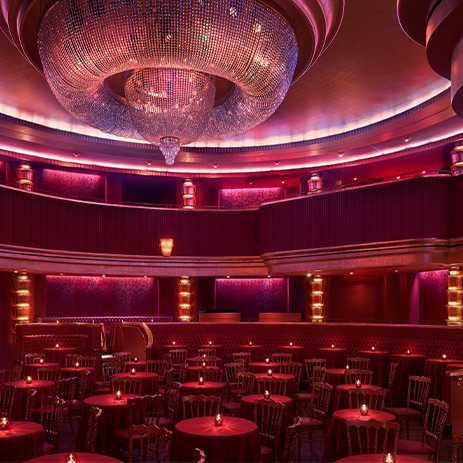 modern-Asian cuisine is certainly on my must-try list for when I return. However, I did enjoy an evening at Faena's theatre.

Intimate but completely striking, Faena Theatre alludes to old Hollywood with a fuchsia pink colour palette and comfortable booth-style seating complete with flickering candle lights and an ornate chandelier. A menu of light bites and extensive cocktail list was the perfect accompaniment to the Samsára cabaret show. An exhibition of special effects, acrobatic stunts, energetic live music and contemporary dance, Samsára is Cirque du Soleil meets burlesque and the one-hour show had me gripped from beginning to end.
Jumping In
Pool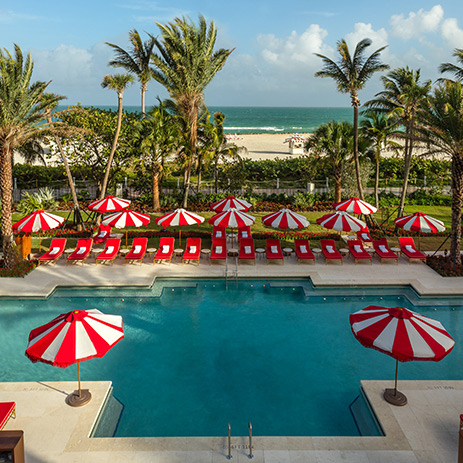 The facilities at Faena Hotel, Miami Beach are second to none, and they are further enhanced by the unparalleled customer service. Bagging a spot by the tranquil swimming pool was a breeze thanks to the attentive staff who frequently topped up my complimentary water jug, served amazing food and beverages and offered fresh towels… but by no way were they intrusive to my experience. The staff were available as much as you wanted them to be - a true measure of
five-star service.
Beach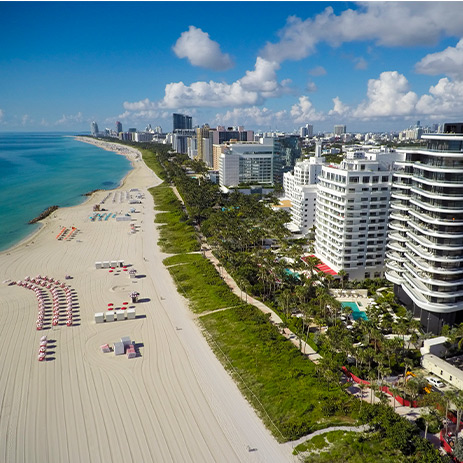 My favourite past-time however was laying horizontal on the comfortable sun loungers on the hotel's private stretch of the world-famous South Beach. Just steps from Faena's lobby, the inviting ocean was the perfect way to cool from the heat and the shallow water made for the perfect Instagram shoot. Oh, and for the more cultured holiday maker, I also read a crime novel from cover to cover here, too.
Switching Off
Tierra Santa Healing House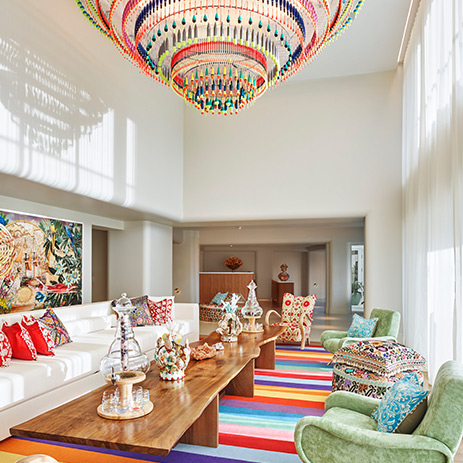 Faena's final secret weapon is its wellness offerings. A humble-sized gym with multiple Techno-Gym cardio machines and a selection of weights perked me up each morning. Plus, it's the best spot in the hotel to get a shot of the famous red and stripe canopies that line the edge of the pool.
One of the largest hammams in the city
The third floor is also home to Tierra Santa Healing House, an impressive 22,000-square-foot sanctuary of serenity. Think deluxe massages, advanced beauty treatments, holistic therapies, a salon, nail studio and one of the largest hammams available on the East Coast. My stresses melted away within moments… the lift had only just closed and the spa's lullaby of mood music had already made my shoulders drop.
Summing Up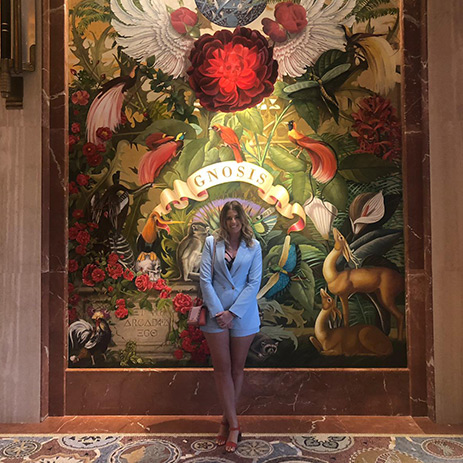 Location
Faena Hotel, Miami Beach is well located on Collins Avenue within the Faena district (from 32nd – 36th Street). Across from the hotel you'll find: Casa Faena, a second boutique hotel inspired by Spain's 1900 period; Faena Forum, a meeting and events space; and Faena Bazaar a retail experience like no other.
What's nearby?
Faena is less than 10-minutes' drive from Ocean Drive and Lincoln Road. Within walking distance is a range of restaurants, supermarkets, fast-food outlets, a pharmacy and a Starbucks.
Rates
Three-nights at Faena Hotel, Miami Beach with flights booked through Winged Boots start from just £660pp.
Click here to discover more
.
To book your trip to Miami and to discover more on this fantastic boutique hotel, call our team of personal travel managers on 0203 816 0985 or
click here
to submit an enquiry.
Share with someone you'd love to travel with

Lauren Godfrey
Lauren Godfrey is a Marketing Manager