0203 816 0985
Let's talk. We're open Mon-Fri 9am - 6pm
We're open Mon-Fri 9am - 6pm
Five Natural Wonders That You Just Have To Experience in 2018
The world we live in is always evolving, providing us with new experiences and unique regions to explore for those ultimate unforgettable moments. While it's easy to stay in your comfort zone, we at Winged Boots believe that life is simply far too short to spend holiday after holiday sitting by the pool (although it's one of our favourite things to do). Despite a large part of the globe being an urban jungle, we've got you covered with the real jungle, locations that are splashed with lush greenery, vibrant flowers, unique wildlife and natural formations for the ultimate travel adventure. From climbing Machu Picchu in Peru to admiring the views from Table Mountain in Cape Town, your memories are guaranteed to be just as well-preserved as the natural world.

Recommended

Properties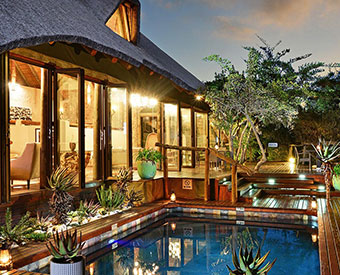 Hotel
7 nights from £3510 pp inc flights
Best for:Adventure, Business, Couples
Experience rustic luxury in one of South Africa's premier safari lodges  
Enjoy game drives, night walks and other fascinating wildlife activities 
Tick off spotting the Big Five from your bucket list
Best for: Adventure, Business, Couples
Style: System.Collections.Generic.List`1[System.String]
7 nights from £3510 pp inc flights
To book or customise this trip call us on
Machu Picchu, Peru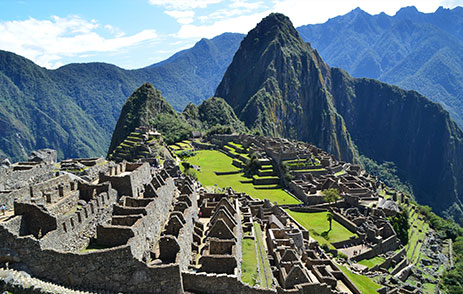 Declared a Peruvian Historical Sanctuary, Machu Picchu is a landmark that resonates with the fame of the South American continent. The iconic natural mountain was named as one of the New 7 Wonders of the World and has undergone measures to ensure its protection against the destruction of its nature and the eco-systems that are imbedded within. An increase in tourists visiting the site over the years has resulted in a strict ticketing system and the landmark has now been limited to just 250 visitors per day including guides and trail experts.
We know what you must be thinking – where do I begin with Machu Picchu? This expansive natural wonder can seem a little daunting for a number of reasons; the high altitude, the rocky trails, and fear the weather won't hold out. If you have a real adventurous side, we recommend the Inca trail, a four-day trek that begins at the base of Machu Picchu and takes you to the fantastic surrounding mountains while you set up camp at various locations during your pit-stops. For those who want a calmer approach to this Peruvian landmark, there's a regular bus service that can drop you off at the base for you to walk up or simply hitch a ride all the way to the top. What a sight that awaits you! We guarantee you've never seen such beautiful emerald greenery alongside rustic rock formations. See if you can touch the clouds that surround the mountain or spot a llama that needs feeding – consider your bucket list ticked off.
Winged Boots Wisdom: Beware of altitude sickness! Due to the height of Machu Picchu, dizziness and nausea is common when hiking the trail so make sure to make plenty of rest stops, drink plenty of fluids and avoid alcohol and smoking.
Table Mountain, South Africa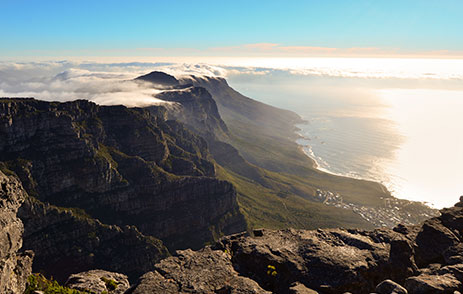 Cape Town is home to the world's most iconic flat-topped mountain that overlooks one of the most beautiful cities. Attracting a staggering 26 million visitors since its opening in 1929, Table Mountain is iconic in every way possible – think mesmerising views of the Cape as far as the eye can see and a richly abundant floral kingdom waiting to be admired at the mountain's peak. Table Mountain's eclectic biodiversity offers more than 1,470 floral species, most of which are endemic to the area along with a plethora of endangered vegetation that simply has to be seen to be believed. And let's not forget the animals that roam the mountain. Although leopards haven't made an appearance on the peak since the 1920s, you're most likely to spot porcupines, mongooses, snakes and tortoises scattered throughout the centre table. We told you it was a walk on the wild side!
Table Mountain is an extremely popular landmark and guests usually reach the top via cable car or trekking on foot. While the cable car takes just five minutes from the base to the peak, for the genuine and authentic South African experience we recommend going on foot. Plattekip Gorge is a popular trail that will take you to the heart of the main table, taking between one and three hours to reach the top. But once you get there, it's so worth it. The panoramic views have to be seen to be believed. The vibrant fauna needs no Instagram filter whatsoever. And most importantly? You'll have an adventure of a lifetime and a wealth of unforgettable memories under your belt.
Winged Boots Wisdom: Stick to the main trail, avoid shortcuts and never go hiking alone.
Grand Canyon National Park, Arizona
Seeing pictures of the Grand Canyon National Park certainly doesn't do this gorgeous monument any justice – you really have to see it to believe it. The incredible heights of the rock formations, the vibrant colours that cast shadows during sunset and sunrise and the glorious views from an array of peaks is sure to take your breath away. The Grand Canyon National Park is located in Arizona and provides years of geological history, stretching 277 river miles long, up to 18 miles wide and a mile deep.
For the ultimate escapist adventure, you simply have to visit the North Rim of the canyon. This is the designated area for campers and hikers who wish to explore the beautiful formations in all of its glory. Considered to be off-the beaten-track, North Rim is much less crowded and offers rugged, isolated trails that are perfect for exploring on foot to truly experience the beauty of this stunning national park. Hikers will definitely adore Bright Angel Point which features views of the Roaring Springs as well as Point Imperial, the highest point on the North Rim standing at 8,803 feet. If you're on the hunt for other ways to fall in love with the canyon, helicopter rides from Las Vegas are also a popular option, brilliant for getting a bird's eye view of the incomparable red rocks. Oh, and if you're on a road trip that takes you through the southwestern states, be sure to drive through this incredible landmark – trust us, it'll be the highlight of your holiday.
Winged Boots Wisdom: The South Rim is open all year but the North Rim is closed for the winter and will re-open May 15th 2018.
Victoria Falls, Zambia/Zimbabwe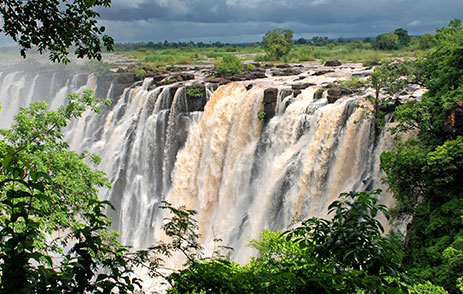 Move over Great Barrier Reef! Victoria Falls is without a doubt the most beautiful body of water we've ever seen, situated on the Zambezi River at the border between Zambia and Zimbabwe. Despite not being the highest waterfall, it's undoubtedly the largest based on its width of 5,604 feet and height of 354 feet thus making it the largest sheet of falling water in the world. Oh, and it's twice the size of Canada's Niagara Falls – impressive, right? The iconic cascades can be seen from miles away and only gets more spectacular the closer you get to it. Panoramic vistas of natural wonders will have you believing that you've stepped straight into a fairy tale, pinching yourself in order to convince yourself that what you're seeing is real. Victoria Falls is part of the Mosi-ao-Tunya National Park which directly translates to "The Smoke That Thunders". Just one look at this booming waterfall will have you understanding why it's considered one the most beautiful landmarks throughout the globe.
Victoria Falls can be observed and explored in a number of different ways. Our favourite? White water rafting! The Zambezi River is home to some of the most challenging and exciting rapids and is a high-volume body of water which makes this adventure all that more heart-pumping. The rapids are interspersed with tranquil pools for short breaks between the excitement but this is an experience that knows no boundaries. If you want an equally magical experience but with a little less water, we recommend seeing Victoria Falls from up above with a helicopter tour. There's no better way to get up close and personal with this glittering wall of rainbow mist and soak up views that you'll truly never forget.
Winged Boots Wisdom: White water rafting depends on the water level of the river and can be closed if deemed unsafe.
Sepilok Forest Reserve, Malaysia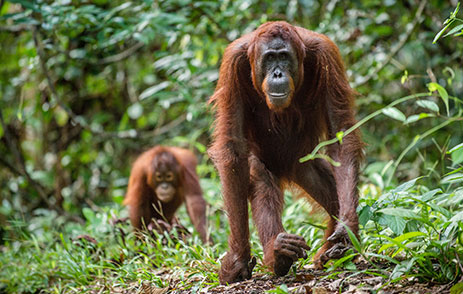 Animal lovers, this one is for you. In the heart of Borneo in Malaysia you'll find the one-of-a-kind Sepilok Forest Reserve, founded in 1964 and serves the purpose to rehabilitate orphan orangutans. The forest reserve is a vast space of unspeakable beauty, boasting emerald trees, vibrant flowers and of course, deep orange orangutans. Sepilok boasts 10,610 acres of open space while the Orangutan Rehabilitation Centre covers 40 kilometres of this area, allowing the magnificent creatures to roam freely while learning skills and recovering from injury before being set back into the wild of the rainforest.
Visits to the Orangutan Rehabilitation Centre are all-year-round but the definite highlight of the day is feeding time. Guests are invited to head up to the platform to watch the orangutans munch on their daily meals. Or, for something a little more adventurous, why not opt for the guided night walk at the Rainforest Discovery Centre? Take an hour-long stroll through the wild with an informed expert showcasing the beautiful scenery that simply glows underneath the stars.
Winged Boots Wisdom: Arrive at the rehabilitation centre early in the morning just before feeding time to see the animals full of energy and swinging through the trees.
Share with someone you'd love to travel with

Ashleigh Simmons
Ashleigh Simmons is a Content Writer
Recommended Properties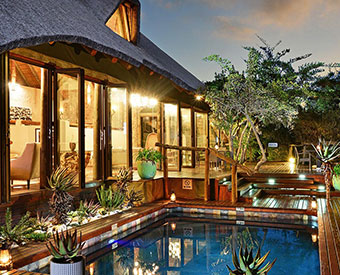 Hotel
7 nights from £3510 pp inc flights
Best for:Adventure, Business, Couples
Experience rustic luxury in one of South Africa's premier safari lodges  
Enjoy game drives, night walks and other fascinating wildlife activities 
Tick off spotting the Big Five from your bucket list
Best for: Adventure, Business, Couples
Style: System.Collections.Generic.List`1[System.String]
7 nights from £3510 pp inc flights
To book or customise this trip call us on