0203 816 0985
Let's talk. We're open Mon-Sun 9am - 6pm
We're open Mon-Sun 9am - 6pm
A Shopper's Guide to Causeway Bay, Hong Kong
Hong Kong, the neon blur of a city that's well-known for a plethora of things – it's exquisite food scene, Hong Kong Disneyland, Victoria Peak and of course, shopping! The hustle and bustle of this exciting metropolis comes to life in Causeway Bay, the hotspot for all things fashion, international trade and retail. Whether you're on the hunt for that gorgeous item for a special occasion or simply want to return home and say "oh, I picked this up in Hong Kong" to your green-eyed friends, we guarantee all your retail needs will be met and exceeded. Causeway Bay is ideal for the self-proclaimed shopaholic, fashion trailblazers and even those with a love for electronical goods and antiques. From luxury malls and department stores to one-of-a-kind boutiques and bargain street markets, every visitor is promised to be blown away by the options. So, get the plastic out, practise your haggling skills and strengthen your biceps to carry your bags – because it's time to shop.
Recommended

Properties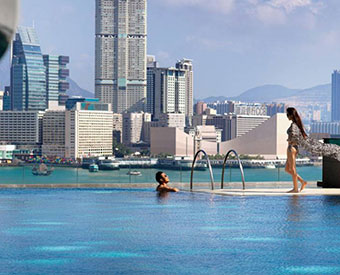 Hotel
3 nights from £1,125 pp inc flights
Best for:Business, Couples, Family
Spectacular hotel in the thriving centre of Hong Kong Island  
399 rooms and suites provide breath-taking views of the harbour and skyline 
Delight in warm outdoor pools with gorgeous vistas and underwater music
Best for: Business, Couples, Family
Style: System.Collections.Generic.List`1[System.String]
3 nights from £1,125 pp inc flights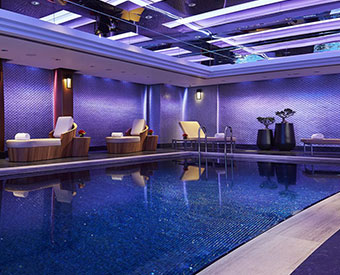 Hotel
3 nights from £965 pp inc flights
Opulent hotel located in the vibrant heart of Hong Kong  
Old-world glamour combined with new-age tech creates an experience of ultimate luxury 
Indulge in a wide range of five-star amenities including an on-site spa
Best for: Business, City, Couples
Style: System.Collections.Generic.List`1[System.String]
3 nights from £965 pp inc flights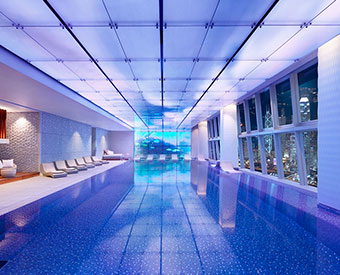 Hotel
3 nights from £1,040 pp inc flights
Luxury resort located on floors 102-118 of an iconic Hong Kong landmark  
More than 300 guestrooms and suites, all offering incredible views of the city and harbour 
Experience OZONE, to date the highest bar in the world at 1607-foot above sea level
Best for: Business, City, Couples
Style: System.Collections.Generic.List`1[System.String]
3 nights from £1,040 pp inc flights
Times Square, Hong Kong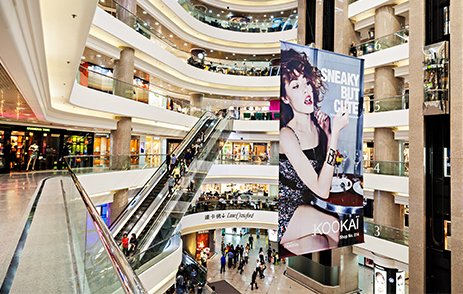 An equally electrifying but very different version of the New York City original, Times Square in Hong Kong has to be your first port of call when visiting Causeway Bay. Here you'll find the biggest shopping mall on Hong Kong Island, home to more than 230 stores spread across 16 floors. The mall is open daily from 10am to 10pm and plays hosts to several Western brands both high street and high-end including the likes of Vivienne Westwood, Marks & Spencer, Gucci and Nike. We suggest dedicating an entire day to this impressive retail complex, starting early and finishing late to get the most out of your retail needs. Desperate to give your arms a break from lugging around several bags? Take the weight off and see the latest blockbuster at the mall's cinema. Worked up an appetite from all the retail excitement? The restaurant options here are out of this world whether you're in the mood for something quick and light or a sit-down gourmet affair. Oh, and what's Time Square without the neon lights and the huge external video screen? The New Year's celebrations take place on the piazza, making Hong Kong a must-visit in December for a whole host of unforgettable memories.
Address: 1 Matheson Street, Causeway Bay, Hong Kong
SOGO Hong Kong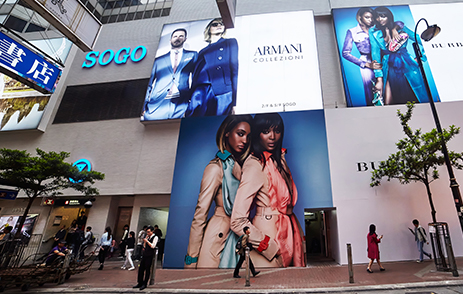 Just around the corner from Times Square, SOGO is known as one of the largest shopping landmarks for both Hong Kong locals and tourists alike. Said to be characterised by the "one-stop shop", "Japanese style" and "customer oriented" concepts, this expansive 19-floor department store is an essential excursion while in Causeway Bay. Specialising in Japanese brands, you're guaranteed to pick up exclusive fashionable items that put you way ahead of the curve when you return home. But, if you're a creature of habit never fear as there are a plethora of international styles on offer including Prada, DKNY and Polo Ralph Lauren. Jewellery and accessories are the main event here so you're guaranteed to be spoilt for choice when it comes to all things bling due to the selection of fine jewellers and ring designers. On the hunt for an unbelievable bargain? Head to the ninth floor Event Hall where sales are held daily, perfect for saving a few dollars while still picking up fabulous items. SOGO stocks everything you could imagine including the likes of home wear, health and beauty products, kids' toys and clothes and electronics. The food fairs are also a popular hit at SOGO, giving you a great chance to sample some local snacks, fantastic for taking a break and re-energising in between stores.

Address: 555 Hennessy Road, Causeway Bay, Hong Kong
Fashion Walk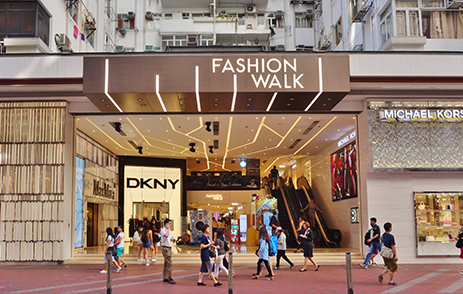 A distinctive space that needs no introduction, Fashion Walk is a strip of boutique stores that showcase the best and brightest of Hong Kong's up-and-coming fashion designers. The area is a unique fusion of indoor and outdoor retailers in the centre of Causeway Bay, encompassed by four separate streets for an out-of-this-world shopping experience. All four streets offer the best in fashion, gastronomy and lifestyle all within walking distance from each other, making Fashion Walk a hub of excitement and the must-be-at retail destination. Those with a love for quirky clothes will be in their element here as the strip specialises in out-there streetwear and one-of-a-kind party clothes, perfect if you plan on spending the evening painting the town red. Fashion Walk is the ultimate shopping strip for being ahead of the curve and it's where you'll discover brands opening up their first flagship stores such as the Asian Brand Centre of Fjãllrãven, Y's and ZUCCa. If you're feeling peckish, Fashion Walk conveniently cuts through one of Hong Kong's most popular food market streets so trust us when we say that you won't go hungry.
Address: Great George Street/Paterson Street/Cleveland Street/Kingston Street/Gloucester Street, Causeway Bay, Hong Kong
Hysan Place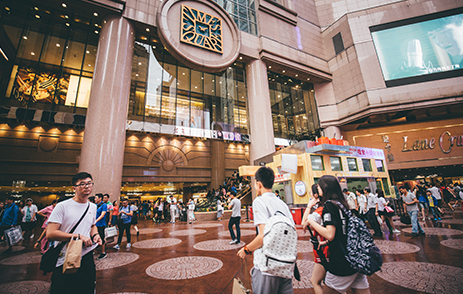 A downscaled but equally stylish version of Hong Kong's Times Square, Hysan Place is the ideal venue if you're on the hunt for fashion variety. 120 boutique stores are set across 17 floors and visitors will discover a plethora of mid-to high end brands from the Western world. Hysan Place is brilliant for picking up items that you normally wouldn't find at home but the shopping complex prides itself in offering an all-round experience. The high-ceiling open shop fronts bring a whole new meaning to window shopping while the chic atrium beaming with natural sunlight is utterly picturesque. Hysan Place even has its own rooftop Sky Garden, abundant with lush greenery and stunning views that are just as gorgeous as your new purchases. As well as the likes of Gap, French Connection, Superdry and North Face, this lifestyle shopping mall offers a range of cafés and patisseries so you can snack in style. Haysan Place is open daily from 10am to 10pm Sunday to Thursday and 10am to 11pm on Fridays and Saturdays.
Address: 500 Hennessy Road, Causeway Bay, Hong Kong
Jardine's Crescent Street Market
Whip out your haggling skills and get ready to bargain at the bustling street market located on Jardine's Crescent. This exciting outdoor complex is Hong Kong shopping at its finest – fast-paced, cheap and trendy. It also makes a refreshing change from the high-end malls in the Causeway Bay area as just walking through the street is an experience in itself. Jardine's Crescent is where you'll find a variety of inexpensive item's such as shirts, shoes and bags but lovers of labels beware as there are several fake branded items floating around so inspect the quality thoroughly before making your purchase. Although haggling is the norm along the street, it's easier to persuade the vendors to decrease their prices if you're buying more than one item. Oh, and remember, don't bargain too low in order to not offend the vendors. Once you're laden with bags of your new fashion finds, head to the fresh food market at the bottom of the alley for some authentic Asian delights.

Address: Jardine's Crescent, Causeway Bay, Hong Kong


Hong Kong awaits! This Far Eastern gem is the ideal destination for shopaholics, foodies, culture vultures and city lovers – yes, there's something for everyone. To start planning your getaway, call one of our personal travel managers on 0203 816 0985 or click here for more information.

Share with someone you'd love to travel with

Ashleigh Simmons
Ashleigh Simmons is a Content Writer
Recommended Properties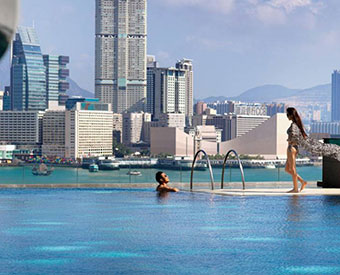 Hotel
3 nights from £1,125 pp inc flights
Best for:Business, Couples, Family
Spectacular hotel in the thriving centre of Hong Kong Island  
399 rooms and suites provide breath-taking views of the harbour and skyline 
Delight in warm outdoor pools with gorgeous vistas and underwater music
Best for: Business, Couples, Family
Style: System.Collections.Generic.List`1[System.String]
3 nights from £1,125 pp inc flights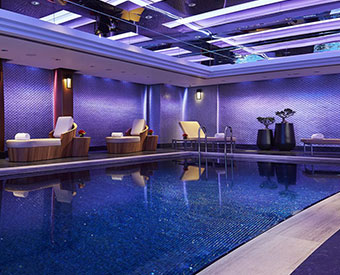 Hotel
3 nights from £965 pp inc flights
Opulent hotel located in the vibrant heart of Hong Kong  
Old-world glamour combined with new-age tech creates an experience of ultimate luxury 
Indulge in a wide range of five-star amenities including an on-site spa
Best for: Business, City, Couples
Style: System.Collections.Generic.List`1[System.String]
3 nights from £965 pp inc flights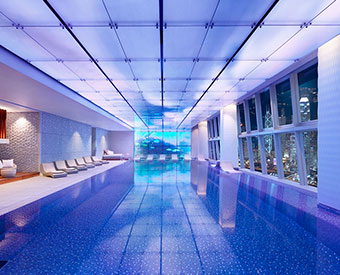 Hotel
3 nights from £1,040 pp inc flights
Luxury resort located on floors 102-118 of an iconic Hong Kong landmark  
More than 300 guestrooms and suites, all offering incredible views of the city and harbour 
Experience OZONE, to date the highest bar in the world at 1607-foot above sea level
Best for: Business, City, Couples
Style: System.Collections.Generic.List`1[System.String]
3 nights from £1,040 pp inc flights