0203 816 0985
Let's talk. We're open Mon-Sun 9am - 6pm
We're open Mon-Sun 9am - 6pm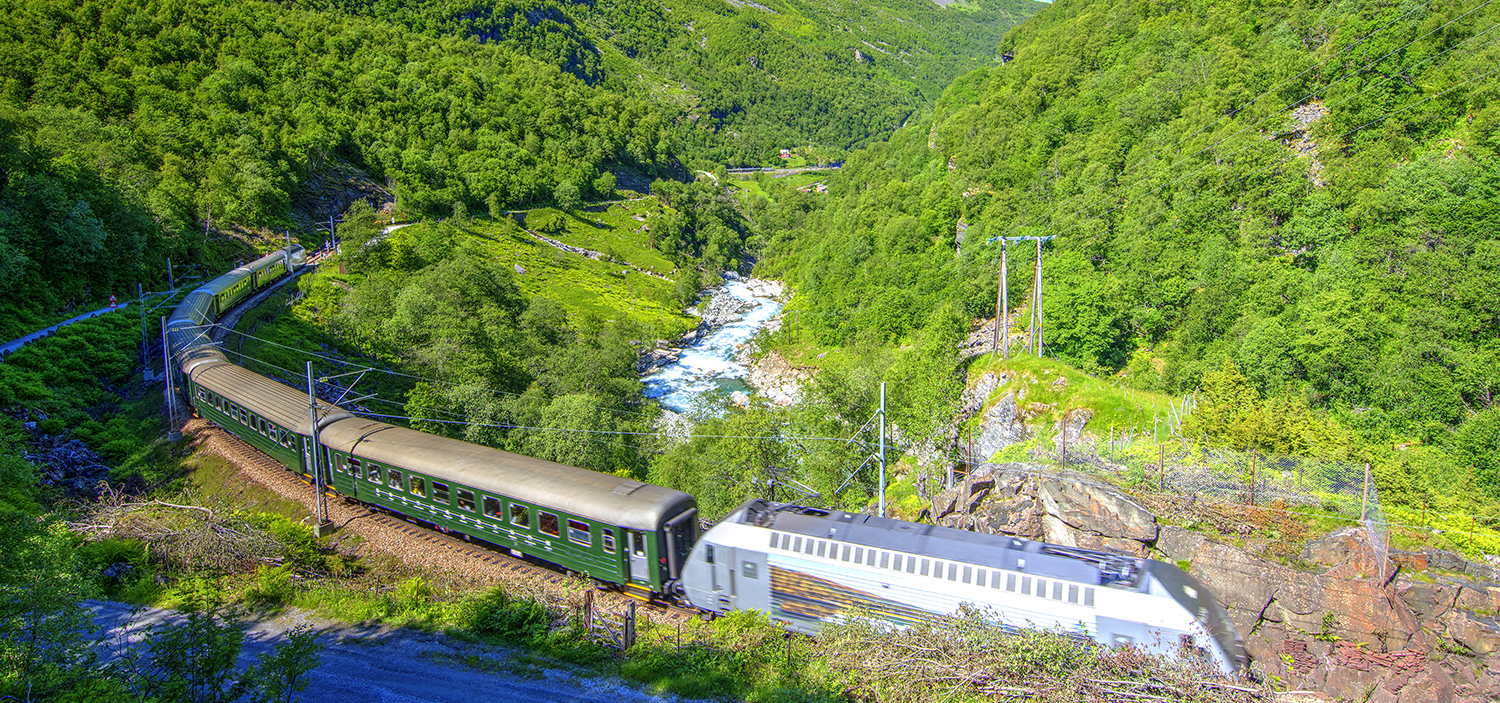 Step aboard a scenic adventure in Flåm
Destination: Norway
Norway is a country known for its dramatic landscape and magnificent nature, and now you can journey through the heart of it on The Flåm Railway. Hop aboard a train ride like no other, where snow-capped mountains and rushing rivers are the backdrop to an experience you'll never forget.

Departing at the Sognefjord in Flåm and arriving at the Myrdal mountain station, situated at 867m above sea level, this epic climb has been called 'one of the world's most beautiful train journeys' by National Geographic. Sit back, relax and look out the window in awe as the train sets off at the end of Aurlandsfjord, a must-see Norwegian fjord where vast waters weave around the steep tree-lined cliffs. As the train ascends one of the steepest standard gauge railways in the world alongside the Rallar Road, expect tumbling waterfalls, shards of mountainside and towering hills, curving and bending to accelerate the enjoyment.

Taking 20 years to build and with a track the length of 20km including 20 tunnels, your journey is sure to be one of epic proportions. Regardless of season you can adventure through nature, with winter bringing blankets of powder-like snow and summer bringing a colourful canvas of flowering fields and a cover of vibrant green.

When it comes to lengths and times you have the choice between taking the one-way journey from Flåm to Mydral or a return instead. If you prefer to stay in city chic, don't despair – you can still experience the wondrous scenes by taking a train from Oslo to Myrdal and enjoying the descent back to Flåm.

WINGED BOOTS WISDOM

If you can, grab a seat on the right-hand side of the train, where the beautiful views are sights to behold. When the train makes a short stop at the waterfall midway through make sure to get out and take some pictures – they're sure to brighten your Instagram feed.

Venue Details
In/Out: Outdoors

Duration: 1 - 2hrs

Traveller Type: Adults, Couples, Families

Best for: Adventure, Sightseeing, Nature, Family Fun

Opening Times:
07.30am - 16.30pm
Map & Address
The Flåm Railway can be found in Flåm and Myrdal, with the latter providing train services from Oslo. Private transfers to the stations are available on request.

The Flåm Railway can be found in Flåm and Myrdal, with the latter providing train services from Oslo. Private transfers to the stations are available on request.

Opening Times:
07.30am - 16.30pm