0203 816 0985
Let's talk. We're open Mon-Sun 9am - 6pm
We're open Mon-Sun 9am - 6pm
What is the Green List and how will it affect my holiday?
As part of the roadmap out of lockdown, UK citizens will be able to begin travelling overseas once again from the 17
th
May. Using a structured 'traffic light system', the UK Government has made it easier to make decisions around safe travel and avoiding the requirement to self-isolate upon return from your holiday. We decipher everything you need to know from the current guidance and using our expert industry knowledge keep you informed of all the latest changes to the UK's Green List.
TRAVEL UPDATE
From 4th October, the traffic light system will be replaced with a single Red List. The rules to travelling to countries not on the Red List will depend on your vaccination status. For more information, click here.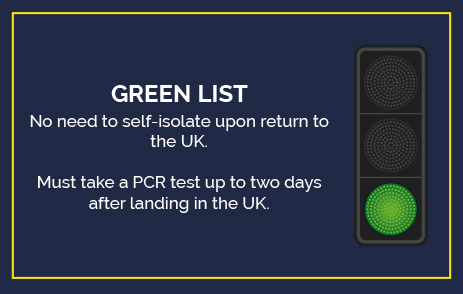 What is the
Green List

?

Let's start with the important question first. As part of the risk-based approach the Government is moving forward with, on the 17th May a simple traffic light system will be initiated. In basic terms, countries that are labelled red are categorized as high risk, those that are amber carry a moderate risk and those that are green have a low risk for travellers. In other words, all countries that appear on this 'Green List' will be the destinations that the Government is happy for UK citizens to travel to, and you will not be expected to self-isolate upon return to the UK.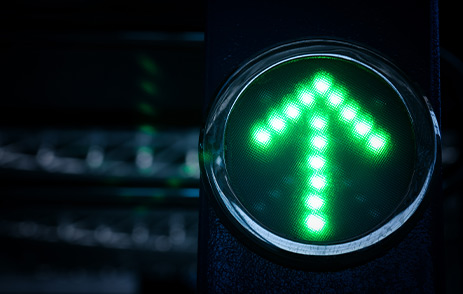 How will the traffic light system work?
Other than notifying you of the risk level involved in where you are travelling to, the traffic system will impact which action travellers need to take when they return to the UK to prevent the spread of the virus:
GREEN: Unless a positive test result is received at pre-departure from the destination, holidaymakers travelling back from countries on the Green List will not need to quarantine. To double check they are not carrying the virus, they will simply take a PCR test two days after landing in the UK.
AMBER: Those returning from an Amber List country will be required to quarantine at home for 10 days upon return to the UK. On top of the pre-departure PCR test, a further test will also be required on day 2 and day 8 on return. Self-isolation can end early under the Government's Test To Release scheme with a negative PCR test taken on or after day 5 of quarantine. From the 19th July onwards fully vaccinated travellers will no longer be required to quarantine when returning from Amber List countries or complete the further day 8 PCR test.
RED: Anyone arriving from a Red List country will follow the current procedures for these restricted countries. This includes an 11-night stay in a Government approved quarantine hotel and further PCR tests on day 2 and 8 of self-isolation, on top of the standard pre-departure test. The Test To Release Scheme and Business Traveller Exemption does not apply to Red Listed countries.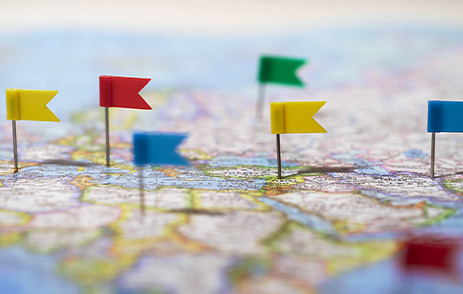 How will the Government determine which list each country belongs on?
Similar to the way in which the current Red List is managed, individual countries will be assessed on their COVID-19 infection rates. Additional factors are also considered in making this decision, including the quality of the country's track and trace system, the current variant concern in the region as well as the vaccination rates within the destination.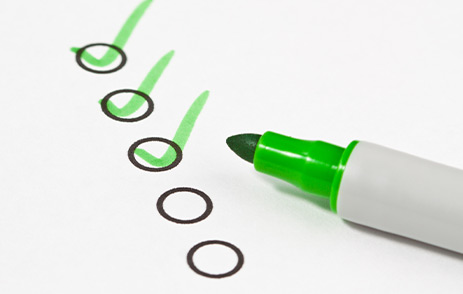 What Countries are on the Green List?
Anguilla; Antigua & Barbuda; Austria; Australia; Barbados; Bermuda, British Antarctic Territory; British Indian Ocean Territory, Brunei; Bulgaria; Canada, Cayman Islands; Croatia; Denmark, Dominica; Falkland Islands; Faroe Islands; Finland, Germany; Gibraltar; Grenada; Hong Kong; Iceland; Israel and Jerusalem; Latvia; Lietchtenstein, Lithuania, Madeira; Malta; Montserrat; New Zealand; Norway; Pitcairn, Henderson, Ducie and Oeno Islands; Romania; Singapore; Slovakia; Slovenia; South Georgia and the South Sandwich Islands; St Helena, Switzerland, Tristan de Cunha and Ascension Island; Taiwan; The Azores, Turks & Caicos Islands.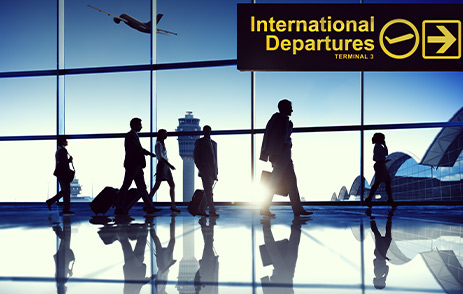 Will I still need a PCR test to be able to travel?

The traffic light system is mostly guidance on how travellers can behave when they return to the UK. All Green List countries can continue to place restrictions on UK travellers flying out, including testing and quarantine measures.

On top of testing ahead of travel, all travellers returning to the UK from Green List countries will still be required to take a test in destination ahead of the journey home, and a further test on two days after arriving in the UK.


What is the 'Green Watchlist'?

In order to provide greater reassurance to those looking to travel this year, the Government will also regularly publish a 'watchlist' of green countries that are identified as being at risk of moving to amber. This will enable travellers to make the appropriate decision on their travel arrangements based further in advance so make sure you book your travel with a trusted travel company who has flexible terms and conditions… like us!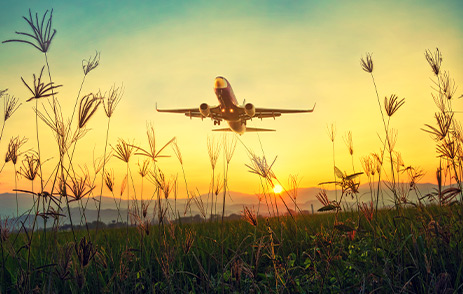 How often will the lists be reviewed?
These lists will be fully reviewed approximately every three weeks from the 17th May. However, changes can also happen in between these review dates so it is important to stay up to date with all the latest information ahead of travel.
Will I still need to complete a 'Permission to Travel' form?

Essentially, no, you will not need to prove your reasons for travelling again as soon as the ban is lifted. To ensure the UK's borders remain safe and efficient, the Government is working on plans to digitalise the passenger locator form as well as working on digital travel certificates. Your personal travel manager will inform you if there are any additional forms you are required to complete ahead of traveling to your destination.
Will the guidelines remain like this for the rest of the year?
A formal review is scheduled to take place at the end of June and two further check points noted for July and October 2021. Hopefully as the year progresses more and more restrictions will be lifted.
Make sure you follow us on Twitter, Instagram or Facebook, to be the first to know of any travel updates published by the UK Government. To speak with one of our experts today and start planning your great escape call 0203 816 0985 or click here to submit an enquiry form.
Share with someone you'd love to travel with

Rachel Lane
Rachel Lane is a Content Writer