0203 816 0985
Let's talk. We're open Mon-Fri 9am - 6pm
We're open Mon-Fri 9am - 6pm
We Asked And Influencers Answered: One Hotel I've Always Wanted To Stay In
With so many hotels around the world, we're sure that your bucket list is already full. However, there's always room for a few more. We asked some of our favourite social media influencers what's at the top of their hotel bucket list and their answers are sure to spark your 'travelspiration'. Whether it's enjoying Chinese cuisine in
Manila
or stargazing in the
Maldives
, paradise is a mere phone call away. Speak to a member of the team on 0203 816 0985 or enquire
here
.
Brogan Tate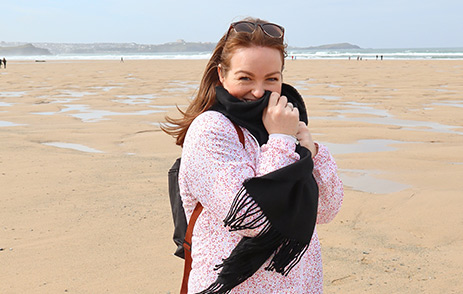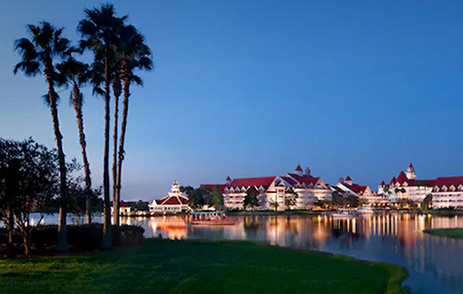 One look at Bournemouth local Brogan Tate's blog is sure to make you want to go to destinations such as Palma, Florida and Tenerife thanks to fantastic photography and a warm and friendly writing style. Known for weekly lifestyle vlogs on her YouTube channel, travel tips shared on her blog and the best lunchtime haunts on her Instagram, Brogan has been keeping those who follow thoroughly entertained for years. Keep up to date with Brogan's blog posts here and follow our links through to her Facebook, Twitter and Instagram.
"I'm a huge Disney Parks fan and I've always dreamt of staying in this luxury boutique hotel which is located on the doorstep of Walt Disney World. Oozing elegance and sophistication, Disney's Grand Floridian is truly magic. Myself and my partner Benji like having balance, especially on a theme park focused trip, so I'd love to listen to the pianist in the lobby or enjoy a spa day alongside an action-packed itinerary, which you can do with ease here."
The Room: Deluxe King Room
"With perfect vistas of the Magic Kingdom firework display every evening, this room is the dream. Watching them from our bedroom with a glass of champagne would be very special indeed. The hotel also offers a turndown service, where they get your room nice and cosy for when you return from the parks."
Reserve A Table At: Victoria & Albert's
"The hotel has several dining locations right on your doorstep, one of which is Victoria & Albert's. The restaurant offer Victorian elegance at its finest and has even been a recipient of the rare AAA Five Diamond Award since 2000. It would be an incredibly special date night. I'd also book Le Cellier Steakhouse in Disney's Epcot. It has an amazing cedar cheese soup on the menu and the steak is to die for!"
Winged Boots says:
If you're on the hunt for a fantastic family holiday just steps from the theme parks of
Florida, Disney's Grand Floridian Resort & Spa
ticks all the boxes. One for the holiday hall of fame, Victorian design and lashings of Disney magic come to fruition here. Unwind in luxury villas that can sleep up to 12 guests before tucking into delicious cuisine served at one of the seven restaurants. For the ultimate in terms of relaxation, we recommend a facial and a massage at the on-site spa or unleash your inner gamer at the arcade. Both the kids and the parents are sure to love it.
LemonaidLies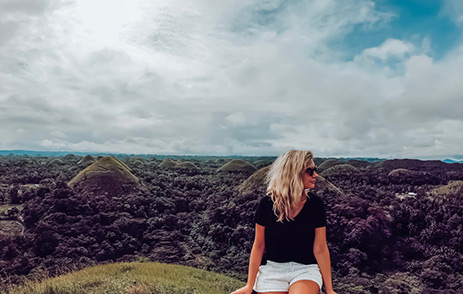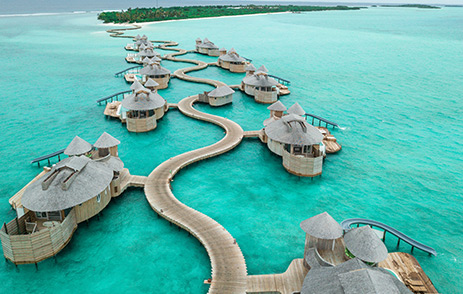 Kenzie Harvey aka LemonaidLies is a 25-year-old beauty, fashion, lifestyle and travel blogger based in London. Newly engaged and freshly moved in to a new home with her fiancé, there are many exciting opportunities on the horizon for Kenzie. Throughout her blog and social media, you can expect outfit of the days, her latest holiday snaps and her top beauty recommendations. Read Kenzie's blog here and follow her on her Facebook, Twitter and Instagram.
"Because I'm planning my wedding, I'm also thinking about my honeymoon. I would love to do a safari first before heading to the Maldives and Soneva Jani has it all when it comes to luxury. The thought of relaxing, snorkelling and taking everything in from this beautiful hotel… it's what dreams are made of."
The Room: One Bedroom Water Retreat
"Some of the Water Retreat Villas have slides which sound amazing."
Reserve A Table At: So Starstruck
"I think I plan holidays around food. I have done with the Philippines and Thailand and So Starstruck at Soneva Jani sounds right up my street. I would love to watch the sunset then eat while gazing at the stars. With only four tables and an astronomer letting you in on the secrets of the constellations, this restaurant sounds unbeatable."
Winged Boots says:
Soneva Jani can be found in the Noonu Atoll in the Maldives and is easily one of the most beautiful hotels to ever grace your Instagram feed. Overwater villas with waterslides, island villas right on the sands of the Indian Ocean and multi-bedroomed options for families… every holiday maker is covered. There are 12 restaurants as well as destination dining experiences to choose from, with dishes created from some of the best Michelin-starred chefs from around the world. The hardest decision will be where to head to first. Oh, and how can we forget about the wealth of leisure facilities? Cinema screenings in the ocean, a world-class spa and an observatory are just the beginning at this eco-friendly resort.
Behind The False Lashes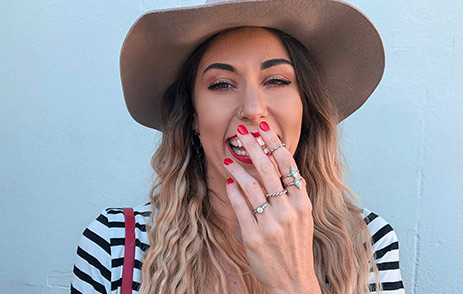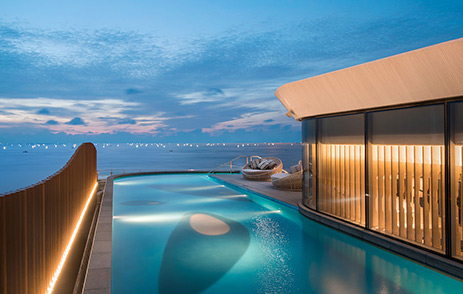 Hannah Dolan is a lifestyle and travel blogger that currently lives in London with her other half and puppy Bear. If she isn't writing about her recent trips to Budapest, Venice and Barcelona, Hannah is uploading to Instagram about her travels, what she's wearing and her day-to-day life. To read Hannah's blog click here and follow her on Twitter and Instagram.
One Hotel I've Always Wanted To Stay In: Conrad Manila
"I've always wanted to go to Conrad Manilla because aside from the fact you could constantly be #ChillingInManila, the views from the infinity pool are an Instagram dream and, to be honest, they pretty much had me at 'indoor spa.' Can we also just take a moment to appreciate the fact that this hotel is built above a shopping centre with stunning views of Manila… how perfect? To top this off, the city is full of beautiful architecture and things to see so if I get tired of the view – which is unlikely – there is plenty of exploring to be done too.
The Room: Presidential Suite
"Have you seen the Presidential Suite? If I could pick a room of my choice, I'd have to go big or go home and choose this option as my new digs. With its own private pool, terrace and butler service I think they'd have a tough time to get me to leave."
Reserve A Table At: China Blue by Jerome Leung
"Ok firstly, don't make me choose as food is my favourite. First on my hit list would have to be China Blue by Jerome Leung. Serving up fresh Chinese cuisine complemented by floor to ceiling views, this is the perfect place to dress up complete with the sassy glittering chandeliers. Oh, and I won't even need to feel bad about all of the food I'll be consuming because Conrad Manila also has an on-site gym…"
Winged Boots says:
If you're staying in the capital of the Philippines, Conrad Manila is perfectly located in the Manila Bay area. Whether you're here for business or leisure you'll be relaxing in style courtesy of the 347 beautiful Filipino-influenced rooms, equipped with all the mod cons you could possibly desire from Wi-Fi access to hydrotherapy rain showers. Shopaholics will be in their element as the hotel is above the S Maison shopping centre too, and fitness enthusiasts are sure to adore the 24-hour gym. There are three restaurants on hand to keep hunger at bay, as well as a pool bar with a wealth of cocktails that make for brilliant post-dinner drinks.
A Luxury Travel Blog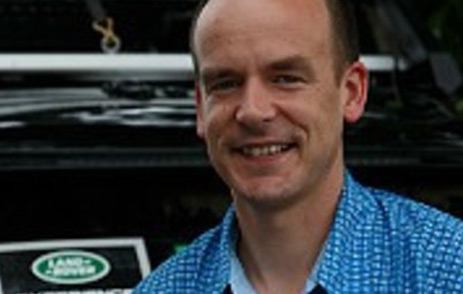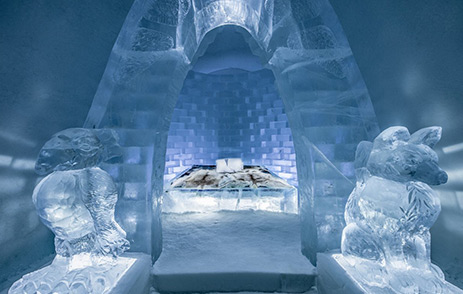 Dr. Paul Johnson has a love for all things luxury travel. From discussing the best sailing destinations and rail journeys to why you should head to Italy for your next multi-generational getaway, there are plenty of articles on the blog to inspire you that have been written by Paul and a team of more than 600 writers and guest bloggers. To read A Luxury Travel Blog click here, and follow our links to Paul's Facebook, Twitter and Instagram.
One Hotel I've Always Wanted To Stay In: ICEHOTEL, Sweden
"I've been fortunate to stay in many iconic and luxury hotels around the world, from the
Burj Al Arab
in Dubai to Raffles Hotel in Singapore, so it would be exciting to try something different. Plus, little known fact… I actually have a PhD in glaciology from way back when, so I'm interested in all things ice-related!"
The Room: The Cold Room Deluxe Suites

Reserve A Table At: The Chef's Table
"It would have to be The Chef's Table on the Veranda, and the 12-course tasting menu of the best the region has to offer. I'm sure that would be a memorable experience."
Winged Boots says:
Founded in 1989 in the Swedish village of Jukkasjärvi, ICEHOTEL is bound to be an experience from start to finish. Rooms are kept at -5˚ so snow walls and ice beds don't melt, and you can expect fur throws to keep you insulated. Alternatively, there are 'warm' rooms that are chalet in style should you want an alpine escape that doesn't require multiple layers. Husky sledding, snowmobiling, ice driving and cross-country skiing are all available to partake in so you can explore this beautiful part of the world, or alternatively book yourself a massage for the ultimate TLC session. If you fancy some arts and crafts while away, the ice sculpting classes are brilliant. Foodies are sure to be in their element thanks to the two restaurants, and there's also a lounge and an ice bar that act as the perfect destination for post-dinner drinks.
Diary of a Londoness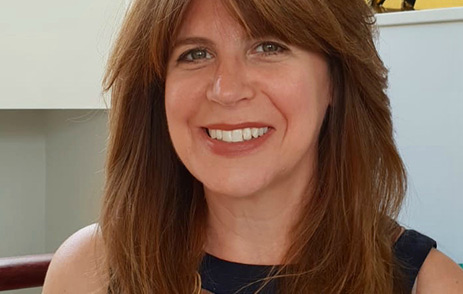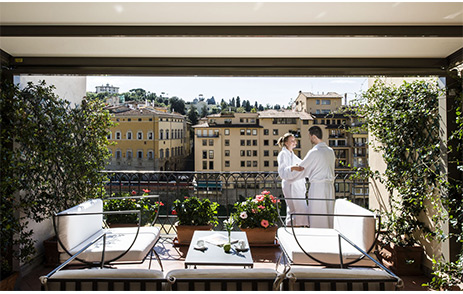 Scarlett Roitman is a London-based blogger with a love of everything to do with the capital city. Her blog is full of theatre reviews, reviews of some of the country's best galleries and undiscovered haunts that simply must be shared. Make sure to follow Scarlett on her Facebook, Twitter and Instagram and read her blog here.
One Hotel I've Always Wanted To Stay In: Hotel degli Orafi
"I've had my eye on the Hotel degli Orafi in Florence for some time. It's the hotel that boasts fantastic rooms with a view and it's also home to the fictional Pensione Bertolini from the film Room With A View that's based on E.M. Forster's novel. Miss Lucy Honeychurch, played by Helena Bonham Carter, is a guest at the Pensione with her overbearing chaperon, Miss Charlotte Bartlett who's played by Maggie Smith. Lucy also has her sights on the room, which again, makes an important appearance at the end of the story."
The Room: Room 414
"Room 414 is the room. It has a spectacular terrace with sweeping views overlooking the Arno – enough to make you swoon."
Reserve A Table At:
"The hotel has a stunning 19th century breakfast room which once was a ballroom. I can see myself tucking into some Italian delicacies, before heading out to explore the Basilica of Santa Croce, just as Lucy Honeychurch did. I would tuck into a lazy lunch in a local trattoria, such as Baldovino, and if money was no object, I would dine at the two-Michelin star Enoteca Pinchiorri which sits inside a Renaissance palazzo."
Winged Boots says:
Luxury and history collide at Hotel degli Orafi. Overlooking the Arno river, you're in one of Florence's prime locations to see the sights too. Recently restored, the hotel boasts original 19th century features along with all the contemporary flourishes you would expect from a world-class stay. Rooms and suites are traditional and elegant, and all feature magical views of the Italian city. For equally phenomenal vistas, make sure to head to the roof terrace bar for an evening like no other, or alternatively curl up with a good book in the on-site library… the choice is yours.
Fresh and Fearless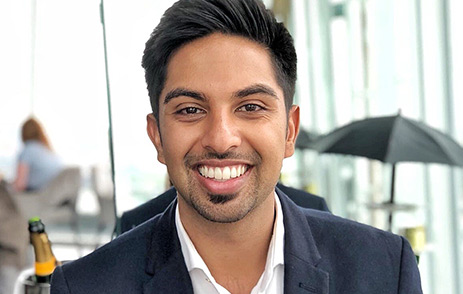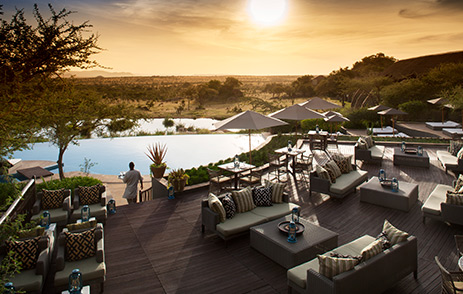 Whether you're after some inspiration for your trip to New York City or you want to discover what the Ritz-Carlton Abama is like, Fresh and Fearless is a fantastic blog for travel enthusiasts. Created by Aftab Pathan, the website showcases some of the most beautiful destinations and hotels in the world. Follow Aftab on Facebook and Twitter, as well as his Instagram.
"For me, the Four Seasons brand showcases luxury travel at its prime. From the minute you step onto a Four Seasons property, you're waited on hand and foot. The appeal of Four Seasons Safari Lodge Serengeti is the unforgettable moments and memories that can be created without leaving the hotel. For example, the private infinity pool overlooks the watering hole of the national park. Imagine watching elephants drinking water while the sun sets right from your own swimming pool."
The Room: The Presidential Villa
"With its two bedrooms, a separate study, kitchen and dining room plus the various quiet spots across the villa and a private infinity pool… how could you ever want to leave the Presidential Villa?"
Reserve A Table At: Boma Grill
"Boma Grill would be a must. It provides the true African experience in a luxurious way. The chance to taste local flavours, sitting around an open-air fire pit fully immersed in the Masai lifestyle… that would be a meal I would never forget."
Winged Boots says:
If you're an animal lover and you want to see the Big Five, Four Seasons Safari Lodge Serengeti is the perfect choice. Lions, leopards, buffalos, elephant and rhinoceros can be seen in the distance, and the hotel offers various experiences where you can relish views of these majestic creatures. The lodge sits next to an animal watering hole, so you don't even have to leave your luxury room, suite or villa to catch a sighting. This hotel also boasts a wonderful infinity pool that makes for quite the Instagram shot, too. If food is the key to your heart, you'll love the three restaurants that serve authentic African fare as well as international favourites. Oh, and there's also a fantastic full-service spa. A signature treatment finished off with a soak in an outdoor bathroom is fabulous for some rest and relaxation.
Following The Rivera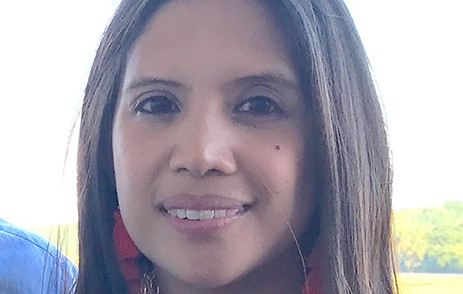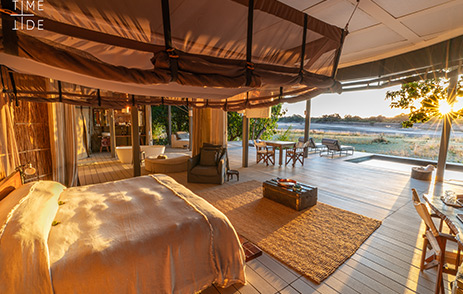 Following The Rivera is a blog that showcases the luxury destinations that travel writer and blogger Lisa Rivera gets to visit. Writing primarily for a 'flashpacker' or an affluent backpacker audience, the articles are sure to spark wanderlust for all those with a love of glamping, luxury boutique hotels, wine-lovers and those that want to treat themselves to a spot of wellness. To read her blog click here, or alternatively follow Lisa on Facebook, Twitter, Instagram and Pinterest.
One Hotel I've Always Wanted To Stay In: Time + Tide Chinzombo
"As a flashpacker, nothing excites me more then when I know I'll be glamping at a luxury lodge. That said, one of my ultimate hotel picks is Time + Tide Chinzombo in Zambia. This luxury camp provides the ideal base to explore the wilderness and the surrounding nature of the Luangwa River. There are six villas including a family option to choose from, each of which is bright, spacious and elegant in design. What's more, the panoramic views of the river and landscape beyond would make for a truly memorable experience. An award-winning guiding team is also on hand to take guests into the national park to spot the area's many inhabitants."
The Room: Any
"Honestly, any of the luxury villas would suit me fine! I've always wanted to soak in a bathtub overlooking a grand river, and Time + Tide Chinzombo delivers this. It'd be amiss if I didn't mention that villas come with a private veranda and your own plunge pool."
Reserve A Table At:
There's only one dining option at Time + Tide Chinzombo given the number of villas they have. Guests can choose to tuck into dishes made from local ingredients in the main lodge beneath the stars, or in the privacy of their villa. Personally, I'd try both just because the option's there!"
Winged Boots says:
Time + Time Chinzombo brings a luxurious edge to the Luangwa Valley. Mentioned in TIME Magazines 2019 Greatest Places to Visit, the hotel offers travellers a five-star safari adventure from start to finish. Each of the six villas are equally as beautiful and all offer wonderful vistas of the Luangwa River and the wildlife that call this part of Zambia home. Private plunge pools come as standard and all the décor has been inspired by the natural environment with neutral hues of colour found throughout. Game drives, safari walks, and seasonal boat cruises are all able to be booked so all animal-lovers are sure to be in their element here. Once you've finished watching the majestic wildlife, make sure to book an in-villa spa treatment that will leave you relaxed, refreshed and revitalised for the rest of your trip.
Make your bucket list a reality with Winged Boots. From Dubai and Las Vegas to South Africa and Antigua, we have you covered when it comes to luxury travel. If any of these hotels have taken your fancy, enquire here or call one of our personal travel managers on 0203 816 0985.
Share with someone you'd love to travel with

Guy Humphrey
Guy Humphrey is a Content Writer