0203 816 0985
Let's talk. We're open Mon-Fri 9am - 6pm
We're open Mon-Fri 9am - 6pm
The Most Instagrammable Places In Miami
Miami
is bursting at the seams with luxury and glamour. Cosmopolitan through and through with a strong Caribbean influence, it's rare that two itineraries are the same as there is simply so much to do here. From teeing off at The Biltmore Golf Club and shopping in The Design District to partying like a pro on South Beach, this Floridian city caters to all travellers. Images of colourful buildings, lavish five-star hotels and picture-perfect beaches may flood your mind, but we can bet this run down of the most Instagrammable places in Miami will have you immortalising these gems forever. Just remember to bring your camera or a fully charged phone… you won't regret it.
1 Hotel South Beach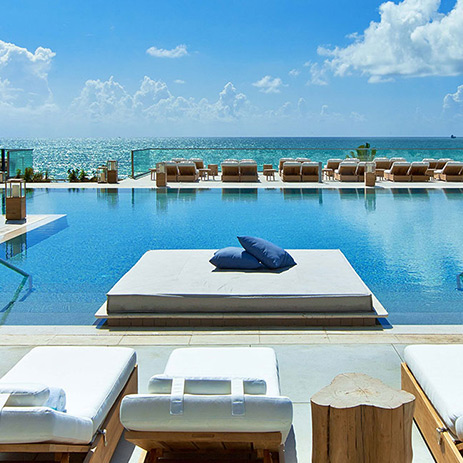 18 storeys high, the perfect Instagram spot can be found at
1 Hotel South Beach
. The rooftop pool is a real sight for sore eyes with shimmering waters to swim in along with 180-degree ocean vistas to soak up. There are cabanas and day beds just waiting to be lounged on, and if you're here all day then make sure to grab a bite at The Sandbox for American coastal style cuisine and a host of drinks.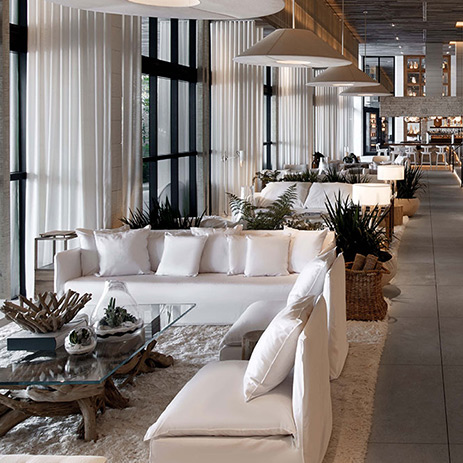 Open to guests above the age of 21, this social media lover's haven is the only oceanfront hotel with a rooftop pool in Miami, so a stay here is a must. This eco-conscious resort also boasts seven restaurants and bars, a 14,000-square foot gym and a wonderful spa.
Discover more about 1 Hotel South Beach here.
Miami Beach lifeguard tower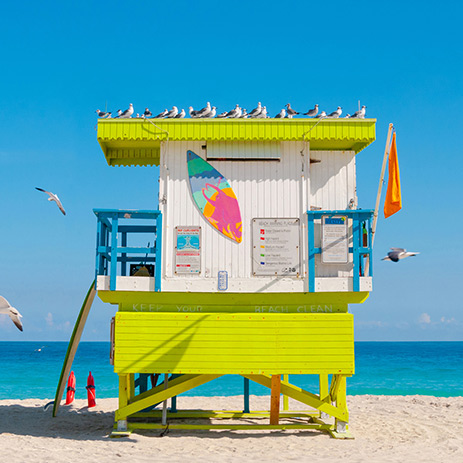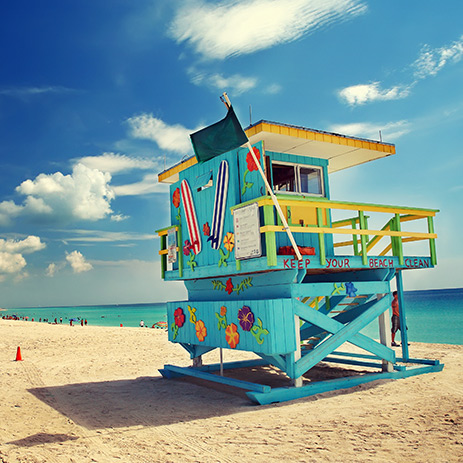 Enjoy a leisurely stroll with a difference thanks to the various lifeguard towers dotted around the Miami Beach coastline. Colourful and striking, you won't be able to miss these sheer spectacles of design, popping up like bright sandcastles along the beach.

From red and white stripes to vivid lime green, pink and orange, all 36 landmarks are unique in style and are sure to make for the ideal Instagram pic. What's more, the huts are forever getting a fresh lick of paint so each visit will provide something new.
Recommended

Properties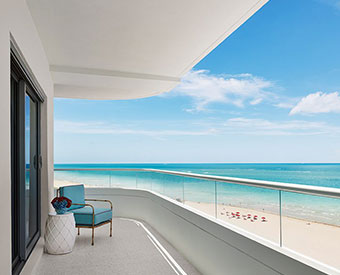 Hotel
3 nights from £660 pp inc flights
Best for:Couples, Family, Honeymoon
Theatrical interior décor inspired by modern art  
Delicious on-site restaurants including the award-winning Los Fuegos  
Offers the incredible Saxoy Theatre for evening cabaret entertainment
Best for: Couples, Family, Honeymoon
Style: System.Collections.Generic.List`1[System.String]
3 nights from £660 pp inc flights
To book or customise this trip call us on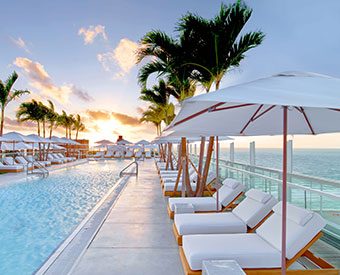 Hotel
3 nights from £740 pp inc flights
Best for:Beach, City, Couples
Boasts 426 spacious rooms, suites and condos  
Seven delicious on-site restaurants serving an array of worldwide cuisine 
Offers brilliant facilities including a spa and a beauty parlour
Best for: Beach, City, Couples
Style: System.Collections.Generic.List`1[System.String]
3 nights from £740 pp inc flights
to start planning your vacation
The Villa Casa Casuarina (Versace Mansion)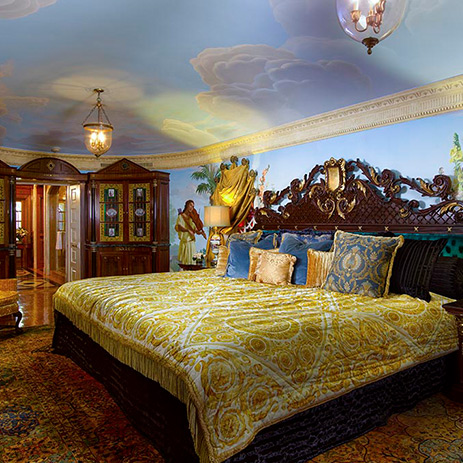 Renowned for being the former home of Italian fashion designer Gianni Versace, the Versace Mansion is now a whirlwind of stunning architecture and interiors. Presently known as The Villa Casa Casurina, the villa was originally built in 1930 by architect, author and philanthropist, Alden Freeman so you can expect art deco features along with signature Versace styling.
Mosaic-tiled swimming pools, larger than life furniture and bespoke artwork everywhere you look… it really is a spectacle of luxury. Now, you can stay in one of the 10 suites that make up the hotel, with the Exception Suite the cream of the crop. The marbled floors in the Versace pattern that we all know and love is throughout, along with mahogany furniture, draping curtains and fur throws.
Four types of room have been joined together to create this suite, and all boast fantastic views of the pool and South Beach.
Alternatively, come here for the day and dine at Gianni's. Serving delicious Italian Mediterranean food, the gourmet cuisine complements the historic setting perfectly. Whether you choose to dine either in the main eatery or under the stars by the pool one thing is for certain, and that is sure to be a magical meal.
To book your stay at The Villa Casa Casuarina, enquire here.
Wynwood Walls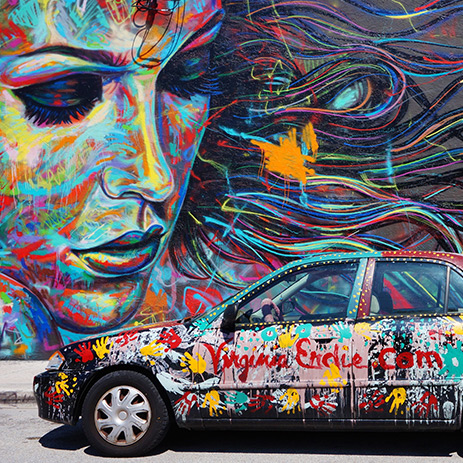 Miami sure knows how to make its buildings colourful, and Wynwood Walls is one of the places that showcases this the best. Make sure to adjust the settings on your camera as you're going to be taking plenty of pictures here. This outdoor museum features various works of art from street artists and are changed annually. Previously, the venue was a collection of warehouse buildings which have now been transformed into one of the most popular areas of Miami.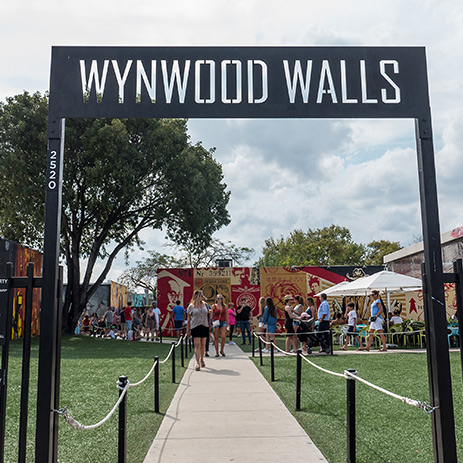 There are two restaurants onsite which are sure to make your mouth water. Wynwood Kitchen & Bar sees the art continue with the interiors inside, along with Latin-inspired global dishes to whet the whistle. Alternatively, the Italian fare at Joey's is sure to go down a treat. There's even a garden and terrace if you're a fan of al fresco dining.
The Design District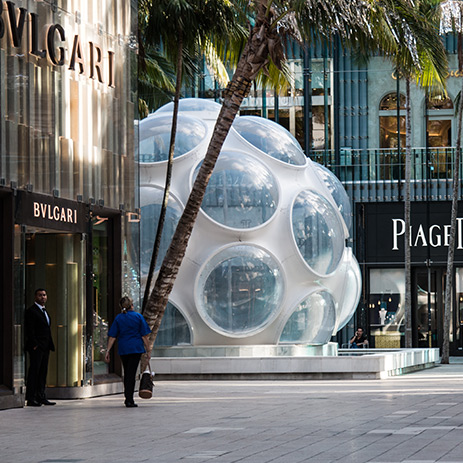 A creative haven that every art lover and shopping enthusiast is sure to adore, The Design District is essential when visiting Miami. Alice + Olivia, Bulgari, Burberry, Louis Vuitton, Prada, Versace and Zadig & Voltaire, The Design District is an A to Z of luxury fashion, and the restaurants and lounges act as the ideal place to restore lost energy.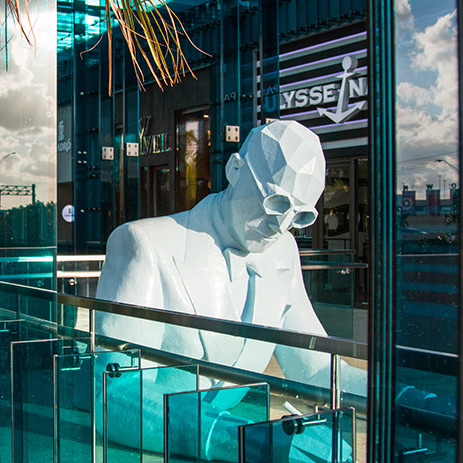 One of the most iconic buildings in the whole of The Design District is Fendi Colonade. Pastel blue exteriors contrasting with deep orange tones make for quite the picture. Inside, the Instagram worthiness continues, with exposed brick walls, cement flooring and 5,400-square-foot of world-class fashion. Definitely pack your plastic as well as your camera as you may well be coming home with a whole new wardrobe.
Miami Mountain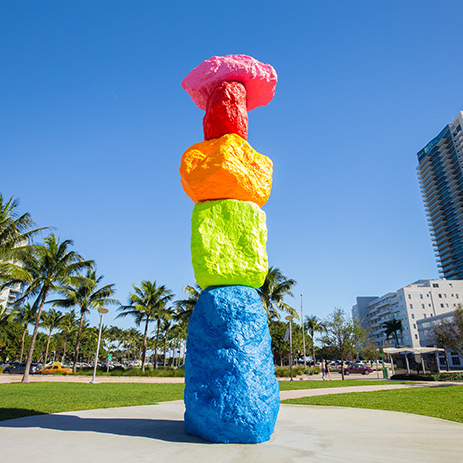 If you haven't noticed by now, Miami loves its bright colours, and this can also be seen at Miami Mountain. Constructed out of giant limestone boulders, this totem artwork was created by Swiss artist Ugo Rondinone and stands at 41-feet tall. Following in the footsteps of the 2016 installation Seven Magic Mountains in the Las Vegas desert, the structure is now permanent in Collins Park.
Not only this also signifies the launch of The Bass' new acquisitions initiative. The initiative focuses on acquiring contemporary art, and with a 10-year timeline, you can expect modern pieces such as Miami Mountain popping up regularly by the art museum.
Located adjacent to Miami Beach, if you want to be close to this now iconic landmark, there are a slew of luxury hotels to choose from such as The Ritz-Carlton South Beach,
1 Hotel South Beach
or COMO Metropolitan Miami Beach. None are as close as
W South Beach
though as it's just a two-minute walk away!
Faena Hotel Miami Beach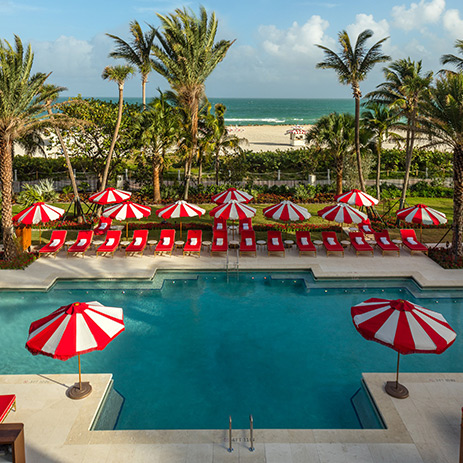 One glimpse at
Faena Hotel Miami Beach
, and you'll instantly understand the reason why it's become so legendary. From the famous Gone but not Forgotten mammoth skeleton artwork by Damien Hurst immortalised behind hurricane-proof glass, to the Spanish hand-painted murals in the lobby, design has never been more luxurious.
The red and white aesthetic of the pool umbrellas and sun loungers ensure you enjoy a suntan and swim in style, too. Bringing back the glamour from the 1950s, you can even witness a show at the 150-seater theatre or listen to a musical interlude from the musicians playing in the public areas of the hotels. Everywhere you look, you're greeted with Instagrammable moments, so if you're on the hunt for a wonderful hotel to spice up your feed, you've hit the jackpot with Faena.
Check out our marketing manager Lauren Godfrey's review here. To book, call one of our personal travel managers on 0203 816 0985 now.
Share with someone you'd love to travel with

Guy Humphrey
Guy Humphrey is a Content Writer
Recommended Properties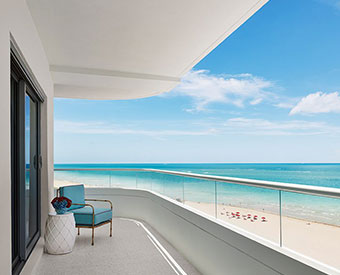 Hotel
3 nights from £660 pp inc flights
Best for:Couples, Family, Honeymoon
Theatrical interior décor inspired by modern art  
Delicious on-site restaurants including the award-winning Los Fuegos  
Offers the incredible Saxoy Theatre for evening cabaret entertainment
Best for: Couples, Family, Honeymoon
Style: System.Collections.Generic.List`1[System.String]
3 nights from £660 pp inc flights
To book or customise this trip call us on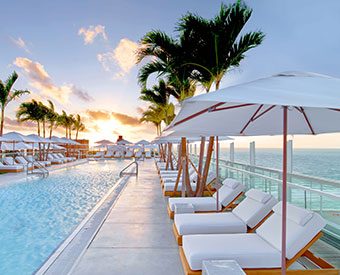 Hotel
3 nights from £740 pp inc flights
Best for:Beach, City, Couples
Boasts 426 spacious rooms, suites and condos  
Seven delicious on-site restaurants serving an array of worldwide cuisine 
Offers brilliant facilities including a spa and a beauty parlour
Best for: Beach, City, Couples
Style: System.Collections.Generic.List`1[System.String]
3 nights from £740 pp inc flights
to start planning your vacation