0203 816 0985
Let's talk. We're open Mon-Sun 9am - 6pm
We're open Mon-Sun 9am - 6pm
Is this Europe's greatest cycling destination?
Welcoming thousands of keen bike enthusiasts to its shores every year,
Mallorca
is known as one of the top cycling destinations in the world. But why? Could it be the endless sunshine or perhaps it's the glorious climbs and the brilliant cycling events. We delve in deeper and give you the facts. It's then up to you to decide for yourself. Make sure you've got your helmet on, it's going to be quite a ride to the finish line.
Recommended

Properties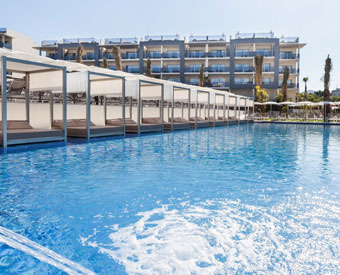 Hotel
3 nights from £320 pp inc flights
Live in up-market suites with exclusive features like swim-up entrances and rooftop Jacuzzis
Close to the beach and excellent holiday attractions such as boat tours and bike excursions
Non-stop fun offered by staff-conducted activities like football matches and watersports
Best for: Beach, Business, Couples
Style: System.Collections.Generic.List`1[System.String]
3 nights from £320 pp inc flights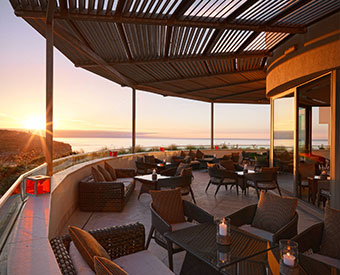 Hotel
3 nights from £550 pp inc flights
Live mountainside in spectacular accommodation, yet with easy access to the rest of the island
Invigorate your senses at the state-of-the-art spa with treatments to make you feel top-dollar
Explore Majorca with various activities that'll make you fall with this glorious destination
Best for: Beach, Business, Couples
Style: System.Collections.Generic.List`1[System.String]
3 nights from £550 pp inc flights
COME RAIN OR SHINE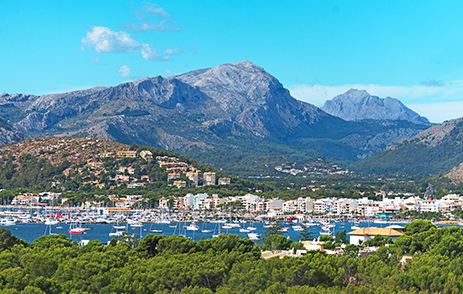 From the moment you arrive on this Balearic isle it's easy to see why Mallorca is a cyclist's paradise. With a landscape that comprises golden sands, colourful flora, cerulean bays and bustling cities, there's plenty to take in during your ride. The varying terrain ensures that all skill levels are catered for with long, winding roads leading up to the mountains a common sight. For the most part the roads tend to be flat meaning that you're able to ride for miles, improving your fitness along the way. It's only when you reach the mountains that there are hairpin bends at a higher gradient for an extra challenge.
300-days of sunshine is another reason why more than 40,000 cyclists head to this Balearic Island every year.Temperatures range from 10-degrees in January to 35-degrees in August, with the sun still managing to poke through the clouds come December. Alex Jones from
Westbrook Cycles
says that, "Mallorca is a great cycling destination because the climate is very agreeable; you can go there to escape the cold winter at home or you can go in the summer either side of topping up your tan." This explains why Mallorca is always busy regardless of the time of year. The main cycling season is from February through to May before the heat causes a further obstacle during your ride however you can expect the climbs to still be busy going into October. Taking advantage of quieter times without the throngs of holiday makers you can take some time out for yourself, work on your technique and in turn improve your fitness.
When talking about what to pack Alex says that it depends on the time of year. "Generally a nice lightweight, ventilated helmet like the
Kask Mojito
, coupled with comfy bibshorts, a stylish jersey from the
Castelli
or
Ale
Spring/Summer collections and finished off with a nice pair of
Sidi Shot
shoes will keep you comfy and dry however long you spend on the bike."
ON YOUR BIKE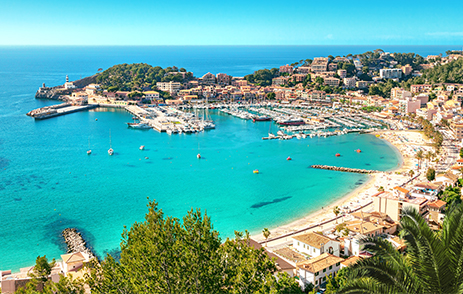 The climbs of Mallorca are some of the most acclaimed in the world. Challenging even pros such as Sir Bradley Wiggins, the varying inclines and hot weather will really put you through your paces. The mountenous areas tend to be where the toughest climbs are, with both solo cyclists and groups tending to set up their base in either Sóller or Pollença. Sóller is a picturesque town on the west side of Mallorca. Rural in every sense of the word, it's like time has stood still in the cobbled streets. The vintage tram, pastry shops and locally-made ice cream guarantee a brilliant day trip, even if you're not on two wheels. Alternatively, Pollença has easy access to a variety of climbs as well as a thriving café culture and various landmarks to cast your eyes over. Nostra Senyora Del Angels church is just one of these and comes complete with its stunning interiors and towering architecture.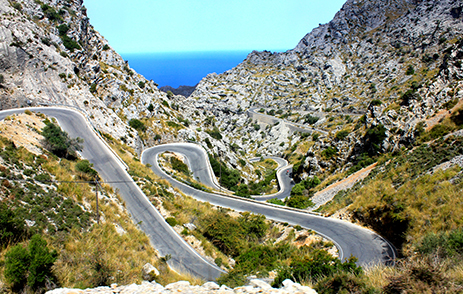 Sa Calobra

Sa Calobra is one of the most famous climbs on the whole island. The gradient with this one is steady enough for those on the hunt for a peaceful ride, with only a few sharp turns to contend with. One of these even loops round itself as the road descends under a bridge, giving a whole new perspective on one of the best cycling routes in Mallorca. There are fewer than five of these loops in Europe, so you know you're in for a special treat here. On the way back to the village of Sa Calobra you've got to have your wits about you as the rocky road is bound to put both yourself and your bike through its paces. Views along the way are of cliff faces and the sea, giving you all the motivation you need to get the pedals into motion.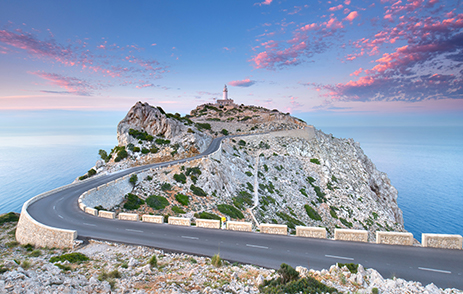 Cap de Formentor

50-kilometres of jagged limestone, strong winds and gorgeous landmarks makes Cap de Formentor an idyllic climb. Being the meeting point of four winds from the Spanish mainland, the European Alps, the Atlantic Ocean and North Africa, you can expect this course to be an uphill struggle but totally worth it. Along the way make sure to keep an eye out of Cap Formentor lighthouse, found 384-metres above sea level and located perfectly atop a hill.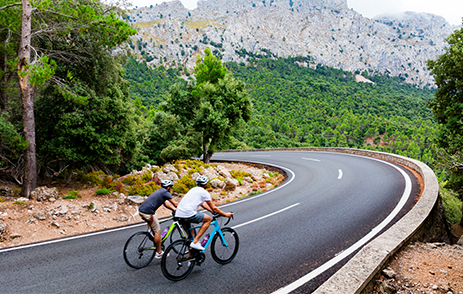 Puig Major

Known as one of the toughest climbs in Mallorca, Puig Major is the highest peak of the island. Standing tall with an altitude of 1,364-metres above sea level you're able to relish stunning vistas of the Tramuntana mountains and the surrounding lakes. The route itself is 13.9-kilometres long with a six-percent gradient making it fantastic for training. The peak is off limits to the general public, so be sure to follow the signs en route accordingly.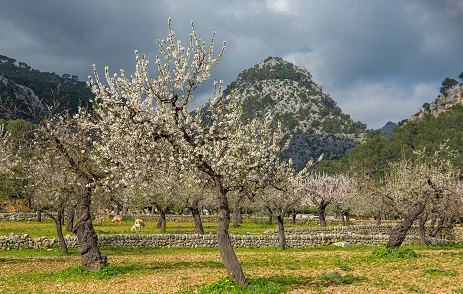 Coll de sa Batalla

Starting in the town of Caimari and heading towards Pollença, Coll de sa Batalla is a climb for lovers of nature. This scenic route stretches for 7.9-kilometres with a gradient of 5.2-percent however this reaches 12-percent once you reach the top. There are some magnificent views to be relished with much of the climb covered in overhanging trees. Halfway along the trail you'll find a restaurant serving cakes and coffees if you need a pitstop.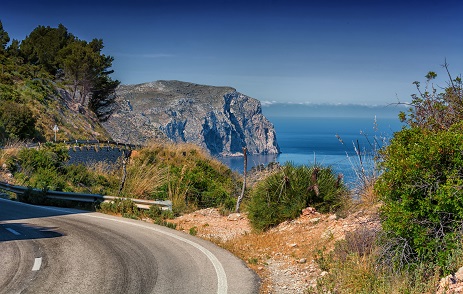 Cap de Sóller

With two ascents to tackle, Cap de Sóller is a brilliant ride. The northern side is the longest with an average gradient of six-percent and a length of 7.4-kilometres, perfect for pros wanting to warm up. However, beginners and leisurely riders will be in their element on the southern approach. Having shorter and flatter roads, you're able to take in the amazing views of Mallorca's mountains and the scenic area ensures that there isn't as much traffic on the roads.
COME ALONG FOR THE RIDE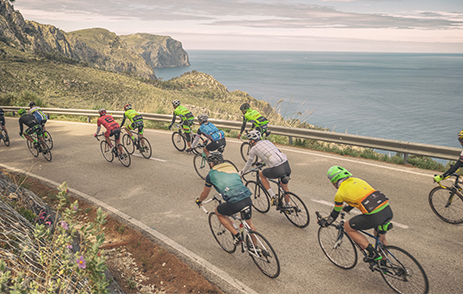 When training for any sport it's great to have targets and tangible goals. Mallorca has a wealth of popular cycling events, proving to be quite the challenge even for seasoned participants. Mallorca 312 is one that sells out every year. The longest amateur annual cycling event and considered one of the hardest in Europe, the 312-kilometre distance is definitely a challenge. The altitude gain of 5,050-metres and the 14-hour time limit only adds to this, with many attendees dedicating 12-months to training for the event. Smaller 157 and 225-kilometre routes ensures that all skill levels are catered for too.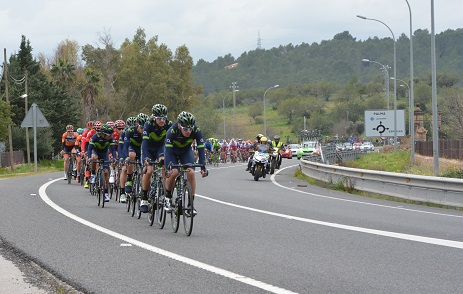 Challenge Mallorca

Held in either late January or early February each year, Challenge Mallorca is one of the first events on the pro calendar, attracting many of the big international teams such as Team Sky, Movistar, Omega, Pharma and Astana. Daily races each with their own trophy make up the event, with various competitors trying their hardest to reach the top spot. Teams go head to head with members able to be switched between races so you can really be strategic and play to your strengths. Going through Pala, Alcúdia, Pollença and Sóller the routes are varied to keep even the most seasoned cyclists on their toes, guaranteeing a whistle-stop tour from the get-go.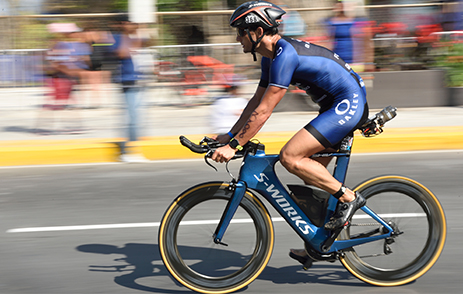 IRONMAN 70.3

IRONMAN 70.3 is one of the most well-known triathlons in the world with various races held throughout the year in a multitude of destinations including Florida, Queensland and Quebec. This year Alcúdia in Mallorca is home to one of the qualifying rounds, with the top 50 attendants gaining a slot in the 2018 IRONMAN 70.3 World Championship in Port Elizabeth, South Africa. The Mallorca stretch isn't for the fainthearted. After a 2.4-mile swim and before a 26.2-mile marathon you'll endure a 112-mile bike ride. Taking you through golden beaches, steep cliffs and glorious bays in our opinion the views are enough to spur you on to success.
RIDE WITH THE LUXURY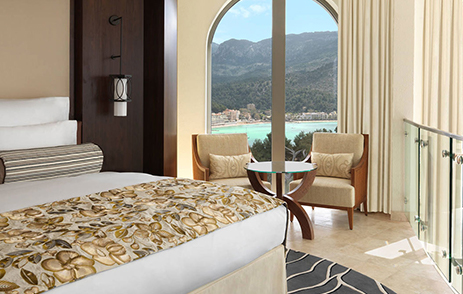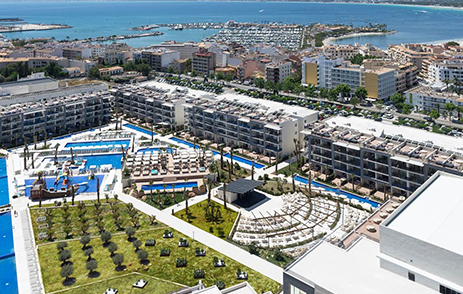 The ideal base for your cycling adventures are the towns and villages that are close to the amazing climbs. Alcúdia, Sóller and Pollença are three of the most popular areas and you're bound to bump into fellow cyclists during your stay. The majority also cater to bike enthusiasts too with a range of tailormade facilities on hand.
Jumeirah Port Sóller Hotel & Spa
is one of these. Here you can take advantage of secure bike storage as well as recommend routes that have been tried and tested by professional cyclist David Millar. Making for a great warm-up to harder climbs, the routes take you through the Tramuntana Mountains and with optional guides, you'll be learning new techniques and facts before you know it. Make sure to bring your camera though as there are plenty of pitstops with incredible views to relish. The hotel itself has plenty to keep you occupied once you've got your feet firmly on the ground from a kids' club and a spa to a yacht charter service and wine tasting tours.
Alternatively, if you're staying in Alcúdia you've hit the jackpot with
Zafiro Palace Alcúdia
. Close to all of the cycling routes that this town boasts such as Cap de Formentor, both bike rental and storage are available here. The hotel also has plenty of information in regards to the surrounding trails, with a knowledgeable concierge team on hand to offer advice and tips. The on-site spa also guarantees the ultimate unwind after a day of cycling, with expert therapists incorporating Chinese medicine and bio-energetic therapies to help restore energy levels and soothe aching muscles. If you're a foodie you're in luck too as the four restaurants serve an array of cuisine ranging from Italian and Mediterranean to Japanese and international grill.
Fancy putting the wheels into motion? Either enquire here or call one of our personal travel managers on 0203 816 0985 to start planning your trip to Mallorca
Share with someone you'd love to travel with

Guy Humphrey
Guy Humphrey is a Content Writer
Recommended Properties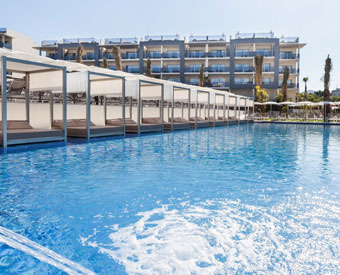 Hotel
3 nights from £320 pp inc flights
Live in up-market suites with exclusive features like swim-up entrances and rooftop Jacuzzis
Close to the beach and excellent holiday attractions such as boat tours and bike excursions
Non-stop fun offered by staff-conducted activities like football matches and watersports
Best for: Beach, Business, Couples
Style: System.Collections.Generic.List`1[System.String]
3 nights from £320 pp inc flights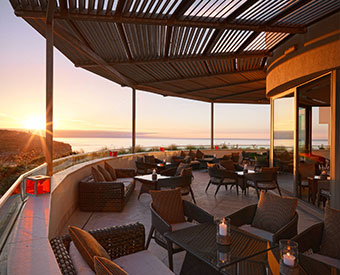 Hotel
3 nights from £550 pp inc flights
Live mountainside in spectacular accommodation, yet with easy access to the rest of the island
Invigorate your senses at the state-of-the-art spa with treatments to make you feel top-dollar
Explore Majorca with various activities that'll make you fall with this glorious destination
Best for: Beach, Business, Couples
Style: System.Collections.Generic.List`1[System.String]
3 nights from £550 pp inc flights