0203 816 0985
Let's talk. We're open Mon-Sun 9am - 6pm
We're open Mon-Sun 9am - 6pm
Holiday Showdown: Santorini v Capri
Whether its pure relaxation you're seeking, or adventure-filled days you want to enjoy, we know one of these Mediterranean destinations will be perfect.
You can't get much more holiday exclusivity than on Mediterranean island resorts, where crowds disperse to stay in the mainland cities and resort standards step up a notch to provide luxury escapes.
Santorini
, the Greek hilly paradise floating in the Aegean Sea and
Capri
, situated just off the south-western coast of Italy, both provide sanctuaries for all travellers, whether you're seeking refuge from everyday life with wellness or partying until the glowing sun tucks itself behind the turquoise horizon. But not everything is the same in these two gems. Phenomenal food, unforgettable views and luxurious properties come as standard, but these islands have individual personalities which we're here to digest.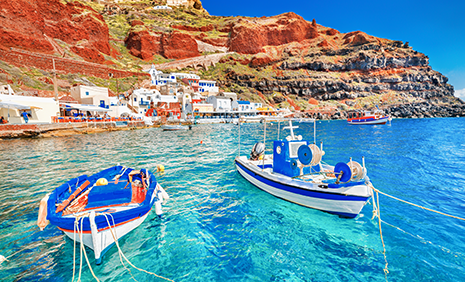 Natural beauty and historical wonder
The Ancient City of Thera
Blue Grotto
As both of these beautiful destinations are islands, you can expect dramatic and diverse landscapes as a canvas for unique architecture. The volcanic island of Santorini is renowned for its hillsides with the recognisable whitewashed buildings adorned upon them, and the rugged land provides ample opportunities to get your sweat on. When you're not enjoying the magnificent views while burning off last night's gyros, exploring prehistoric village ruins will satisfy the culture vulture inside. The town of Akrotiri was once a settlement in the Bronze Age, and with the volcanic eruption of the 16th century preserving remains, history lovers will stare in wonder at the many objects and artwork frozen in time. Ancient Thera is the main star of the show however, an antique city balancing on the ridge of the Messavouvo mountain. Named after the mythical ruler of the island, Thera, this time capsule has buildings still standing and roads still paved. With entry to the site just €4 per person a marvel at history alongside stunning views comes easy. Getting around Santorini is most easily done with a car, rented from Fira or the airport. This way you can access all the main historical and natural sites, with the freedom to drive to that hidden spot to indulge in an unforgettable sunset. We recommend Imerovigli, a small village on the caldera and often overlooked, so a spot for you and your loved one is almost guaranteed.

Capri may have an area of just 10-kilometres, but it packs a punch when it comes to scenery to take your breath away. Located in the Bay of Naples, cliffs crashing into the yacht-lined sea below are to be expected, however there's a handful of particularly scenic gems that have to be seen to be enjoyed. The Blue Grotto, on the northwest of the island, is a picturesque cave where sunlight passes through an underwater cavity and shines through the seawater to create electric-blue seas, illuminating the cavern around. Monte Solaro is another must-see and an ideal spot to capture your holiday moments, being the highest point on the island. Villa Jovis competes with Ancient Thera when it comes to roman ruins, completed in AD 27, its grandeur still experienced from a roam around the towering walls. The Gardens of Augustus are easily reached with an afternoon stroll from the main town, and the view down onto the weaving path zigzagging down the cliff edge, seemingly falling into the shimmering waters below, is worth it. When making your way around the island, be patient – with roads squeezed into the mountain faces, winding around the rugged landscape, buses will be crowded, and taxis won't rush to get you to your next spot!
Dine out always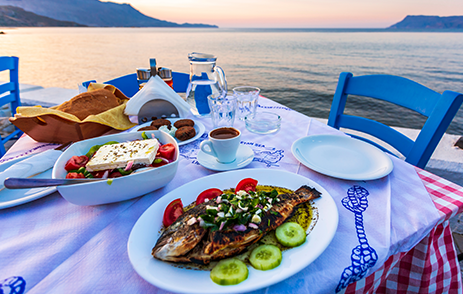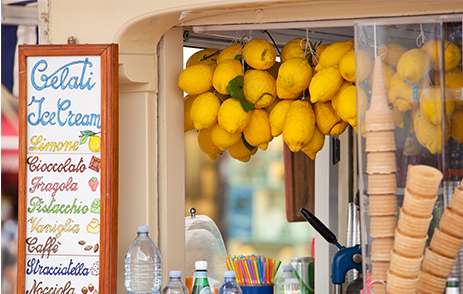 Just thinking of Mediterranean cuisine is enough to make your mouth water. When it comes to Santorini, we're talking Greek salad, feta, gyros, moussaka and souvlaki all with a healthy dose of baklava to finish. A background of either the setting red sun or surroundings of pristine white walls are a must when enjoying dinner on the island, and an array of restaurants and taverns are in the line-up at your choice for a meal to have your taste buds dancing. For refined elegance with the heavy Grecian influences weaving through, head to Selene, occupying an old arcaded house and run by a team with a love of local cuisine. Here, sweeping views are the entrée, while the mains include fried hake and squid and deserts like cappuccino pudding should definitely be indulged in. If you consider yourself quite the fish connoisseur, you'll be more than impressed with Psaraki, with traditionally painted blue fences overlooking the waterfront. Fishing boats are sprinkled on the inviting waters, proof of the delicious seafood you're about to eat. Set up to provide authentic and honest cuisine, diners on the island have been returning for years with the likes of grilled sardines, barracuda and lobster found on the menu.

Italian food, on the other hand, encompasses rich flavours, creamy textures and refreshing tipples. But leave your carbonara and stone baked margarita on the mainland because Capri cuisine is elegance and sophistication cooked to perfection. For your romantic night out, it has to be Gennaro Amitrano, where fine dining is executed exceptionally from the presentation and the tastes right down to the carefully selected wine menu. Tuna risotto, beef slider, amuse bouche, desert ravioli stuffed with crème fraiche... it truly cannot be beaten if exquisite dishes are your go-to. Al-fresco dining comes no better than in the form of Ristorante da Gemma, with table for two's perched on the decking lining the turquoise sea. Fifty shades of blue decorate this idyllic scene, with azure plates, cerulean tables and aquamarine gates. When it comes to the food, eggplant parmigiana, shrimp linguini and seared tuna are just some of the enticing options to make an appearance on the menu. Of course, what Italian meal would be complete without a glass of limoncello to finish, and Capri is one of the few places that claim the liqueur was invented there. With a shot of the tangy sugary drink in one hand, and an ice cold aperol spritz in the other, a good night is guaranteed.
Shop 'til you drop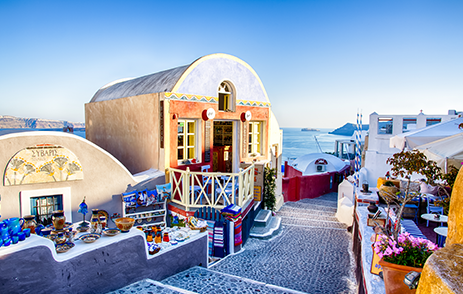 Via del Camerelle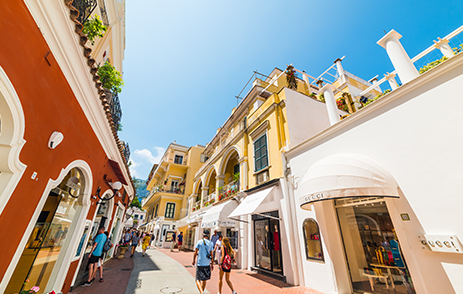 Estimates may put the number of islands belonging to Greece as between 1,200 and 6,000 but it's clear that Santorini is the most cosmopolitan of them all, so expect a shopping experience to remember. A collage of whitewashed boutiques lines the cobbled streets inviting you down for an early evening browse. Fira, the capital, will give you the most choice, from shops offering quaint jewellery to selections of silk goods. To really live the island life, visit The White Santorini, a luxury brand with hand-sewn clothing. Think floaty embroidered kaftans and bronze bikinis. If you're missing Harrods and Harvey Nichols a little too much, Ammos should fill that hole as the largest designer fashion chain on the island with four separate outlets. Brands such as Mes Demoiselles, Ash and Moncler will be draped off the rails.

Capri, on the other hand, doesn't require any searching at all for designer goods. Known as the isle of luxury and glamour, a stroll down Via Camerelle will have your eyes flitting from Armani to Versace and Valentino to Gucci. You simply cannot leave the bougainvillea adorned island without your own artisan-made perfume, a tradition that dates to the 15th century when monks used herbs and flowers to produce beautiful scents. Handmade sandals are another Capri signature. All you have to do is enter a shop you like the look of, have your feet measured while you pick what material you like, and then wait an hour. Once you've roamed the intricate streets and grabbed a freshly squeezed lemon juice, your personalised shoes will be ready!

5* luxury, upgraded
Grace Santorini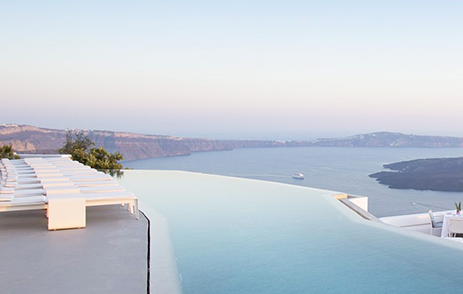 Capri Palace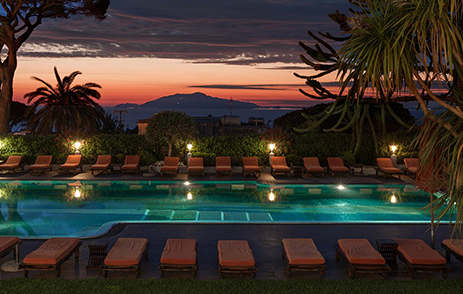 Island paradises always deliver on some of the best five-star service in the world, and Santorini and Capri are no different. The former is spilling over with small boutique hotels carved into the hillside, all with a seamless blend of a traditional whitewashed palette and contemporary furnishings. Grace Santorini offers private infinity pools, with the bright white paint and furnishings immersing you in true Grecian style. Mystique Hotel, a Luxury Collection Hotel, is another stunning hillside property, with a cave-like architecture and hidden hot tubs where the vibrant blue reflections shimmer in the stone-washed ceiling.

Capri doesn't let any other island off lightly, though. With the Italian glamour oozing out of every corner of the island, the hotels are no intimate offerings. Instead, think extravagant gardens and lavish décor. Feel like you've been transported to Monaco alongside the Clooney's at Capri Palace Hotel & Spa once you've arrived by boat or helicopter. With movie-style lights and elegant gold additions, a stay here will complement the grandeur of living the Capri life perfectly.

STILL CAN'T DECIDE? WE'VE ANSWERED YOUR MOST BURNING QUESTIONS WHEN IT COMES TO SANTORINI VERSUS CAPRI:

How do I get to Santorini and Capri?
It takes around four hours from London to fly to Santorini, while Capri is reached by boat from the Amalfi Coast. A two-hour and 40-minute flight from London will get you to Naples, where a private boat transfer to Capri will be another 40-minutes.

When is the best time to visit Santorini and Capri?
Located in Europe, these sun-splashed destinations enjoy a similar seasonal timeline as us, of course with a little more reliability. Santorini tends to have quite strong winds, perfect for families who don't want to bask in intense heat. Head to the Grecian jewel from June to September for temperatures around the mid-twenties. Capri is similar in terms of temperature, but an Easter getaway in May will hopefully see temperatures in the low twenties – more than ideal for those into adventure and exploration.

Which island would make the perfect honeymoon destination?
Both of these islands ooze romance. Santorini is famed for its magnificent sunsets, where the sky is illuminated in scorching orange and painted with strokes of intense pinks, contrasted against the cool white blanket of hillside churches and the famous windmill. Head to Fira or Oia for the postcard worthy views with your loved one. Capri is also a great honeymoon location, escaping the crowds on the mainland for some true alone time together. With most visitors leaving on the evening ferry rounding off a day trip, this is the island for seclusion and treating yourselves to some celebratory purchases. Designer shops and boutiques are your stomping ground for the day while bars sprinkled with A-listers are your go-to at night. This is the honeymoon destination for the stylish couple, after indulgence at its finest.

How could I combine these islands into a longer itinerary to see as much as possible?
Santorini makes for a perfect stop along an island-hopping adventure. The Cyclades, which Santorini belongs to, are a group of islands renowned for azure waters, varying landscape and quaint whitewashed towns. Why not fly into Athens and immerse yourself in the incredible Ancient Greek ruins and mythology, then make use of the ferries connecting islands like Mykonos, Crete, Ios and Milos? Each of these floating beauties have a different, equally authentic vibe and many are up and coming, so beat the crowds and head there now! Capri may not be part of an island group but its just off the shore of the Amalfi coast where wine-tasting, hill-climbing and striking town-hopping awaits. The coloured villas of Sorrento, Positano and Clinque Terre climbing the cliffs exude pure Italian grace like you can't find in the cities, while the lost city of Pompei could be integrated into a tour along the coast from Naples, up to Sorrento where the boat departs for Capri.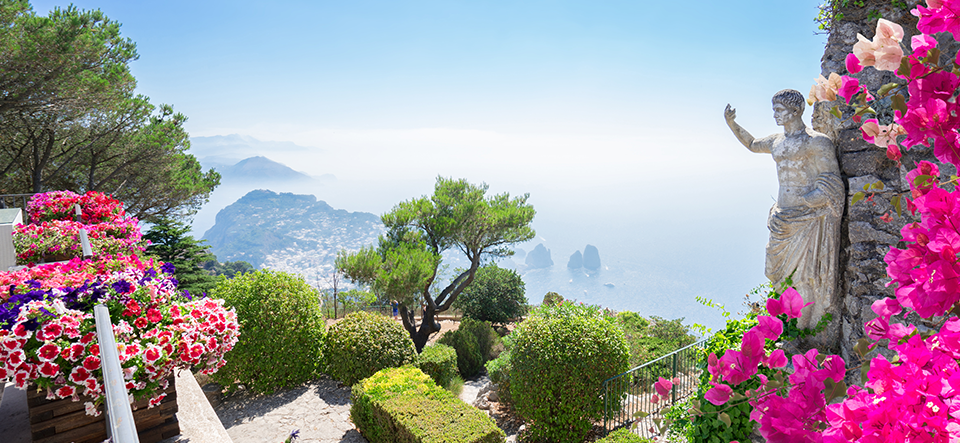 While both islands offer unforgettable luxury with vast natural landscape to accompany, the pulls of both are a little different. Think you've found the one for you? Whether its pure relaxation you're seeking, or adventure-filled days you want to enjoy, we know one of these Mediterranean destinations will be perfect. To start planning your bespoke getaway, call 0203 816 0985 or enquire here to tell one of our personal travel managers exactly what you're looking for. You'll be perched on a boat, wind in your hair and camera at the ready, before you know it.
Share with someone you'd love to travel with

Ellena Rowlin
Ellena Rowlin is a Content Writer