0203 816 0985
Let's talk. We're open Mon-Sun 9am - 6pm
We're open Mon-Sun 9am - 6pm
Escape to the Caribbean this Easter
With February 2020 being the wettest in history since records began and the expectancy of April showers arriving any time now, it's not surprising that more of us are making use of the break in the school term to escape to more exotic climates this Easter. After successfully making it through the most gruelling term in the new year it is about time to put aside those dreaded schedules and turn off that daily alarm for a few weeks, don't you think? Quit daydreaming and get carried away to a sun-drenched beach resort with an array of activities and entertainment to keep the whole family happy.




Proving popular with our customers this year is the Caribbean. With school holidays spanning two weeks at Easter, there is plenty of opportunity to escape to long haul destinations and readjust to new time zones before getting back to work. There are a variety of direct flights to the Caribbean from London making getting away from the grey skies of the UK to simply breath-taking destination no fuss at all. And with so many Caribbean islands to choose from, offering something different for every type of traveller from unique landscapes, great cuisine, famous hospitality and enough activities to keep everyone in the family happy, we are unsurprised by its popularity.

St. Lucia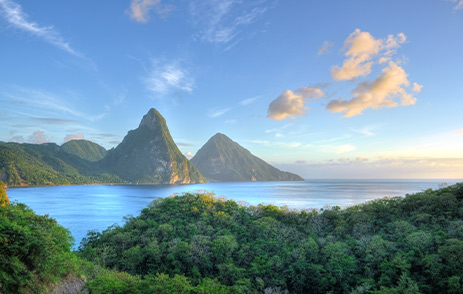 Average April temp: 27°c

Direct flight time from London: approx. eight and a half hours
Named after Saint Lucy of Syracuse, the island holds dramatic natural features with two iconic dormant pitons standing tall on the southwestern side of the isle. Despite the volcanic history of
St. Lucia
it boasts beautiful blonde beaches and amazing turquoise waters that skirt the exquisite greenery of the island's tropical forests. After its colourful and turbulent history, St. Lucia's tradition and culture is formed from a unique blend of international influences, from French and African to English and Dutch.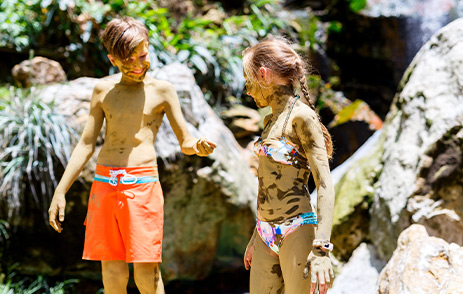 Surround your family in St. Lucia's diverse culture and experience the outstanding beauty of this unique island:
For those up for a challenge Splash Island Water Park is situated on Reduit Beach in the northwest coast of St. Lucia. An open-water inflatable obstacle-course supplying fun for children and adults alike.
Designed for those brave souls that crave a dose of adrenaline St. Lucia has a variety of zipline experiences up for grabs. With the Pitons providing an iconic backdrop up high amongst the trees, get that flying feeling as you zoom through the branches of the island's jungle.
For a warm and therapeutic experience, visit the Sulphur Springs on St. Lucia and tour the dormant volcano, soak in the mud baths to detoxify the body before showering in an exotic waterfall.
If you are a sporting family, St. Lucia has an incredibly picturesque and gratifying 18-hole golf course on the northern side of the island. Alternatively, budding Andy Murrays should visit The National Tennis Centre in Beausejour where you can hold your own family championships.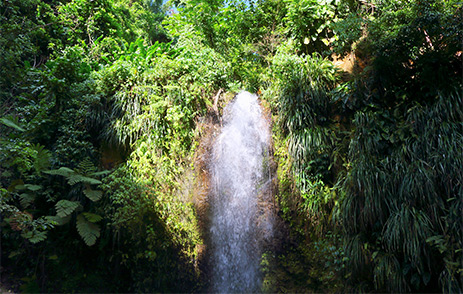 Featuring more than 22 awe-inspiring dive locations, anyone from the brave adventurer to the more novice diver can experience the underwater splendour. If you're not up for being fully submerged, you can snorkel in crystal clear waters all around the island. Take a trip to Anse Chastanet Beach, a great location for families to explore the underwater marine life with shallow and calm waters.
With plenty of marinas and mooring positions available, the island offers lots of boating experiences to be had by all, from yacht tours and fishing trips to pirate ships and sailing adventures. The warm and light trade winds that touch the island provide ideal conditions for avid sailors and first timers alike.
If you get too hot soaking up rays on the beach, cool off in the rainforest and take a guided tour through the island's vibrant jungle, with more than 70% of the landmass covered in tropical fauna there is so much to explore. Get active with the family, fill your lungs with fresh air and hike, cycle or tour on horseback to make the most of this unique environment.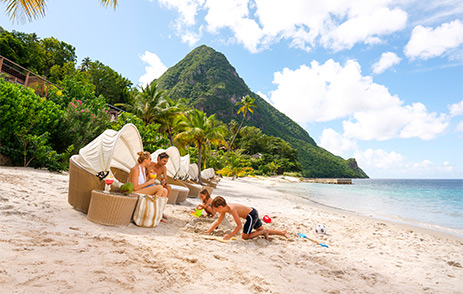 Sugar Beach
Sugar Beach
is a luxury resort and hotel set on the former site of a sugar plantation and nestled within more than 100 acres of beautiful rainforest, offering some of the most spectacular views in the Caribbean. All accommodation provides an exclusive plunge pool, giving perfect privacy for families who are looking to unwind away from the world. With a complimentary butler service and entertainment for everyone, from BBQ nights with live music to movie nights on the beach, Sugar Beach will cater for all your needs.
Jade Mountain
Built in harmony with the Caribbean nature that encapsulates it,
Jade Mountain
is truly one of a kind. With the fourth wall entirely absent from all rooms, your accommodation is a stage-like structure presenting incredible views of St. Lucia's Pitons World Heritage Site. With two nearby beautiful beaches Jade Mountain offers a multitude of activities from historic and cultural excursions to hiking, snorkelling, kayaking and whale watching. The hotel's concierge will be delighted to assist in creating your perfect family holiday experience.
Antigua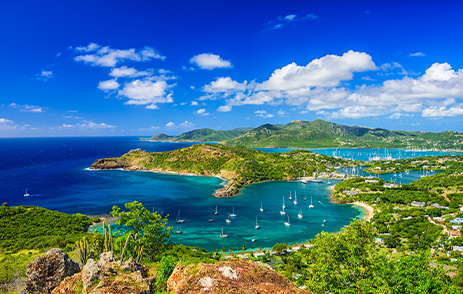 Average April temp: 23°c

Direct flight time from London: approx. eight and a half hours
Antigua
sits in the southern end of the Leeward Islands chain where the Atlantic Ocean meets the Caribbean Sea and is one of two English speaking islands that make up the Caribbean nation of Antigua and Barbuda. Antigua is the sunniest of the eastern Caribbean Islands and when combining this with its consistent northeast trade winds that bring low humidity all year-round, there is no wonder why Antigua has built such a high reputation as a formidable sailing oasis. The islands' coastline, though small in diameter, is famous for its 365 spectacular beaches and small coves. However, the isle offers so much more than white sands and cool crystal waters, it amazes with coral reefs, rainforests, brightly painted villages and captivating historical sites.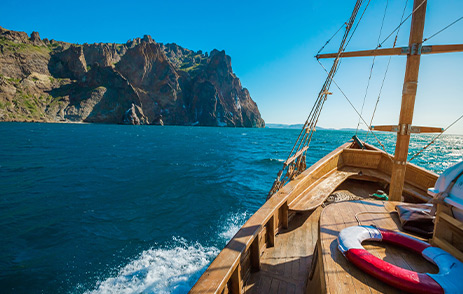 Witness the spectacular beauty of Antigua and dive into its unique culture with the whole family:
Step back into the island's history at Nelson's Dockyard. Part of the now UNESCO-listed Nelson's Dockyard National Park the restored harbour has been tastefully restored and boasts hotels, restaurants, museums and a beautiful marina that is the home of sailing on the island. If history inspires your family, take a tour of the many ruins and sugar plantations and learn more about the island's colonial past.
Antigua will be warming up for Sailing Week which begins at the end of April. Feed off its enthusiasm and get involved yourself by setting sail or chartering a yacht for the day to cool down on the incredible Caribbean waves.
If your brood are animal lovers, you can visit Frigate Bird Sanctuary on Barbuda Island. The sanctuary has an estimated population of more than 100,000 birds and spanning 170 species. Alternatively, take a boat tour or snorkelling trip to the Cades Reef to see this incredible underwater world and get up close and personal with the natural coral and marine life. You should also keep your eyes peeled on an island tour to see the giant tortoises, iguanas and parrots that inhabit Antigua. The top of our animal enthusiast to-do-list however is swimming with stingrays. At Stingray City you have the chance to get cosy in shallow waters with the rays where you can experience first-hand the beauty of their friendly nature.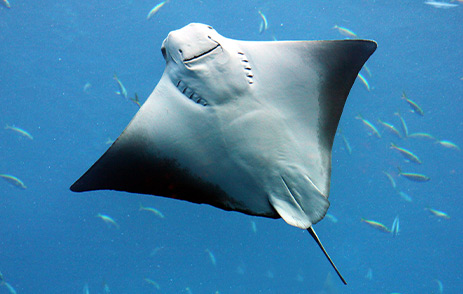 Get a taste of true modern Caribbean life by exploring the energetic capital of St John's which is encompassed by remnants of the island's colonial past. The capital holds everything from high-end shops to local boutiques and a vibrant farmers market (held every Friday and Saturday).
For inspiring views, take a hike to Shirley Heights Lookout Restaurant, which offers a spectacular must-see vista over the island. On Sunday evenings, locals and tourists congregate like church for the restaurants long running Sunday Barbecue Party. Now in its 31st year, no one seems to get bored of the stunning sunsets, mouth-watering food and lively steel band week after week.
Similarly to other Caribbean islands there is a wealth of other activities on offer such as water sports, tennis, cricket and fishing.
And if you are looking for a chill out day, set out to find a secluded cove on the island and relax in your own family's company in total paradise.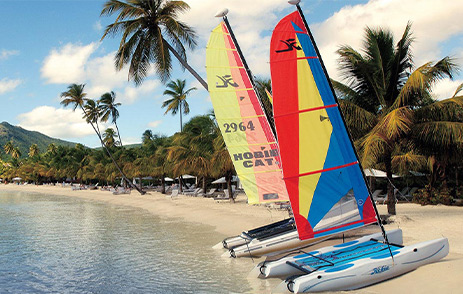 Carlisle Bay
The resort is embraced in beautiful surroundings, with rainforest spanning out on one side of the resort and the
Carlisle Bay Beach
on the other. Rooms are spacious, uncluttered and filled with incredible Caribbean light. Offering everything from a creche to a cool kids' club for the older children, adventure await here for the whole family, young and old. Try joining in a lively dance class, or stretching out with some sunset yoga, otherwise for maximum chill effect, relax in the cinema room or kick back with a new book in the library.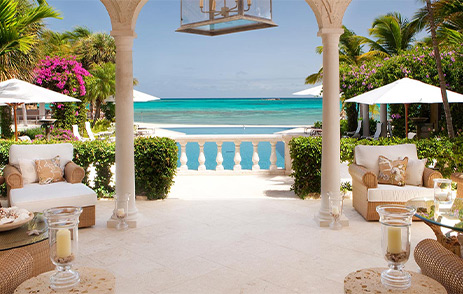 Jumby Bay

Jumby Bay
is an exclusive resort made up of separate luxury residencies. Split from the mainland on a private island the resort gives a real sense of peace, quite and privacy. More contemporary in design, the hotel offers modern amenities with a traditional welcome and hospitality. As well as providing everyone with a complimentary bicycle for ease of getting around the resort and offering a tennis club, cooking classes and a cinema on the beach to keep everyone busy, Jumby bay also caters for the exclusive needs of children of all ages with activities tailored just for them.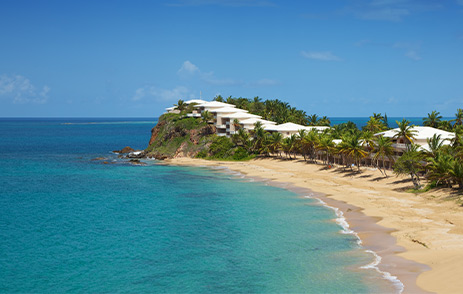 Curtain Bluff
This all-inclusive beach front resort is consistently ranked among the best hotels in the world. With superb views, elegant décor, state of the art facilities and impeccable service, this is the resort to choose if you want to have everything on your doorstep – even the stuff your hadn't thought of yet like basketball, squash courts, shuffleboard and a games room. The hotel also features an awesome kids programme, that provides activities such as chocolate making, crab races and tennis clinics.
The Bahamas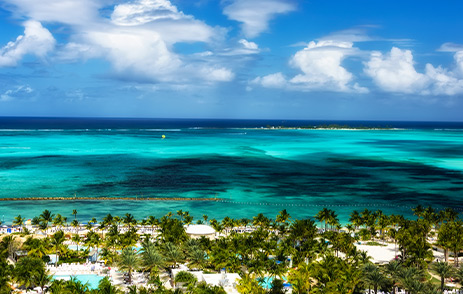 Average April temp: 23°c
Direct flight time from London: approx. nine and a half hours
The Bahamas
is made up of a cluster of more than 700 islands on the north western edge of the West Indies Ocean. With only a small minority of the islands inhabited, The Bahamas is a great destination to abandon your stresses and spend some time in total paradise with blissful beaches and clear turquoise waters. In fact, according to astronauts looking down on Earth, The Bahamas has the clearest water in the whole Caribbean region. Although temperatures vary slightly from location to location, even in rainy season (May through to November) The Bahamas offers year-round fantastic weather with more than 340 sunny days a year.
Nassau is the capital city of and is located on the island New Providence. Famous for its long past with pirates, it is dripping in interesting history and unique culture.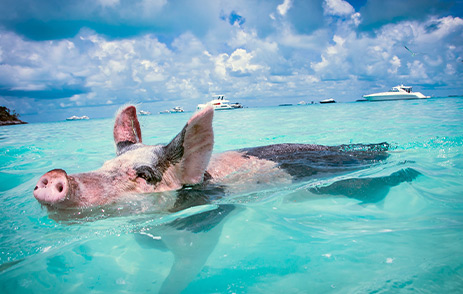 Spend your Easter in your very own utopia at Nassau with the whole family:
The aquarium at the Atlantis Paradise Island resort is one of the largest in the world, encompassing 14 lagoons, 8 million gallons of water and more than 50,000 aquatic animals from 250 different species. And if that isn't enough the aquarium is also connected to the Aquaventure Waterpark that holds 11 pools and a plethora of slides to enjoy – there is even a slide that runs through a shark tank!
Learn all about Nassau's pirating past at the Pirates of Nassau Museum. Notorious as being a haven for swashbuckling in the 18th century, the interactive exhibits are sure to have some interesting stories to tell. Or take a trip to Fort Charlotte a British-colonial era garrison built on a hill over-looking the harbour of Nassau complete with drawbridge and dungeons.
For all those young environmental warriors check out the Ardastra Gardens & Wildlife Conservation Centre. Set within four acres of lush tropical gardens and inhabited by a wild variety of animal species the centre is famous for its flamingos, parrots and boa constrictors. Alternatively, learn more about animal rescue and rehabilitation at Dolphin Cay on Paradise Island. The centre mostly cares for dolphins and sea lions and visitors can participate in animal interactions that help build awareness and continue to fund the conservation efforts of the Atlantis Blue Project Foundation. The Baha Mar Sanctuary at Cable Beach, Nassau is also an interactive ecological conservation centre. Guests of all ages can experience a hands-on encounter and observe daily feeding with sea turtles, rays and nurse sharks.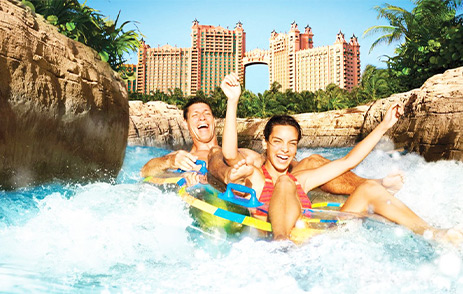 Do your kids like to take a souvenir home after a holiday? Visit the Nassau Straw Market on Bay Street where you will find handmade and traditional straw baskets, wood carvings and beaded necklaces alongside a whole host of other island-themed souvenirs.
If you are up for an adventure take a day tour to Pig Beach on the island of Exumas. Completely uninhabited by people, you will see no human footprints in the sand. However, the beaches are infamous for being home to large iguanas and a jolly bunch of snorting pink pigs that are always happy to receive guests.
For teenagers who are desperate for that most instagramable holiday picture, take the ferry for the day to Harbour Island to witness and snap away at the hugely popular Pink Sands, famous for its – well, pink sand.
There are plenty of other water-based family fun activities for all from jet skiing and scuba diving to snorkelling and underwater scooters. If you like to stay dry, fully embrace the Caribbean vibes and kick back with a stroll through pastel-coloured buildings or take an authentic horse-and-cart ride through town.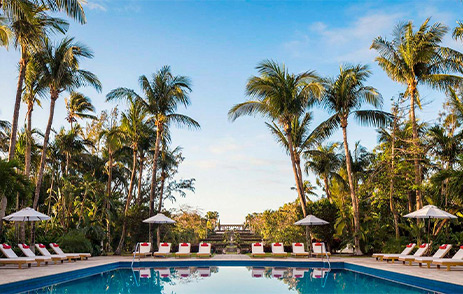 The Ocean Club, Bahamas
The Ocean Club
is situated on the aptly named Paradise Island, complete with tropical palm trees, stretches of white sandy beaches and an idyllic climate. Suitable for the full brood, the hotel offers a variety of accommodation from guest rooms, garden cottages and private villas to suit everyone's requirements. It also presents a fantastic scheme for kids aged from 4 to 12, entertaining them all day which is great for parents who need some alone time. During your stay you can also make use of the Ocean Club golf course and neighbouring facilities at the Atlantis resort.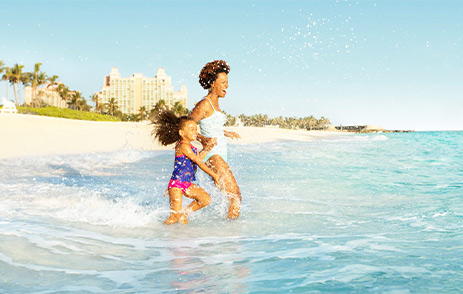 The Cove, Atlantis
The Cove, Atlantis
is the ultimate family destination. Boasting a world-renowned selection of outstanding facilities including a golf club, spa and an amazing variety of activities on offer, including complimentary access to Aquaventure Waterpark. Combine that with the resorts' high quality accommodation, beautiful beaches and world-class dining, a stay at The Cove promises to be the holiday you've always dreamed of.
If you still can't make your mind up which destination to visit, check out our
full guide to the Caribbean
and weight up your options with these holiday showdowns between
Antigua versus Barbados
and
Barbados versus St. Lucia
. Alternatively, get in contact with a member of our personal travel management team to discuss where is best for you and your family, call 0203 816 0985 or submit an enquiry
here
.
Share with someone you'd love to travel with

Rachel Lane
Rachel Lane is a Content Writer