0203 816 0985
Let's talk. We're open Mon-Sun 9am - 6pm
We're open Mon-Sun 9am - 6pm
The UAE's enormous reputation proceeds it around the world. It is not unusual when thinking of the region to first picture the glamourous city lifestyle, super-sized entertainment, and luxurious cars. However, the Middle East is much more than just a record-breaking metropolis full of awe-inspiring sky-high buildings. In fact, the UAE is currently topping the bucket list of many travellers for completely different reasons altogether. Set away from the fashionable urban landscape and nestled between dusty dunes, you will discover a range of remote desert retreats - some of the
best hotels in Dubai
, Abu Dhabi and Ras Al Khaimah. These hidden resorts are quickly becoming more and more popular with the adventurers at heart, those that long to run wild, get up close to wildlife, explore the natural terrain and seek relaxation in the solitude that this environment induces. Allow us to introduce our top picks for luxury escapes in the Middle East that might just tempt you into taking a closer look at this other exciting side to the UAE.
Al Maha, A Luxury Collection Desert Resort & Spa
Photo Credit: Instagram/@sebastien.nagy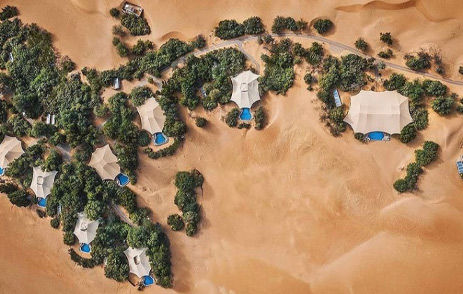 Destination:
Dubai
Al Maha Resort & Spa
provides a level of tranquillity almost unimaginable. Located deep in the Dubai Desert Conservation Reserve, this resort is a luxurious oasis surrounded by lush palm groves and wispy sand dunes. While otherworldly, a stay here will not sacrifice the luxury you are accustomed to.
Photo Credit: Instagram/@almaha_resort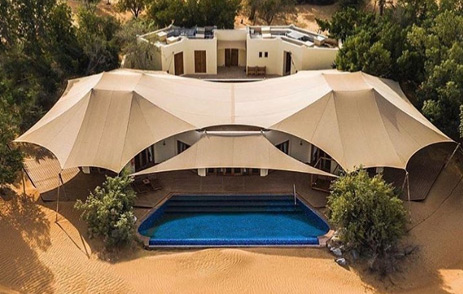 The five-star resort boasts private swimming pools, majestic mountain views and accommodation that's completed with authentic antiques and high quality furnishings, including marble bathrooms with his and her vanities. Additional thoughtful touches in the rooms are a lovely bonus too, including binoculars and art materials, ready for you to follow any creative instincts you may have when feeling inspired by your surroundings.
Photo Credit: Instagram/@almaha_resort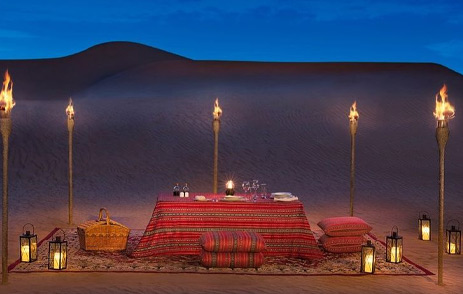 Importantly the reserve consistently monitors the conservation of indigenous desert species and provides training to all Field Guides on how to uphold the best conservation practices while leading guests through encounters in this wild landscape. From archery to nature walks, desert drives and camel trekking, guest sure are in for a wild ride with a stay at Al Maha. The activities are all reflective of the Bedouin way of life and showcase the uniqueness of the destination, but also modern in approach with a nice slice of luxury added. No safari experience is complete without watching the sun set behind the dunes while enjoying a delicious glass of chilled Champagne!
Photo Credit: Instagram/@almaha_resort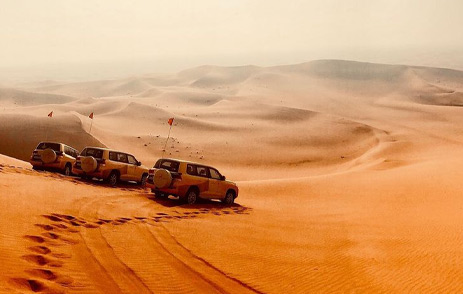 Once you are fully immersed in the desert environment, turn your attention to the spa to reach whole new levels of relaxation. Let the worries of the outside world slip further out of sight, at the Timeless Spa, where the wisdom of aromatherapy traditions is used to create the very finest holistic treatments and healing practices. To round up this dreamy destination more, how about some outstanding dining options? Expect an eclectic culinary adventure at the signature Al Diwaan restaurant or, experience the art of fine dining either under the Arabian sky in a secluded spot or on your private decking outside your suite - both are set to wow!
Anantara Sir Bani Yas Island Al Yamm
Photo Credit: Instagram/@anantarasirbaniyas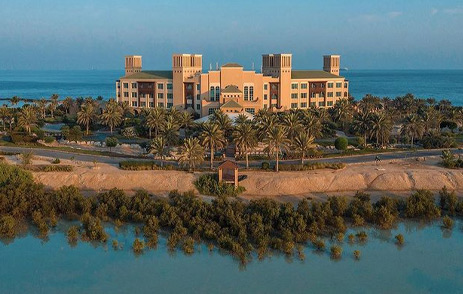 Destination:
Abu Dhabi
Okay, so
Anantara Al Yamm
may not be deep in the desert, but it had us fooled! This gem within the Emirates is situated on a private island just off the coast of Abu Dhabi and within a protected wildlife sanctuary. Only accessible by water taxi or seaplane, here you can truly experience discretion that only comes with this level of privacy from the outside world.
Photo Credit: Instagram/@anantarasirbaniyas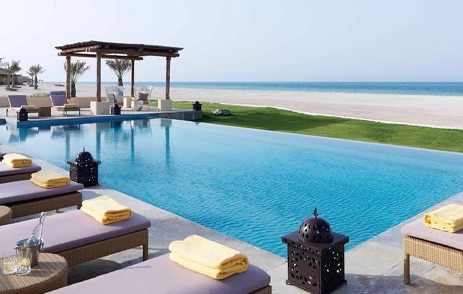 Reminiscent of a traditional fishing village, the resort is an all-villa sanctuary that provides guests with elegant accommodation, boasting a host of luxurious comforts and unobstructed views over mangroves and the dazzling Arabian Gulf.
Photo Credit: Instagram/@anantarasirbaniyas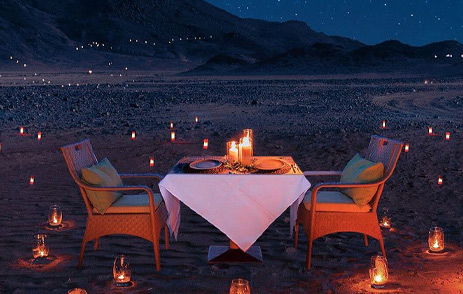 With terrain varying from savannah and beaches to salt domes and mangroves, this is mini world of adventure waiting to be explored. Home to free-roaming animals, including the Arabian Oryx, the wildlife park is a great place to kickstart your escape. Oh, and be sure to keep your eyes peeled for cheetahs, hyenas, ostriches and giraffes. If you are interested in history, opt for a cultural tour. The island is scattered with more than 42 archaeological sites including a monastery dating from 600 A.D. Or, if you are more at home on the water, glide on a kayak through the tangled mangroves and get close to flocks of migratory birds that gather on this desert island haven.
Photo Credit: Instagram/@anantarasirbaniyas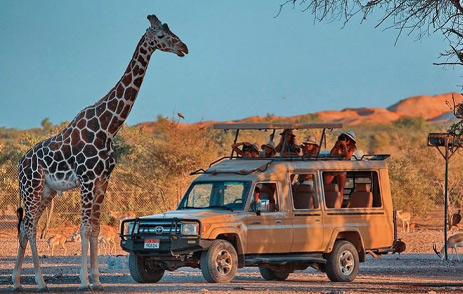 Guests of Anantara Al Yamm can not only enjoy the facilities within this resort but can venture to sister resorts
Anantara Al Sahel Villa Resort
and
Anantara Desert Islands Resort & Spa
, all found on Sir Bani Yas Island. This means multiple spa services in spectacular settings, an array of dining options ready to spoil your tastebuds, not to mention swimming pools, fitness centres, libraries, tennis courts, and kids' clubs at your disposal. One thing is for certain these resorts offer a distinct escape from the world with a combination of enticing activities that you are unlikely to witness anywhere else.
Qasr Al Sarab Desert Resort By Anantara
Photo Credit: Instagram/@ras_al_khaimah.eu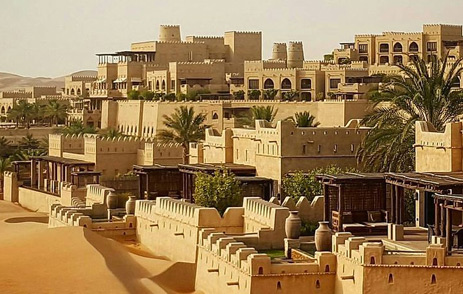 Destination:
Abu Dhabi
Now here is a real desert destination! Located in Abu Dhabi's Empty Quarter, the largest uninterrupted body of sand in the world, you will find the
Qasr Al Sarab Desert Resort
.
Photo Credit: Instagram/@qasralsarab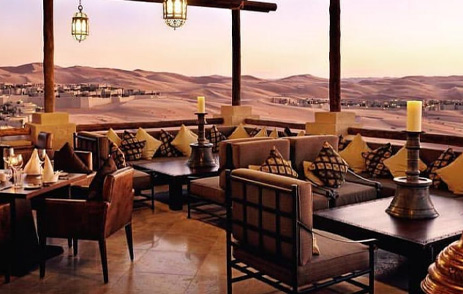 Not too dissimilar to a quintessential image of an oasis illusion, this five-star resort by Anantara is wild enough for guests to take on a plethora of adrenaline packed adventures, while still being located just 90-minutes from Abu Dhabi International Airport.
Photo Credit: Instagram/@mariasphotoclicks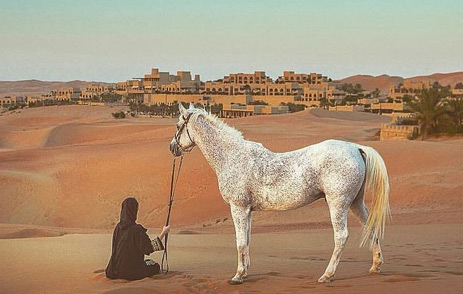 Inviting adventure in the most luxurious fashion, Qasr Al Sarab Desert Resort provides a collection of escapades to add to your collection. From dune bashing in a custom adapted vehicle, to camel or horse trekking across the landscape, or even a spot of sand boarding, exhilaration is never far away. What's more, is the resort has also developed an exciting range of treasure hunts, cookery classes and desert excursions that will enthral the younger generation too, so this holiday can be a family affair to treasure.
Photo Credit: Instagram/@karryontravelling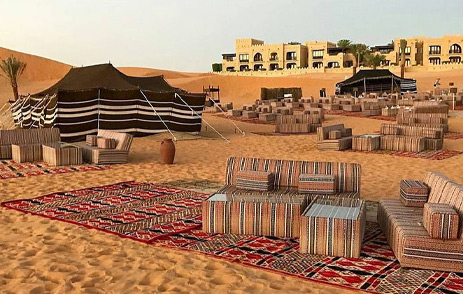 With five delicious on-site restaurants serving an array of cuisine the seclusion of this resort certainly will not impact the culinary experience of your travels. That's before we even mention the dining by design possibilities, where guests can maximise the surrounding scenery and choose to dine on a candlelit table amongst the dunes or enjoy a private barbeque in the desert.

Visitors often find the tranquil setting of the resort provokes healing and rejuvenation, and what better place to facilitate that other than at the Anantara Spa. Combining Middle Eastern remedies and Thai expertise the spa can transport you on a journey of relaxation that will leave a lasting impression on your mind and body. Unwind in the traditional Moroccan hammam and enjoy a variety of massages and signature treatments or take a balancing yoga practice before sinking into a Jacuzzi as the sun sets behind the sands – no regrets!
The Ritz-Carlton Ras Al Khaimah, Al Wadi Desert
Photo Credit: Instagram/@gmr83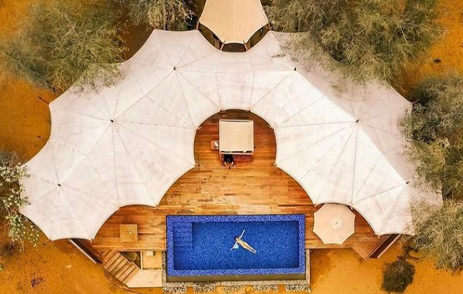 Destination:
Ras Al Khaimah
Located in the midst of the Al Wadi Nature Reserve, a protected 1,235 acres of desert terrain, this resort is a perfect location from which to explore desert topography and dive into a host of exhilarating activities.
Photo Credit: Instagram/@benoitlblanco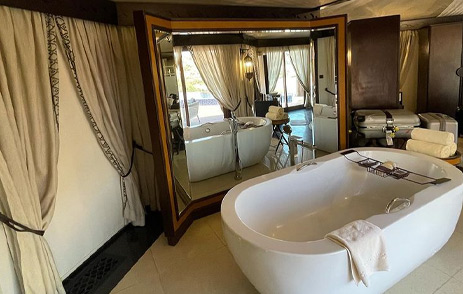 From the luxurious base of
The Ritz-Carlton Ras Al Khaimah, Al Wadi Desert
guests have an exceptional opportunity to experience ancient desert activities, discover the spectacular surrounding landscape and wildlife, all while upkeeping an imperative level of palatial comfort.
Photo Credit: Instagram/@ritzcarltonalwadidesert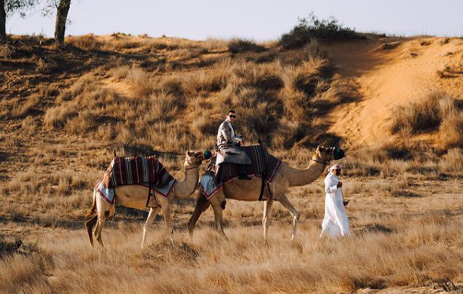 Dive into an unforgettable experience with the entire family at The Ritz-Carlton Al Wadi Desert with a multitude of activities available from stargazing to discovering local wildlife and bird spotting. The resort also hosts an interactive falcon and owl show, which demonstrates the importance of falconry in the Bedouin culture and its history, which the kids are sure to love. Why not learn about the importance of preserving the environment and leave a lasting impression on the resort by assisting with the development of the Heritage Forest and planting a native Ghaf tree? For the more active amongst you ramp up some energy by trying your hand at archery, conquering the rolling sands on off-road bikes or heading to the Equestrian Centre for horse, pony and camel rides, available for every level of experience.
Photo Credit: Instagram/@ritzcarltonalwadidesert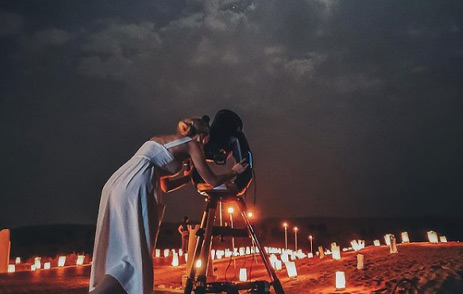 The resort itself is made up of Bedouin-style villas each with its own private pool and decked lounge area. While to the outsider they may appear like tent-like accommodation, this is no ordinary camping trip, instead boasting luxurious bathrooms with floor-to-ceiling windows and desert views. The resort is also home to a lavish spa with state-of-the-art hydrotherapy facilities; five impeccable dining options and all the other amenities you would expect from a world-class five-star hotel – you won't believe it till you see it.
Uncovering the desert for yourself offers the opportunity to re-connect with nature, admire your surroundings as well as learning about the region and its long-held traditions. Tourists are only recently discovering this other side to the emirates that has been admired by Bedouins for thousands of years. Visitors are attracted to the sheer beauty of the picturesque landscape but also the immense tranquillity that it creates. A visit to any of these luxurious resorts within this exciting region is certainly an opportunity to sample the extraordinary.
Bucket lists are designed to be ticked off - so what are you waiting for? A trip to any of these incredible destinations would certainly be a huge tick off any wish list! If you would like to know more about travelling to the UAE, speak to one of our personal travel managers who are experts on the region by calling 0203 816 0985 or submitting an enquiry form today.
Share with someone you'd love to travel with

Rachel Lane
Rachel Lane is a Content Writer