0203 816 0985
Let's talk. We're open Mon-Sun 9am - 6pm
We're open Mon-Sun 9am - 6pm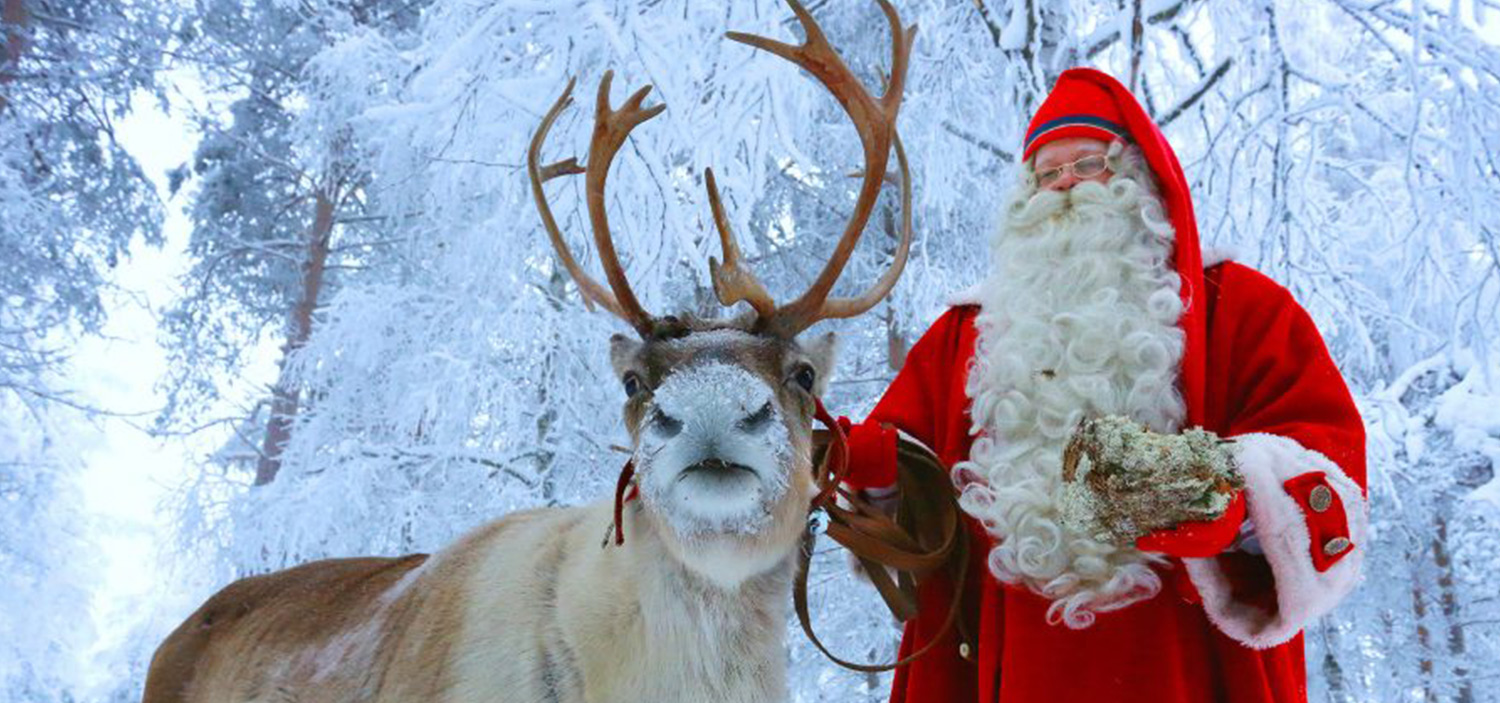 Visit Santa in Finland
Destination: Finland
Make Christmas even more special this year by visiting the big man himself in Finland. Santa Claus Village is just a 10-minute drive from the centre of Rovaniemi and oozes festive cheer.

You can easily spend a full day in this winter wonderland, with gift shops, reindeer and elves aplenty. Learn some skills at the onsite Elf School or visit the Ice Princess in the Ice Gallery. You can also enjoy a sleigh ride pulled by Siberian huskies before exploring the village on snowmobiles… the choice is yours. What's more, there's a Moomin Snowcastle that the whole family's sure to love, with snow labyrinths, mini snowmobiles and even an ice slide.

However, the most popular attraction is sitting inside a magical grotto, waiting to tell you whether you're on the naughty or nice list. See your little cherub's face light up as they receive a gift directly from Santa Claus, and make sure to swing by the Christmas exhibition at Santa's House where you'll get to learn all about the various festive traditions from around the world.

WINGED BOOTS WISDOM
If you thought Santa Claus Village only operated during the Christmas season, then think again as it's open every day of the year. In the summer, you can enjoy hikes through the area and in August, Northern Lights safaris can even be booked.
Venue Details
In/Out: Outdoors

Duration: Up to 8hrs

Traveller Type: Families, Children

Best for: Family Fun, Adventure

Address: 96930 Rovaniemi, Finland

Opening Times:
1st December – 6th January: 9am – 7pm 7th January – 31st May: 10am – 5pm 1st June – 25th August: 9am – 6pm 26th August – 30th November: 10am – 5pm
Map & Address
Private transfers from your hotel are available if you're staying in Rovaniemi hotel.

Private transfers from your hotel are available if you're staying in Rovaniemi hotel.

Address: 96930 Rovaniemi, Finland
Opening Times:
1st December – 6th January: 9am – 7pm 7th January – 31st May: 10am – 5pm 1st June – 25th August: 9am – 6pm 26th August – 30th November: 10am – 5pm