0203 816 0985
Let's talk. We're open Mon-Sun 9am - 6pm
We're open Mon-Sun 9am - 6pm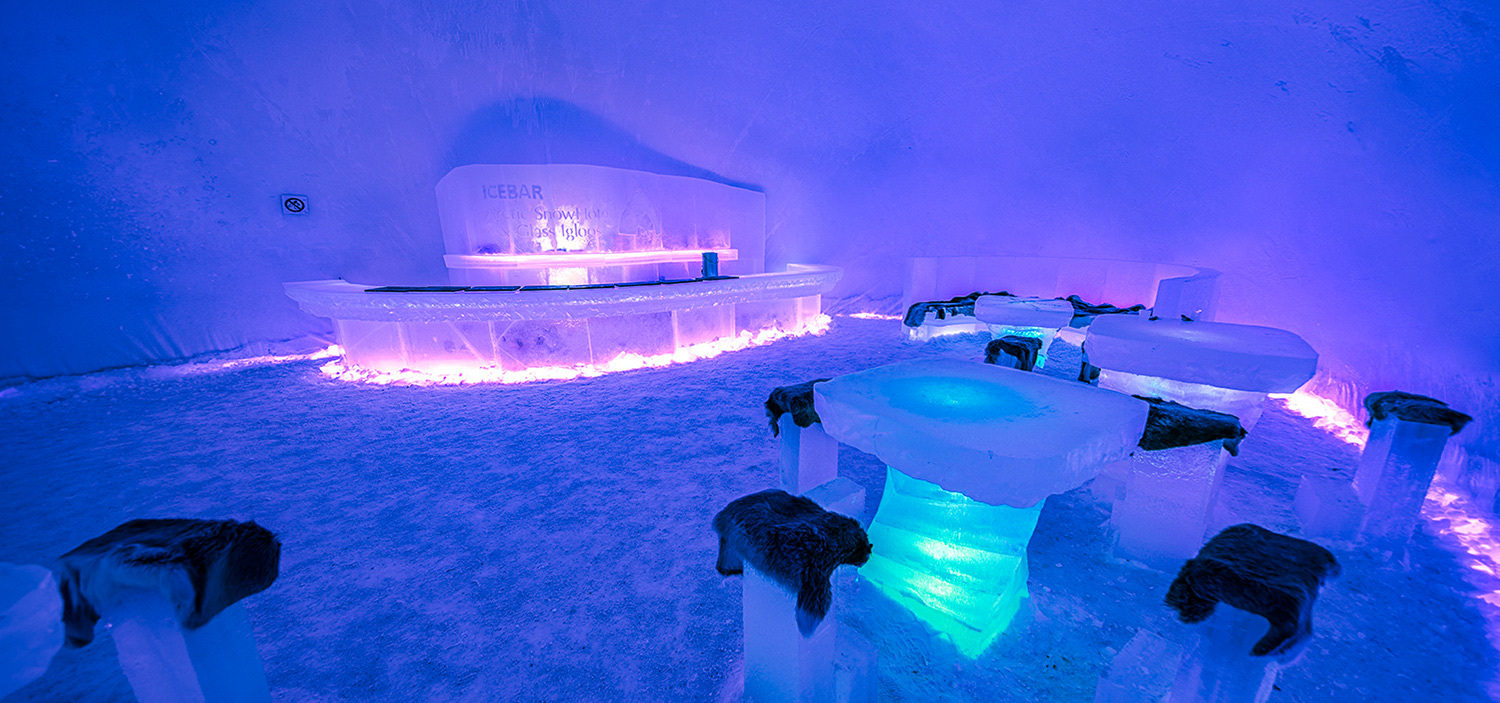 Dine In The Ice Restaurant
Destination: Finland
Foodies, listen up – this one is for you! A dining experience that will live on way past your final mouthful of dessert, this arctic snow castle dinner in Finland takes top bill as our favourite way to dine.

Wrap up warm as your setting is in the famous ice hotel – located just 25km from Rovaniemi city centre – where the average temperature is kept at a chilly five-degrees.

The food is a typical arctic feast so arrive hungry as the three-courses of local delicacies certainly won't disappoint. For mains, expect fish or reindeer served on a plate made from (surprise, surprise) ice, while post-dinner drinks are offered in the adjacent bar where your whiskey on the rocks is served in a chiselled ice block meticulously carved into a glass – no rocks needed!

As part of the experience, before dining you'll embark on a guided tour of the hotel and chapel where each room has been meticulously designed by a famous local artist. Sleeping up to 70 guests across 30 hotel rooms, each is unique in décor and boasts illuminated artwork. The entire suite, including all its furniture, is made from ice – except, of course, the fleece-lined sleeping bags for overnight guests – and the hotel is rebuilt every year meaning that no two visits will ever be the same.

The experience includes return transfers from hotels within Rovaniemi city centre.

WINGED BOOTS WISDOM
The SnowHotel also boasts glass-topped igloo accommodation for those that would prefer to sleep on a springy mattress. Get in touch with our personal travel managers today to book your stay.
Venue Details
In/Out: Indoors

Duration: 4hrs approx.

Traveller Type: Adults, Couples, Families

Best for: Food & Wine, Cultural, Food & Wine, Unwind

Address: Lehtoahontie 27, 97220 Rovaniemi, Finland

Opening Times:
6pm - 10pm
Map & Address
Private transfers from your hotel are available if you're staying in a hotel in Rovaniemi City centre.

Private transfers from your hotel are available if you're staying in a hotel in Rovaniemi City centre.

Address: Lehtoahontie 27, 97220 Rovaniemi, Finland
Opening Times:
6pm - 10pm