0203 816 0985
Let's talk. We're open Mon-Sun 9am - 6pm
We're open Mon-Sun 9am - 6pm
Which part of Thailand is right for you?
From the luscious greenery of the north to the pristine beaches of the south, where should you go?
The ultimate island-hopping destination where you simply cannot visit and stay in just one place, Thailand appeals to all… but which area should you incorporate into your itinerary? We give you our rundown of the top locations, from the idyllic scenes of the southern beaches to the hustle and bustle of the cities, you can be sure that everyone, from the adventurers and the beach bums to the all-night-goers, will find their next getaway. We must warn you though, chances are you'll find more than one place to add to your wanderlust list...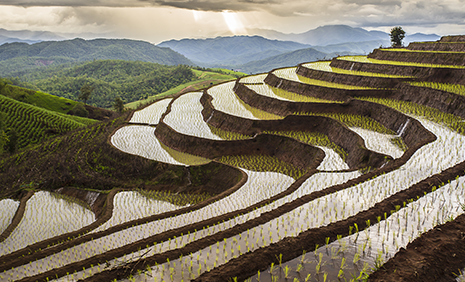 Phuket
Big Buddah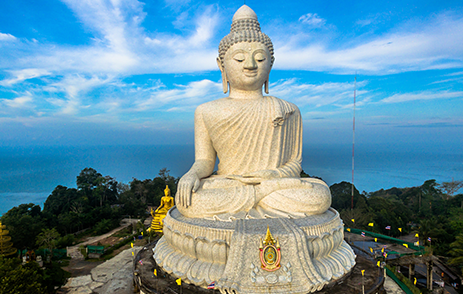 Rosewood Phuket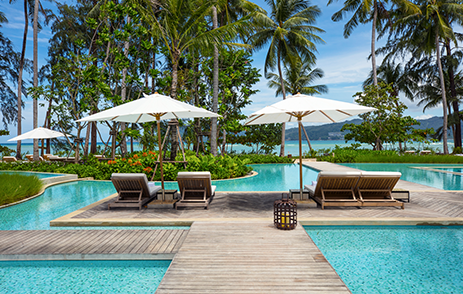 Easily the country's most popular destination, its largest island Phuket is a great introduction to Thailand. Expect swaying palm trees, more than 30 white-sand beaches and an abundance of choice when it comes to dining and luxury hotels. Phuket is also a great base for those who want to visit multiple Thai must-sees without committing to staying overnight. The Phi Phi Islands can be reached in just two-hours by ferry, while the two Koh Yao isles are just 25-minutes away via long tail boat or ferry from the east of the island. Live out your day-trip dreams here, or alternatively incorporate this isle into a larger itinerary to really enjoy the variety of the country.
Best for:
Beaches
Getting here:
1-hour domestic flight from Bangkok
Where to stay:
Rosewood Phuket
Number one must see:
Big Buddha
Bangkok
The Grand Palace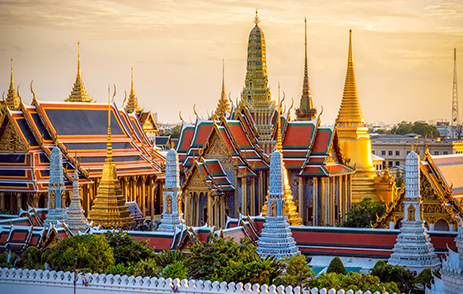 The Siam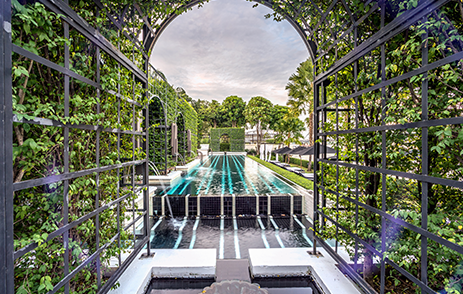 A feast for all the senses, Bangkok is unlike anywhere you have ever been before. Smells of exotic spices ribbon their way through the narrow streets, a flurry of colour flashes in every direction and awe-inspiring temples and traditional Thai architecture line the winding Chao Phraya River. It's busy, it's fast-paced and it's a great way to witness the white-collar version of Thailand without a beach in sight. Thought the days were busy here? After dark, Bangkok comes alive! Night markets bursting with typical Thai street food and shopping fuses with an electric party scene where rooftop bars take centre stage.
Best for
: An insight into city life
Getting here:
12-hour international non-stop flight
from London
Where to stay:
The Siam
Number one must see:
The Grand Palace
Koh Samui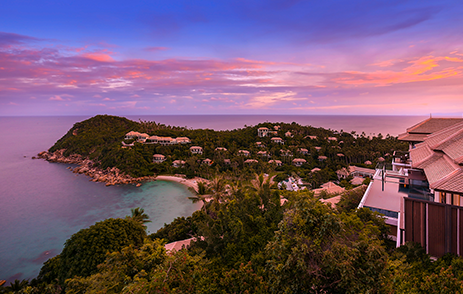 Banyan Tree Samui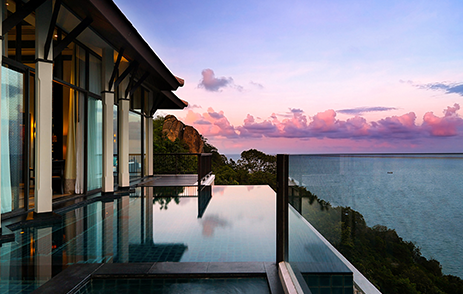 Another great all-rounder, this island off the east coast of southern Thailand is a cosmopolitan melting pot of authentic cuisine, stunning beaches, traditional Thai culture and natural beauty. From Muay Thai Boxing and an army of bars and restaurants in Chaweng Beach to temples, waterfalls and amazing snorkelling opportunities at Ang Thong National Marine Park, there is something for all here. However, families are particularly welcome thanks to the multiple waterparks, crazy golf facilities and international restaurants that cater to all taste buds. But couples and large groups, don't fret. Koh Samui has a wealth of adult-orientated past times too including the world-famous Nikki Beach Beach Club where Sunday brunch is more than just a meal, it's an entire event!
Best for
: Families and first-time visitors
Getting here:
1-hour 15-minutes domestic flight from Bangkok or 1-hour domestic flight from Phuket
Where to stay:
Banyan Tree Samui
Number one must see:
Ang Thong National Marine Park
Koh Yao Noi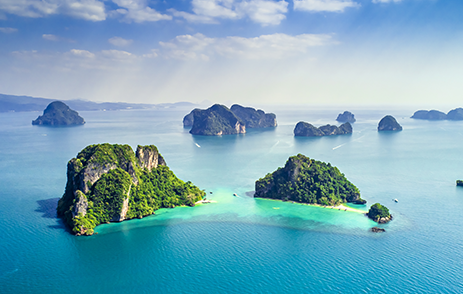 Six Senses Yao Noi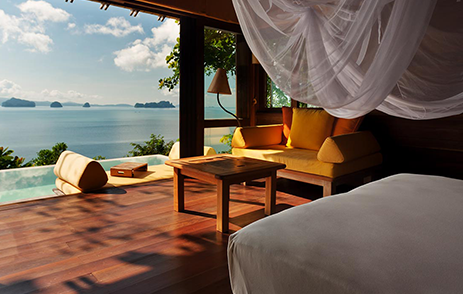 If you're on the hunt for a Thai destination to wow your friends with upon return, you can call off the search. Located within the tourism triad of Phuket, Krabi and the Phi Phi Islands, Koh Yao Noi is an unspoilt gem in the Andaman Sea. With views of Ao Phang Nga National Park and a serene stillness to life, this relatively undiscovered paradise has everything you need to truly get away from it all. An authentic Thai experience is guaranteed here where guesthouses and friendly locals reign supreme and just a few minutes' walk off the beaten track will lead you to a hidden beach and untouched corner of Mother Nature's best work. The island only welcomed its first 7-Eleven in 2018 which proves how it is cut-off from the remainder of commercialised Thailand. It's here that you'll discover there's no end to this country's beauty.
Best for
: An untouched island escape
Getting here
: 25-minutes by ferry from Phuket
Where to stay:
Six Senses Yao Noi
Number one must see:
Koh Hong
Krabi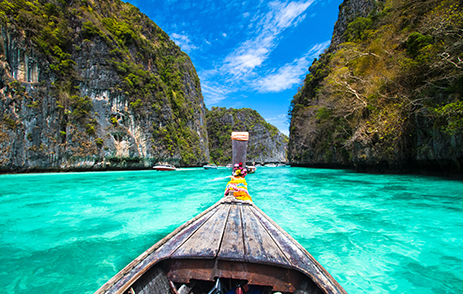 Rayavadee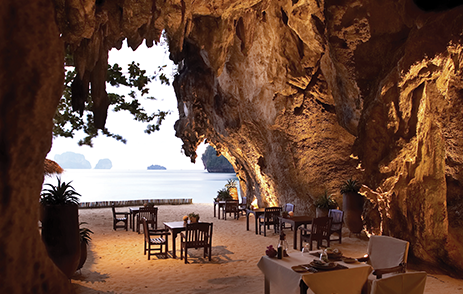 Famed for its limestone formations and amazing beaches, the coastal province of Krabi comprises 154 islands – each one as stunning as the last. The well-known Phi Phi islands fall under Krabi's radius as does coral-fringed Koh Lanta alongside a plethora of neighbours including the popular Koh Poda. The mainland is an malgamation of beauty from the lush green jungle to the bustling night markets, every corner tells its own story. For first-time visitors, head to Ao Nang where deluxe hotels decorate the coast and a wealth of delectable restaurants entice you with their scents of lovingly-cooked cuisine.
Best for:
Island hopping
Getting here:
1-hour 20-minutes domestic flight
from Bangkok
Where to stay
:
Rayavadee
Number one must see
: Krabi Town, via longtail boat
Chiang Mai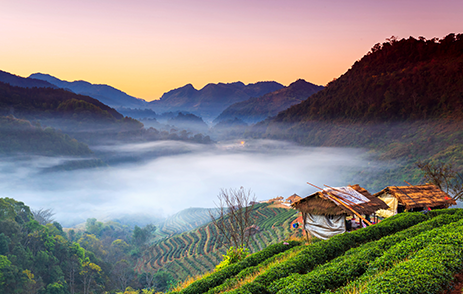 Anantara Chiang Mai Resort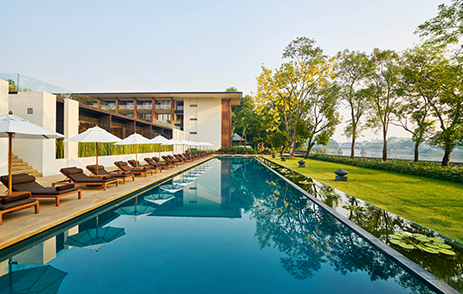 Located in mountainous northern Thailand, Chiang Mai has a strong undercurrent of traditional Thai attitude and atmosphere despite its years of tourism. With a sleepy village feel rather than a bustling city, if you're after laidback living, this is the spot for you. Spend time brushing up on your culinary skills with cookery classes, relax with a Thai massage or explore the boutiques and stalls looking for handicrafts and antiques… no two days will be the same. Here, swap beaches for rainforests and the sound of the Andaman lapping the shore for the steady flow of a picturesque waterfall. It's a different way of life from the popular southern islands but is a great stop to discover Thailand's rural side.
Best for
: An authentic Thai experience
Getting here
: 1-hour 15-minutes domestic flight from Bangkok or 2-hour domestic flight from Phuket
Where to stay
:
Anantara Chiang Mai Resort
Number one must see:
Festival of Light
Khao Lak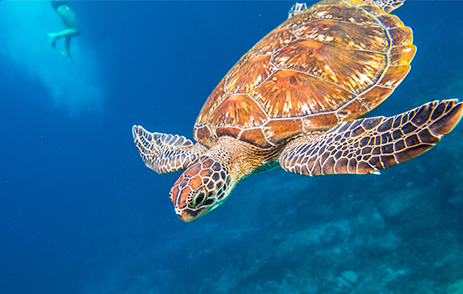 The Sarojin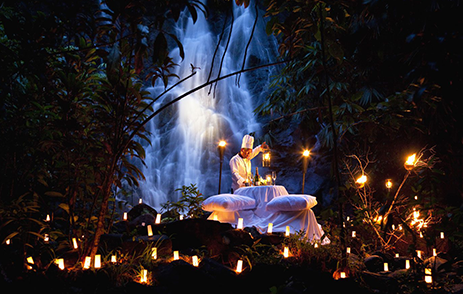 Located around 100km north of Phuket, Khao Lak is bursting with natural beauty. From the mountain in the centre of the Khao Lak Kam Ru National Park to the striking low-rise limestone formations that border the edge of the world-famous Similan Islands, be sure to pack your camera for this one. Khao Lak is slowly becoming more built up but there are still pockets of untouched jungle and deserted beaches… the thrill is in finding them. If you're the type of traveller who enjoys discovering hidden gems and are after a relaxing holiday, you'll love a few nights' stay here. Especially if those few nights are spent at The Sarojin!

Best for: Discovering National Parks
Getting here: 2-hours by car from Phuket or Krabi
Where to stay: The Sarojin
Number one must see: Similan Islands 
Let's not forget
Kata Rocks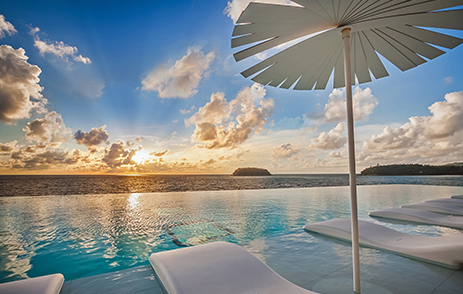 Soneva Kiri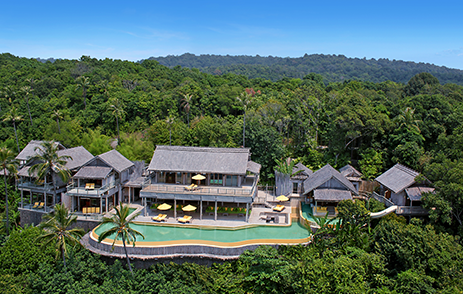 Koh Tao: A great spot for diving, if you're not already qualified this isle is perfect for completing a PADI course.

Koh Phangan: From the world-famous Full Moon party to the serene hideaway of Secret Beach, this island has something for everyone.

Koh Kood: Relatively remote, this one's ideal for an authentic taste of Thailand and for Thai veterans looking to experience something new. Be sure to check-in to Soneva Kiri for ultimate luxury.

Chiang Rai: Chiang Mai's smaller neighbour, this northern Thailand city has temples by the bucket load and for the adventurous, you can even spend a night with the indigenous Akha Hill Tribe.

The mainland is an amalgamation of beauty from the lush green jungle to the bustling night markets, every corner tells its own story.
FIVE MINUTES WITH...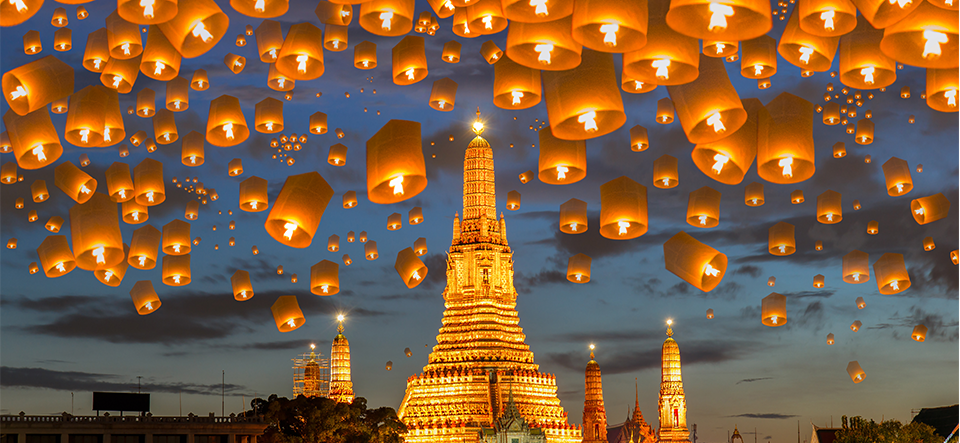 We put your questions to Emma Arnott, the Trade Marketing Manager for Tourism Authority of Thailand
As a first-time visitor to Thailand, how long should my trip be to see as much of the country as possible?
Thailand has so much to offer and two weeks is the recommended amount of time to do a diverse itinerary. I would start by visiting either Phuket or Koh Samui for some island hopping. After I would recommend catching a flight to the wondrous Chiang Mai where you can visit temples, elephant sanctuaries, hill tribes and soak up the atmosphere in the amazing night bazaar and riverside area. From there, it is only a short flight to Bangkok which has a trendy nightlife culture with many rooftop bars and incredible views. Be sure to visit the famous Grand Palace, the floating markets and the Bridge over the shimmering waters of the grand River Kwai.
My family are thinking of visiting Bangkok. Is it suitable for a toddler?
With careful planning, Bangkok can be suitable for a toddler and there are many hotels that have baby-sitting services and kids' clubs. With a baby sling or carrier, Bangkok is very easy to navigate with the BTS sky train and the underground making many top sites accessible.
What is your number-one must-try typically Thai dish?
My favourite meal is kra pao gai. This is a spicy dish with chicken or pork, basil and beans, topped off with a fried egg and served with rice. It can be found anywhere in Thailand and is delicious.
Finally found your perfect location for that holiday of a lifetime? Call one of our personal travel managers now on 0203 816 098 or enquire here and your bespoke getaway to the corners of this beautiful country will be our top priority.
Share with someone you'd love to travel with

Lauren Godfrey
Lauren Godfrey is a Marketing Manager