0203 816 0985
Let's talk. We're open Mon-Fri 9am - 6pm
We're open Mon-Fri 9am - 6pm
Top Airport Lounges From Around The World That You Simply Have To Experience At Least Once In Your Lifetime
For some, a holiday or work trip begins as soon as they step foot in the airport lounge... and with the luxury amenities on offer it's easy to see why! Whether you fancy tucking into gourmet dishes crafted by a critically acclaimed chef, taking five minutes on a secluded terrace or enjoying a complimentary spa treatment, rest and relaxation before you step foot on the plane is pretty much a guarantee. Not convinced? We've run through some of the best in the world from Sydney, Australia to the capital of the UAE, Abu Dhabi, we've left no luxury stone unturned in the name of optimum comfort.
Qantas First Class, Sydney Airport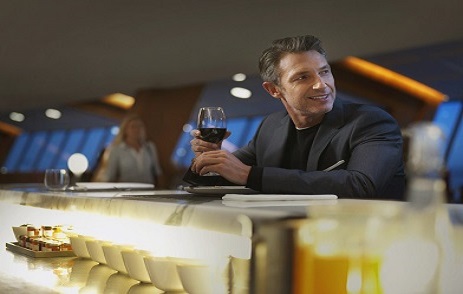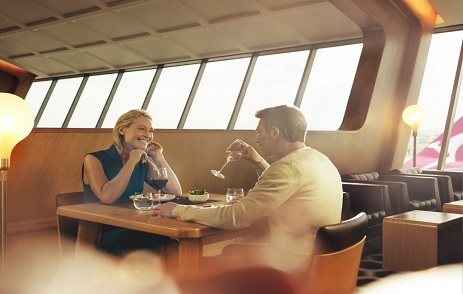 Best for: Business Travellers

The ideal base for an unforgettable holiday, the Qantas First Class lounge at Sydney Airport is every traveller's dream. Created by industrial designer Marc Newson there are multiple seating arrangements to suit your mood as well as a spa where you can enjoy a complimentary treatment before you take off. The 20-minute offerings by Aurora Spa include massages, hand and foot rituals, facials and eye treatments to relax, brighten and awaken the body.

You'll then get the chance to dine on gourmet food from a menu that's specially crafted by Australian chef Neil Perry. Seasonal ingredients are used throughout with dishes such as salt and pepper squid, the club sandwich and pavlova three of the most popular. Add into the mix a wide choice of wine and champagne - the lounge goes through 200,000 bottles of the bubbly stuff a year - and your lavish lounge experience is sorted.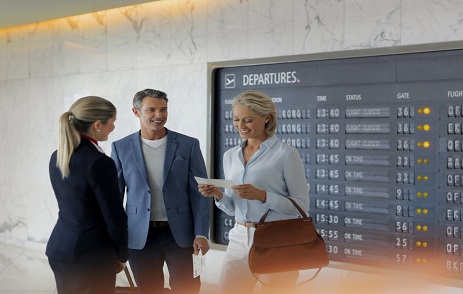 Business travellers will also be pleased to hear that the venue boasts free Wi-Fi, various meeting rooms and iMacs to use, so you're always connected to your work colleagues and those all-important emails. Another perk is the chance to be fast tracked through immigration at selected ports as well as chauffeur transfers to your flight. To access this world-class lounge you must be a Qantas member or be travelling in either first or business class.
For a holiday down under that will make you feel on top of the world, Sydney has plenty of five-star hotels to choose from. To start booking a holiday that's out of this world from start to finish enquire here or call one of our personal travel managers now.
SWISS First Class Lounge Zurich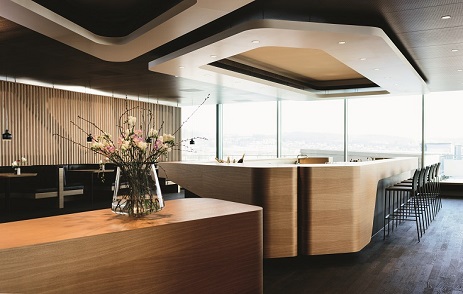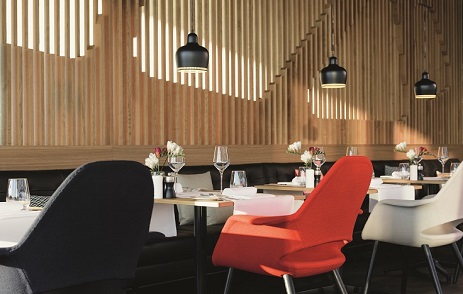 Best for: Foodies

For comfort and luxury in equal measures, the SWISS First Class Lounge certainly delivers. Located in Terminal E of Zurich Airport (plus a sister lounge has recently opened in March 2018) travellers can expect nothing but the best with a stint here.

Karin Muller, head of media relations and online communications at SWISS International Air Lines Ltd says that the lounge has plenty to offer. "The SWISS First Class Lounge offers a five-star á la carte restaurant with waiting staff and a wine cabinet with approximately 1,000 bottles," she says. "Furthermore, our first-class guests are able to rest in one of our two hotel rooms featuring box spring beds and a separate bathroom."

Views of the runways and the Swiss Alps can also be seen courtesy of the expansive terrace that clocks in at an impressive 352-square metres. However, the biggest benefit is the close proximity to departures. "The SWISS First Class Lounge in Terminal E is only a few minutes away from the departure gates of the international SWISS flights," Karin says.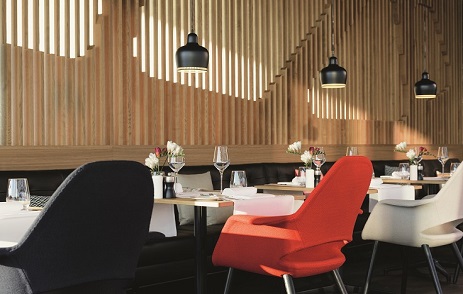 Returning customers come back for the lounge's unrivalled service, with the impeccable staff always striving to reach the extra mile for each and every guest. It's thanks to this service and team that there's demand for a new First Class Lounge which has recently opened in March 2018. Complete with its own security checkpoint, this lounge eradicates lengthy queues making for a seamless airport experience.

But that's not all. "First Class passengers will be offered a limousine shuttle service to the gates or to the First Class Lounge in Terminal E. Among the many highlights of the new First Class lounge in Terminal A are the barista bar with more than 100 types of digestives, an á la carte restaurant with front cooking as well as showers, a silence room and a smoker's lounge with an outside area," Karin adds. We don't know about you, but we can't wait.

For an equally lavish and glamorous hotel to match your first class lounge experience in Switzerland. A world of luxury is mere moments away. Call one of our personal travel managers on 0203 816 0985 today to organise your Swiss getaway.
Thai First Class Lounge, Bangkok Airport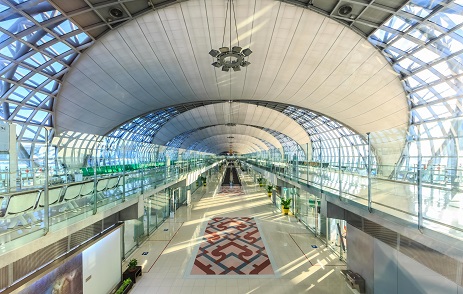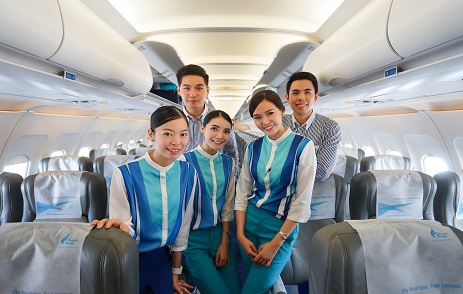 Best for: Families

With staff picking you up at your arriving flight and taking you to your departing flight by private buggy, the Thai First Class Lounge in Bangkok goes above and beyond when it comes to five-star customer service.

Upon arrival you'll be offered tea and a towel to rehydrate and freshen up. This is also the chance to book in your complimentary hour-long massage at the airline's spa, found just opposite the reception desk. As well as adding extra lashings of appeal, this service ensures you'll be feeling soothed and relaxed even before you step foot on the plane.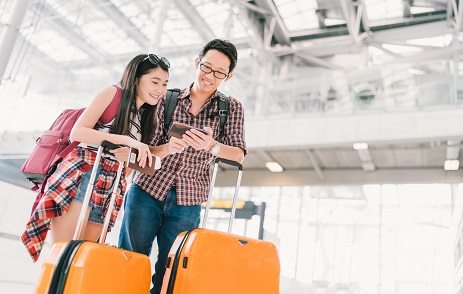 The lounge itself boasts a modern design and colour palette, with large, comfortable sofas ensuring you can chill out before boarding. In turn this makes it great for families and bigger groups wanting to unwind, with a couple of areas being semi-private too. There's also a small business area with an iMac that's ideal for corporate travellers on their way from back-to-back meetings.
Feeling peckish? As well as a buffet kitchen area serving snacks and continental breakfasts and lunches there's also a separate menu serving dishes such as spicy stir-fried noodles with mushrooms, spinach cheese pie and a mixed berry tart for dessert… delicious!
The indulgence doesn't stop at the airport lounge though. Click here to enquire about our hotels in Bangkok or alternatively call one of our personal travel managers today.
Etihad First Class Lounge, Abu Dhabi International Airport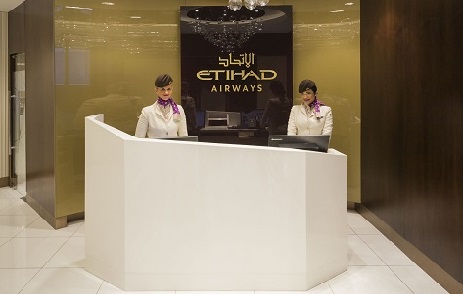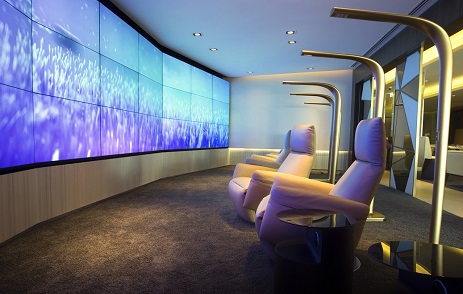 Best for: All Out Luxury

If you're travelling to Abu Dhabi with Etihad, the only way to fly is first class and not just because of the in-flight amenities. Oh no, when you fly first with Etihad it's the lounge which you'll be excited for. Here you won't just be sat in a chair – unless you want to, of course. Expect to be pumping some iron at the fitness room, or alternatively book yourself in for a treatment in the Six Senses Spa, perfect for jet-lag prevention. For times when you do want to unwind, head to the relax and recline room which comes complete with a 36-foot video wall that plays on all the senses with sound and colour. Accompany this with a drink at the feature bar, only the finest spirit and cocktails will do, and you have another tick off the luxury checklist.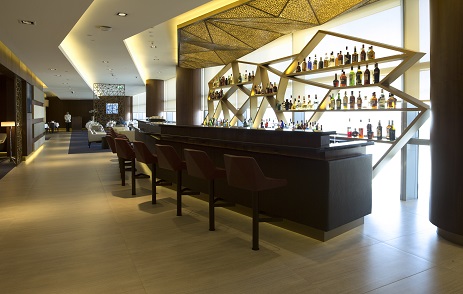 Speaking about the lounge, Kofi Mable, key account manager for leisure at Etihad Airways, says once you arrive you'll feel like you're in a hotel rather than a lounge. "The First Class Lounge & Spa offers the opportunity to experience a different level of service and hospitality comparable to a five-star hotel," he says. And what's more, guests can now upgrade to a VIP Room. Kofi says, "This space offers the bonus of extra space, comfort and privacy before your flight. Guests have access to a private lounge and TV area, with a dedicated host that serves refreshments in an exclusive dining space that can cater for up to four people."
Luxury knows no bounds and this can be seen even before you get on the runway at Abu Dhabi International Airport. You have the first-class tickets, now where to stay? Click here to find out about the best Abu Dhabi hotels or call one of our personal travel managers on 0203 816 0985
British Airways The Concorde Room, London Heathrow and John F. Kennedy International Airport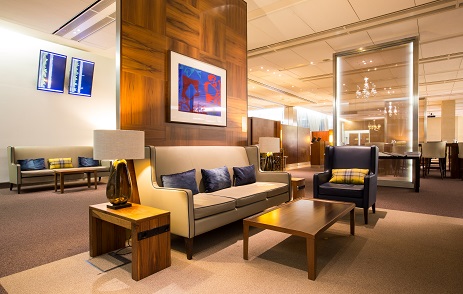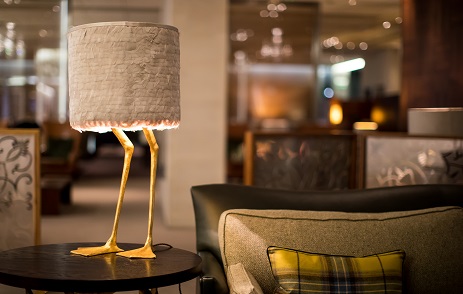 Best for: Home Comforts

With lounge locations at both London Heathrow and New York's John F. Kennedy International Airport, travelling to the Big Apple has never been more glamorous than with The Concorde Room by British Airways. Both venues are quintessentially British and with the Heathrow lounge recently refurbished at the end of 2017 you can expect a whole host of facilities at your beck and call. From pre-flight dining in private booths with full waiter service to cabanas on the terrace with a comfortable day bed, you'll feel like you're already on holiday before even stepping foot on the plane. To take advantage of the cabanas and dining booths you do have to book in advance but it's most definitely worth it.
Corporate travellers haven't been left out of the mix either as there's a state-of-the-art business suite complete with mobile chargers just in case you need to send that ever important email or contact colleagues back in the office. The five-star customer service extends outside of the lounge with a recently opened First Wing private check-in area at Terminal 5 as well as the First Cabin where customers can enjoy amenities such as gourmet in-flight menus and a bespoke washbag designed by Liberty of London.

The Concorde Room is a real home away from home. If you're departing from Heathrow with British Airways wherever your destination may be, luxury is guaranteed. Our personal travel managers know their stuff, so if you can't decide on where to go next call 0203 816 0985 now.

Share with someone you'd love to travel with

Guy Humphrey
Guy Humphrey is a Content Writer