0203 816 0985
Let's talk. We're open Mon-Sun 9am - 6pm
We're open Mon-Sun 9am - 6pm
This Month We've Been: June 2018
Just before the summer holiday rush begins, here at WB HQ we've been busy catching some rays… and we don't mean those of the British kind. From Europe to America and even the Caribbean, we've been putting in the flying hours to ensure that we can continue to be leading experts in the travel industry. While David Ox (director of Winged Boots) and Anna-Maria Janssen (product manager) were securing partnership relations in Miami and Antigua, our marketing manager was part of a travel first at London Stansted Airport. We also held our first event of the summer and took 40 customers to Chestertons Polo In The Park. Oh, and newbie Charley Curwood was cheering on England at the World Cup in Russia… it has been a very exciting month!
… CELEBRATING IN ZANTE
Niova Villa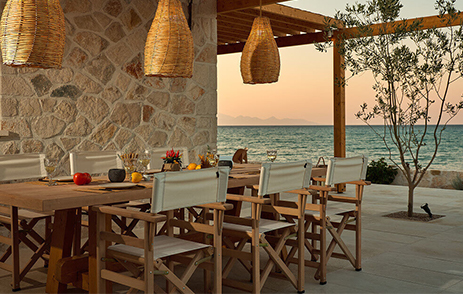 Niova Villa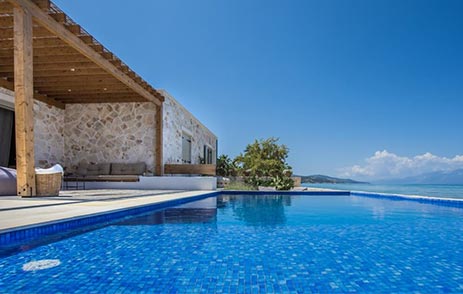 As a frequent middle east holidaymaker, this month personal travel manager Simon Eves dipped his toe in Grecian living with a family trip to Zante for a friends' wedding. "We stayed in a superb three-bedroom villa in Alykanas, which I discovered is a perfect resort for families," Simon said. "We had our own private pool and were steps from the beach, plus our accommodation was pretty stylish. Niova Villa is perfect for those who want to chill out on the coast – which is exactly what we did."
Travelling with two young children, this personal holiday was a chance for Simon to catch-up on some sleep and enjoy being a family of four. "We were pretty lazy and spent most of our time in the resort enjoying the pool and the beautiful weather. We did hire a car and drove around the island a little with the highlight being the spectacular views of Shipwreck Beach – a definite must-visit if you're ever travelling to Zante."
To discover our portfolio of Zante hotels, click here.
… DISOVERING A CARIBBEAN GEM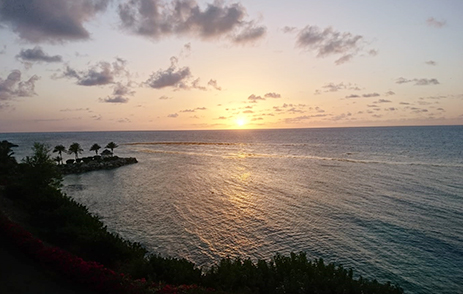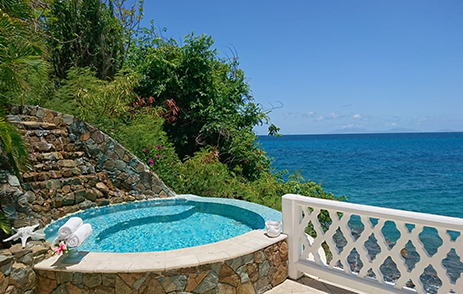 This month Winged Boots' product manager Anna-Maria Janssen flew to the Caribbean island of Antigua for the annual Antigua Showcase, a local conference for hotels, tourism boards and suppliers to discuss business opportunities in Antigua. "I met with valued partners such as: Jumby Bay Island; Curtain Bluff; Carlisle Bay; The Inn at English Harbour; Tamarind Hills and Blue Waters," Anna explained. "This was my first trip to Antigua so I was keen to learn as much as I could about the island. My top tip for visitors is make sure you go to Shirley Heights for the most stunning views of the island – on a clear day you can even see neighbouring islands.
"I also discovered a new fruit that I had never heard of before called NONI which is a local fruit to Antigua that has a bitter taste but is said to be one of the healthiest foods there are – it's good for detoxing, injuries and even pain relief."
To plan your visit to Antigua, click here
… EDUCATING OUR SALES TEAM IN SARDINIA
Chelsea Football Academy, Forte Village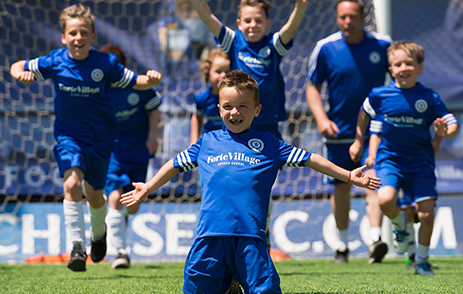 Emma (far left) with two other travel industry professionals at Forte Village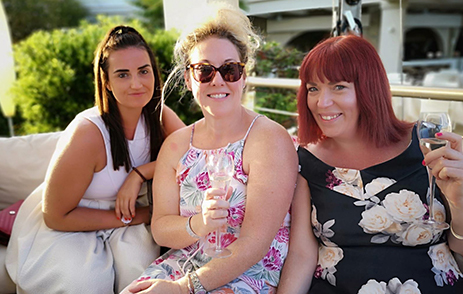 Located on Sardinia's coast, the outstanding resort of Forte Village stands proud beckoning in families looking for an all-encompassing Italian escape. Named 'World's Leading Resort' for 17 consecutive years by the 'World's Travel Awards' this collection of four and five-star hotels, spacious seafront suites, bungalows and private villas is where your holiday dreams are sure to come true.
To get the inside scoop on this collection of eight hotels and 11 luxury villas, we sent Emma Littlebury a Winged Boots personal travel manager to check out the facilities for herself.
"My three-night stay was great and really showcased Forte Village to the fullest. The accommodation is nice however its facilities are why people stay," Emma said. In particular, the sports academies that includes a Chelsea Football Academy, a cycling academy and Tennis Star Academy are super popular. They're all run by ex-professionals in the sport and are a great way to entertain children and offer a once-in-a-lifetime experience.
"Forte Village also has a huge arena and during my stay it held a charity dinner with Hollywood actors and a premier of Oceans Eight," Emma added.
To discover more on Forte Village, click here
… PARTYING IN MYKONOS
Mykonos' glorious streets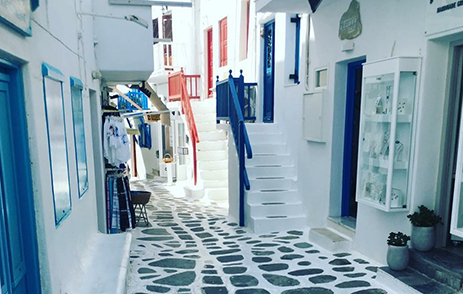 Poolside dining at Kenshō Boutique Hotel & Suites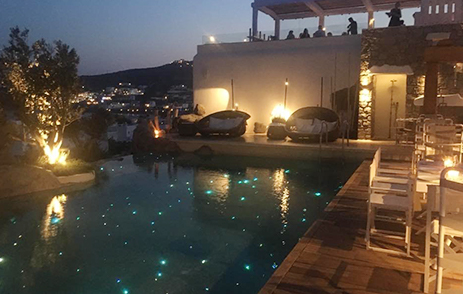 The Greek island of Mykonos is certainly having its moment right now so it was only fair that we sent Claire Baker, a Winged Boots personal travel manager to check out the island for herself and report back. She stayed in the deluxe Kenshō Boutique Hotel and Suites and certainly took her research job very seriously, throwing herself into all the action. Here's what she had to say:
"Mykonos is ultra-chic and is where the jetset go to party – it's certainly the place to be right now. My hotel was ideally located overlooking Ornos Beach, a short two-minute walk to the shore where there was also an array of fashionable restaurants and bars. At Kenshō, every single room is uniquely designed and each feature ultra-modern amenities including Hermes toiletries! The on-site restaurant is a great choice and daily breakfast is included. Plus, you can opt for poolside dining at night when the pool sparkles with tiny starlights.
"Mykonos is well known for its beach clubs by day and night Scorpios is great for the young crowd, Principote is ideal for families and couples alike and Nammos Beach is certainly the ultra cool place to be.
"Whether it's a secluded beach, lively beach club, traditional Greek restaurant or michellin star dining, Mykonos has something for everyone."
To book your trip to Mykonos, click here
… MEETING NEW TRAVEL PARTNERS IN MIAMI
South Beach, Miami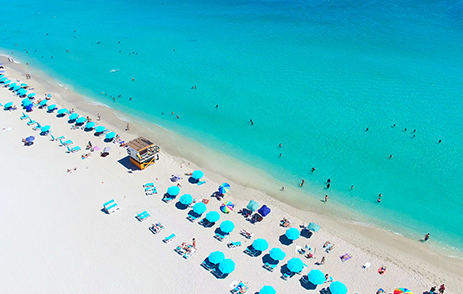 1 Hotel South Beach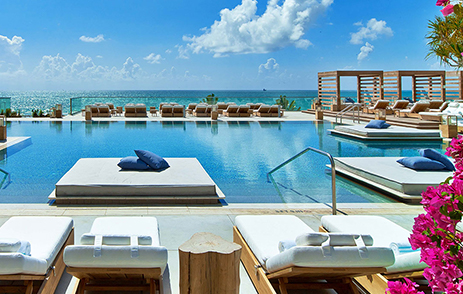 This month marked the sixth annual LE Miami, a travel exhibition with a lifestyle and 'self-confessed' rebellious edge. Each year, LE Miami plays host to elite travel hoteliers and buyers with a four-day show in Miami Beach Convention Centre. Taking its cues from the world of art, fashion, music and design, this event brings a cool edge and Miami vibe to stuffy trade shows with spaces to network, a DJ booth, art installations and larger than life screens.
Winged Boots director, David Ox, headed to Miami for the fifth time (he has been every year since its second show) and commented: "I've seen LE Miami quadruple in size since its first show and now there's 1600 attendees which is a mixture of hoteliers and buyers with an additional 300 press. It is one of the key events in the Winged Boots' annual calendar for networking and buying product.
During his Miami business trip David stayed in 1 Hotel South Beach. "This is one of my top recommendations for South Beach visitors. The rooftop pool is amazing and it also has one of the best hotel gym's I've ever seen."
To discover more Miami hotels, click here
… EXPERIENCING A NEW CULTURE IN HONG KONG
The Big Buddha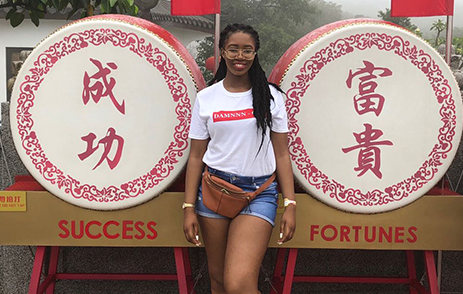 Victoria Peak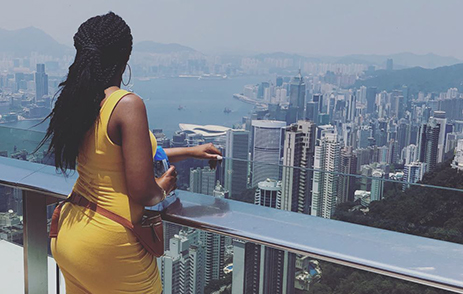 This month our travel content writer, Ashleigh Simmons, enjoyed a weeks' leisure holiday in Hong Kong. "Usually I'm a sucker for a destination in Europe, America and the Caribbean, however for 2018 I decided it was time to explore a brand-new location on my scratch map and visit Asia for the first time," Ashleigh explained. "Hong Kong was utterly exciting, full of neck-craning skyscrapers, an exciting nightlife and some of the best food I've ever tasted. The views here are ones that no picture will ever do justice whether they're being admired from Victoria Peak, Hong Kong's highest point, or a thriving rooftop bar overlooking Victoria Harbour after sunset."
From just one week in the Chinese special administrative region, we think it's fair to say that this is Ashleigh's first of many trips to the Eastern Hemisphere. "My top tips if you fancy a visit would be to eat until you can't eat anymore and to get an Octopus card – the Hong Kong equivalent of a London Oyster card – to make your way around the city's landmarks and attractions with ease and efficiency."
To read more about Ashleigh's trip to Hong Kong click here
… CHEERING ON ENGLAND IN RUSSIA
Kaliningrad, Russia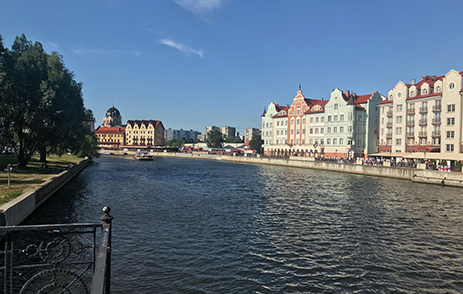 England V Belgium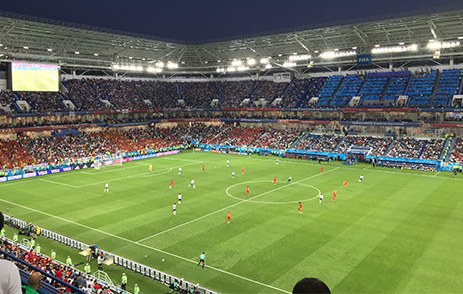 The entire country has been on the edge of its seat since 14th June when Fifa World Cup Russia 2018 kicked off. However Winged Boots' newcomer Charley Curwood started his journey two to three years ago when he and six friends travelled to different corners of Europe to be able to qualify for tickets at the start of the campaign. They were successful and were cheering on our boys during the final match in the group stages against Belgium.

He said: "We started our trip in Gdansk, Poland on Tuesday night. Arriving just before midnight after a short flight delay we headed out to soak up some of the atmosphere which was in abundance. We spent all night and all of Wednesday with supporters from all around the world including Germany, Belgium, Mexico, Columbia and Nigeria. Gdansk itself is a beautiful city full of cobbled streets and small bars and cafes. It's perfect for a weekend city break.

"From here we travelled by coach to Kaliningrad where the match was being held. After some time wondering around the beautiful city we made our way to the stadium. The game unfolded and Belgium came through victorious 1-0 but this certainly didn't take away from the experience!

"For my first ever world cup match I enjoyed every second of the trip and hopefully we will be back out to Russia for a later stage of the tournament. We are already planning our trips for the next World Cup in Qatar as the campaign for this will start shortly and we will see where our European trips take us within the next few years."

… ENTERTAINING WB CUSTOMERS AT POLO IN THE PARK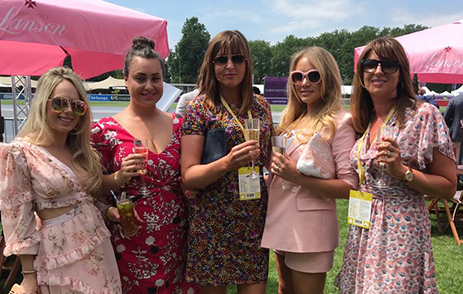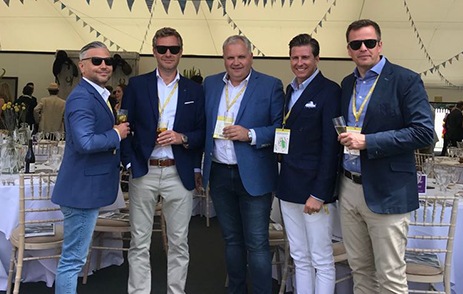 2018 is Winged Boots' year. After the successful launch of Winged Boots: The Lifestyle Brochure and the relaunch of wingedboots.co.uk in January, June marked our first venture into our exciting calendar of events. In association with Experience Kissimmee, Florida, we received 10 corporate hospitality tickets to the annual Chestertons Polo In The Park as well as 30 other general admission tickets to share with our loyal social media and email subscribers.
Director David Ox and his wife Lauren hosted eight of our long-standing customers for the day and after the feedback from the event, it's clear that the polo was a raving success. "We organised a luxury mini-bus to pick us up from Shenfield station where we enjoyed a champagne breakfast. When we arrived at Polo In The Park we were seamlessly escorted to the sponsor's tent where our table was waiting," David said. "In conjunction with our partnership with Experience Kissimmee, we were sponsoring the London Polo Team so it was great that they managed to claw back a draw in their match, and it was an added bonus that we got to meet the players, too.
"All in all, it was a cracking day. The weather was fantastic and the Hurlingham Club hospitality was superb. It was a great way to socialise with eight friends of Winged Boots with three-course dining and an open bar throughout. I would recommend the polo to anyone and we're hoping to return next year." Watch this space!
To discover more on our calendar of events, click here
… WITNESSING EMIRATES' INAUGRAL FLIGHT FROM DUBAI TO STANSTED
Emirates Boeing 777-300ER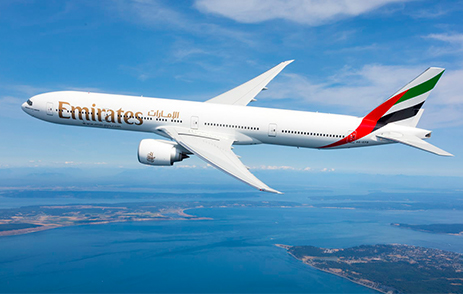 Inside Emirates Boeing 777-300ER first class suite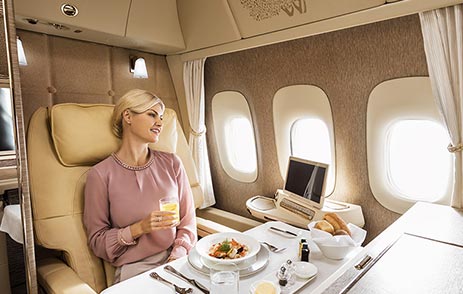 On Friday 8th June, Emirates' inaugural flight from Dubai landed at London Stansted Airport and marketing manager Lauren Godfrey was front and centre to witness the touch down. "Heading to Stansted Airport passport in hand yet minus luggage felt quite unnatural, however it was worth the trip (and also the explanation to one inquisitive traveller that I was not a plane-spotter). After being greeted by an Emirates' representative and escorted through security I waited patiently in Emirates' new departure lounge for news of the planes' arrival into British air space," Lauren explained. "30-minutes ahead of schedule, the plane landed to a cheer from the room of industry experts, press and representatives for the airport. The plane, and subsequently the flight route, was then christened with a water-cannon salute before a series of speeches were delivered.
"After a glass of champagne and a few canapes it was my turn to board the aircraft. The new Boeing 777-300ER is certainly impressive and the first-class cabin suites provide a fantastic way to travel to the UAE capital. Personally, I think this new venture is a game changer for the Essex and London-based traveller." The new aircraft and daily flight route marks a travel first for Emirates, who had previously only operated out of London's larger airports Gatwick and Heathrow. It also extends Stansted Airport's global reach with Emirates' connecting Stansted travellers to the Middle East, Africa, Asia and Austalasia.
To read more about Emirates' newest flight route, click here
Share with someone you'd love to travel with

Lauren Godfrey
Lauren Godfrey is a Marketing Manager