0203 816 0985
Let's talk. We're open Mon-Sun 9am - 6pm
We're open Mon-Sun 9am - 6pm
The trending European destinations you need to visit this Summer
Forget about the woes of Brexit, and instead embrace the Eurovision spirit because Europe is still a boiling pot of captivating tastes, sights and cultures. Every inch and each corner of the continent is bursting at the seams with beauty, from the dramatic landscapes of the north to the island paradises of the south. As the world slowly begins to open up and ease travel restrictions, there's never been a better time to pack up your bags for a weekend city break or week-long dreamy escape. They all start with the letter M too, as does magical, mystical and magnificent. Coincidence? We think not…
MATERA, ITALY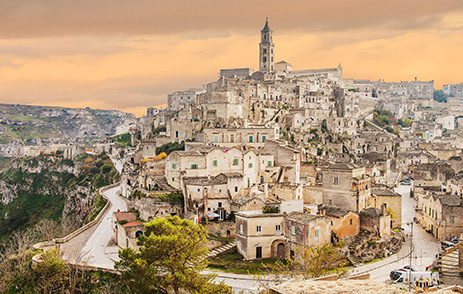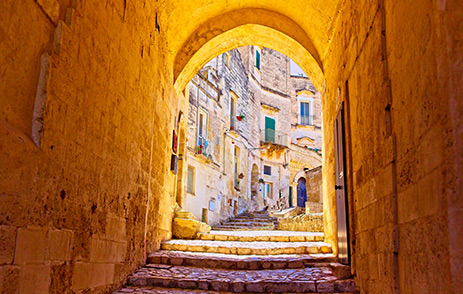 When you think of Italy it may be the stunning coastline of the Amalfi or the grand architecture of the Vatican that floods your mind, but lock those spectacular sights away for a little while because the new kid on the block offers a lifestyle of zen, tranquillity and history braided together in unforgettable fashion. The rocky outcrop of Matera, engraved into the hillside of Basilicata in southern Italy, is a forgotten hub of long lost beauty, where whitewashed intricacies of design and cave dwellings were evacuated in 1952. Transforming itself slowly into a destination for lovers of mystical cities, Matera still balances itself on the equilibrium of touristic and unhabitable perfectly and hypnotic caves have become the accommodation in this rugged place. The Sassi area is the beating heart, a preserved area and UNESCO World Heritage Site since just 1993, where marvelling at building blocks of museums, rock churches and cave dwellings is on the day's schedule.

It's the blend of old and new that's luring a small increase of visitors in every month though, with boutique hotels into the hillside where limestone caverns and magical cave rooms exude a timeless beauty unlikely to be found anywhere else in the world. The gastronomic scene has kept up too, with stylish restaurants and bars starting to make their mark across the historical centre. There's every chance you'll be feeling like an extra from Game of Thrones once the rocky walls are radiated with glowing candles and you're immersed in bubbling water from your in-room hot tub many of the luxury boutique hotels offer. Time is of the essence in Matera, though, despite it being the third-longest inhabited human settlement in the world. 2019 marked a turning point for Matera, being named one of two European Capitals of Culture, set to nudge visitor numbers up by a substantial amount. So, trust us, if there was a time to visit this Basilicata jewel, it's now.
MALTA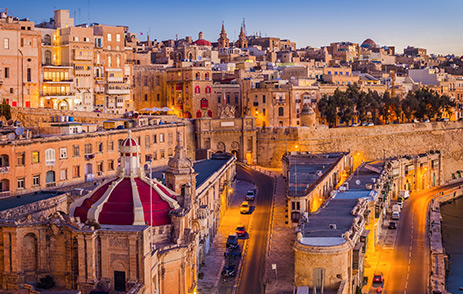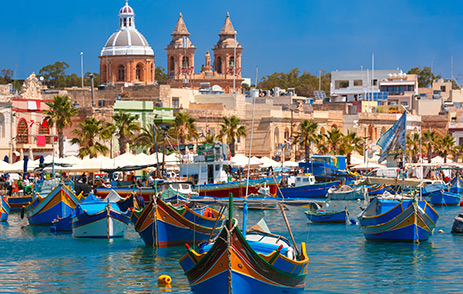 Speaking of European Capitals of Culture, why not ride the wave of hype from the 2018 winner, Valetta in Malta? The beauty of this otherworldly archipelago shows no signs of slowing down, and with its prehistoric temples, hidden coves and remarkable history, discovering stories and landscapes to treasure for a lifetime is a given. Wind through the streets of undisturbed history and you'll soon start to see what made it award winning in the past year. Its ideal location made it a geographical stronghold fiercely fought over, and these unique above and below ground defences make it a maze of intriguing discoveries for any lovers of architecture. Valetta is a grid while Mdina and Victoria are hilltop towns overlooking the azure water shimmering below. It's in these two seaside towns that the rocky landscape throws the limestone cliffs into the mix of stunning sights, while the local fishing boats balance on the crystal-clear sea to make a scene more commonly found on the coast of Barbados or Capri. The Blue Lagoon lives up to its name, where the rocky shavings of shoreline meet a bucket of turquoise stillness, a blanket of 50 shades of blue once it meets the sapphire sea and onto the pastel blue horizon beyond.

The concoction of influences from Sicily, the Middle East, Britain and more doesn't just transcend through the buildings though, because it's the scents and smells housed inside many of them that will captivate you and leave you longing for more. Follow your taste buds to the traditional Maltese food of rabbit, honey and sheep cheese among other rustic essences, all based on the seasons and reflecting the mixing bowl of gastronomic flavours its had touch its shores over the years.
MONTENEGRO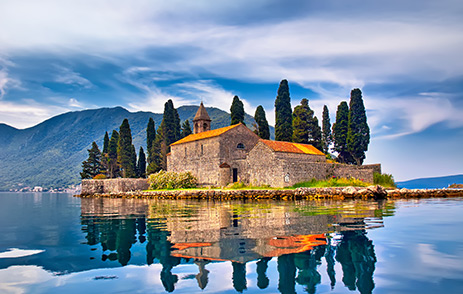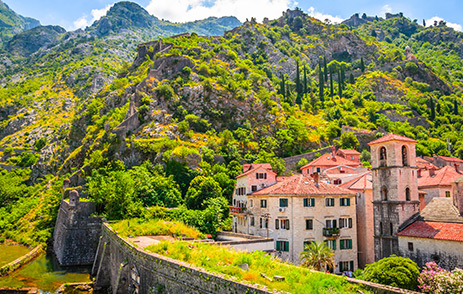 If Croatia was the place of the moment, Montenegro is the place of the future. Feel the drifting air of the crowd hot on your heels while you hop across the border to roam a destination overflowing with breath-taking scenery, the friendliest locals and undiscovered beauty. The perfect backdrop for a road trip, let yourself dream of an open-top car driving down the Kotor-Lovćen road, where stunning hubs are connected by a line-up of much-more-than supporting stars. A ribbon of road zigzags unforgivably through the blanket of forest on the mountainside, which means only unforgettable scenes of Kotor's epic lake like a mirror underneath the clouds. Kotor is the epicentre of the intimate tourism Montenegro has, nestled in a bay on the Adriatic coast where a slick giant paintbrush has covered all the rooftops in a burning orange. If it's adventure you're after, Montenegro's list is endless, with the Tara River Gorge, a ribbon of cerulean crashing water wrapping a parcel of green peaks offering activities for sport enthusiasts.
However, it's Montenegro's luxury hand which is dealing the best cards. Aman offers a UNESCO-listed private island retreat in the form of Sveti Stefan, a fortified village dating back to the 15th century. Now it's a collection of exquisite rooms, cottages and suites hugging cobbled lanes, handsome courtyards and serene sea views. Spend your days unwinding on the three pink sand beaches hugged by lapping waters or getting lost in the gardens overflowing with vibrant flora and fragrant herbs. One&Only are also set to make their mark on the up and coming destination of Portonovi, a new luxury lifestyle hub built on the idyllic shores of the Bay of Boka Kotorska in Montenegro. In this land of tiny magical islands and serene Riviera's, One&Only will feel at home between towering mountains and tranquil sea. With a collection of rooms and villas of the signature hotelier style, vistas of the Adriatic coastline gained from the elegant balcony will be like no other.
MYKONOS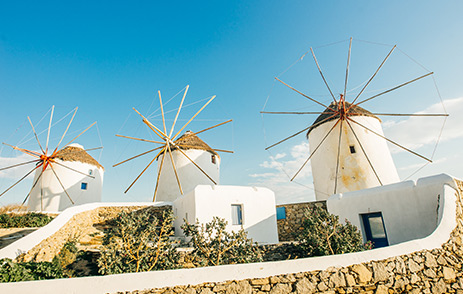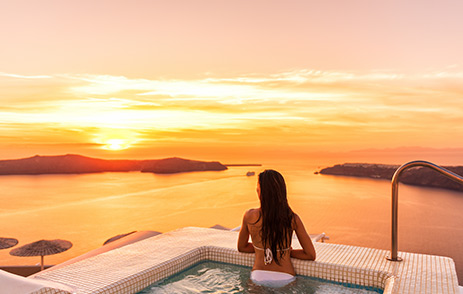 Greece is firmly back on top, and who could struggle to understand why with it's sweeping views, building blocks of white interspersed with vibrant blue, and oh, those sunsets. Sitting peacefully in the Mediterranean Sea, south-east of mainland Greece, this modest gem holds its best cards close to its chest until you land on its rocky shores. The cosmopolitan character of its trendy bars, restaurants and unforgettable nightclubs known across Europe for their parties, crashes into the rich culture if the Mykonos Windmills and archaeological sites, just as the Aegean Sea crashes into the hillside.

Mykonos is the front runner of luxury within the Cyclades and where exclusivity really gets an upgrade. The striking white hues run through nearly every accommodation, truly merging traditional aesthetic with contemporary living. From boutique hotels with private cave hot tubs to lavish accommodation where infinity pools fall into the horizon, you know a stay on this sun splashed island will have you rubbing shoulders with lovers of the finer things. If there's a bucket list thing to do on the island, it's to stay in a beautiful hotel, balanced on the cliffside, where watching a burning red sun sink into the clouds over the glistening sea is your after-dinner date every night. Don't believe us? One scroll down your Instagram feed and the collage of authentic houses stamped onto the rising land will fill your wanderlust boots.
MALAGA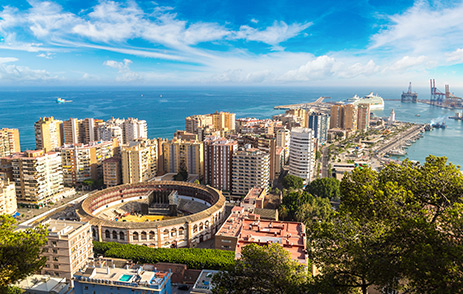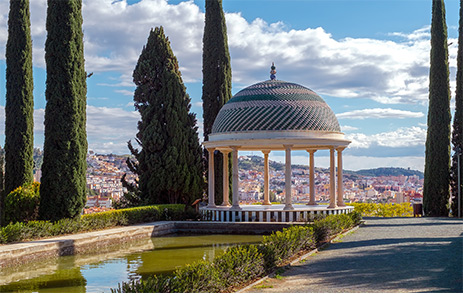 Think of Spain's Costa del Sol and images of soft sandy beaches and beaming sun are sure to enter your mind, but think of oozing luxury and bursting culture, and its Malaga that holds the prize. The city that gave the world Picasso is a buzzing metropolitan threshold, and even an art district aptly named Soho. Often viewed as a gateway to Marbella, the city is now rightly attracting more and more visitors to its shores, and is making waves in the gastronomy, architecture and art scenes. The old and the new merge as you wistfully sit on a rooftop bar, surrounded immediately by contemporary design, but nestled among remarkable fortresses intermingled with waving palm trees. Winding through the historical Alcazaba and behold the grandeur built by an 11th century dynasty, covered by layers of trees, ready to uncover the spectacle for your arrival. Or marvel at the wonder of the cathedral, one of the city's most well-loved monuments, where a simple palette of stonewashed cream lets you appreciate the curvature of its design.

Luxury has been turned up a notch in Malaga, with many hotels taking inspiration from the simplistic tones running through the city's archaeological sites, with golden hues adorned with shimmering fixtures in bedrooms radiated by the constant sunlight. The city is fast gaining attraction, so if you're looking for somewhere a little more intimate than Barcelona with all the signatures of a gorgeous Spanish city, you need to head there fast.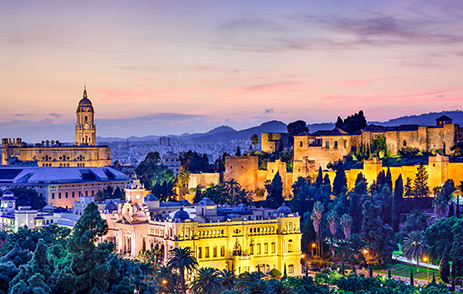 Trends are there to either be followed or to be set and we recommend you get ahead of the pack and fulfil your next break with a getaway to one of these up and coming European destinations. Get in touch with our expert team of personal travel managers on 0203 816 0985 or enquire here and start discovering corners of Europe still relatively untouched… your future travel bug will thank you.
Share with someone you'd love to travel with

Ellena Rowlin
Ellena Rowlin is a Content Writer