0203 816 0985
Let's talk. We're open Mon-Fri 9am - 6pm
We're open Mon-Fri 9am - 6pm
The Top Fashion Suites and Hotels of the World
Fashion is more than what you wear – it's a lifestyle. And that doesn't have to change when you travel, if anything it's the perfect time to get your fix of high-fashion style. Karl Lagerfeld did it, Audrey Hepburn did it, Oscar de la Renta went one step further and even made it. What is so coveted by all these fashion icons? Designer suites, of course. From Paris to Queensland, it seems style has no boundaries, and what better way to luxuriate after your first-class flight and private transfer than in a bespoke suite? Follow in the footsteps of icons, both past and present with this array of chic furniture, unique artwork and elegant décor – all designed by leading fashion houses and designers.
The Christian Dior Suite at Hotel Barriere Le Majestic Cannes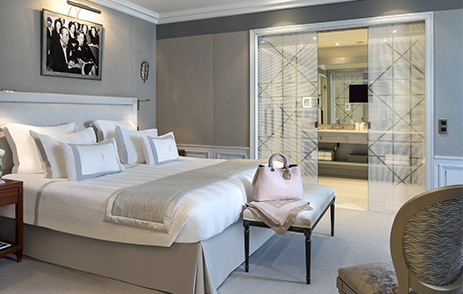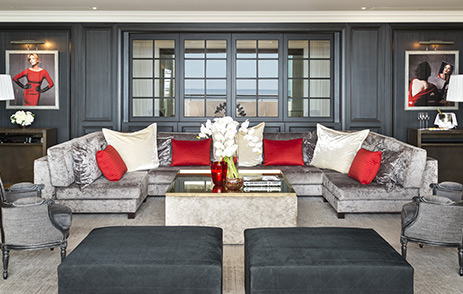 The only suite in Europe designed by the couture label feels right at home in the glamorous city of Cannes, a quintessentially French designer through and through. Parisian chic emulates in every corner of this elegant suite, where hues of cooling greys and pristine whites add a contemporary air to this enchanting home away from home. Live the life coveted by most with a private butler, a sumptuous Louis XVI dining room and a delightful terrace bringing panoramic vistas of the cerulean waters to your wondrous eyes. Portraits of old Hollywood icons adorn the walls, and the embroidered bed linen invites you to place your Lady Dior down while you relax in the splendour of the drawing room, where jet-black walls encase a velvet plush sofa. Created by Nathalie Ryan, Dior's interior designer, the suite is entirely decorated in the style of 30, Avenue Montaigne, the fashion house's historical Paris boutique. Time to flick through the latest issue of Vogue will be aplenty in the vast apartment, comprising a kitchen, two bedrooms, spacious dining room and a home cinema, and signature furniture including a replica of Monsieur Dior's desk.
Grand Piano Suite designed by Dianne Von Furstenberg at Claridge's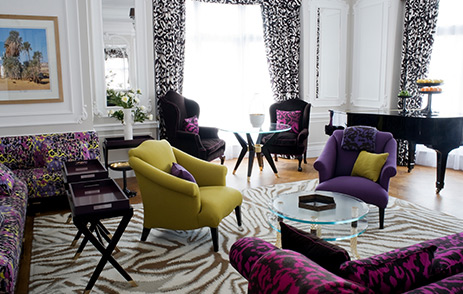 A long-time friend of the esteemed London hotel of Claridge's, it was only a matter of time before Dianne Von Furstenberg spread her designer expertise to interiors. Step into the Grand Piano Suite and her signature standout prints and enticing colour palette, often seen on the fabric of her legendary wrap dresses, are everywhere. The contemporary and the luxury merge seamlessly into this bold suite, with patterns and décor that could only belong in the artistic genius of Claridge's. Bold monochrome wallpaper and golden accents in one of the bedrooms are reminiscent of the Great Gatsby, while photographs taken by the fashion icon herself hang off the walls. A bathroom finished in marble, a four-poster bed and, of course, a stunning grand piano in the living space combine to deliver exquisite opulence for any lover of fashion, art and culture. Indulge your senses in the finer details: Murano glass lighting for your sight, a private bar with culinary delights for your palate and a marble fireplace for your ears to hear the crackling of flames after a long day of shopping.
Bottega Veneta Suite at the St Regis Rome & Florence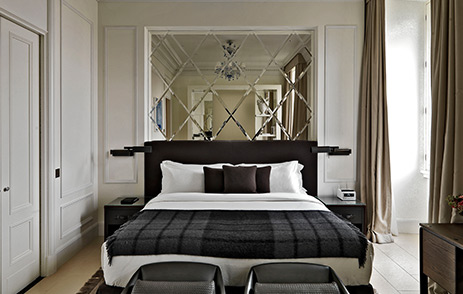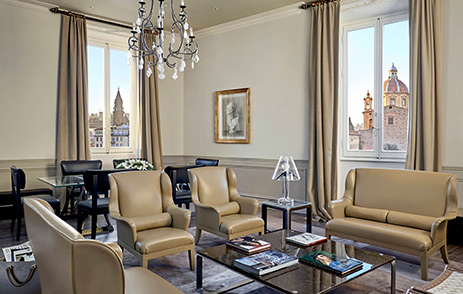 Find yourself often choosing between the two Italian escapes of Florence and Rome? This may make it even harder. Enter the Bottega Veneta Suites at the St. Regis in Rome and Florence, where quiet luxury is the running theme. The suite in Florence melts into the seductive views of the Arno River, with the designs of creative director, Tomas Maier, creating a tranquil atmosphere sprinkled with stylish furniture contrasted with classic artwork. With a colour palette of neutral beiges and browns, the pure wool carpets and intrecciato nappa leather-covered frames exude Italian chic. Move onto the bespoke Rome suite and refined sensibility echoes around the three connecting bedrooms, where signature furniture and breath-taking views of the Piazza della Repubblica and Terme di Diocleziano reign supreme. With more of a modern-style feel here, the grand mirror above the king-size bed with an intricately-carved diamond pattern radiates the luxury the St Regis is known for.
Chanel Suite at The Ritz Paris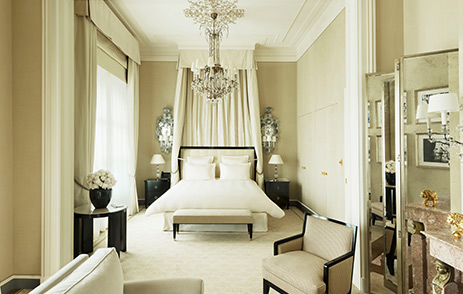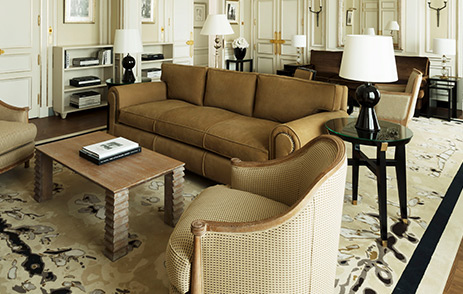 With the original Chanel shop neighbouring the hotel on rue Cambon, Gabrielle (Coco) Chanel decided one day in 1937 to stay at a suite in the Ritz Paris and she would go on to stay there for 34 years. "The Ritz is my home," she would say, gradually bringing in her own furniture including gilded mirrors and a velvet banquette, until finally she had redecorated the entire suite. Residing in the original suite Mademoiselle Chanel lived in is no longer a dream, so let yourself be enchanted in the sweep of regal cream furnishings, stately furniture and gold ornate decorations peppered throughout. Grace and refinement were the only boundaries of her world, which is now lathered across the personal portraits, sketches and photos which, for the most part, are unknown to the wider public. Insider knowledge at its finest, right? Lavish chandeliers hang from the tall ceilings, while bunches of pure white roses in stylish black vases welcome you through the grand entrance doors after an exhausting day of climbing the iconic stairs of the original Chanel store. We expect both Coco Chanel and fashion legend Karl Lagerfeld, who recently passed, would be in awe of the transcendent elegance, because remember as she said, "A woman can be overdressed but never over elegant."
Tiffany Suite at the St. Regis New York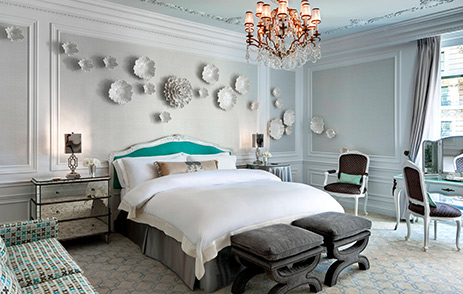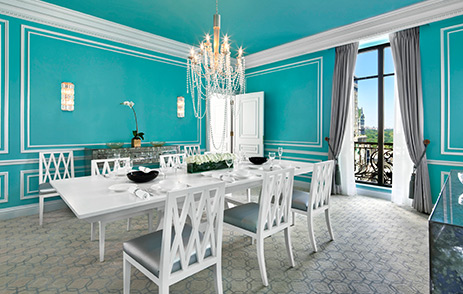 Whatever comes to mind when you think of Tiffany, this suite is exactly that. Encapsulating the true essence of the jewellers, step into walls lathered in the irreplaceable trademarked colour of 'Tiffany Blue,' set against striking white furnishings and doors. Designed in conjunction with Design Director Emeritus of Tiffany & Co, John Loring, is there any place more apt to realise that diamonds really are a girl's best friend than in the big apple? "Return to New York" is engraved on many of the signature pendants, and once you stay in this haven of sophistication, we think you'll be following those directions. The perfect blend of the contemporary and the classic, think bejewelled chandeliers with lines of pearls hanging, plush patterned sofas and crystallised glassware, all accompanied by showstopping views of the blanket of greenery making up Central Park. 24-hour butler service comes as standard - because would Audrey Hepburn expect anything less? – while the brocade-style king-size bed with floating flower wall art, ensure you'll be having breakfast at Tiffany's in flair. Bronze flourishes complement modern side tables holding coffee table books detailing the finest in high-fashion accessory history.
Tortuga Bay Hotel designed by Oscar de la Renta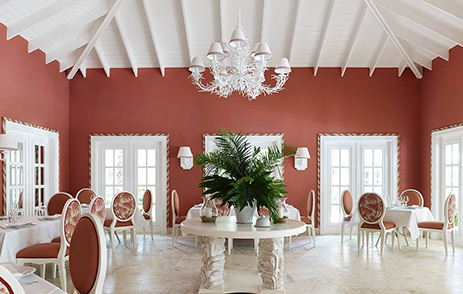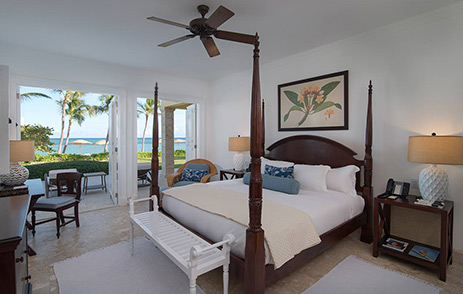 Tucked away on the shores of the beautiful Dominican Republic, Tortuga Bay boasts impeccable villas with interiors designed by Oscar de la Renta, the designer known for his unmistakable ball gowns and evening-wear. Famously seen on Meghan Markle, the signature of his designs are feminine prints, flattering shapes and whimsical fabrics, and this enchanting style can be seen throughout Tortuga Bay. Infusing his Dominican heritage into the design of each villa, simplicity and elegance reign supreme where the pristine-sand beaches complement the muted colours of the décor. The dining room boasts a colonial feel with a shade of baked clay on the walls, bringing an air of classic Caribbean luxury to the property. Prints are kept at bay, with only minimal blue prints appearing on the lampshades and woven chairs of the lounge and bar. In the bedrooms open the double doors to charming views of the sapphire waters and indulge in dark wooden furnishings contrasted by the pure white linen. The hotel also debuts the designer's first resort boutique, bringing a new concept for the brand and offering guests the chance to shop from the timeless vision of Oscar de la Renta whilst surrounded by his imagination come to life.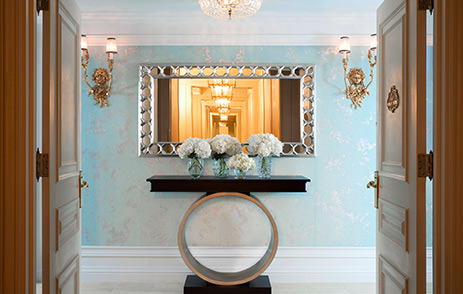 Fashion may change, but the style within these eclectic, exquisite and elegant suites will never fade. No matter which corner of the globe is your getaway choice, a designer suite is waiting to welcome you and your immeasurable taste. Don't wait a minute longer. Get in touch with one of our personal travel managers on 0203 816 0985 or enquire here and get your fashion fix with our bespoke holidays, tailored just as well – or maybe even better – than a Chanel tweed suit.
Share with someone you'd love to travel with

Ellena Rowlin
Ellena Rowlin is a Content Writer