0203 816 0985
Let's talk. We're open Mon-Sun 9am - 6pm
We're open Mon-Sun 9am - 6pm
The story behind your favourite cocktail
Everyone loves a cocktail as much as the next. Certain holiday scenes just call for them: relaxing on a chaise longue in front of the Italian lakes, absorbing the view of New York's glittering concrete jungle from a height, or getting in a drinking pit stop while browsing the designer shops of Singapore. Whether it's a bitter sharp twang or a sweet cluster of fruity tones, there's a reason why you have your menu go-to. But there was a time before your favourite drink had its place on the cocktail list. Come with us on a journey to the corners of the world to find out how the classic cocktails came to be.
Singapore Sling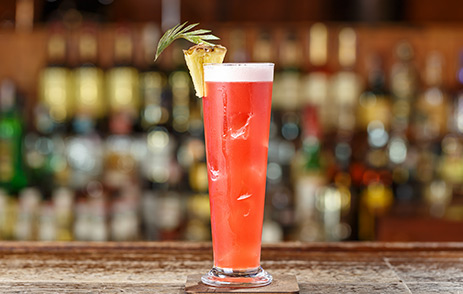 Let's start with the obvious. This concoction of gin, cherry brandy, Benedictine, bitter and juices has long been a staple of the small but glamorous nation. Thought up in the wondrous mind of Ngiam Tong Boon, a bartender working at the Long Bar in Raffles Hotel in 1915. Raffles Hotel has long been the destination for the rich and famous, and the sophisticated and stylish, and this drink was designed to accompany the fashionable female guests draped in luxurious flapper clothes on their evening out. At the time, Boon recognised the calling for a drink to allow women to indulge in a tipple or two just like the men nursing glasses of whisky and gin. Etiquette may have dictated that women not consume alcohol in public and instead opt for fruit juices and tea, but with a Singapore Sling gin and liqueur could be concealed in the sweet and vibrant liquids. The original recipe was lost in 1930, so a debate rages over whether pineapple juice should be added. All we know is Benedictine is a must. Sweet yet sharp, the mixture of radiant colours and powerful spirits is best enjoyed in its birthplace, Raffles
Singapore
, where opulent charm meets lavish décor and hanging crystal chandeliers.
Aperol Spritz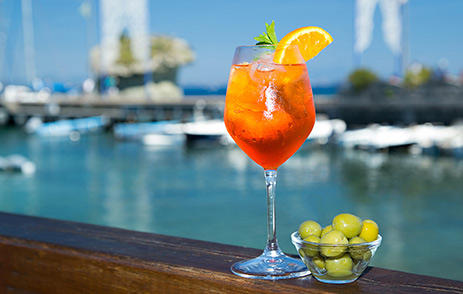 A cult Italian classic and fairly recent go-to for us British as the sun makes its first appearance, the Aperol Spritz is refreshment in a glass. Named the Spritz Veneziano, there's no prizes for guessing where this splash of orange comes from. Venetians have been devouring this fizzy cocktail for decades, and after Aperol was invented in 1919 it seemed the perfect fit to add to their already beloved 'spritz' drink - a concoction of equal parts white wine and soda water. By the 1950s Aperol had developed its signature recipe, now used worldwide to create the drink of the summer. Most commonly served as an aperitif in northeast Italy, there is no single combination to make a generic spritz, with Aperol sometimes traded in for Campari or Cynar and garnished with a slice of orange of olive dependent on the composition. When it comes to the glass however you cannot compromise, with a unique shaped glass resembling an Aperol bottle turned upside-down designed in 2016 by Luca Trazzi, an Italian designer from
Venice
, the birth region of this iconic drink.
Cosmopolitan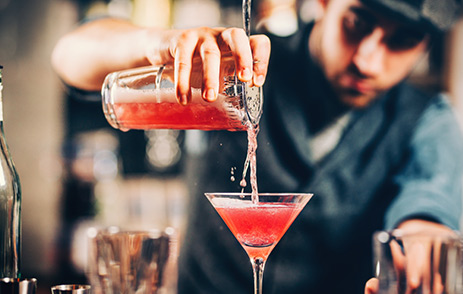 Think of
New York
, think of a chic rooftop bar overlooking the twinkling lights of skyscrapers, and you think of a Cosmopolitan. This smooth-tasting mixture of vodka, triple sec, cranberry juice and freshly squeezed lime juice has been on the scene for nearly 40 years, but was thrust into the limelight in the 90s, thanks to Carrie Bradshaw from the Sex and the City TV series. The classic triangular shaped glass is synonymous with a martini, which is what inspired the Cosmo originally. People longed for a drink with all the class of a martini that was a bit easier to swallow. Reportedly a favourite of the gay scene in Miami Beach and Provincetown in Massachusetts, it travelled quickly, through New York, Cleveland and on to San Francisco. Now it has an undisputed place on the classic cocktail list, from New York to London, with its frothy pink colour and lime slice to garnish.
Mojito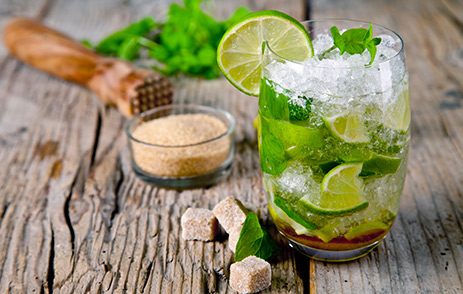 The rainbow lined streets of Havana with the classic American cars and wavering palm trees are the perfect backdrop to enjoy the national cocktail of
Cuba
– a mojito. A tipple of choice for author Ernest Hemmingway, the main ingredient of this tangy drink is rum, the lifeblood of every Cuban bar and restaurant. The cheap and potent rum found all over the Caribbean gem was combined with lime juice, sugarcane and mint to make the drink a little more pleasant, thus making the now worldwide-famous cocktail. It only started to get overseas praise during the Prohibition era when Americans travelled to Havana to quench their thirst. Who could blame them, with the ice-cold combination of sharp flavours intercepted with sprinkles of mint leaves, perfect for a relax outside a quaint traditional bar, basking in the Cuban heat?
Margarita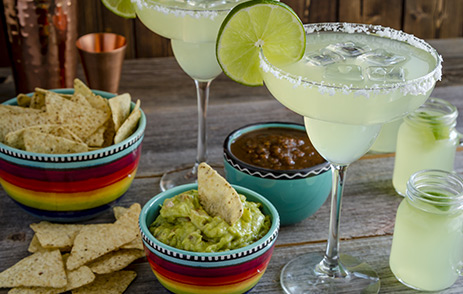 The origins of the trusty margarita are disputed, but we can assure you it was created in the land of turquoise seas and fiesta-lined streets...
Mexico
. Tequila is most definitely the one to drink straight, but when it comes to sipping a party of zesty flavours a margarita will hit the spot. One story says it came about after a bar owner from Tijuana created a drink for a dancer who didn't want to shot tequila. A different tale says that a Texas socialite nicknamed Margarita used to throw lavish parties where she created the drink. However, and wherever it was thought of, it seems Mexicans still hold it firmly at the top spot, as it has its own national day on the 22
nd
February every year.
Pimms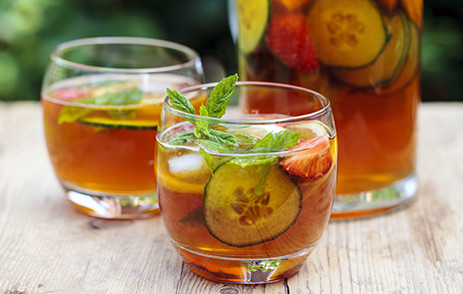 The sight of freshly cut grass, the smell of sweet perfume undertones and the sound of a tennis ball piercing the air to bounce off a swiftly moving racket. Feel the need to reach for a refreshment? Don't worry, it's Pimms o'clock! This staple of a quintessentially British day out at Wimbledon has been shared with the masses, and we now hold it proud as a national treasure. Originally used as a medicinal tonic in the 1840s in England and marketed by fishmonger and landlord James Pimm, it was offered as an aid to digestion and called "No. 1 Cup." After the introduction of Pimm's No. 2 and 3 cups in 1851 as he realised its potential, James Pimm began producing it on a larger scale to rival other bars, developing No. 4 and 5 cups, too. Fast forward to the last half century, and the once stomach-cure became a coveted drink in its own right, despite falling on hard times in the 70s and 80s. Nowadays, No. 1 and No. 3 remain, but it's the original tonic, poured over ice and topped with fresh strawberries, cucumber and mint, which is guaranteed to send taste buds dancing in the English sun. Especially at Wimbledon where more than 300,000 glasses of the tipple being consumed every year.
Spotted your favourite and fancy sipping on one while visiting its birthplace? Get in touch with one of our personal travel managers on 0203 816 0985 or enquire here and let us be so gin-erous in whisky-ing you away to a place where every hour is happy hour.
Share with someone you'd love to travel with

Ellena Rowlin
Ellena Rowlin is a Content Writer