0203 816 0985
Let's talk. We're open Mon-Fri 9am - 6pm
We're open Mon-Fri 9am - 6pm
The Most Instagrammable Places in Mexico
From
Riviera Maya
to
Cancun
and everywhere in between, Mexico has plenty of hidden gems and utter beauty that is just waiting to be discovered. With miles of
beaches
, Mayan ruins and glorious waterfalls to fall in love with, it's only a matter of time before you reach for your phone and add a few photos to your camera roll.
Rio Lagartos Biosphere Reserve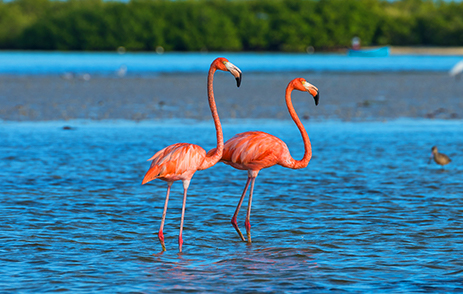 The 15,000 acres that can be found within Rio Lagartos Biosphere Reserve in the Yucatan Peninsula are guaranteed to be chock-full of picture-perfect moments. Forests, dunes and mangroves make up this gorgeous site with it being home to Caribbean flamingos, sea turtles and 395 species of rare birds. This is a true nirvana for all animal-lovers wanting to get up close and personal to majestic wildlife. However, we haven't forgotten you sun-worshippers. There's also 60-kilometres of beach to explore which also just happens to be an important nesting site for sea turtles.

Various experiences can be booked either directly or through your hotel, ranging from boat and hiking tours to guided eco expeditions, fly fishing and bird watching.

Pink Lakes of Las Coloradas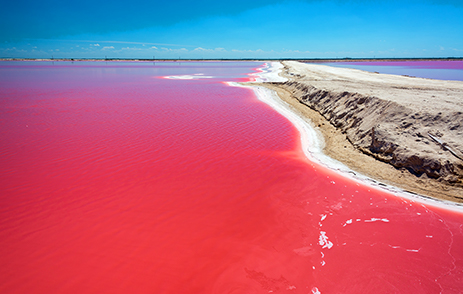 Hidden away on the tip of the Yucatan Peninsula lies the pink lakes of Las Coloradas. Your eyeline will be awash with the colours of cotton candy as you relish the views of these natural wonders. The area is another tick for animal lovers thanks to the flamingos, crocodiles, sea turtles and even jaguars that call this pretty landscape home.

But why are the waters a subtle shade of fuchsia? The lakes spawn red-coloured algae, plankton and brine shrimp that thrive in saltier climates and tint the water with a rosy hue. It's also this same plant and marine life that forms part of a flamingo's staple diet and is why their feathers are a gorgeous shade of pink. For the ultimate day trip be sure to visit at midday when the sun is at its highest and the light is the most dazzling.

To see this natural beauty up close and personal we recommend taking one of the boat tours that depart from Rio Lagartos. Guaranteeing to leave you tickled pink, the photos you get will definitely leave a lasting impression. The cherry on top? If you go on one of the excursions, you'll be able to dive right into the action with swimming and even a Mayan mud bath if you're lucky.

Copper Canyon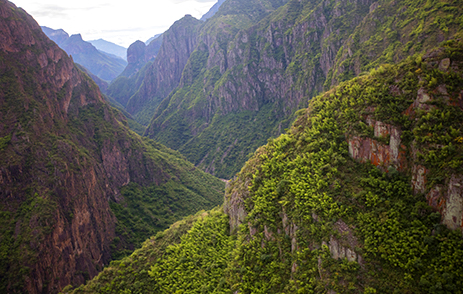 The Copper Canyon is Mexico's answer to Arizona's natural beauty. The most iconic landmark that forms part of the legendary Sierra Madre Mountains, the site is made up of six, interconnected canyons.

Some of the areas are significantly larger and deeper than the Grand Canyon too, making this choice brilliant for hikers and nature enthusiasts wanting to have plenty of adventures while abroad. Getting there is an excursion in itself having to fly to Chihuahua, which can be done from Mexico City, before a four-hour drive gets under way. It will most definitely be worth it though! The Tarahumara Indians have made their home in the caves here so if you're in the mood for a little culture with your walk, look no further than this.

Cascadas de Agua Axul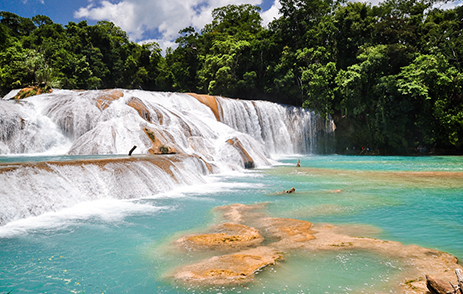 Water babies, listen up! If you want a wonderful shot of the waves to spice things up on your Instagram, Cascadas de Agua Axul should definitely be top of your list. A series of waterfalls found on the Zanil River in the Chiapas, your jaw will drop almost as far as the cataracts with some being as high as 20-feet.

No filter will be needed either as the water is a vibrant shade of blue thanks to its level of calcium carbonate and other minerals. This also forms limestone which makes the surrounding area just as beautiful with rocks and fallen trees having a thick shell-like coating.

Tepozteco Hill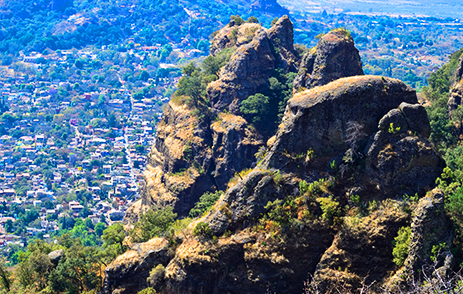 Tepozteco National Park was originally created in order to conserve and protect the flora and fauna of this now acclaimed archaeological area. Tepozteco Hill is one of the top places to grab an amazing pic, with Google Images just scratching the surface.

For the ultimate experience make sure to visit during Spring Equinox. Signifying the first official day of the season, this event takes place either on the 19th, 20th or 21st of March and sees hundreds of visitors come from around the globe to celebrate. Two of the top places to head to during your visit are The Cross of Axihtla which is located on the foot of the hill or alternatively swing by the Pyramid of Tepozteco which is a god worship site.

The park is brimming with rumours and stories of UFO sightings and alien activity too, so if you want a spooky vibe to your holiday this choice is brilliant. Open all year from 9am to 5.30pm, your day here will certainly be unforgettable.

Chichén Itzá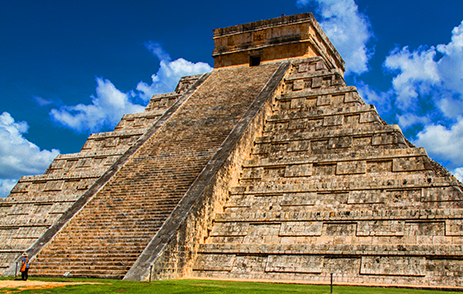 Easily one of the most famous Mexican landmarks, Chichén Itzá needs no introduction. These Mayan ruins can be found in Yucatan Peninsula with the main focal point being the step pyramid known as El Castillo or Temple of Kukulcan.

The Temple of the Warriors and the Wall of the Skulls are also popular places to go within the ancient city thanks to the stone carvings that are still partially intact. Tours are available should you want to find out more about Chichén Itzá, or alternatively book a ticket for a night sound and light show which really showcases the glorious architecture that has brought tourists flocking for years.

Rio Secreto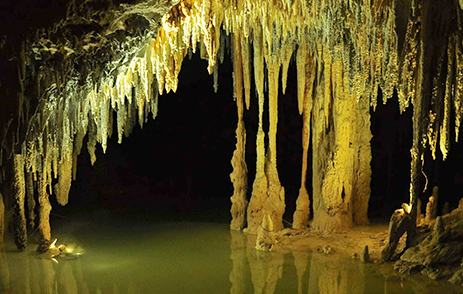 The turquoise underground river of Rio Secreto has been a top hotspot for holidaymakers wanting to explore to their heart's content during their time in Mexico. Otherwise known as the crystal caves, the area is covered with stalactites and stalagmites and will definitely spice up your Instagram feed. With rock formations that date back more than two million years and eight miles of caves to explore, you'll be immersing yourself in some history from the get go.

Book yourself a cave tour so you can witness the beauty for yourself. Hiking and swimming tours are further options if you fancy really getting to know the site. Depending on the excursion a private photographer will accompany you, just in case you're too floored by what's around you to take a picture for yourself.

Charitable donations are accepted so Rio Secreto can remain open, with it being environmentally preserved to ensure that future generations can enjoy it just as much as you.

Isla Marietas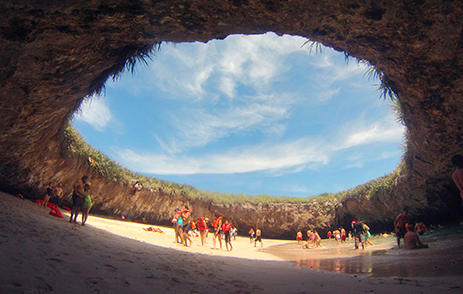 Isla Marietas are a group of small islands found just off the coast of Nayarit near Punta de Mita. The sea and sands are an utter playground for all travellers wanting their own slice of Mexico, however the small islands are harvesting a secret; a gorgeous hidden beach that boasts a secluded sanctuary of silky sands and a calming ambience.
Invisible from the outside and only accessible through a long water tunnel that links it to the Pacific Ocean, the Hidden Beach is guaranteed to be unforgettable. To the untrained eye and those not in the know, you would assume that this area was just lush jungle, but a kayak ride or swim to the island will have your jaw firmly on the floor.
The islands are an hour from the coast of Pureto Vallarta via boat with day excursions available that include a limited number of wristbands to the hidden beach. Various watersports, dolphin watching, and humpback whale tours can also be booked.
Want to start getting amazing shots like these for yourself? Enquire here or call one of our personal travel managers on 0203 816 0985 to start planning your dream trip to Mexico.
Share with someone you'd love to travel with

Guy Humphrey
Guy Humphrey is a Content Writer