0203 816 0985
Let's talk. We're open Mon-Sun 9am - 6pm
We're open Mon-Sun 9am - 6pm
The most Instagrammable places in Bangkok
The burning sun hits a Jenga of golden buddhas and reflects onto the jigsaw of technicolour market stalls across the street, bursting at the seams with human, motorbike and animal traffic braiding in front of your eyes with the occasional pause in flow luring you to try and cross. You can only be in
Bangkok
. The city where the party never stops and the rest never starts, the capital of
Thailand
is a camouflage of flashing lights and Asian opulence, a melting pot of international influences boiling over into cuisine piercing your taste buds and architecture capturing your sight. Bangkok has a charm no-one can deny, and the flood of stunning structures and blinding colours onto your Instagram feed are bound to rack up likes quicker than you can stumble across the next temple.
Unicorn Café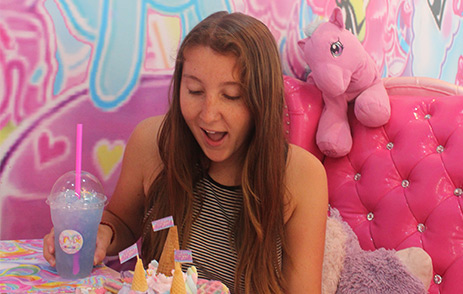 If you didn't enjoy mystique and fantasy before, we can assure you that once a rainbow-coloured sugar waffle is placed on your table, and neon plush toys hang above, you'll truly believe in unicorns. This world of fairy-tale magic is nestled in the business quarter of the city, and you'd be mistaken for struggling to find it through the crowds of workers going about their lunch break scouting out the Thai fare that only the locals know about. It's not the place you expect to find a Unicorn Café, but is anything in Bangkok what you expect? Your lens won't be able to rest from the moment you enter this fantastic experience, from the unicorn cardboard cut out to pose with to the rack of unicorn onesies to wear and all the walls splashed in bubble-gum pink and menu of creature-friendly delights in-between. No angle in this café is boring, and a pose on the satin chaises holding a pink hot chocolate topped with whipped cream, marshmallows and waffle horn will inject a burst of playful magic into your Instagram, and one that can't be found anywhere than in the craziness of Bangkok.
Wat Pho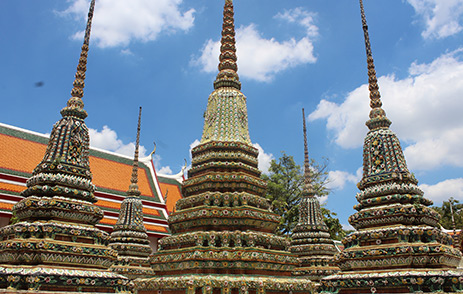 While most flock to the Grand Palace to get their cultural fix, we recommend the slightly lesser known, but equally as impressive, Wat Pho. Housing the city's largest reclining Buddha and the biggest collection of Buddha images in Thailand, the temple is one of epic proportions. When it comes to finding that Instagrammable scene however, the architecture is where to start. Mosaic-adorned spires stretch for the clouds, structures of steeping grandeur sprinkled throughout the temple houses decorated in flaming reds and regal golds. Shining pagodas stand proud, guarding the 15-metre long reclining Buddha. A pose by its 4.5-metre long soles will capture the majestic size of this symbol of peace and enlightenment, while showing you the importance of religion in Thai culture. The feet, displaying auspicious symbols like flowers, dancers, white elephants and tigers are a work of art in themselves, and we recommend you snap a picture there too. Always remember to dress appropriately when visiting temples, where you must always have your knees and shoulders covered. You may find that a long and flowing skirt of eye-catching patterns makes for a beautiful picture amongst the intricate décor, too.
Maeklong railway market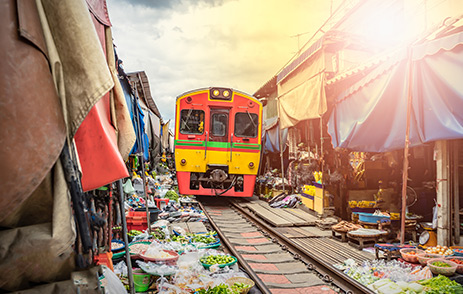 Finding that standout picture can sometimes take commitment, and if an hour ride to the southwest of the city is what it requires, we say go for it! If there's any scene that justifies a trip outside the city, one of a train squeezing its way through a market is just that. The Maeklong Railway Market is a traditional Thai market selling blankets of colourful fruit, vegetables and food, however a few times a day it transforms into a flurry of vendors lowering their umbrellas and pulling produce off the tracks as a train snakes its way through. Catch the 6.45am train from Bangkok's Wongwian Yai Station on the Maeklong Railway Line to go straight through the market, and you can get off at the last station and walk back. Walking along the train lines may make a unique snap, but as soon as you hear the horn make sure to step into the nearest shop and get your camera at the ready. Where else could you witness a shapeshifting market, moulding itself to hug a sneaking train? Some things only happen in Thailand, trust us!
The Dome at Lebua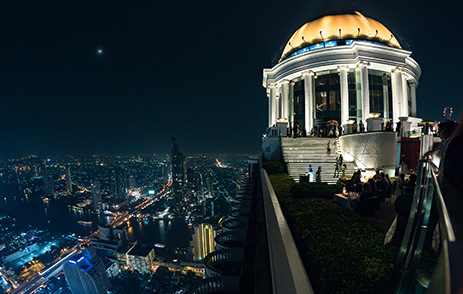 Floating above the bright lights and transcendent sounds of Bangkok,
The Dome
is a collection of rooftop bars and restaurants offering breath-taking vistas across the capital of Thailand. Proudly including the bar made famous by The Hangover 2, in case you needed another reason to enjoy rooftop cocktails on top of Bangkok you just found it. Suspended 820 feet in the area, Sky Bar is one of the highest rooftop bars in the world, and a jewel in the city's crown when it comes to watching sunset and observing one of Asia's most eclectic places come alive. Choose from a menu of tempting cocktails, including a 'Hangovertini', created by the mixologist at Lebua to celebrate the film and blending green tea liquor, apple juice, Martini Rosso and rosemary honey. No holiday is complete without a picture of the golden hour atop a rooftop bar, however with the addition of the standout dome, glowing from the striking spotlights, any picture snapped here is bound to steal the limelight from every social media feed. Feel like the fifth member of the Wolfpack as you ascend the pristine staircase, lined with colossal vases of flowers, and appear where the skyscrapers meet the hazy clouds and lines of violet hues painted across the sky come as standard.
To find out more
click here
Saranrom Park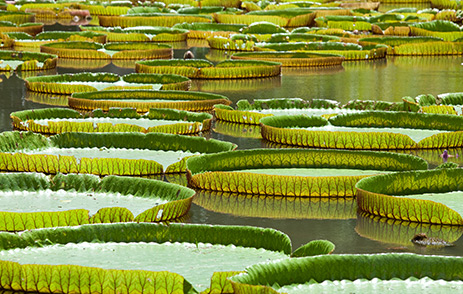 If you're starting to feel like you can't escape the bustle of the city anywhere, head to the shady oasis that is Saranrom Park. Almost forgotten by tourists and locals alike, this sanctuary of stillness and serenity is nestled just beyond the confines of the old royal city, where you'll find the Grand Palace and Wat Pho, and makes for the perfect break to capture some quieter moments. An endearing mix of western and Rattanakosin-era influences, a pond of giant Victoria lilies creates a backdrop straight out of Photoshop, while lizards creep around the flowerbeds trying to steal your shot. The park was also originally part of a royal palace built in 1866, so expect to stumble across intricate architecture and perfectly placed century-old trees while roaming the greenery for your next snap.
Damnoen Saduak Floating Market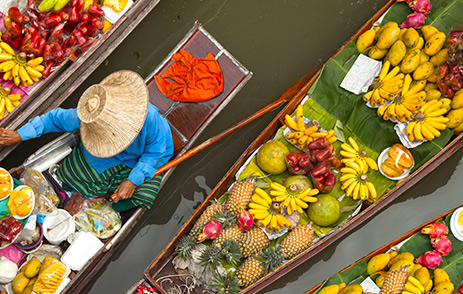 Let yourself float away to a world of aromatic spices, striking colours and shimmering waters, and open your eyes. You're in a Thai floating market. An image consistently associated with Thailand, the Damnoen Saduak Floating Market is a burst of excitement for both your senses and your camera lens. An early morning start is your only chance of survival here, as the market becomes flooded with visitors in the blink of an eye. Long-tail boasts glide down the narrow canals, weaving in and out of small wooden houses balancing on stilts in the shrugging water. We recommend waiting tentatively by the waters edge for the scene of fruit sellers rowing their boats, which make for an unforgettable picture. Once you've pulled yourself away from the capture button, the fresh food along the docks is worth a try, from the mini coconut pancakes to the boat noodles Thailand is famous for, swimming in the tasty meat broth.
Camera charged? Let us do the rest. From arranging bespoke itineraries to scouting out all the best hidden spots, our team of personal travel managers are on hand whenever you need to give you all the tips and tricks to exploring the Thai capital. Call 0203 816 0985 or enquire here and leave the rest to us. All you need to do is pack your suitcase and scour your wardrobe to find the most brightly coloured outfit… after all, it will make the best snap for your Instagram feed.
Share with someone you'd love to travel with

Ellena Rowlin
Ellena Rowlin is a Content Writer