0203 816 0985
Let's talk. We're open Mon-Fri 9am - 6pm
We're open Mon-Fri 9am - 6pm
The Caribbean islands you're not visiting… but definitely should
A destination ideal for both winter and summer sun, the Caribbean is a cluster of luscious jungles, irresistible beaches and enticing culture. But as the masses flock to the most popular islands, adventurous travellers looking for exclusivity are trying something new. Crossing the cobalt blue ocean to lesser-known, more intimate destinations doesn't mean compromising on luxury standards, with the hotelier brands we love recognising the natural beauty and opening properties. Here's our pick of the Caribbean islands you're not visiting but – once you experience – will keep you coming back for more.
Anguilla
Maundays Bay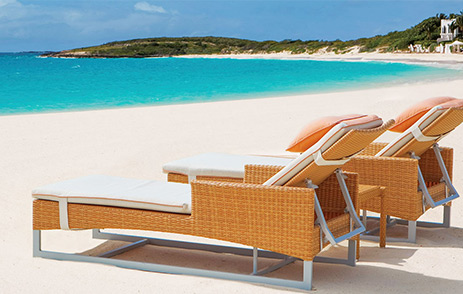 Nestled in the Eastern Caribbean,
Anguilla
is just 16-miles long, packed full of pure culture and quintessential postcard scenes. And, speaking of picture-perfect sights, Anguilla's beaches are its real draw. Maundays Bay, on the southwestern tip of the narrow island, boasts crystal-clear sea water washing up onto the immaculate strip of pristine sand. And the title of Conde Nast Traveler's 'Most Beautiful Island Beach in the World, in case you needed any more reason to visit. Despite its naturally wondrous features, the winding beach remains fairly quiet with just the guests of the
Belmond Cap Juluca
regular visitors.
Belmond Cap Juluca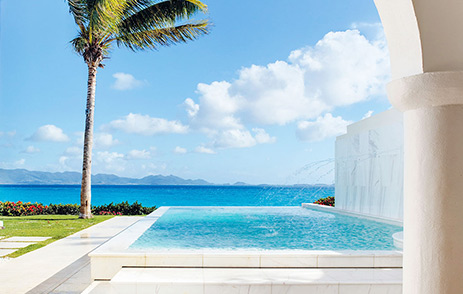 This prestigious hotel is our pick of accommodation, where Moroccan decoration meets Caribbean tradition with all rooms and suites offering beachfront balconies looking on to the empty horizon. Weave in and out of the lemon-yellow beach huts selling caramel brown rum and you'll get a sense of what makes Anguilla so special – it's humble soul. The Caribbean authenticity that may be harder to find on the busier islands runs through the sweet-smelling restaurants and welcoming people that populate them, guaranteeing a holiday for the memory book… and striking beaches for the 'gram.
Saint Vincent and the Grenadines
Mandarin Oriental, Canouan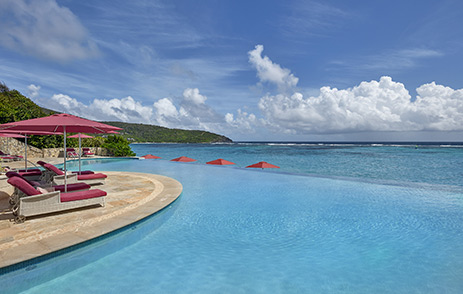 This cluster of island paradises is the place to head if world-class resorts in wonderful settings are your kind of holiday. Offering the perfect opportunity to island hop and make the most of your time out of office, you'll need to fly to Barbados then step onto a private transfer to any destination in
Saint Vincent and the Grenadines
. Canouan Island is one of our favourites. It may measure just five-square-miles across but contains 1,200 acres of lush vegetation and a vast coral reef. However, it's the journey into the esteemed
Mandarin Oriental, Canouan
, as you spot pink specks among green blankets while inside the 25-minute private jet from Barbados, that'll be etched in your mind.
Mustique Island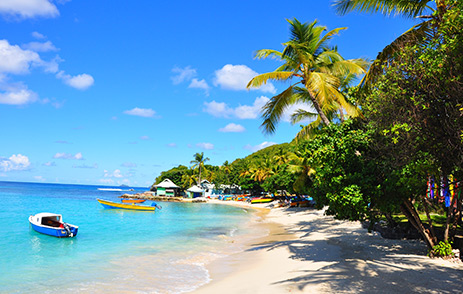 Where Italian sophistication is injected into the talcum-powder sands, this property houses 10 spa suites indented into the hillside and 5 restaurants serving Pan Asian and European cuisine. A lounge on the cerise day beds after a trip out to sea on the luxury super-yacht and your stresses will float up to the clear sky. Our other top pick for this Caribbean archipelago is Mustique Island. This tiny drop of forest green in the azure ocean is one for lovers of exclusivity, with only a handful of high-end hotels on the mystical island, one being
Cotton House
. This colonial-inspired boutique property is bursting with tropical gardens for you to explore if you've had your fill of the gleaming white beaches – although we doubt that could ever truly happen here.
Turks & Caicos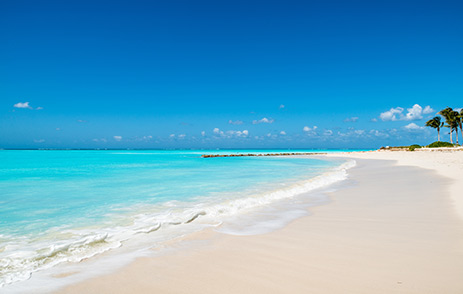 A long-time hotspot for A-list celebrities, this haven of seclusion is having its time in the limelight. Made up of two groups of islands in the Atlantic Ocean, no matter what location you choose in
Turks & Caicos
, typical Caribbean luxury will be enjoyed by all. Properties are spacious with an air of exclusivity and granted discretion along with the island enjoying the largest private runway in the Caribbean. Grace Bay Beach is the most popular strip of sand, where inviting waters stretch far and shallow allowing you to keep your head above the water to enjoy the magnificent views. Here is also where you'll find a plethora of restaurants offering exotic tastes of the region.
Amanyara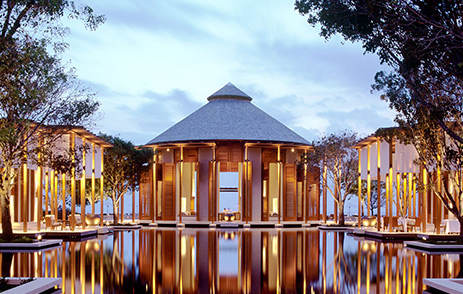 We recommend you take the plunge and immerse yourself in traditional cuisine to really get a flavour of the Caribbean and you won't regret it. When you're not chilling out on blissful beaches, uncover world-class golf courses and extensive barrier.
Amanyara
is a property frequented by stars, from David Beckham, Helena Bonham Carter and Will Smith. Boasting Aman's signature minimalist styling and tall ceilings, creating an atmosphere of contemporary refinement. Reconnect with your inner harmony and take part in the complimentary yoga and spa then discover more about the colourful marine life at the Nature Discovery Club.
Saint Barthélemy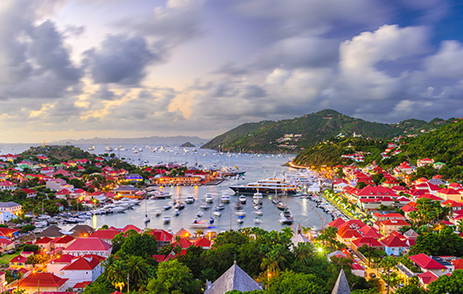 Are you looking for the glitz and glamour of the French riviera while basking in the glorious sunshine the Caribbean is known for? Then
Saint Barthélemy
is the place. Commonly known as St. Barts, this island attracts the rich and famous like a magnet due to its small population of 35,000 and less chance of paparazzi compared to the other larger islands. Think of Cannes and images of perched superyachts upon the glistening water of the marina will appear, and that's exactly what you'll find in St. Barts, with Gustavia Port becoming a haven for luxury vessels.
Christopher Hotel Villas and Spa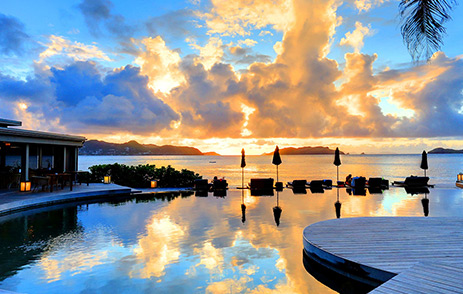 The island also boasts a strong dining scene with a heavy French influence and restaurants Le Tamarin and L'Espirit top the Trip Advisor rankings year in, year out.
Eden Rock, St Barths
is reopening in November 2019, still offering its signature pops of red in the furniture and the incredible location in St Jean Bay where exclusive boutiques, bars and restaurants are just a short walk away from the perfect beach. For those wanting to escape the everyday routine at home, a stay at
Christopher Hotel Villas and Spa
will show you a menu of Sisley spa treatments, a contemporary style art lovers will bask in and a sunset view like no other.
St. Kitts and Nevis
Park Hyatt St. Kitts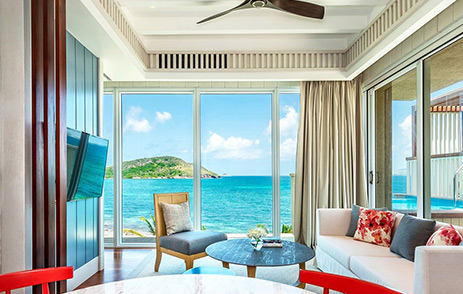 This one nation comprising of two islands, conveniently connected by boat for dual-centre enthusiasts, may be the smallest country in the whole of the Americas, but doesn't hold back when it comes to epic scenery and endless lists of activities to enjoy. St. Kitts is the larger island, offering an ideal fusion of five-star luxury and quintessential Caribbean culture, ideal for the traveller who wants to escape the crowds to a destination often overlooked.
Park Hyatt St. Kitts
Christophe Harbour encapsulates modern extravagance as if it were in Dubai, looking out onto calm ocean waters and rolling green hills. Cricket is a lifeblood here, and the Warner Park stadium in the capital of Basseterre fills to the brim when international matches are played, and its worth trying your chances to get a golden ticket into one of the games.
Four Seasons Resort Nevis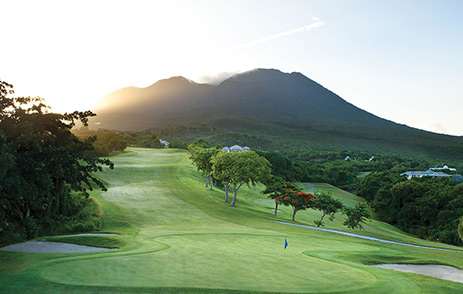 Both
St. Kitts and Nevis
were formed by volcanoes so are havens of discovery, while offering a canvas of forest green peaks ideal for walking, hiking or just generally admiring from your hotel window. Nevis is a much sleepier island, perfect for those who want to chill out on unspoilt beaches. Here, you'll find the
Four Seasons Resort Nevis
which, once you enter, will be hard to leave. With a portfolio of both casual and fine dining, unrivalled views across the sea to the sister island, beautifully traditional accommodation and activities like Dive and Dine available, this tranquil paradise has it all.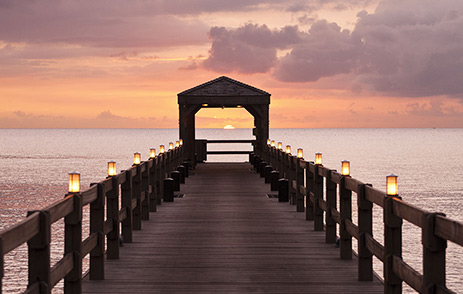 The Caribbean has long been the go-to destination for families and couples, whether it's adventure, relaxation or wine and dining that ticks your box. A host of five-star properties, from expansive resorts to intimate hotels, prove you don't always need to head to the well-known islands for an unforgettable experience. Found the perfect island getaway? Or fancy creating an itinerary to visit more than one? Get in touch with our team of personal travel managers on 0203 816 0985 or enquire here and find out what makes bespoke travel so special.
Share with someone you'd love to travel with

Ellena Rowlin
Ellena Rowlin is a Content Writer