0203 816 0985
Let's talk. We're open Mon-Fri 9am - 6pm
We're open Mon-Fri 9am - 6pm
The Best Swimsuits To Wear On Your Next Caribbean Getaway
Since holding its first fashion week in 2001, the
Caribbean
has been getting more and more well known for its style. Generally speaking, garments are vibrant and colourful with the event showcasing both local designers and now international brands such as Gucci and Prada as well. With this in mind it's very important to ensure you look your best both off, and on, the beach so we've assembled a list of some of the best swimsuits and shorts that will accompany the ultimate Caribbean getaway in style. Oh, and just in case you haven't booked your trip yet, we've included some fantastic hand-picked itineraries that will have you seeing the very best that this beautiful corner of the world has to offer.
Melissa Odabash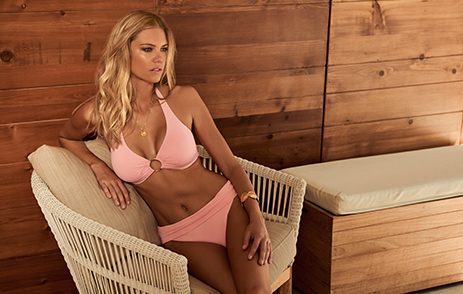 Stunningly beautiful, this swimsuit matches St. Lucia wonderfully. The gorgeous rose colour will certainly complement your tan, and if you wear it with gold jewellery then you're certain to be looking and feeling a million dollars. The fold over design of the bottoms will flatter your figure even further, and the halter neck strap detail and additional underwiring ensures the top has some extra support, too.
Being home to the Pitons and plenty of sensational beaches, St. Lucia is an island that may be small but it certainly packs a punch. Whether you want to spend your time at Splash Island Water Park or luxuriating on a catamaran, this bikini is perfect for both occasions and is sure to be your new swimwear essential for years to come.
Melissa Odabash Brussels Halterneck Bikini Rose, Starting at £95, Available from www.olabash.com
Orlebar Brown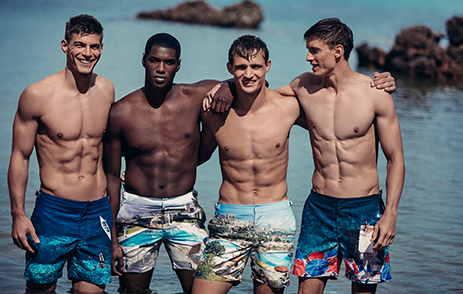 Planning on making a statement during your Caribbean getaway? Orlebar Brown has you covered. Bringing a tailored approach to its pieces, the British clothing brand has swimwear at its core. Since starting in 2007, Orlebar Brown now has a worldwide cult following. As well as being able to be bought online, you can also pick up a pair at various Orlebar Brown stores across the country as well as in Selfridges.
Get stylish in… Jamaica
Ideal for a holiday in Jamaica, you'll be sunning it up at Doctor's Cave Beach in Montego Bay in no time. Beautiful beaches and a year-long summer mean you can showcase your new threads from the get go, with plenty of watersports to get the adrenaline levels up a little.
From left to right; Orlebar Brown Bullldog Deep Sea Mid-Length Swim Shorts, £225, Orlebar Brown Bulldog Kaufmann Cocktail Mid-Length Swim Shorts, £225, Orlebar Brown Bulldog Monte Carlo Mid-Length Swim Shorts, £225, Orelbar Brown Bulldog Brolly Folly Mid-Length Swim Shorts, £225, All available from: www.orlebarbrown.com

Love Orlbar Brown? Check out our exclusive interview with founder and creative director Adam Brown here.
Adriana Degreas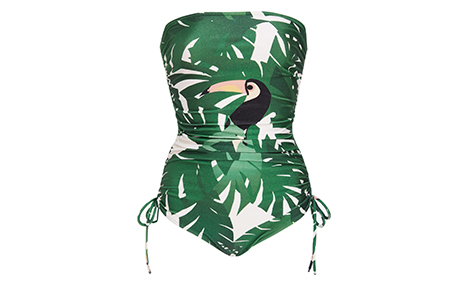 Bring Rio vibes to the Caribbean as you flaunt your stuff in this tropical printed swimsuit from Brazilian fashion designer Adriana Degreas. Every beachwear piece is made using unique moulage techniques meaning that the clothing is more fitted, working with your body shape. The rouched detail is fantastic for a retro look while abroad and adds an extra feminine touch too.
The British Virgin Islands are a luxury adventurer's paradise. This gem boasts plenty of lush vegetation and rainforest to relish and explore, and if you choose to wear this piece you'll literally blend into the background.
From left to right; Adriana Degreas Green Geometric Foliage Strapless Swimsuit, Available Summer 2018
Boardies®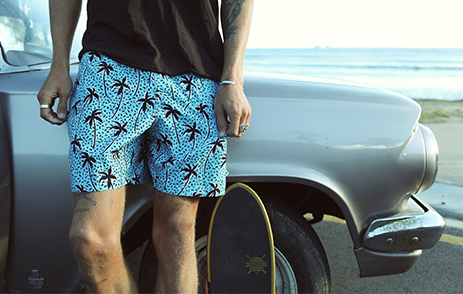 Chilling out by the pool in Barbados just got a whole lot easier with this pair of swim shorts from Boardies®. This piece is versatile to wear both when topping up your tan or partying with a beer in hand… you can't go wrong. Made from the company's signature lightweight material that's soft to the touch, you'll also get a drawstring bag to store it in too, in between wears.
The palm tree print adds a tropical vibe that fits a day of exploring the Barbados Wildlife Reserve before stopping off for some traditional cuisine at Island Plates. Finish off the day at Harbour Lights bar in Saint Michael Parish where you can party 'til the early hours.
Boardies® Flair Palm Swim Shorts, £50, Available from www.boardiesapparel.com
Rye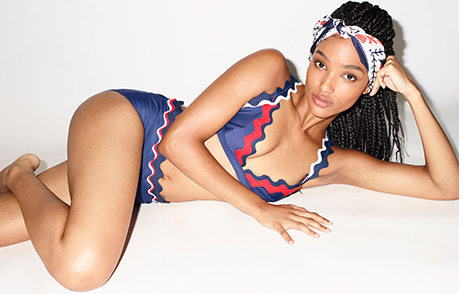 RYE is an Australian fashion label that is definitely worth a Google. Founded by Alyssa Carter and Bonnie O'Hare, the beachwear collection has been designed to be mixed and matched, all complete with a signature elastic trim. The BALMY Bikini Top and Bottoms are perfect for times when you want to stand out. Navy with a colourful scalloped trim, heads will be turning as soon as you step foot on the beach. Available in a variety of colours, you may have to buy a different one for each stretch of sands you visit.
Get stylish in… Antigua
With 365 beaches, Antigua is a top destination for lovers of white sands and endless sunshine. Dickenson Bay is one of the best, with plenty of beach bars and a wealth of both land and watersports on offer. Alternatively, families will adore Pigeon Point Beach thanks to its calm and shallow waters and quieter sands.
RYE BALMY Bikini Top and Bottoms, $119 each, Available from www.ryeswim.com
Derek Rose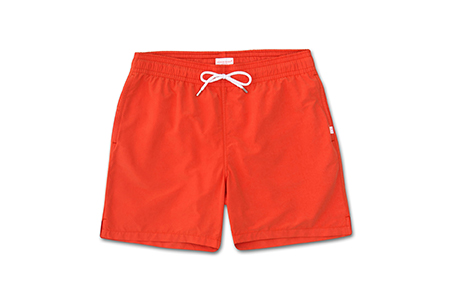 There's only one island to visit with this pair of Aruba Orange swim shorts from Derek Rose. Adding a bit of vibrancy to any outfit you'll be looking fantastic in and out of the water. The Classic Fit is designed to be more generous with an elasticated waistband and a seamless inner mesh lining for a little extra comfort. Valuables are kept safe courtesy of the pin-lock zip on the back pocket too.
Get stylish in… Aruba
Aruba is just 19.6 miles long and six miles wide however with plenty of beaches and diving sites to explore, you'll be getting a lot of wear out of this pair that's for sure. The island is also a popular choice with honeymooning couples thanks to its stunning stretches of sands. Palm Beach is brilliant if you're looking to capture that perfect Instagram shot and if you're wearing the shorts the likes are bound to be rolling in.
Derek Rose Men's Classic Fit Swim Shorts Aruba Orange, £120, Available from www.derek-rose.com
Hunza G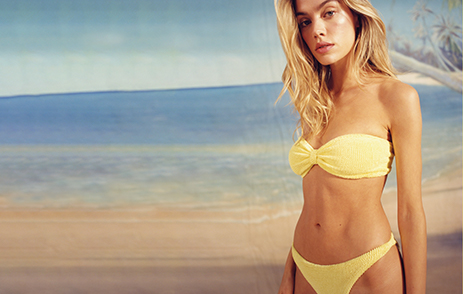 Made famous by the film Pretty Woman, Hunza G is a fashion brand that's worth investing in. While it's made in London this swimsuit is ideal for Cuba and its year-long sun. Made of seersucker material this garment is lightweight and figure-flattering, hugging your curves as you go for a dip in the sea.
Get stylish in… Cuba
There are plenty of beaches in Cuba where you can show off your new threads, or alternatively team the top with a pair of shorts and flip flops and head to the city of Havana for some sightseeing. This should of course be done in a classic car for the quintessential experience.
Hunza G Jean Bikini, £125, Available from www.hunzag.com
Solid and Striped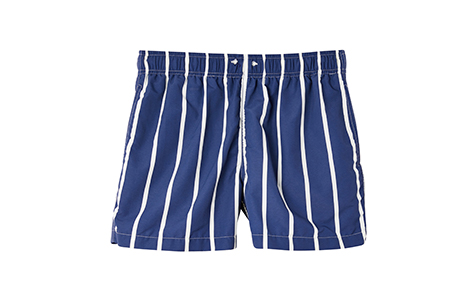 A classic pair of swim shorts from Solid and Striped calls for a classic Caribbean getaway. This piece has the potential to work with a whole multitude of outfits no matter what you have planned that day. There are side pockets and a back pocket so you have enough room to keep all your island essentials, along with an elastic waistband for optimum comfort. With Solid and Striped also catering to women and kids, the whole family can be kitted out in style too.
The Bahamas guarantees golden sands, cerulean waters and days upon days of showing off your updated wardrobe. A destination that was made for families, here you can get wet and wild at Aquaventure, get to grips with island life at Parliament Square and soak up some history at Fort Charlotte before you know it.
Solid and Striped The Classic, €128, Available from www.solidandstriped.eu
Emma Pake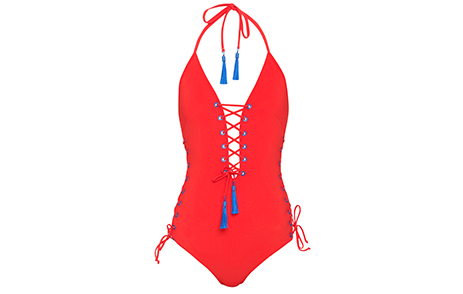 If you're looking for a couture swimsuit to add to your holiday wardrobe, look no further than Emma Pake. This British brand has been ever-popular since its first season when it was snapped up by Selfridges and Net-A-Porter and has been going from strength to strength since. Inspired by the 1920s and a tropical Art Deco style, this piece has a traditional silhouette and hue with a twist. The corseted front and sides add a daring edge, while the blue tasselled accents give a fun finish.
Get stylish in… Grenada
The Caribbean is the perfect place to wear your new show stopper, and where else could be better than Grenada? With plenty of beaches, hotel swimming pools and watersports to take advantage of, you know you've picked up a new staple with this swimsuit choice.
Emma Pake Laces Carlotta Swimsuit, £280, Available from www.emmapake.com
NOW THAT YOU HAVE YOUR SWIMSUIT IT'S TIME TO BOOK YOUR NEXT CARIBBEAN GETAWAY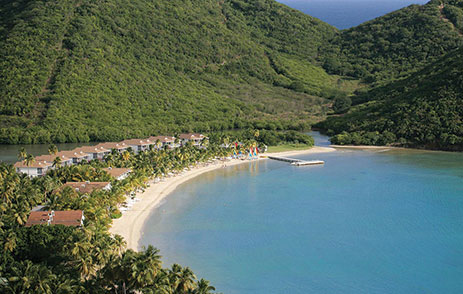 A Caribbean getaway like no other, this itinerary will have you stay in both Antigua and St. Lucia. The 14-night extravaganza kicks off with seven-nights at
Carlisle Bay Antigua
. With a stunning collection of 89 suites decorated by Mary Fox Linton, you'll be resting your head on comfortable beds surrounded by contemporary décor with exotic island flourishes. Families will be in their element here thanks to the fantastic kids' club offering a whole host of experiences for little ones to enjoy. You'll then head to
Cap Maison Resort & Spa
for the remaining seven-nights. If you're a lover of gourmet cuisine you've hit the jackpot here as the award-winning restaurants that serve traditional food also overlooks the sandy shores of that beautiful continent. A wonderful spa seals the deal, ideal if you're wanting some TLC in the privacy of your hotel room or suite. With this itinerary you can expect daily breakfast along with private transfers throughout.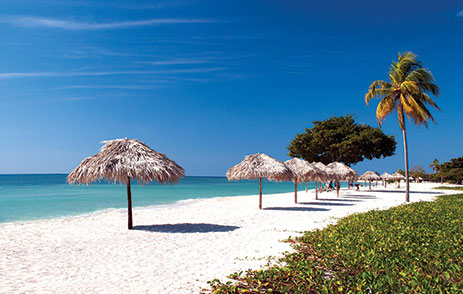 If a 14-night holiday in Cuba and Jamaica sounds like your idea of heaven, this itinerary will suit you down to the ground. Your first seven-nights will see you in Havana. As well as a private tour of the Viñales Valley you also get to see the best of the city in a classic 1950s car too, ideal for those who want to explore. You'll be staying at
Gran Hotel Manzana Kempinski La Habana
which boasts close proximity to the Museum of Revolution as well as other landmarks, being just a 20-minute walk away. You'll then be whisked away to Jamaica.
Half Moon
will be your home for the next seven-nights, and what a home it will be! Contemporary island interiors can be found throughout along with authentic on-site restaurants, a playground for the little ones and its very own golf course. During your time here you'll enjoy tasting some quality rum, purely for cultural reasons of course.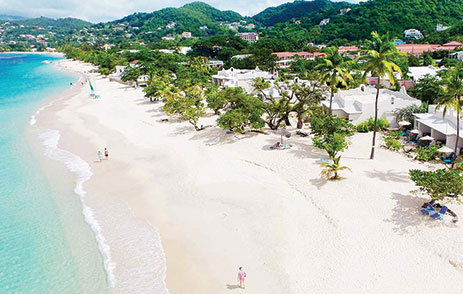 Holiday makers wanting an island getaway need look no further than this 10-night itinerary. With five-nights spent in Barbados and another five in Grenada, beach glamour is guaranteed. The Barbados stint will have you staying at
The House By Elegant Hotels
. This adults-only resort is perfect for couples wanting an element of romance, with lavish one-bedroom suites, beachfront dining and even a complimentary glass of champagne every day. Rest and relaxation starts the moment you arrive too, with professional jetlag massages on offer to all guests.
Spice Island
in Grenada is the next port of call. Award-winning dishes come as standard here, so if you're a major foodie, make sure to reserve a table at one of the on-site restaurants. Add into the mix a boutique to buy last-minute souvenirs, a kids' club so even the smallest member of the party can enjoy themselves and a spa for a little serenity, and you have everything you need for a magnificent trip.
Budding island dreamers and explorers listen up! This 14-night extravaganza will have you venturing through some Caribbean gems. The first five-nights will see you in Antigua. Staying at
Jumby Bay Island
, seclusion comes as standard along with tantalising restaurants, a kids' club and a private beach at your disposal. St. Lucia is then yours for the taking. Five-nights of unparalleled glamour is guaranteed, especially when staying at
Calabash Cove Resort and Spa
. With suite and cottage accommodation you can expect a spacious haven for the duration of your stay, complete with panoramic sand and sea-strewn views that look like they've just come out of our very own lifestyle brochure! The luxury dial is then turned up a notch as you head to
Sandy Lane
for the remaining five-nights. One of the most iconic hotels in the world, the 113 rooms including a private villa make for quite the oasis away from the trials and tribulations of everyday life. There's also a golf course if you fancy perfecting your swing, along with four award-winning restaurants for times when you're feeling peckish. So, what are you waiting for? A world of enjoying cocktails in the sun, sunbathing poolside and generally just getting away from it awaits.
To start booking your Caribbean getaway and have an excuse to buy some amazing swimwear, enquire here or call one of our personal travel managers on 0203 816 0985
Share with someone you'd love to travel with

Guy Humphrey
Guy Humphrey is a Content Writer