0203 816 0985
Let's talk. We're open Mon-Fri 9am - 6pm
We're open Mon-Fri 9am - 6pm
If you like Dubai, you'll love this other Middle Eastern gem
We all know that Dubai offers the high life, from world-record-breaking skyscrapers and man-made islands to extravagant designer malls and 24-carat gold-topped cappuccinos. Experienced the radiant sun, dramatic skyline and lavish properties of the popular emirate? We have the perfect follow up destination… Oman. A similar Middle Eastern feel runs through the country, and the landscape Is epic enough to rival the neighbouring desert. With an array of stunning buildings and breath-taking views, luxury is not compromised here. Everything Dubai can do, Oman can do too so trust us, you'll be booking your escape in no time.
Join the culture club
Sultan Qaboos Grand Mosque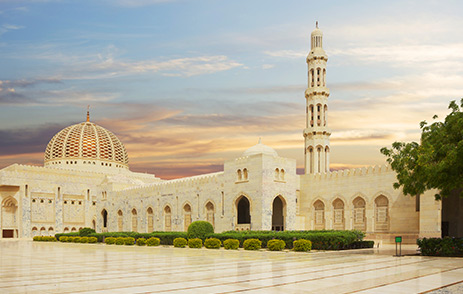 If it's the rich smells, authentic flavours and bustling areas of downtown Dubai you can't get enough of, the capital of Oman, Muscat, will hit the spot. Just like its neighbour, the fusion of old and new creates contrasts like no other. The contemporary Sultan Qaboos Grand Mosque has spires touching the burning pink sky and interior tiles plucked out of the finest gallery, while the Fort Al-Mirani holds Oman's history deep in its core in the Old Town. When it comes to immersing yourself in Omani culture, food cannot go a miss. Forget the smoke of grilled meats and chargrilled flat breads because in Muscat seafood is the name of the game. Tuna, kingfish, lobster, you name it and the restaurants lining the harbour will most likely serve it. To really get a taste of local life, make sure to head to Muttrah Souk, where a maze of golden jewellery, handmade ceramics and llama wool pashminas will reflect in your amazed eyes. To learn the bartering process from the masters, arrive in the evening, when the locals venture out for some bargains.
Pleasure is leisure
Ghala Golf Club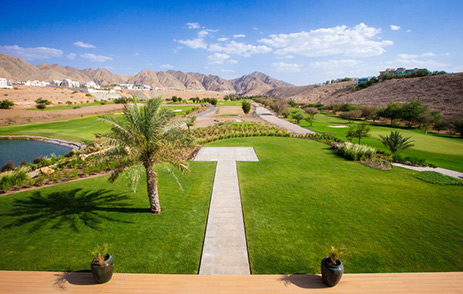 When you've had your fill of sunbathing among indulgent décor and shimmering pools, Dubai goes to town with its leisure options, especially shopping. Hitting the shops is not an average affair, with The Dubai Mall coming in as the second-largest shopping centre in the world. The fun isn't limited to the emirate though, with Oman providing something a little different to shopping to occupy travellers. Oman is actually a world-class winter sun and golfing destination, letting its older sister take the limelight and instead modestly offering up interesting terrain and stunning views at courses like
Muscat Hills
,
Ghala
, and
Almouj
. The naturally mountainous terrain makes Oman the ideal canvas for challenging fairways and spectacular panoramas, and because it's still relatively unknown for the sport, now is the time to head there to enjoy the greens uninterrupted.
Under the sea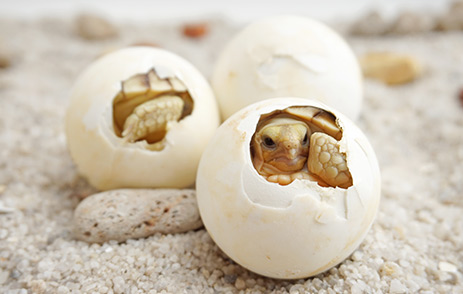 The world underwater is a blue fascination to the best of us, and in Dubai Aquarium and Underwater Zoo you can immerse yourself in a labyrinth of majestic sharks, marvellous rays and colourful fish. Ticked this box? There's a whole new kind of magic waiting for you in Oman, at the
Ras Al Jinz Turtle Reserve
. Nestled within the confines of natural beauty on sweeping unspoiled shorelines, this area is world renowned for the nesting of the endangered green turtle. This once in a lifetime opportunity is best experienced between May and September and you can watch these gentle sea giants nest either as a guest or an in-house resident. Early morning and nightly sessions take place on the pure sands of the fishing village where you can observe one of nature's purest processes - the hatching of baby turtles.
Beach you to it
Six Senses Zighy Bay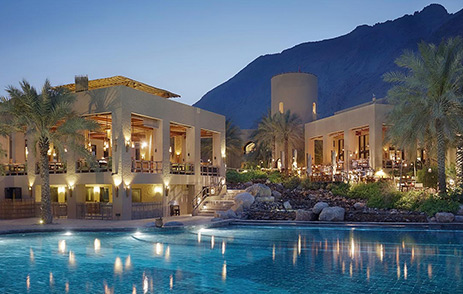 Dubai's reputation as a sun-kissed beach destination is nowhere near fading, with Jumeirah Beach boasting top contemporary hotels on the sand and The Palm housing some of the most famous and unique properties, synonymous with the city. But don't underestimate Oman, because when it comes to experiencing five-star luxury with the sea breeze in your hair,
Six Senses Zighy Bay
has it all. Look one way and you see the still waters of the Gulf of Oman then turn around and behold the wondrous and rocky mountains, two juxtapositions working in harmony to create a backdrop for an unforgettable holiday. The premium treatment will follow you throughout your stay, from the world-class spa treatments and sunset cruises to the indigenous-style villas and exquisite dining areas. This is beach luxury… with a thrilling natural spin.
Enough room for desert?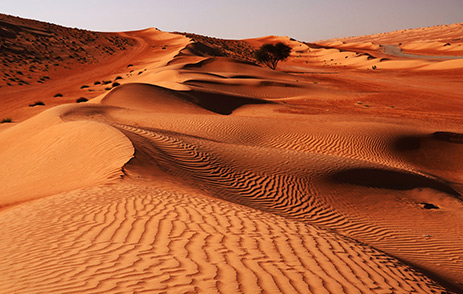 Sometimes there is no scene as peaceful as looking out onto sweeping views of sand where the ground is painted with brushes of golden hues. The Dubai desert is a haven of serenity once you escape the bright lights and towering buildings, with unique activities like sandboarding and safaris at your disposal to enjoy the beautiful surroundings. If you've already ticked this box, we know you'll love dune bashing in the Omani desert. For the thrill seekers out there, hop aboard a 4x4 and navigate these colossal stretches of desert, or head out on a quad bike to get the adrenaline pumping through your veins as your clothes quickly turn the colour of the sand. If it's a calmer approach to experiencing the landscape you're seeking, camel riding will make you feel like you've landed your own spot in
Aladdin
. We recommend getting your place on a sunset trek to truly indulge in this magical and mystical land, illuminated by the burning red rays of the sinking sun.
Oman is a melting pot of culture, and whether it's your first visit to this hidden gem, or you're returning for more exploring, travellers of all ages will never forget it. Get in touch with one of our personal travel managers by calling 0203 816 0985 or enquire here to see how bespoke travel designed just for you can upgrade your getaway to Oman.
Share with someone you'd love to travel with

Ellena Rowlin
Ellena Rowlin is a Content Writer