0203 816 0985
Let's talk. We're open Mon-Fri 9am - 6pm
We're open Mon-Fri 9am - 6pm
Holiday Showdown: Bangkok Vs Phuket
City or beach? You decide with this month's Thailand destination clash
June's edition of our monthly holiday showdown battle puts two
Thai heavyweights
in the ring. Bangkok, the country's capital city is certainly where Thailand's cultural heart beats making it a must-see when visiting the region. On the other hand, Phuket – the largest of Thailand's islands – offers a rain-forested, mountainous landscape and is home to countless sandy beaches. The similarities between these two destinations are in abundance however it's their differences that make each a top holiday choice in their own right. Stuck on which one to visit for your next Thai adventure? We've weighed up the options and have delivered an exhilarating five rounds that pits the two against each other. The gloves are off, but who wins? That decision is entirely up to you.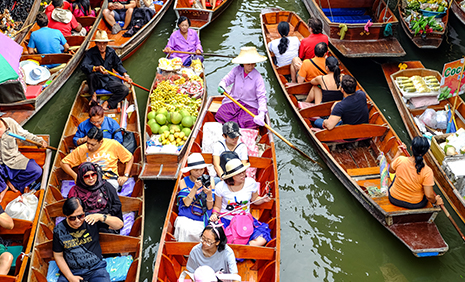 Round One: Under the Sun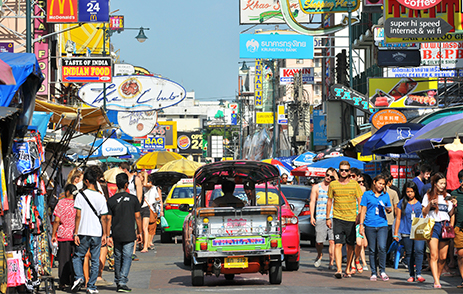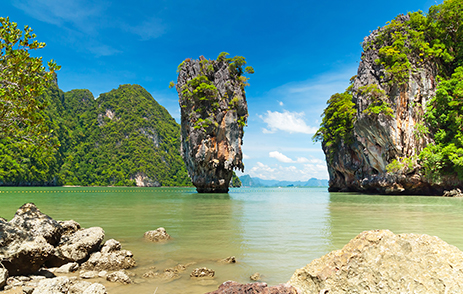 You'll never struggle to fill your days in Thailand. Whether you're an early-riser, an active traveller or a mid-morning plodder, there's something to do from dusk 'til dawn. This is ever prominent in Bangkok. Don't be put off by the bumper to bumper traffic, as getting around this city is unusually straight forward. With an air-conditioned Skytrain system that flies overhead; a stream of river boats and ferries gliding along the winding Chao Phraya River; and a never-ending sea of metered taxis, tuk tuks and motorcycles flowing through the centre, transportation certainly doesn't pose any obstacles. However, deciding where to visit first can be overwhelming. The Grand Palace is a complex of temples, buildings and historical monuments and is easily Bangkok's most popular attraction. Steeped in regal history, expect crowds and queues throughout, however it would be criminal to visit the city without stopping by the Temple Of The Emerald Buddha, The Grand Palace's main draw. Other popular must-sees include the floating market, The Temple Of The Reclining Buddha and Wat Arun. Is shopping more your holiday activity of choice? Well you're in luck, as the city is home to multiple shopping experiences including the boutiques of Siam Square, the stores of megamall CentralWorld or the stalls of the numerous markets… just be sure to check the labels thoroughly before parting with your Thai Baht.

Phuket offers a slower pace to its city counterpart with pram-friendly streets and palm-fringed beaches, but that isn't travel-agent speak for quiet and dull. On the contrary, Phuket showcases a plethora of things to do from day trips to nearby islands to enjoying 360-degree views of the region from Phuket's Big Buddha. Maybe you'd prefer to venture around the Phi Phi islands via long-tail boat or perhaps a speedboat tour of Phang Nga Bay – commonly known as James Bond Island – is more your speed? With an undeniable beach vibe, Phuket showcases some of Thai's greatest with the resort town of Kata, Patong, Karon and Kamala all playing host to silky soft sands, topaz skies and sparkling sapphire waves. A stark contrast to Bangkok, in Phuket relaxation is top of the agenda. Soaking up the sun on the edge of a tranquil infinity pool in a five-star resort is a common past-time as in Phuket the heat is appreciated whereas in the Thai capital, it can feel a little stuffy and humid. In terms of things to do, while both locations offer a vast array of activities, a leisurely stride and sandy affair is certainly on the cards in Phuket whereas Bangkok offers a fast paced, city-slicker vibe throughout.

Round Two: After Dark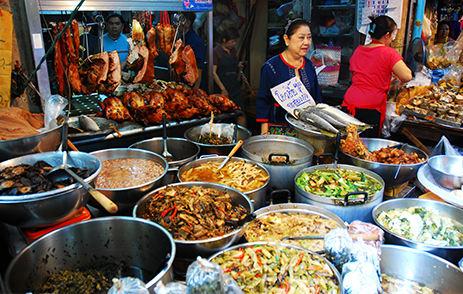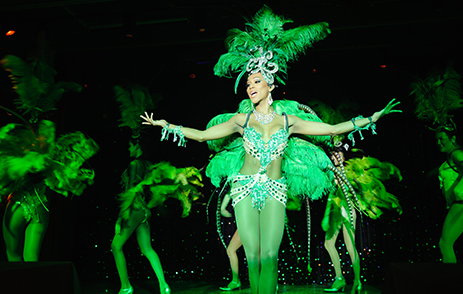 Thought Bangkok was crazy during the day? Well think again as the tamer side to the city hits the hay come sundown and the party starts to kick in at dusk. From night markets offering tantalising cuisine for a purse-friendly price to bars and clubs playing the latest beats, the city is electric and its buzzing atmosphere is contagious. Fancy drinks with a view? In Bangkok, rooftop bars are found around every corner with Sky Bar at Lebua one of the most popular. Famous for its cameo in blockbuster hit The Hangover Two, this is certainly one of Bangkok's top places to be and be seen. Clocking in at a close second is Banyan Tree's Vertigo and Moon Bar. Located 61 floors above the bustling street below, the views across the city have to be seen to be believed. Here, the cocktails are to die for and the al fresco dining experience is sure to be a highlight of any stay. Of course, Bangkok is just as famous for its adult night scene. With pubs, clubs and restaurants aplenty, the backpacker district of Khao San Road and the more up-market Sukhumvit Soi 11 always offer a good time. World-famous Soi Cowboy and Patpong are also popular with tourists… just be sure to leave the children at home for these ones.

Phuket comes alive at night too, with Bangla Road the area's answer to Bangkok's world-famous night scene. Here you'll find a wide 'walking street' filled with bars offering ice-cold bottles of Chang and restaurants with menus of reasonably-priced food. However, this fast-paced after dark hangout is as wild as Phuket gets and is often a favourite amongst the younger crowd and those looking for one, maybe two, nights of party. Phuket's general evening entertainment is much tamer, holding families and couples at its core. Children's menus, singers and beach-front settings combine to create a relaxed atmosphere that is distinctly angled toward the Western clientele. Other evening activities include cabaret shows and acrobatic productions that are designed to educate visitors on Thai culture and delight both young and old. Another popular past time in Phuket, as with many other areas of Thailand, is Muay Thai Boxing. With fights almost every night, you can sit ringside and watch martial arts specialists execute their craft in what is always set to be an exhilarating evening. Even if boxing isn't your usual past-time, this traditional Thai art is definitely worth a few hours of your holiday.
Round Three: Rest Your Head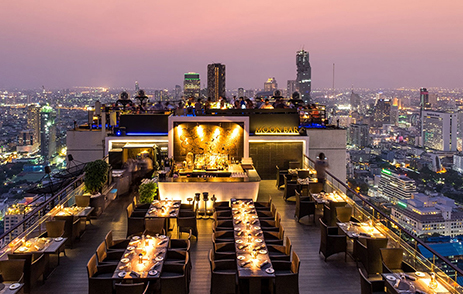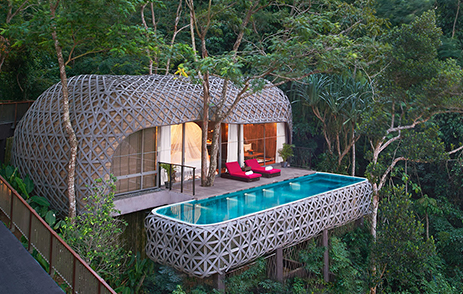 Thailand is synonymous for affordable luxury and this is apparent in both Bangkok and Phuket. Entry-level living at the majority of hotels certainly offers more for your baht than those presented across Europe and in Bangkok, everyone can afford to upgrade. For spacious accommodation in the heart of the city, look no further than Banyan Tree, Bangkok. Here, a calming colour palette and comfortable furnishings transform each of the rooms and suites into a sanctuary from the hustle and bustle of the city surround. The hotel's other notable amenities include an outdoor rooftop swimming pool, a health club, extensive business facilities, a sumptuous spa and 11 dining and drinking establishments. Of these, each offers a unique experience from sky-high al fresco dining at Vertigo to a first-class royal service of fresh Thai cuisine on Apsara, a converted vintage rice barge that glides up and down the Chao Phraya River. Talking of Bangkok's famed river, The Siam Hotel stands proud on the water's edge and provides a serene escape from Bangkok's city life. Comprising suite and villa accommodation – each complete with a show-stopper bathroom – a stay here is certainly one for the holiday hall of fame.

Phuket is where luxury hotel chains from across the globe congregate to offer world-class dining, exceptional customer service and out-of-this-world accommodation complete with picture-perfect backdrops of pristine sand beaches and inviting azure waves. From staying in a treehouse in the middle of the stunning Thai jungle at Keemala, to residing on your very own private island at The Naka Island, A Luxury Collection Resort & Spa, variety certainly is on the cards here. With whichever style of accommodation you choose, whether it be traditionally Thai or rustic luxury, you're sure to be enchanted by the friendly local staff, stunning views and unbeatable hospitality. For privacy and ultra-modern living, head to Kata Rocks. Standing majestically on the cliffs of Kata, this hotel lures in the jetsetter crowd thanks to its cool Ibiza vibe and sleek modern furnishings. Each of its villas come complete with a private infinity pool as well as all the mod cons you'd expect from a penthouse apartment in the heart of Mayfair… trust us, after a few hours here you'll never want to leave. In summary, if you're basing your Thai getaway on the standards of hotels you're out of luck as both offer a multitude of fantastic resorts to call home.
Round Four: Dine out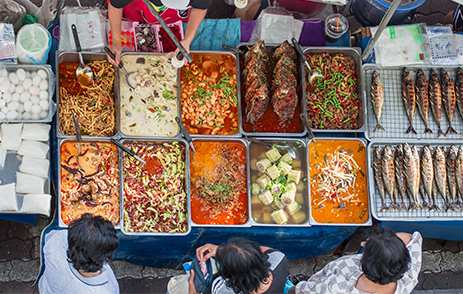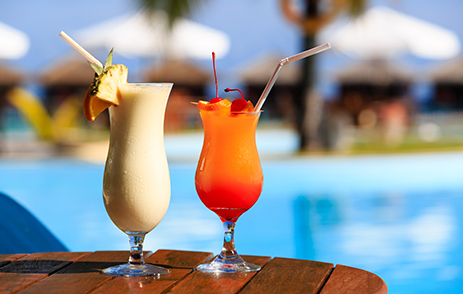 It's a well-known fact that many people like to travel as it's a great way to experience authentic and glorious foods from around the globe… and this is certainly true in Thailand. From spicy shrimp soup and papaya salads to noodle concoctions and an array of flavoursome curries, the list of local delicacies is endless. In Bangkok, the Thai culture of 'street food' cannot be avoided. Offering a taste of Thai cooking traditions, there are stalls on almost every corner rustling up something delicious. For an authentic and purse-friendly meal we highly recommend discovering a world of new flavours at one of Bangkok's world-famous street markets. Offering a variety of delights, here casual dining is personified and small plates (and lots of them) are a frequent way to sate your appetite. One of the oldest and most traditional Bangkok food markets is Ratchawat, tucked away in the quiet and green district of Dusit. Another popular dining destination is Yaowarat, or Chinatown, which has some of the most respected street food dining options in the entire city. Of course, if you fancy a fine-dining affair, there's plenty of exceptional restaurants to choose from or alternatively, why not enjoy a rooftop cocktail bar with a selection of bar bites? So much more than a bowl of peanuts, this popular style of enjoying food is best shared with friends or a loved one.

In Phuket, expect the same delicious flavours and a similar culture of street vendors to Bangkok. Hawker stalls, (some permanent, some temporary) are a great way to try local delicacies using 'Grandmother's recipe' techniques and if you're feeling peckish beachside, be sure to enjoy some fresh fruit from one of the many mobile stalls. Although street food is still popular in Phuket, in this area of Thailand restaurants, cafes and beach bars are just as prominent. Promoting a family-friendly vibe throughout, expect to find an array of children's menus as well as a fruity cocktail list for the couples and parents. Mai Thai's served in pineapples, Piña Colada's presented in coconut shells and hundreds of signature concoctions dished up in novelty glasses – it's an Instagrammer's paradise.
Round Five: Child friendly?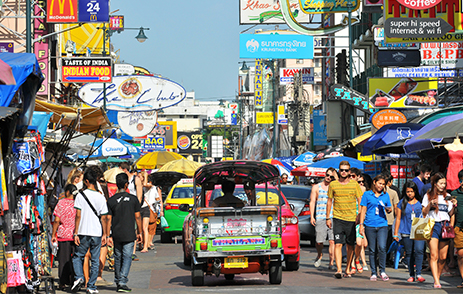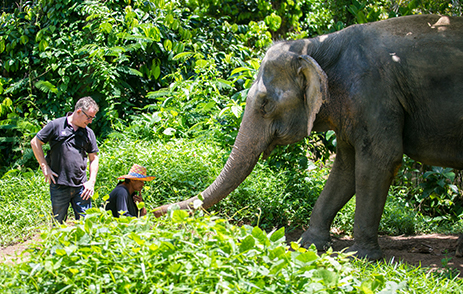 Thailand welcomes all with open arms however some areas are more equipped for families than others. As the capital, Bangkok is considerably more populated than its island counterparts which can make the streets less pram-friendly than other regions. Expect crowds and a dry, intense heat that can be especially uncomfortable for those in nappies. Bangkok's most visited cultural sites are some of the busiest areas in the entire city, so be sure to keep an eye on toddlers and small children as they can easily become swallowed up by the crowds. For older children and teens, Bangkok is a great introduction to Asia and presents a world of culture, sights and smells that are sure to educate and entertain.

Phuket, however, is a playground for families with little ones in tow as well as clans with older children or teens. There's plenty to do for all ages, ensuring that boredom will never creep into your holiday itinerary. From spending days lounging on the beach to visiting The Elephant Jungle Sanctuary to educate the young on the ethical practices of animal welfare, there's plenty to keep everyone occupied. Watersports, boat trips to neighbouring islands and snorkelling tours are all on offer from the majority of beaches and are the perfect way for a family to cool off from the heat and enjoy the Andaman Sea.

Still unsure of which area of Thailand has your name on it? We've answered a few more of the most common questions to help you make the right choice

I'd like to check-out more than one spot in Thailand during a three-week trip. Do you recommend I visit Bangkok at the beginning or end of my holiday?
Bangkok is a great way to fully absorb the Thai culture and provides the perfect beginning to an exciting getaway. Equally, if you want to end your trip with a bang, Bangkok will certainly provide an action-packed evening.
I'm thinking of going to Thailand for my honeymoon, do you have any hotel suggestions?
Phuket is overloaded with luxury hotels and has a variety of different abodes that would be suitable for your first holiday as Mr and Mrs. How about the tranquil treetop accommodation at Keemala or the cocoon of luxury at Paresa.
To view our offering of deluxe hotels in Phuket, click here.
Bangkok and Phuket both sound amazing. How long do you suggest we stay in each destination?
As with all city breaks, the highlights of Bangkok can be seen in two to three nights, although many do stay for longer. It is a famed stopover destination, so if you're passing through on your way to another part of Thailand or even a different continent, we highly recommend you stay for at least one night in the city. Phuket, like all beach destinations, can be enjoyed for as long or as short as possible. It makes for a great two-week holiday, but a few days beachside
You've convinced me! I want a beach and city escape in Thailand. How do I get from one destination to the other?
The simplest way to travel between Bangkok and Phuket is via a one-hour domestic flight which is serviced by multiple local airlines at a reasonable rate. But you don't have to worry about that. Call one of our personal travel managers today and they'll have you travelling the length and breadth of Thailand hassle-free in no time.
And the winner is…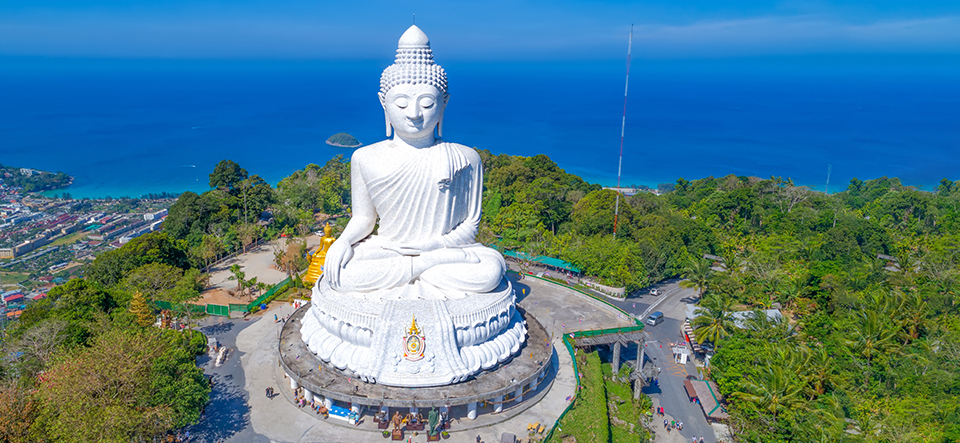 If we're being honest, it's a tight call and totally depends on what style of holiday you're after. The main question you need to answer is; city or beach? But why choose? Thailand is synonymous with island hopping and the best way to discover this gem in the Andaman is by experiencing it all. Start with two nights in Bangkok, fly across to Phuket for five-nights and then head on to another region for a few more weeks of sun, sea and laidback living. Get back to nature in Khao Lak, enjoy exciting day trips from Krabi or why not head over to Thailand's second largest island Koh Samui and discover some of its mesmerising waterfalls? Whatever you choose, Winged Boots will be by your side and our personal travel managers will ensure your bespoke itinerary is organised to perfection and goes without a hitch.
To make an enquiry, call one of our personal travel managers today on 0203 8160985 or click here.
Share with someone you'd love to travel with

Lauren Godfrey
Lauren Godfrey is a Marketing Manager