0203 816 0985
Let's talk. We're open Mon-Sun 9am - 6pm
We're open Mon-Sun 9am - 6pm
Expert tips on how to become a travel influencer
Over the past few years, bloggers and influencers have boomed in popularity. Whether you relate to a particular one or you just love to see real people experience life and share their opinions, there's a blogger and influencer out there for everyone. If you've always wanted to know what it's like being a travel blogger then this article is for you. We caught up with some more of our favourite influencers and asked them all about their top tips, favourite blog posts, one thing they wish they knew before starting and who they recommend to follow. Make sure to check them all out and if your brain is now full of images of five-star hotels and amazing destinations from around the world, make sure to enquire
here
or call one of our personal travel managers on 0203 816 0985 now.
BEHIND THE FALSE LASHES
Photo Credit: Hannah Dolan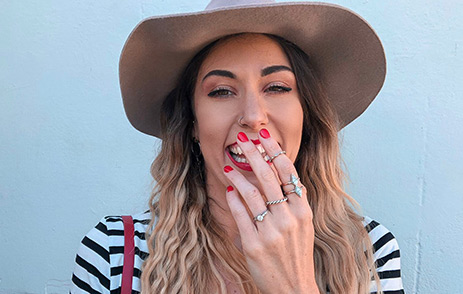 Hannah at Budapest Szechenyi Spa. Photo Credit: Hannah Dolan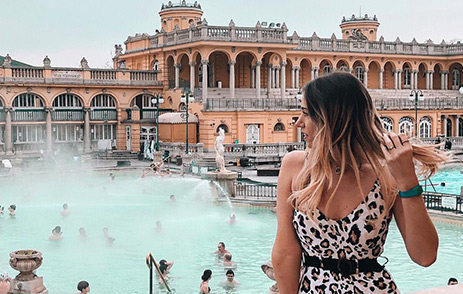 Hannah Dolan is a lifestyle and travel blogger that currently lives in London with her other half and puppy Bear. If she isn't writing about her partner to Budapest, Venice and Barcelona, Hannah is uploading to Instagram about her travels, what she's wearing and her day-to-day life. To read Hannah's blog click here and follow her on Twitter and Instagram.
Number One Top Tip:
"My top tip would be to do as much research as you can before visiting a new place, being as organised as possible and having a hit list of landmarks or places that you want to visit. It really helps you to prioritise, particularly when you're short on time. My worst fear is missing out on a to die for restaurant or a hidden gem of a bar, so planning in advance is a must!"
One Thing You Wish You Knew:
"I wish I'd known that hard work really does pay off with blogging. It can be overwhelming when you first start out and deciding where to begin, particularly when you're looking around and seeing so many bloggers who are absolutely killing it. But, they all had to start somewhere and there's no reason why you can't be just as successful."
Favourite Blog Post You've Written:
"My
city guide to Budapest
would probably have to be my favourite as it's in equal parts fun and factual. As well as showcasing the best places to visit the piece also offers a three-day itinerary at the end of the post to help people plan their trip. It's one of my most popular blogs this year so it must be one that's incredibly useful for travellers."
Inspiration Behind Your Blog:
"I wanted to provide a no-frills guide to the places I'd been and the things I've experienced. It makes me so happy to know that my travel guides have been useful to other people navigating new cities for the first time and I just love sharing hidden gems all over the globe!"
Hannah Recommends:
"
Live With Elle
– I love Elle's photography and her travel posts are all really easy to digest, her friendly travel guides are packed full of handy hints and tips, and they feel like she's coming with you on your journey!"
"
Kelsey In London
– Kelsey always provides such great recommendations for trips away. Her photos are to die for and I like that she includes small extras within her blog posts such as 'Bucket List Challenge' story templates which you can use on Instagram."
ALEXPREVIEW
Photo Credit: Alexander Williamson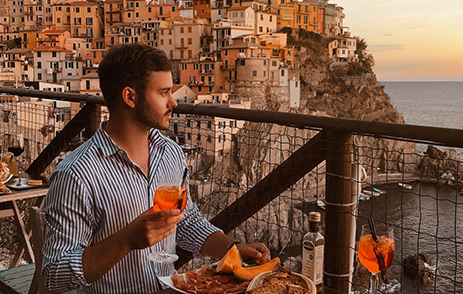 Photo Credit: Alexander Williamson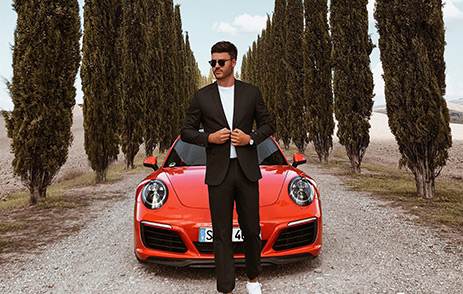 Alexander Williamson is the mastermind behind the Instagram page @alexpreview. Setting social media feeds alight with images of Tuscany, the Maldives and Las Vegas, each post is sure to make you wish you were right there with him. Recent posts include a video of
Soneva Jani
and the amazing overwater villas, dog sledding in Finland and a beautiful breakfast at Belmond Hotel Splendido that overlooks the sea. To follow Alexander, click here.
Number One Top Tip:
"Only travel to places that you honestly want to go to. I get the impression that more and more people only do it for the pictures. They have seen certain destinations on other Instagram accounts and now they visit exactly the same spots and drive the same routes just to get the content they are looking for."
One Thing You Wish You Knew:
"That sometimes it can be tough to appreciate the beauty of the places I visit while at the same time having to produce great content that my audience will enjoy."
Favourite Blog Post You've Written:
"I think
one of my most recent Tuscany posts
is my favourite so far as it really captures the essence of Italy."
Inspiration Behind Your Blog:
"I always loved travelling and taking pictures so I thought, why not combine both aspects with each other? Through my Instagram account I found a great way to document all the beautiful memories I cherish from my adventures around the globe."
Alex Recommends:
"
inbed.withme
is a blog I recently found and really enjoyed. I also love the content of
@michutravel
and
@pilotmadeleine
. We all have exactly the same taste when it comes to beautiful destinations and hotels."
FOLLOW THE NAP
Alex at Cliveden House. Photo Credit: @marcuswhitephoto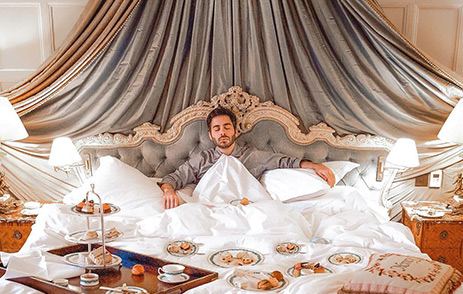 Alex at Mondrian Los Angeles Hotel. Photo Credit: @munopia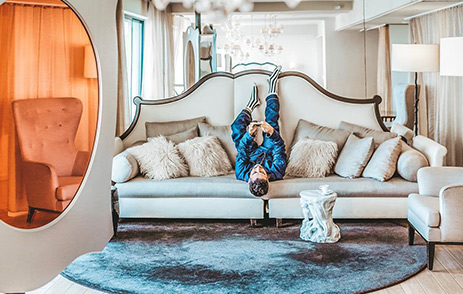 If you're a fan of catching a few zzz's then you're sure to love Alex Shannon aka Follow The Nap. Featuring only the softest beds in some of the best hotels the world over, this Instagram page is the definition of rest and relaxation. From enjoying breakfast in bed at Cliveden House to checking if the sofas are soft at Mondrian Los Angeles Hotel, his Instagram page is sure to bring a ray of happiness to your social media feed. Check it out here.
Number One Top Tip:
"Just ask! When I first started @followthenap, I was so nervous to reach out to properties and brands as I was worried that they'd think I was asking for too much, that they wouldn't like my content or they'd straight up reject me! Once I started, I realised that people are generally a lot more receptive than you think, and that Instagrammers really offer a great deal of value in return such as quality content they can repurpose, exposure to new audiences and increased buzz around their property or product. Some places that I never in my wildest dreams expected to respond were the most excited to work with me, so I wouldn't have experienced half the amazing things I have if I hadn't just asked! Of course, there's a lot of rejection and straight-up ignoring that comes with the territory too, but once you anticipate that and get used to it, it gets easier."
One Thing You Wish You Knew:
"I definitely underestimated the sheer amount of work that goes into getting a great shot. You need the right location, props, clothing, photographer, lighting and perfect timing. Planning plays a huge role to ensure you can even get access to the place you want to shoot. Then, monitoring the weather and lighting, coming up with an overall concept and gathering everything you need to bring it to life takes time. There are always unexpected roadblocks – torrential rain, broken lenses, hotel mixups or even unexpected desert animals – but adapting to those things becomes part of the fun. Once you get the shot, you still have to make selects, retouch, edit, write a great caption and then contend with Instagram's algorithm! But, I'm learning more every single day and still loving it."
Favourite Hotel You've Ever Napped In:
"There are quite a few that have taken my breath away. Number one has to be Amangiri in Utah. It's like nothing I've ever experienced. It's completely secluded within deserts and canyons, boasts an impeccable design and has some of the best service I've enjoyed anywhere. The second you arrive, it's like your entire body exhales and you feel immediately relaxed. The rooms look out onto the most incredible scenery and waking up to the views everyday felt like a dream. For similar reasons, I also loved
Al Maha, a Luxury Collection Desert Resort & Spa in Dubai
. Each room has a private pool that looks out onto the desert and you can see camels, eagles and gazelle while you're swimming. A gazelle even came up onto the porch to chill with us for a bit. We're BFFs now."
Inspiration Behind Your Blog:
"The idea actually came to me in my sleep (no surprise there.) I've worked in editorial and social media for a long time and realised that nobody was really focused on travelling to relax and unwind – it was a lot of intense adventure trips and 'live, laugh, love' spiritual quests – so it just made sense to me. Also, in a broader sense, I thought there was a lot of potential to talk about sleep and its health benefits (something I want to focus more on going forward). Even though I'm a pretty busy person, good quality sleep is always a priority for me. Without it, I just don't function at my best (and I enjoy it a lot, too)! I'm a big advocate for sleep and naps, especially since we live in a society that's so focussed on doing more, more, more at the fastest pace possible. For me, when I slow down and take care of myself, I'm able to accomplish so much more, and I think that's true of most people."
Alex Recommends:
"I'm a huge fan of Tina Lee from
@ofleatherandlace
. The level of work she puts into every shot is staggering and it shows. She's someone who taught me that what you put in is really what you get out. I've also been lucky enough to meet her in person and she's so generous with her knowledge and is always pushing to improve. She inspires me to raise my game, and I put a lot of value on people like that."
AMY WEST TRAVEL
Photo Credit: Amy West Travel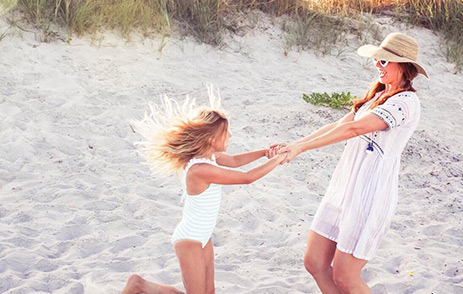 Photo Credit: Amy West Travel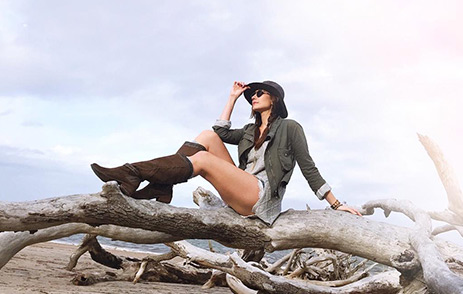 High-end travel and living a luxury lifestyle is all in a day's work when it comes to Amy West Travel. Covering food, fashion and family travel, the American-based lifestyle curator showcases gorgeous destinations such as Cuba, Nevis and Florida. Having worked for seven years in the spa industry, ran her own photography studio and worked as an actress, model and producer for more than a decade, there's nothing that Amy can't do. Catch up with here blog here and check out her Facebook, Twitter and Instagram.
Number One Top Tip:
"Add value with your content. It's not enough just to write about your passion, it needs to answer a question or help the life of the reader in some way."
One Thing You Wish You Knew:
"I wish I had been an earlier adapter of new social media before the algorithm changed."
Favourite Blog Post You've Written:
"My
blog post on Havana, Cuba
was the most fun to experience and create, and also my longest and most informative piece to date. I also love all the photography we took and in turn making them some of my favourite social media posts as well."
Inspiration Behind Your Blog:
"I like to think of myself as a coastal cowgirl by day, Bond girl at night. My blog is about upscale travel and lifestyle with a lot of glam and a little bit of down-to-earth common sense. I'm a mom but I'm still exploring life and doing it in style. You'll find all that in Amy West Travel."
Amy Recommends:
"My good friend Angie Orth from
Angie Away
is a favourite, and lately I've been obsessed with
Quigley
."
BINNY SHAH
Photo Credit: Binny Shah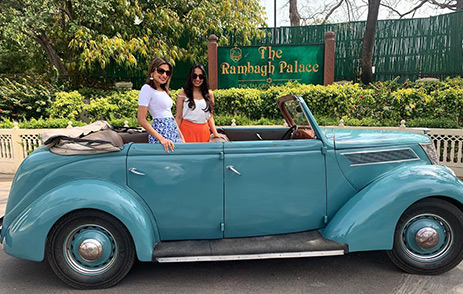 Photo Credit: Binny Shah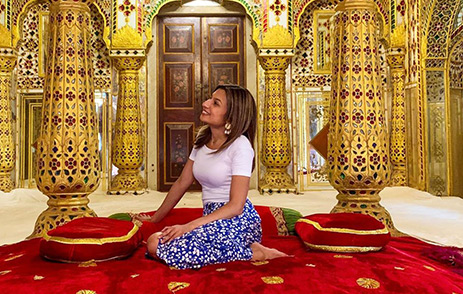 Binny's Food & Travel Diaries is an award-winning food and travel blog run by Binny Shah. Based in London but born and raised in the East African city of Mombasa in Kenya as well as Nairobi, Binny's love of good food and unforgettable travel experiences is apparent in every single post. Catch up with Binny's latest entries here and follow her on
Facebook
, Twitter and Instagram.
Number One Top Tip:
"There will be ups and downs. Make sure you do your best to stay motivated even when things are on the down and don't compare yourself to others. Focus on your own patch."
One Thing You Wish You Knew:
"I wish I had learned how to take better photographs or used a camera for some of my holiday snaps before I began my blog. I have since invested in a good camera and learnt some key photography skills."
Favourite Blog Post You've Written:
"My
recent blog post
all about retracing my ancestral steps in Rajasthan. I was able to do this trip with the prize money I won from the Post Office Awards as Food and Travel Blogger of the Year 2018. It's one of my favourites."
Inspiration Behind Your Blog:
"My blog started as a platform to document the trips my husband and I took together as well as to share recipes. I was sharing them on Facebook previously and they would not be easy to search so I found putting it all on one site the best way to treasure them as well as share them. It was a fun and creative outlet for me from my previous career in investments, which I have since quite to pursue my blog full time."
Binny Recommends:
"Angie from
Silver Spoon London
, Emma from
Adventures of a London Kiwi
and Sima from
The Curious Pixie
all have fantastic content."
STYLE'D AVENUE
Megan at Amangiri, Utah. Photo Credit: Megan Mitchell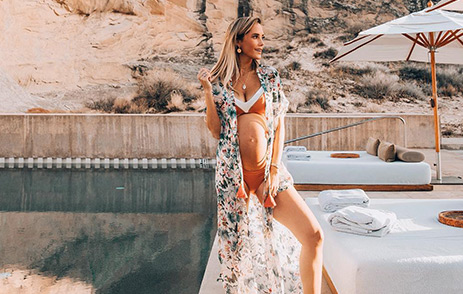 Photo Credit: Megan Mitchell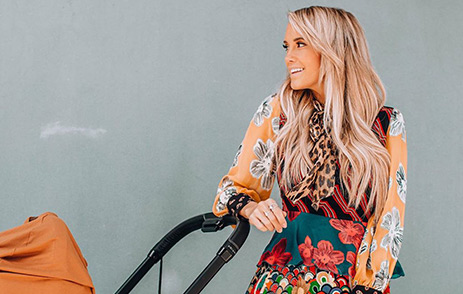 If you're after top style tips for your next getaway, or holiday inspiration that guarantees the perfect picture, you're onto a winner with Style'd Avenue aka Megan Mitchell. The 26-year-old, who currently lives in Salt Lake City, has a fantastic sense of style which is apparent on her blog as well as her Instagram feed which has more than 490,000 followers and counting. Discover her Instagram here as well as her blog here.
Number One Top Tip:
"Be yourself and stay consistent on your feed and content."
One Thing You Wish You Knew:
"Photography! Now I know and love it but I did struggle with it for a while."
Favourite Blog Post You've Written:
"Ah that's tough! I love each of the style and travel posts I've written."
Inspiration Behind Your Blog:
"My inspiration is definitely travel and fashion that's outside of my native country. I love getting creative and seeing different cultures."
Megan Recommends:
"
@Lisahomsy
,
@mvanderluis
and many more! I love a bunch of gals for different style and content reasons."
If any of these influencer tips have given you a wanderlust boost and you simply have to book a trip, we're here to help. Our team of expert personal travel managers are on hand to organise every aspect of your getaway from five-star hotels to unforgettable experiences and excursions. To book, click here to enquire or call one of our personal travel managers on 0203 816 0985 now.
Alternatively, discover more expert tips on how to become a travel influencer here.
Share with someone you'd love to travel with

Guy Humphrey
Guy Humphrey is a Content Writer