0203 816 0985
Let's talk. We're open Mon-Fri 9am - 6pm
We're open Mon-Fri 9am - 6pm
8 Pretty Pink Places In London You Have To Try
Are you looking for a London experience that's perfect for your pink-loving daughter? Or perhaps you're on the hunt for a special spot to take your fuchsia-fanatic fiancé? Either way, we've scoured the capital for the top London cafés, bars and hotel suites that all have one thing in common… each is completely, 100 percent, unapologetically pink! Blush, coral, salmon, bubble-gum, magenta, strawberry, rose… you name it, the capital has it. So, pack your Nixon and pretty up your Instagram feed with some of these London hot(pink)spots.
Peggy Porschen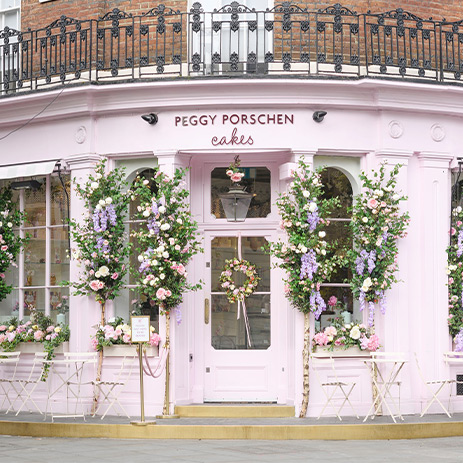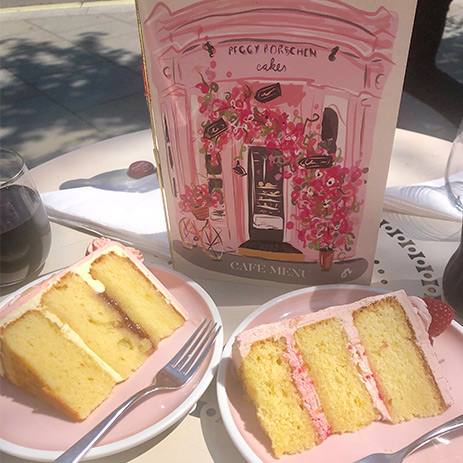 We're not sure whether it's the bakery's pink surround, faux flower arrangements or its cuter-than-cute garden-style furniture that has instagrammers flocking in their thousands, but we do know that it's the delicious cakes that has them coming back. From cupcakes to slices of layer cakes and a selection of other treats, a trip to one of Peggy Porschen's parlours is sugary sweet. Wash down your slice of heaven with a glass of bubbles or a hot drink in bone china and people watch in style.
To discover more click here to visit Peggy Porschen's website
The Gallery at Sketch, London
The Gallery at Sketch in Mayfair, London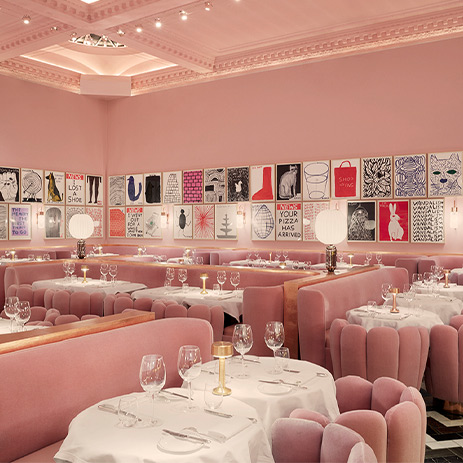 Known for its egg-shaped toilet pods, Sketch in London's trendy Mayfair is potentially the most famous pink destination in the capital. The Gallery's walls are adorned with 200 original prints and drawings by Turner Prize-winning artist David Shrigley and its booths and armchairs are a gorgeous shade of candyfloss. The room's gold accents and bright lights complement the blush décor and bring The Gallery full circle as the perfect spot for ladies that lunch and couples looking for a cute dinner date. In recent years, it's become a favourite for afternoon tea where the creativity in the restaurant's décor has translated throughout the finger sandwiches and delicate cakes and pastries.
To discover more or to book, click here to visit Sketch's website
ÉL&N London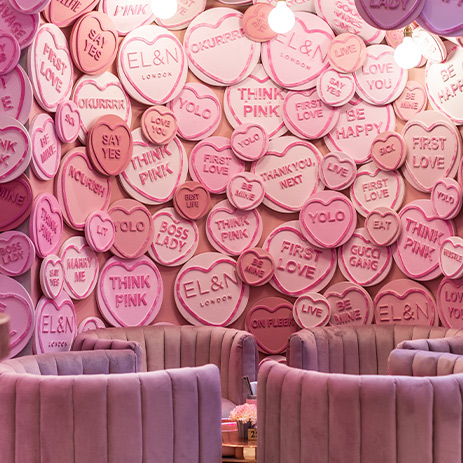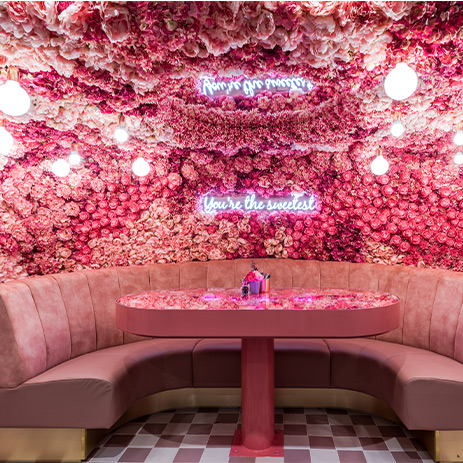 This chain of tickled pink cafes across London has taken the Instagram world by storm. With six locations to choose from, each ÉL&N branch has a slightly different theme… but each is pink, playful and picture perfect. The flagship on Market Place, Oxford Circus has a floral theme alongside creative lighting and quirky neon signs that sport hashtag-worthy phrases. 'Coffee is the new black' and 'adventure awaits… but first coffee' are just some of the brand's strong mottos. Hans Crescent in Knightsbridge is our favourite location where candy coloured love-hearts and carousel horses make up the décor. The menus at all incorporate typical brunch delights alongside a choice of cakes and pastries. Try the Oreo Cheesecake and thank us later!
To discover more click here to visit ÉL&N London's website
The Schiaparelli Suite at The Mayfair Hotel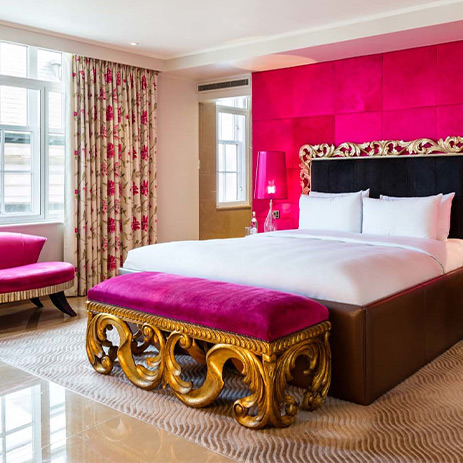 Named after the Italian fashion designer who famously unleashed a hue of shocking pink on the world, The Schiaparelli Suite at The Mayfair Hotel brings splashes of fuchsia to the fore. Think crushed velvet pink cushions, an ornate chaise, pops of pink in the floral curtains and quirky lighting which all fuses together to make a style-statement in the double bedroom suite. Modern touches such as a transparent Perspex chair and Samsung plasma TV with Sonos technology carries the 1930's pink into the present day.

To book your stay, contact our team of personal travel managers on 0203 816 0985 or click here to submit an enquiry
Tonight Josephine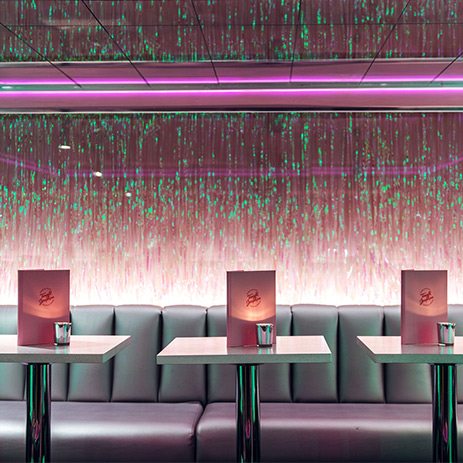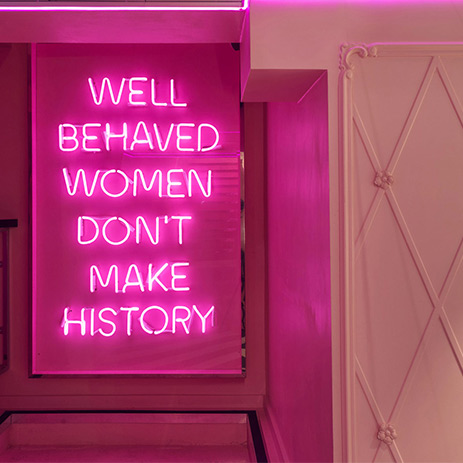 Honouring the promiscuous Empress Joséphine, wife of Napoleon, this bar's political statement is to empower women much like the French figurehead. Famous for its neon sign 'Well behaved women don't make history', this pink-tastic venue is popular with millennials and city professionals looking to unwind after a week in the office. Head to one of two venues, Waterloo or Shoreditch where a snack menu of either pizza or burgers and wings complements an extensive cocktail and wine list.
To discover more click here to visit Tonight Josephine's website
Notting Hill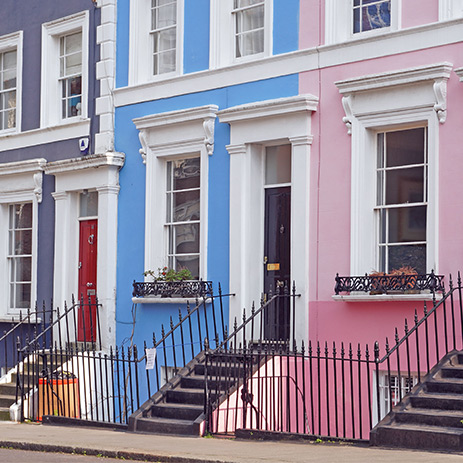 Discover the candy-coloured houses of London's cosmopolitan neighbourhood Notting Hill. The colourful Portobello Road is where every layer of London can be peeled back from its talented buskers and street food stalls to its fascinating antique shops and Banksy's original painting however its neighbouring streets are where you'll get your candid pink snap, minus the flurry of tourists and locals. Venture down Westbourne Park Road, Lancaster Road or Denbigh Terrace where you'll find houses in 50 shades of pastel such as lemon, pistachio, sky blue and – our favourite – blush pink. But, remember to be respectful. These houses are occupied.
Naild'It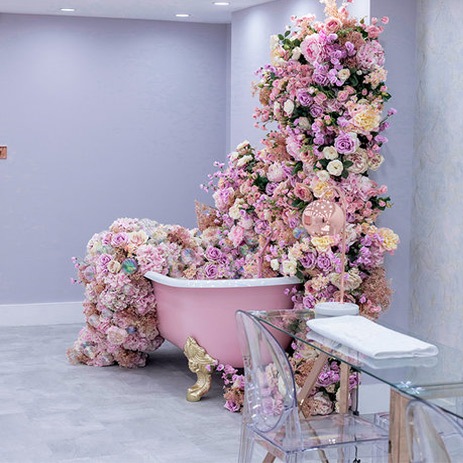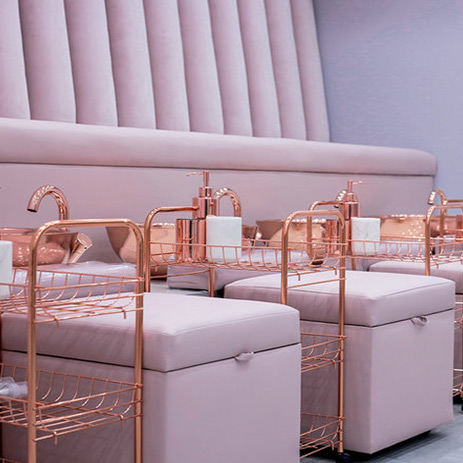 Before heading to any of these stunning pink locations across the capital, be sure to visit one of Naild'It's salons for a mani or pedi in the most beautiful surroundings. Think rose gold accents, soft grey walls and amples of blush pink teamed with fantastic floral displays including a pink decorated telephone box. Our favourite location in in Marylebone where a barbie pink rolltop bath is adorned with blush and lemon peonies and roses. It's just screaming out to be featured on the 'gram. Prices start from £20 for a manicure.
To discover more or to book your treatment click here to visit Naild'It's website
Pink Suite at The Lanesborough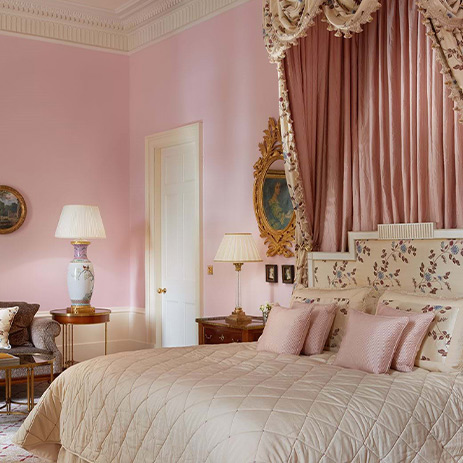 On Hyde Park's doorstep and just a short walk from Harrods and Harvey Nicholls, The Lanesborough, London epitomises great British elegance. This hotel is home to 93 luxurious rooms and suites and the Presidential Suite is sure to fulfil all your pink fantasies. Sleeping up to 14 guests, this suite boasts five bedrooms, two of which are a fabulous shade of rose. The décor showcases French influences alongside a typical English theme with flower highlights and frills.
To book your stay, contact our team of personal travel managers on 0203 816 0985 or click here to submit an enquiry
Oh, and for the prettiest pink powder room…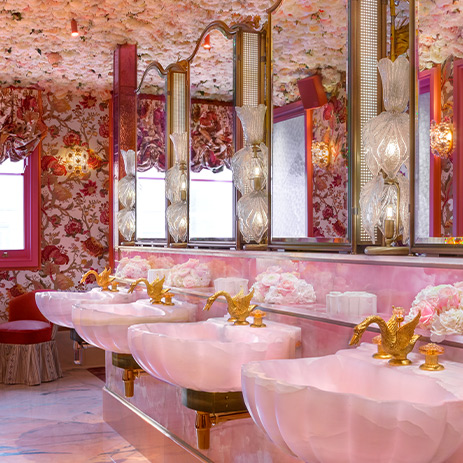 Be sure to visit Annabel's. The restaurant and private members club at 46 Berkeley Square is home to an ornate powder room that comes complete with a faux flower ceiling. Shell-inspired sinks are embellished with a gold swan tap and rose-quartz splashback. There's also a seating area set against a bold floral wall that incorporates accents of fuchsia.
To discover more or to enquire about membership, click here to visit Annabel's website.
The Gallery at Sketch, London
Share with someone you'd love to travel with

Lauren Godfrey
Lauren Godfrey is a Marketing Manager
Recommended Things To Do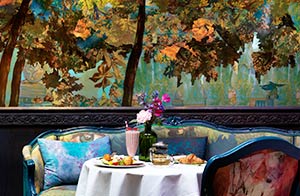 Food & Wine
Situated in glitzy Mayfair, Sketch is a top London destination for food, drink, music and art. The iconic restaurant offers four creative eateries and a trendy bar. Uniquely fabulous throughout, expect food that is imaginative, bold and utterly delicious. In a landscape where risks are taken, outrageous artworks grace the walls, and food is ...