0203 816 0985
Let's talk. We're open Mon-Sun 9am - 6pm
We're open Mon-Sun 9am - 6pm
Snowhotel Kirkenes
3 nights for £225 PP 5 nights for £375 PP 7 nights for £525 PP *Price based on
2 people sharing
Snowhotel Kirkenes
Norway, Europe
3 nights for £225 PP 5 nights for £375 PP 7 nights for £525 PP *Price based on
2 people sharing
An adventure playground of frozen proportions, Snowhotel Kirkenes is one of the most famous igloo hotels in Norway and indeed, the world. Beginning life as just one bar made entirely of ice, it's transformed into a labyrinth of frozen rooms in the winter and flowering huts in the summer.
When you're not melting with excitement in the themed rooms carved out of ice, hunting down the Northern Lights, embarking on a husky safari or encountering wild reindeers should keep the family satisfied. When it comes to dining, floor to ceiling windows in the restaurant give you a glimpse into the dramatic landscape and snow blanket encasing the hotel.
Rooms carved from ice make for an unforgettable night's sleep
Family fun can be had with activities like husky safaris and northern light expeditions
As the snow melts the hotel stays open, making the arctic accessible year round
Get in touch with our team of travel experts to start planning your trip
Best for: Adventure, Christmas, Couples, Family, Ski
Style: Chateau Chic
DETAILS:
Best for: Adventure, Christmas, Couples, Family, Ski
Style: Chateau Chic
Currency: NOK
Board Basis: Bed & Breakfast, Room Only
Best Time To Travel
Average Temperatures
| | | | | | |
| --- | --- | --- | --- | --- | --- |
| Jan: -3°c | | Feb: -3°c | | Mar: 2°c | |
| Apr: 5°c | | May: 12°c | | Jun: 16°c | |
| Jul: 18°c | | Aug: 16°c | | Sep: 12°c | |
| Oct: 7°c | | Nov: 2°c | | Dec: -3°c | |
Our Expert View:
"If there's one food that runs through the cuisine and livelihood of this place, it's king crab. Embark on a hunting adventure to try and catch these marine beasts then tuck into your reward where it's guaranteed that no one will leave the table hungry."

Charley, personal travel manager.

Charley, Personal Travel Executive
Amenities:
Restaurants
Bars
Shuttle Service
Excursions and Tours
Sports
Free WiFi
ACCOMMODATION
The accommodation at Snowhotel Kirkenes is its signature, with rooms sculpted out of ice, reinvented each year to create a new theme and motifs. Travel to a haven of winter fantasy once you step into your own personal igloo for the night, complete with Nordic details. If taking in the Northern Lights from a spacious haven is more your thing, the Gamme Cabins offer a little more warmth. When summer arrives, you can stay in the cabins to enjoy the midnight sun.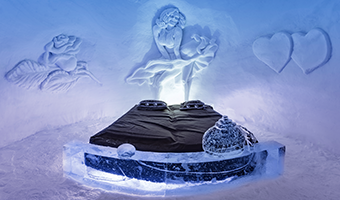 Snowhotel rooms
From Frozen's Olaf to anchors and boats, these themed rooms are frozen in time. The temperature may be -4° but sleep will be the last thing you'll want to do anyway as you encounter the intricate details carved into snow art and ice sculptures. If you feel your eyes getting heavy, once you're tucked up in a warm thermal sleeping bag (provided) you'll be out like a light in no time.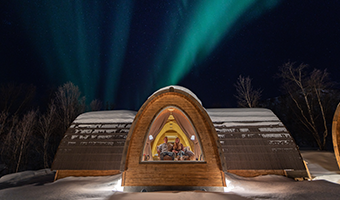 Gamme Cabins
Inspired by traditional hunting huts, these pockets of sanctuary are found amongst the wilderness where in winter snow builds and in summer fauna grows. The chalets merge into the environment with their design and feature fur throws, underfloor heating and air conditioning for all seasons. Luxury is threaded throughout with a designer toilet and a panoramic window injecting the magic of The Aurora Borealis directly into your room.
Share with someone you'd love to travel with
DINING
Eating at the Høyloftet restaurant is no ordinary experience. Pass the reindeer in the yard and the 200 huskies howling their welcome to you as you weave through the marvellous ice sculptures in the hotel to reach the restaurant. The gastronomical concept is one of home tradition and comfort. Think the elusive king crab, lamb, arctic fish and reindeer, finished with wild herbs, picked and dried by the staff. Homemade blackcurrant jelly and cheese from a local farmer will go down delightfully as you look out the panoramic windows to the epic scenery of rugged cliffs covered in a tempting sheet of powder snow.
LEISURE
Your nights may be filled with unique bedrooms and breath-taking natural occurrences, and your days will be just as exhilarating. This adventure playground is waiting for you to jump right in and the location of Snowhotel Kirkenes surrounded by traverse hills and deep blue bodies of water means the list of activities is endless. Walk through the gates of this winter wonderland, encounter the peaceful reindeer and excitable husky puppies and you'll know you're somewhere special.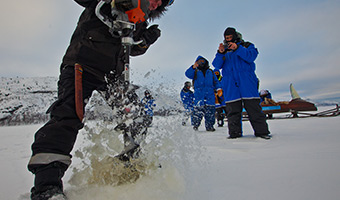 Fish and trips
Take fishing to the next level while you take part in the ancient northern tradition of ice fishing. Jump onto the snowmobile, wrap up in the overalls provided and head out to the frozen fjord to learn how to drill through the thick ice and wait for your dinner. You're likely to see locals at it too, navigating the mountain lakes on skis or snowmobiles, on the hunt for perch, char, trout or pike. Once back at the hotel, if you were lucky enough to make a catch, the staff will even prepare it for you so you can really taste victory.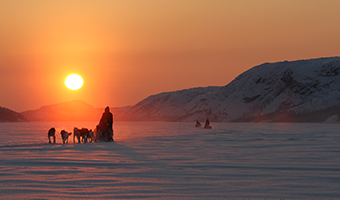 Husky here, there and everywhere
Part of the lifeblood at Snowhotel Kirkenes, the 180 beautiful and powerful Alaskan huskies are on hand to provide you with adventure like no other. The husky safari is the signature canine escape, where you'll enjoy the natural Nordic wonders of sparse landscapes, mountain plateaus and long fjords while travelling in the most traditional and environmentally friendly way. Back at the open dogyard you can get to know the dogs a little more personally, with cuddles and kisses from these warm animals before you know it. Choose between a one-hour or two-hour experience, both of which you'll be given thermal clothing for.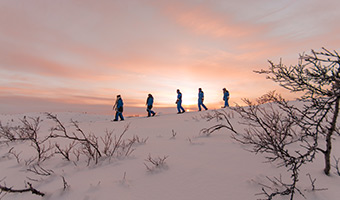 Walking in a winter wonderland
This isn't just any kind of walking; this is snowshoe walking. This ancient footwear was invented by the indigenous arctic people before they converted to skis, so once you have them on you'll be able to walk up the dramatic mountains in safety and traditional style. A great exercise for fitness lovers accompanied by beautiful views for nature enthusiasts, the snowshoe tour may even deliver the tracks of animals like lynx or wolverine. At the summit enjoy a classic Norwegian touring snack and hot juice from local berries.
Can't spot your favourite destination or hotel? Never fear – this is just a selection of what we can do!
Description
Snowhotel Kirkenes is situated 8km outside Kirkenes, a small town known for its views of The Northern Lights, in the secluded wilds of Northern Norway. With only 10,000 people calling it home, the Kirkenes district is located at the top of the border triangle made up of Norway, Russia and Finland. Snowhotel Kirkenes has become the shining beacon of the local area with the eponymous igloo hotel being rebuilt every year – no mean feat in a town with as many reindeer as people.