0203 816 0985
Let's talk. We're open Mon-Fri 9am - 6pm
We're open Mon-Fri 9am - 6pm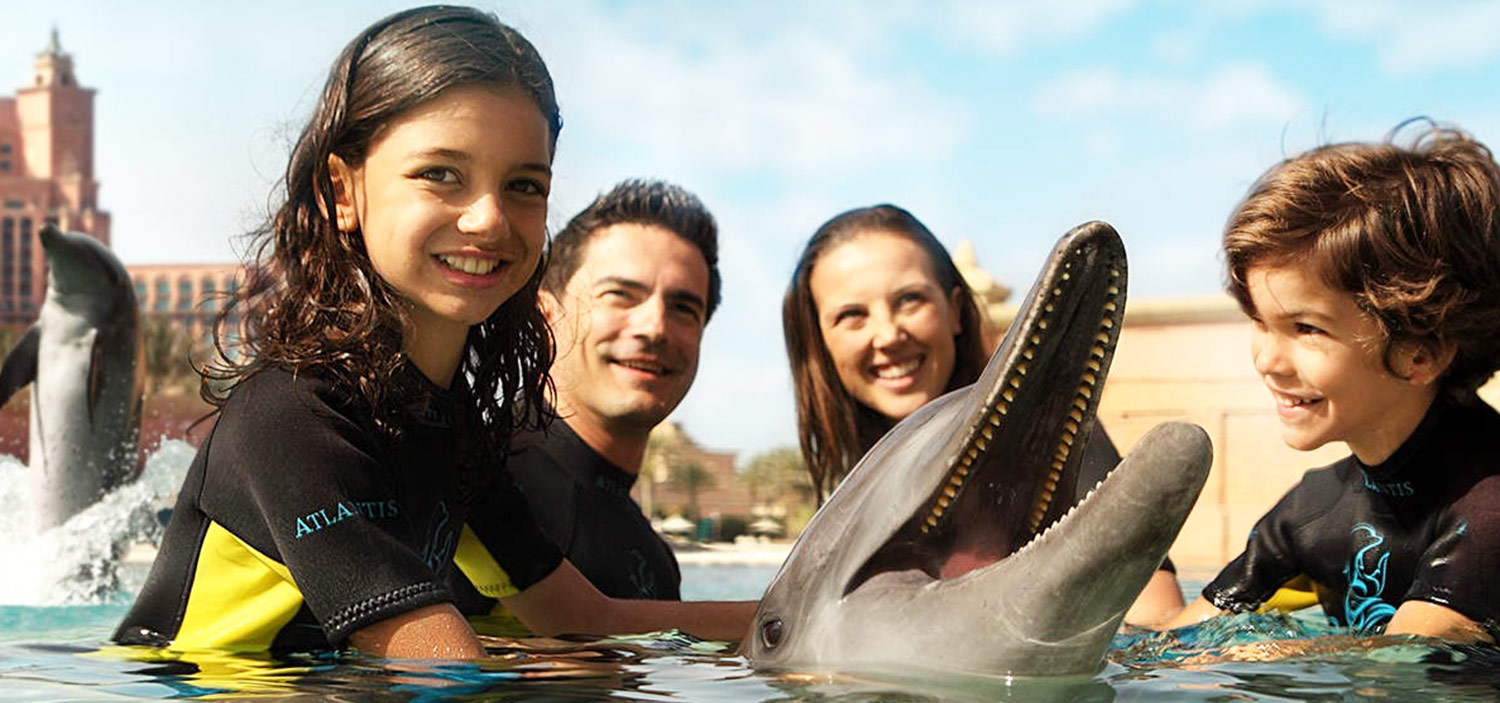 Swim with dolphins at Atlantis The Palm
Destination: Dubai
Fancy swimming with charismatic creatures in crystal-clear waters? Head to Atlantis The Palm where you can interact with dolphins for hours of laughter-filled adventure. This once-in-a-lifetime experience is unbeatable in every way possible and is available to both visitors and hotel guests.

This exciting excursion is perfect for all the family and every kind of swimming ability. A water lover's playground, guests will head to the heart of Atlantis The Palm to Dolphin Bay and be utterly mesmerised by the sights of gorgeous dolphins splashing in the shallows.

Rush to get your wetsuit fitted, dump your belongings in the lockers and get ready for your adventure to begin. The session starts with a 15-minute orientation with a marine specialist who explains how Dolphin Bay became to be one of the most sophisticated dolphin habitats in the world.

Then, it's the moment you've been waiting for. Dive in with the dolphins and have the time of your life. Paddle, hug and hold fins with the majestic marine life and they'll become your new best friends before you know it.

Confident swimmers and those eight years old and above can head to the depths of the Atlantis lagoon for a unique experience of the signature dolphin belly ride. Coast through the water balancing on a dolphin's torso for an unforgettable adrenaline rush.

What's swimming with dolphins without sharing a kiss with one of the beautiful animals? The staff will ensure they capture this moment with a Dolphin Fun Photo available to purchase after your excellent excursion.

WINGED BOOTS WISDOM

After you swim with the dolphins, the excursion brilliantly includes same day access to Aquaventure Waterpark where the fun never stops. Perfect for both the young and the young at heart, every guest is guaranteed to be given holiday memories that will last a lifetime.
Venue Details
In/Out: Outdoors

Duration: 2 hours

Traveller Type: Adults, Couples, Families, Children

Best for: Adventure, Unwind

Address: Atlantis, The Palm, Crescent Road - Dubai - United Arab Emirates

Opening Times:
10am-6pm, daily
Map & Address
Swimming with dolphins is easily accessible to those residing at Atlantis The Palm. For those who are visiting from elsewhere, the location is just a 20-minute drive from Jumeirah Beach and one hour from Yas Island, Abu Dhabi.

Swimming with dolphins is easily accessible to those residing at Atlantis The Palm. For those who are visiting from elsewhere, the location is just a 20-minute drive from Jumeirah Beach and one hour from Yas Island, Abu Dhabi.

Address: Atlantis, The Palm, Crescent Road - Dubai - United Arab Emirates
Opening Times:
10am-6pm, daily