0203 816 0985
Let's talk. We're open Mon-Fri 9am - 6pm
We're open Mon-Fri 9am - 6pm
TOUCH DOWN WITH HUSSAIN NAQI
For the past four years, Jacksonville Jaguars has been pivotal in gaining awareness of American Football in the UK through a range of initiatives, and playing as main quarterback is Hussain Naqi, the driving force in a suit who is pioneering for young Brits to get involved in the sport. Through programmes such as Jag Tag, the first American football sport to receive funding from the government, to three-day long intense training courses, the range of ways for the UK to get involved in the NFL is growing annually. And let's not forget the NFL London games. Discussing all this and more in an exclusive interview, Hussain Naqi tells all on Jacksonville Jaguars and comments on those rumours about whether Wembley Stadium is the end zone for the team.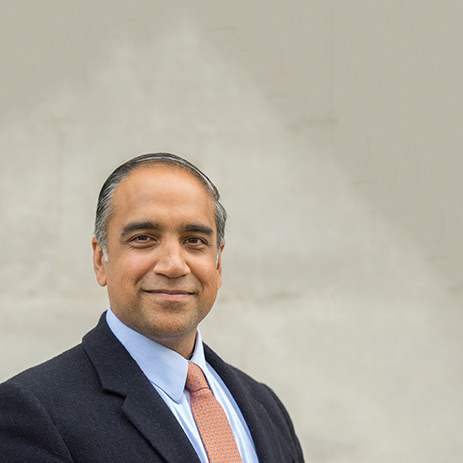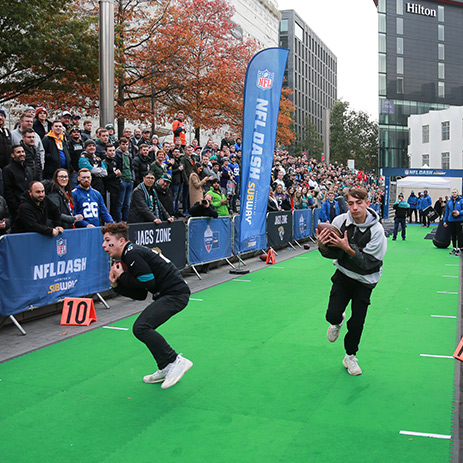 How long have you been part of the Jacksonville Jaguars team?
I've been with Jacksonville Jaguars for seven years now and I moved to the UK to run our business four years ago. Between living in London and working for an NFL team, I am absolutely living the dream. I couldn't be happier.
You're now based in London. Was it an easy decision leaving the States?
London
is the best city in the world. I say that as a former New Yorker but it's an amazing place. When I moved to London full time it was because I knew the potential of the market but also, on a personal basis, it felt right. The diversity of the city, the opportunities for business and the people here are just incredible.
Do you travel back to the US often?
I'm back and forth a little bit. I fly to the States about five times a year between business travel and personal travel, always booking with Winged Boots. When I'm travelling nowadays, I'm typically looking East instead of West. It's actually one of the better parts of living here, it's opening up my eyes to other parts of the world. I've recently visited
Oman
, and stayed at
Six Senses Zighy Bay
which was pretty outstanding. I was in Istanbul not too long ago where I stayed at Ciragan Palace Kempinksi and I spent two days in Rome recently at Hotel Eden, part of the Dorchester Collection. It's an incredible city.
You run multiple UK youth initiatives. Can you tell us more about these schemes and how kids can get involved?
We feel very strongly that in order to grow NFL in the UK we really need to start from youth level up. When we first came to the UK four years ago, there wasn't a concentrated effort focusing on young kids becoming familiar with the game so that when they become older they understand and love NFL having played it and being affiliated with a team from a young age – just like you would as a football player here in the UK or an American football player in the States. So, roughly four years ago we started Jag Tag, a touch version of American football that we launched in London Fields. Now, we have 55,000 kids playing American football throughout the UK including Edinburgh, Manchester, Newcastle, London, Portsmouth and we just launched in Belfast.
What does this mean for Jacksonville Jaguar's UK presence?
93% of the kids who participate in Jag Tag now consider the Jacksonville Jaguars as their favourite team. But the question is, where do you go when you outgrow Jag Tag? There's BAFA (British American Football Association) which is the amateur game here in the UK, and we send dozens of our Jag Tag kids from their local programme to their local BAFA team. And then, for those who reach university level and above, we launched The Academy where we bring eight of our former players from the US over to London to coach. We have around 200 kids from around the world participate in this programme. It's a three day, in-residence, fully padded programme that is the best teaching outside of the US. We're really proud of that because it gives budding footballers another opportunity to improve their skills and engage at a higher level that they otherwise wouldn't have.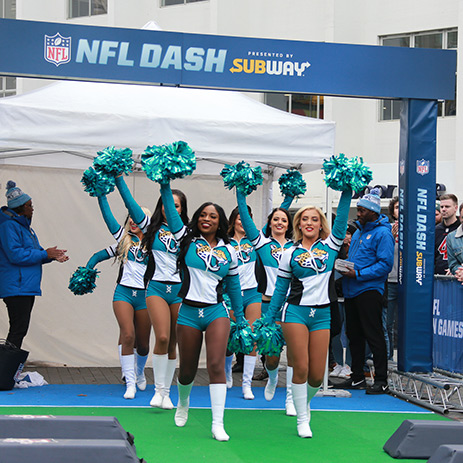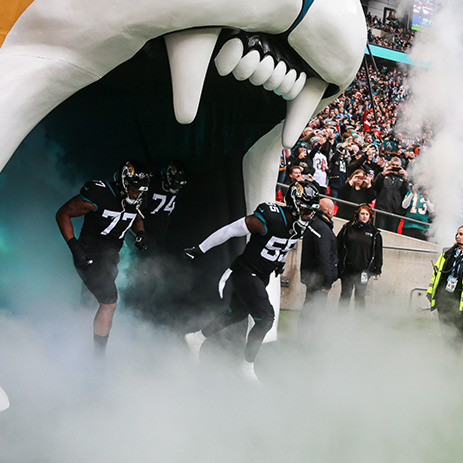 The Jags play a game in London every season. How long before the match does the team fly to the UK?
The team and football staff fly into London two days before the match and have a few days of light practise and team meetings before returning home the evening of match day – it's a very quick turnaround.

And where does the team stay?
We stay at Hilton London Wembley which is right across the street from the stadium. It's very easy, the staff know us, and the service is great. The staff are not completely blown away with the amount of ice we need which is, typically, a big cultural change.

Do the players enjoy coming to London?
They really do. Obviously, with the schedule, the team don't have a huge amount of time to engage with the city. But, because we've been doing it for so long now, this will be our seventh season, they're in a routine, they're in a rhythm and we are in a position now where we know what we're doing, we're comfortable with it, and we consider London as a second home for us. A number of our players come over on a regular basis to engage with our fans here.

You just referred to London as your second home. Do you have that same love for Wembley?
We have a long and very fruitful relationship with the FA and Wembley Stadium. We really enjoy our experience with them. We think the fan experience is outstanding and we're very comfortable playing there each year.

We can't talk about NFL London without bringing up Shahid Khan's bid to buy Wembley and bring the Jags to the capital. Can you share your thoughts on this?
It was a really exciting opportunity. We have a terrific relationship with the FA and Wembley Stadium, and we remain available for that dialogue if that is something the FA want us to re-engage in. In many ways it was a really exciting opportunity and remains an exciting opportunity. We're available to talk if and when they become ready to talk.

If Khan was to make the bid, the Jags would be the first NFL team to be based outside of America. What would this mean for the sport?
That's a league decision that all the NFL owners have to make. It's not a decision that the Jaguars or any particular owner can make. Part of the exercise in terms of what we are doing here, as part of our commitment to the UK, and what the NFL are doing is to understand whether London can be a full-time NFL market. I think London will eventually be a really cool NFL city, I think it'll be ready for an NFL team it's got an incredible fan base. There are a lot of things that have to get figured out between now and that time but, in terms of the actual specific decision, it's not ours to make, it's the League's and we, alongside the NFL, are making strides to try to answer that question.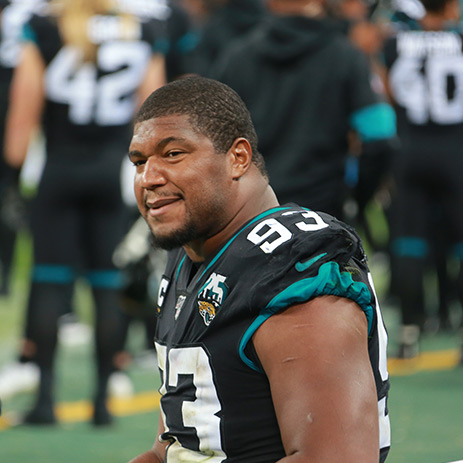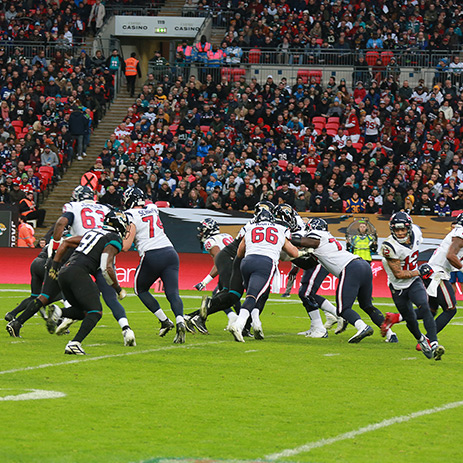 Shahid Khan also owns Fulham. Is there ever any cross over for you?
There's constant information sharing between the two clubs. Our sales staff work together, our training staffs work together, our business staffs meet on a monthly basis - we're very close and it's a great partnership. Alistair Mackintosh at Fulham does a fantastic job. They're a sister club to us and we're praying for their promotion just as they're praying for us to make the playoffs.
Winged Boots, as part of Ocean Holidays, are the official travel supplier for Jacksonville Jaguars. How do you think the first two years of this partnership has gone?
When you have a business that relies so much on intercontinental travel but you have people relying on excellent customer service, looking for value out of the travel industry whether it's on a personal basis or a professional basis, you really need a service provider who is there for you, who understands your needs, and can answer what can typically be fairly high maintenance customers. Winged Boots has sold that capacity to a tee. You guys are responsive, and the team offer great value from a fare perspective. Winged Boots has offered great optionality whether it's from a business or pleasure travel perspective. You've been tremendous partners and we look forward to the partnership continuing for many more years to come.
Winged Boots also organises your personal travel. Why do you book through us?
I enjoy the relationships, whether it's with
Emma
,
Sam
, Lauren,
David
, Harry or anyone else in the team - we've had nothing but the warmest of receptions. When you're dealing with pretty annoying customers like me who change their mind all the time and you get no pushback, instead you hear 'absolutely' or 'what about this option?'. All it makes you want to do is tell your friends and tell your colleagues how great the company is, and that's what I have certainly tried to do. I trust Winged Boots to take care of my friends and colleagues in the states, and so far you guys have done that.
Finally, what's next for Jacksonville Jaguars?
We're committed through 2020 and we're really excited about next year. The announcement is to come but stay tuned.
To find out more about Jacksonville Jaguars and all of our other partners click here.
Share with someone you'd love to travel with

Lauren Godfrey
Lauren Godfrey is a Marketing Manager