0203 816 0985
Let's talk. We're open Mon-Fri 9am - 6pm
We're open Mon-Fri 9am - 6pm
Top 7 Hotel Spas in Dubai
Do you love a good spa treatment as much as us? Then you'll adore our top picks of the best hotel spas in
Dubai
. If you prefer spa menus to dinner menus and you're heading off to the City of Gold, this is an absolute must-read. Just sit back, relax and immerse yourself in relaxation. With enough here to fill every day of your week-long stay, why not treat yourself with a treatment… or maybe three. Go on, you deserve it!
A true oasis in every sense on the word, Talise Spa at Madinat Jumeirah is guaranteed to have you feeling relaxed and rejuvenated in no time. With 26 treatment rooms including three couple's suites and an extensive range of signature experiences on offer, let the therapists get to work in making you feel on top of the world.

But what makes the Talise Spa unique? From a 90-minute Aroma Oil Massage to Margy's Hyaluron Collagen Facial which aims to plump and refresh the skin, the treatments available are guaranteed to aid the ultimate unwind. The inclusion of a private yoga studio is a definite plus too, so if you want to practise your moves and grab some serenity along the way, this choice is ideal. A range of lifestyle cuisine is also on offer, so you can feel as good on the inside as the out.

Fancy having a pamper at the Madinat Jumeirah? Call one of our personal travel managers on 0203 8160985 to book.

With a philosophy aiming to make you feel on top of the world, the One&Only Royal Mirage Spa is a well-deserved pick-me-up. Expect to find a new lease of life as you choose from the extensive menu, where its signature treatments include a Deeply Relaxing Bodycare With Hot Stones which is a holistic experience that will help with stress as well as a back, face and scalp massage which is great for aching muscles. Invigorate with body scrubs, rejuvenate with facials and soothe with massages. Oh, and thanks to the signature Spa Experience including a body exfoliation and an aromatherapy massage aiming to restore, unwind and elevate you, you'll most definitely be wanting more than one.

Fancy having a pamper at the One&Only Royal Mirage? Indulge in some 'me' time and book now.

Boasting 27 treatment rooms, an extensive spa menu and a trophy cabinet bursting with awards, the ShuiQi Spa is certain to aid optimum rest and relaxation during your stay at The Atlantis Palm. You can expect high-end products from the likes of Espa, Shiseido and Aromatherapy Associates so if you love your lotions and potions, you can't go wrong here.

Signature treatments should be top of the list when deciding on what to go for, with the Zerobody Experience an absolute must. Using a dry-pool that means you can float in water with your clothes on yet stay dry is used, which in turn helps to regulate body temperature and gives you more energy to produce endorphins. Don't ask us how it works, but it does!

Another essential for fitness fanatics is the underwater yoga classes. But don't fret, you won't be wearing a snorkel while practising your downward dog, as you place your mat on the floor of the 21-tank aquarium found here, totalling at 11.5-million-litres of water! Catering to all levels and aiming to improve the physical and mental health of the individual, you'll be surrounded by tropical fish and marine life for the duration, adding an extra element of luxury to the unforgettable proceedings.

Like the sound of Atlantis The Palm? Find out more on this hotel here

Expect to be whisked away to a land of positivity and relaxation when booking in for a treatment at Anantara Spa. Using traditional Thai techniques, you can be safe in the knowledge that every single facial, massage or body treatment is catered just for you. "At Anantara Spa, we have a diverse array of exotic treatments to unwind like never before. Our top signature treatments here are designed to tackle the most common problems people face", a spokesman for the hotel says. "At our majestic spa haven, you can taste the mystery and beauty of rich Thai and Arabian wellness traditions, as well as ancient therapeutic treatments from across Asia and beyond, and innovative contemporary techniques."

With 24 treatment rooms, Turkish Hammam facilities and much more, it's time to take a moment for yourself. Top picks from the menu include the signature massage which use a fusion of essential oils to stimulate circulation and release muscle tension – an ideal way to combat jet lag! Little ones are not left out of the picture either, with a tailored kids' menu designed to relax and replenish every member of the party.

To find out more on Anantara The Palm Dubai Resort, click here

With a hair stylist, retail boutique, six spa suites and a more than 1,200-square metres of wellness facilities, Raffles Spa has you covered when it comes to your beauty regime. Fusing Asian, Middle Eastern and European traditions, let your therapist guide you to a state of utter euphoria with signature treatments such as the returning Gold Facial in commemoration of the hotel's 10th anniversary. Using protein-rich caviar and Egyptian gold, you'll be looking as young as you feel with the firming and nourishing 90-minute experience. The team of skilled therapists believe that, "a balance between exertion and relaxation is the key to achieving a feeling of inner tranquillity and rejuvenation. We are committed to providing dedicated personal service in an oasis of refined luxury." Don't just take the therapists' words for it. Check it out for yourself.

Fancy having a pamper at Raffles Dubai? Call one of our personal travel managers today to start planning your trip.

If you've spent the day being mesmerised with views of the Burj Khalifa and partaking in your favourite sport of shopping at the Dubai Mall, Armani/Spa found at the bottom of the Burj is just for the ticket if you're after some R and R.

Personalised to suit you, you can expect a tailormade treatment that will aid optimum rest and relaxation in an instant. Whether you opt to go for a half day or full day spa experience, one thing's for certain… you'll have a spring in your step once finished. The signature body treatment fuses Japanese, Thai and traditional techniques as well as acupressure complete with an Armani black silk wrap. Products from the brand's own beauty line are used throughout, and are available to purchase after all experiences.

How amazing does Armani Hotel Dubai sound? To find out more, click here

Having won the Best Hydrotherapy Treatment at the Middle East Pool & Spa Awards 2016 and Best Male Spa at the World Luxury Spa Awards 2017, Saray Spa at JW Marriot Dubai is nothing short of spectacular.

Aisling McVeigh, assistant director of PR and marketing communications at UAE Marriot Hotels, says that the spa is head and shoulders above the rest. "Key USP's that set Saray Spa apart from the competition include the spa's location within the world's tallest hotel, an exceptional five-star service and overall experience that draws on ancient Arabia," Aisling explains. "Guests come to experience the wonders of the Middle East through Arabian Body Rituals or Hammam Rituals and love the benefits of the results-orientated facials." Count us in!

Wonders include signature offerings such as the Saray Golden Hammam which exfoliates and uses 24-karat gold to massage and soften the skin. The spa is also home to the only Dead Sea Floatation Pool in the UAE which uses the health benefits of salt to help with muscle tensions and skin ageing.

To discover more on JW Marriot Hotels Dubai call one of our personal travel managers now.
Share with someone you'd love to travel with

Guy Humphrey
Guy Humphrey is a Content Writer
Recommended Itineraries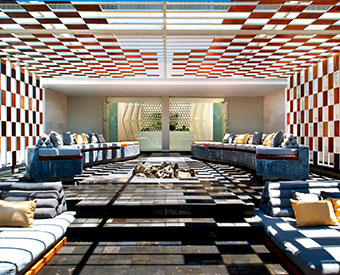 Itinerary
Bali+Dubai
14 nights from £3999 pp inc flights
14 nights
from £3999 pp inc flights
International flights
14 Nights accommodation
14 x Breakfast
3 x Excursions
Private transfers throughout
Best for: Beach, Business, Couples
14 nights
from £3999 pp inc flights
To book or customise this itinerary call us on